Unleash the Full Power of Your Sharing
Local & Remote Casting

Real-Time over Same/Different WiFi or Internet

With AirDroid Cast, you can cast the screen to Windows, Mac, Android, iOS and even Android TV in any network condition - via WiFi, local or cellular network with low latency.

Cast to TV

Take Big Screen Experience to the Next Level with AirDroid Cast TV

Wirelessly & effortlessly mirror your phone, tablet, or computer screen onto your smart Android TV for a better visual experience. Say goodbye to annoying HDMI cables and other settings!

Support most of smart Android TVs, like Sony, Hisense, TCL, Skyworth, Philips, etc.

Available on Android 5.0 and higher.

Wireless & USB Connection

Smarter Way to Display

AirDroid Cast allows you to share your device's screen with full audio anytime you need in any situation. We made an effort to simplify the display process, and focus on the convenient experience!

Wireless connection

QR code/9-digits code/AirPlay receiver

USB Connection

Only for casting mobile devices to computers

Remote Control

Total Control Android & iOS beyond Your Finger

AirDroid Cast enables you to remotely control your iPhone/iPad/Android devices on a PC, just using a mouse or keyboard, with or without a USB cable.

You can enjoy mobile entertainment on a bigger screen and also access mobile apps without using any emulators.
Screen Off (Android)

Share screen when it's off (USB connection)

In-device Sound Delivery

Sharing Android & iOS device's audio input

Multi Screens Support

Maximum 5 devices sharing at a time

No Time Limit

Unlimited time sharing

Two Way Audio

Direct speaking and listening
Ideal for Collaboration & Entertainment Experience
Boost Any Collaborative Work More Productive
Whether you're presenting a new mobile app, showing new features, or working between computer and mobile devices, our app just requires one quick click to share different screens, thus boosting your productivity in no time!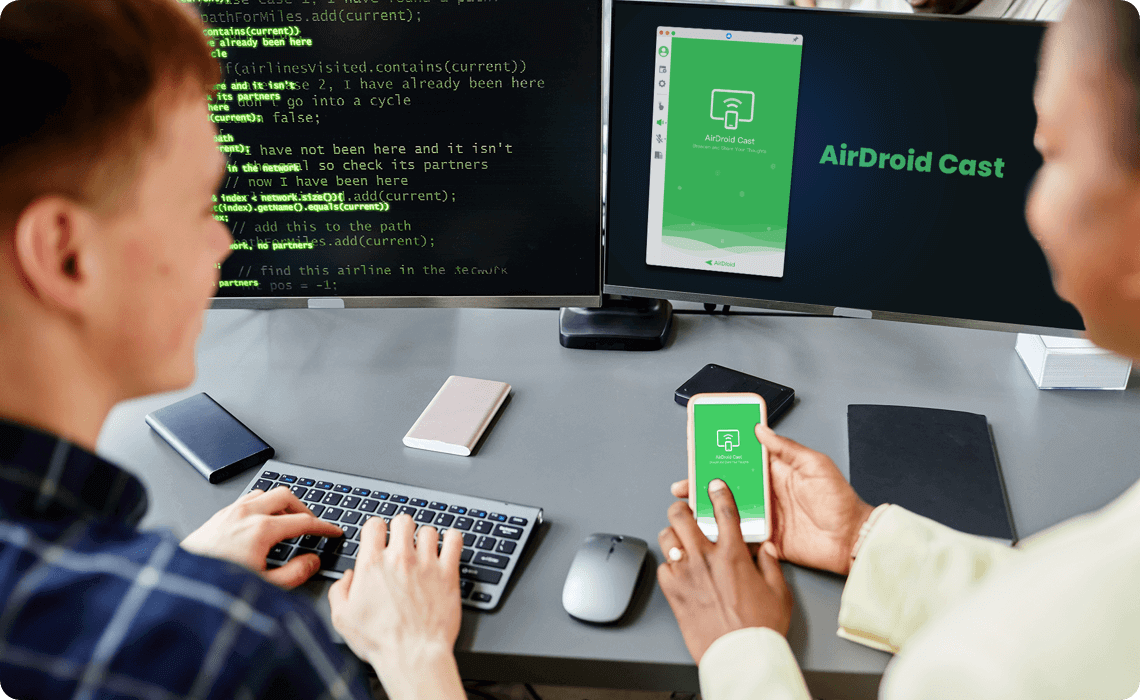 Make Communication Effectively in Meetings
Turn Your Screens into an Easy Collaboration Tool! Present a project, share ideas, or communicate with your colleagues whether you are in the same room or on a business trip, or even while working from home. AirDroid Cast can help make communication/meetings smoother and more efficient!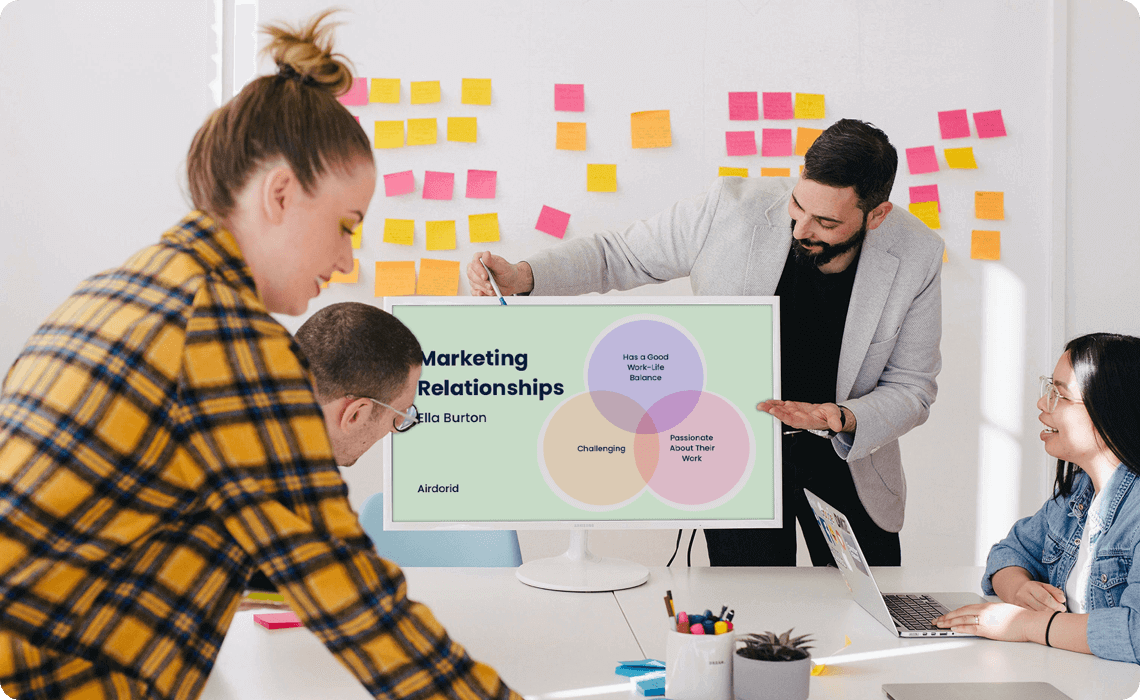 Improve Student Learning Experience & Help Them Succeed
Display the lecture document, and notes and share student works easily. Turn your Android or iOS into a handy whiteboard and share the screen to the bigger screen. Make the teaching experience productive, engaging and more exciting for students.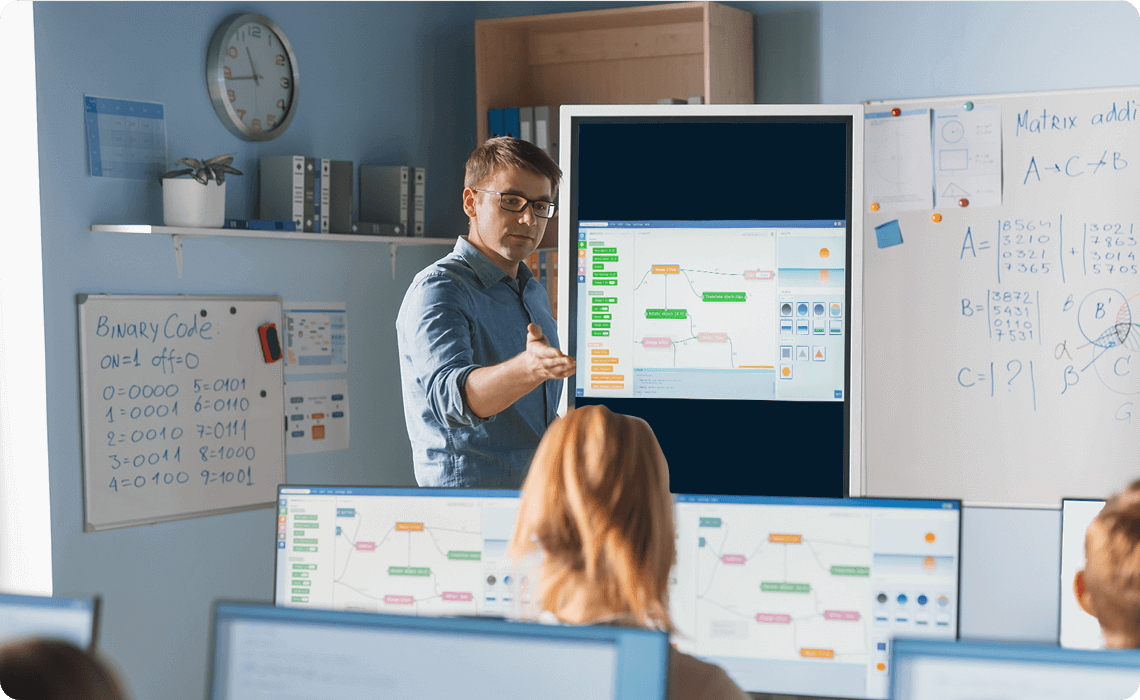 Enjoy Media Casting in a Bigger Screen
Easily share the Android/iOS device screen along with the audio to your computer. Stream videos, music, games, etc. from a phone/tablet to a bigger screen. Have fun together with friends and family on the larger screen.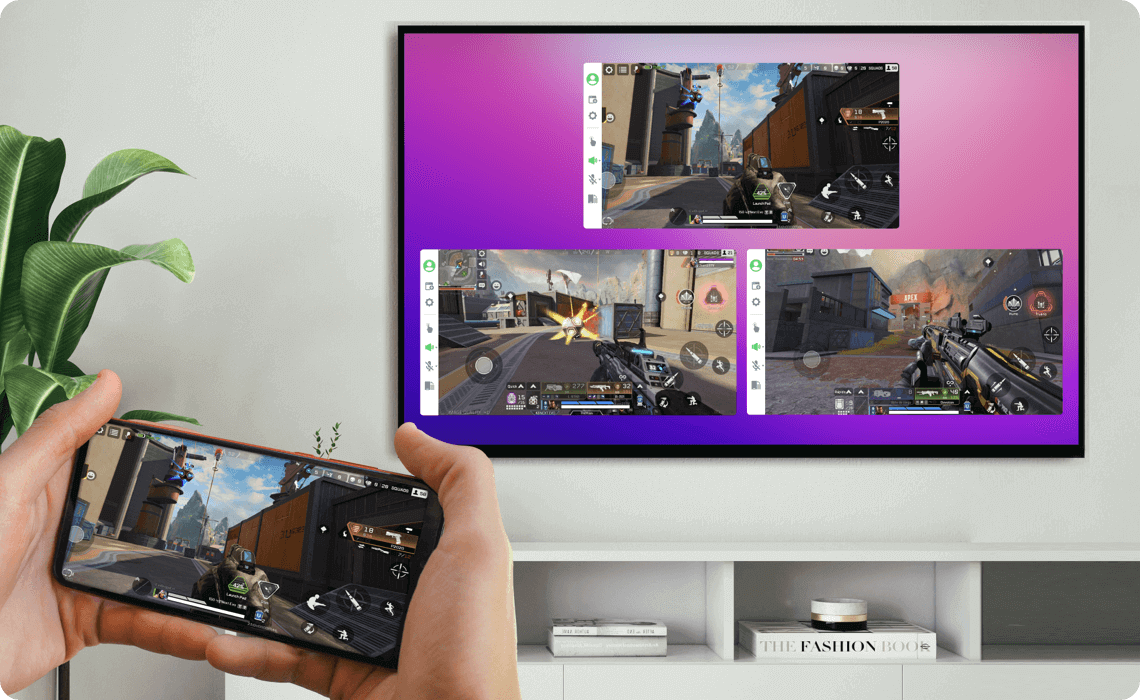 Steps for Screen Mirroring
Step 1: Install

Download and Install AirDroid Cast

Step 2: Connect Device

Scan or input digit code to connect two devices

Step 3: Start Casting

Connect two devices and start casting
We're Trusted & Recognized Globally

Cast Android or iOS screens to any computers via cast code, USB, or AirPlay service (iOS only), controlling iOS and Android devices from any pcs. You can click, scroll, and type on your mobile device through desktop, things that require you to take your phone in hand such as viewing TikTok clips, shopping on Amazon can now be completed on your computer.

Allows one to cast the screen of one's iOS or Android device to their laptop by using two apps, one on your phone and one on your Windows device. It works well and offers the features you'd expect. Depending on your phone, screen sharing should be pretty easy to tackle with this specific application.

AirDroid Cast only allows basic mirroring in the free version, but if you want full touch control via your Windows PC or Mac you can upgrade for $3.49 a month. Because the app mirrors your phone's screen, you need to keep the screen turned on in order to use it.