[Solved] How to Chromecast Safari Browser from iPhone/iPad?
This article is about a significant web browser Safarideveloped by Apple. It, therefore, is the most effective option to enjoy web research, watching and downloading various files for iPhone, iPad, and Mac devices.
Another thing we are going to discuss in this article is the Chromecast. It is a Google device that lets you share your mobile screen on Television.
Most of us are tired of watching our favorite shows on a small screen. So, we wish to have something that enables us to enjoy that same show on a big screen. Chromecast Safari - Cast Safarito a TV which enables Chromecast is one of the solutions for this issue.
1 What is Chromecast?
Chromecast is one of the most active and reasonable streaming media adapters launched by Google to share mobile s2creen on TV, watch your favorite movies, and listen to music. It also supports the iPhone, iPad, and Mac devices, but you have to download the Google Home App or any other application that supports it. Once you have shared the screen, you can minimize the app and perform other mobile operations while your TV screen remains uninterrupted.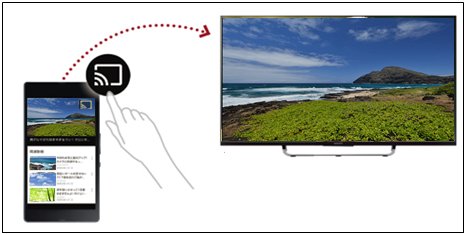 2 How to Chromecast Safarifrom iPhone?
Casting the screen from an iPhone to TV is quite simple using the Chromecast device. For your convenience, here are a few steps. You can follow these steps for Safarito Chromecast from your iPhone to your TV.
Detailed Steps:
Step 1. Download and install the "TV Cast for Chromecast" app (or Google Home)on your iPhone/iPad from the App Store.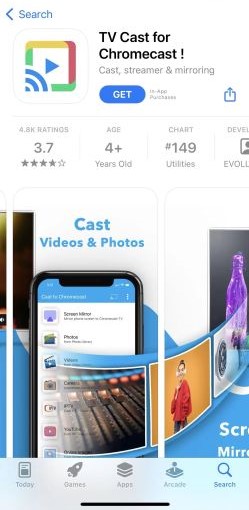 Step 2. Then attach the Chromecast device to the TV using the HDMI port. Select the TV Source as HDMI to connect it.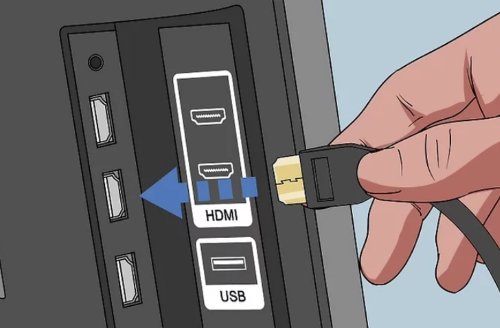 Step 3. Make sure to connect both the devices under the same Wi-Fi. Now launch the app you have installed on your iPhone for sharing the screen and select your relevant device for connection.
Step 4. Select the 'Screen Mirror' option, configure all possible settings per your needs, and press the 'Mirror' button. Finally, click the 'Start Broadcast' option.
Step 5. Now you can watch your iOS screen on your TV screen. Open the Safariand enjoy it.
Note : There is no need to get confused; the procedure for casting iPhones and iPad is the same. You can connect the iPad also by following the above process.
Pros
It is free to use, but you must pay for the subscriptions you want to play on it, like Netflix.
It provides HD and Ulta HD video quality video results.
Cons
Casting the Safaribrowser from Chromecast is time taking comparatively.
It is not compatible with the Safaribrowser, so it needs an additional app to allow access.
3 The Best Alternative for Screen Casting without Chromecast
Chromocast Safarito TV is a little bit complicated, now there is a way can let you cast Safarito TV wirelessly - AirDroid Cast Web. You only have to open a website on your Smart-TV, and you can share your screen from there. It is more easier for casting instead of Chromecast from Safari.
How to use AirDroid Cast Web to cast Safarito TV?
Step 1. In this process, you only have to download the AirDroid Cast application on the sender device whose screen you want to share. Such as your iPhone/iPad. You can click download button below to set up this app or from App Store.
Step 2. On the receiver device, open the web link webcast.airdroid.com on any browser you want.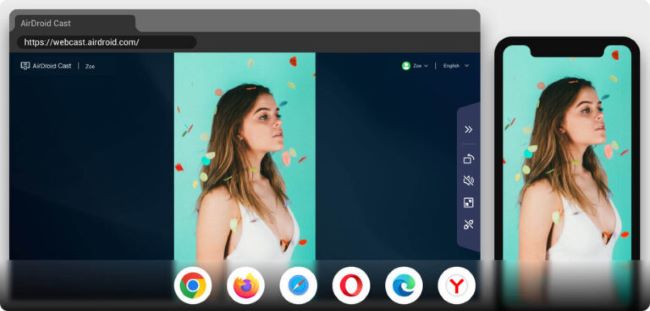 Step 3. Scan the code using AirDroid Cast on iPhone/iPad, and then allow the two devices to perform their specific operations. Then your TV will be displayed on the screen of your phone. Open Safari and enjoy your screen mirroring.
Pros
It can cast to any browsers, which allows you cast anytime and anywhere without installation.
It provides screen mirroring with high definition.
Cons
It can only share the screen. Controlling features are only available for AirDroid Cast now.
Features of AirDroid Cast Web
Screen Sharing between cross platforms
AirDroid Cast Web demolish the barrier of cross-platforms and enables you to share the screen between multiple platforms. It can run on Windows, Mac, Android, Linux, or iOS devices. So, all the devices with any of these OS can be the screen receiver.
No Location barrier
Unlike Chromecast from iPhone Safari, AirDroid Cast Web supports local and remote networks for connectivity. Even if you are at the home, office, or somewhere else, you can make your work productive by sharing your screen.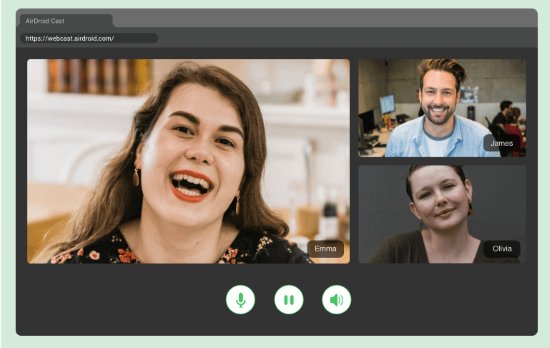 Audio Sharing
AirDroid Cast Web supports one-way audio with the best quality. You can also share your thoughts using images and audio with others without compromising on quality. It provides a clear audio sharing feature.
Why Choose AirDroid Cast Web?
It demands no installing and downloading trouble on the receiving device and thus saves the storage space.
You can cast the screen via AirDroid Cast Web within a few seconds.
Share your ideas with the team on a big screen without carrying any laptop, cable, projector, etc.
AirDroid Cast Web is also very supportive of traditional and online teaching.
Watch movies with high-quality audio and video results to make your time memorable with your friends.
You can cast the screen no matter which web browser you have.
4 Comparison between Google Chromecast and AirDroid Cast Web
Google Chromecast and AirDroid Cast web have a similar purpose. Still, they have a lot of differences on behalf of which we can decide what is suitable according to the needs and possibilities. Let's have a look at both of them.
1. Safari Browser
Casting Safarito Chromecast on iOS is impossible because Safariis a browser developed by Apple, while Chromecast is a Google device. You need first to install the Google Home App on your iPhone, and then you can cast it, while for AirDroid Cast Web, you only have to download the official app on the sender device and do not require any app on the receiver end.
2. Web Browsers
Chromecast supports only the Google Chrome browser, while AirDroid Cast supports all the browsers.
3. Connection method
Chromecast needs to be connected via cable, while AirDroid Cast Web is free from such requirements.
4. Local and Remote Networks
Chromecast needs to have the devices connected under the same Wi-Fi, while AirDroid Cast Web supports local and remote networks.
5. Supported Devices
AirDroid Cast Web supports almost all the devices, while Chromecast allows only limited devices with specific OS.
5 Final Verdict
From the above discussion, we have concluded that various applications are available to cast your mobile device to a big screen. The difference lies in the compatibility of applications and which systems they support. If we talk about Chromecasting Safari, Google Chromecast is not a good option.
The primary reason is that opponent developer companies develop Safariand Chromecast. So they might not support each other, and you need an additional application to create a connection. We should move to the other method, i.e., AirDroid Cast Web, because it supports maximum operating systems and provides a lot of flexibility in connection, while Chromecast only needs to be connected to the TV using the HDMI cable.
Was This Page Helpful?