How to View Broken Phone Screen on Computer?
Dealing with a broken screen on your phone is a troublesome thing. Sometimes, our phone accidentally falls on the ground, causing screen damage, the screen gets some minor scratches on the screen, or it causes serious damage to the phone, like the screen becomes black, touch doesn't work, or sometimes both happen at the same time.
It becomes very difficult to make a call or open important documents during that time. However, you don't need to worry, in this article, we enlisted different methods on how to view broken phone screen on computer.
Part 1. Phone Screen Cracks, Touch Can Work
Note:
It is worth noting that these 3 solutions are only applicable to mobile phones with cracked screens but still responsive to touch. If the touch of your broken phone doesn't work, please skip to the
part 3
.
1. Mirror Broken Android Screen to Computer with AirDroid Cast
If your Android phone screen is broken but still shows some response, you can mirror your Android phone to PC easily in a short time. AirDroid Cast offers 2 different ways to use broken phones on PC. You can mirror your broken screen with these methods.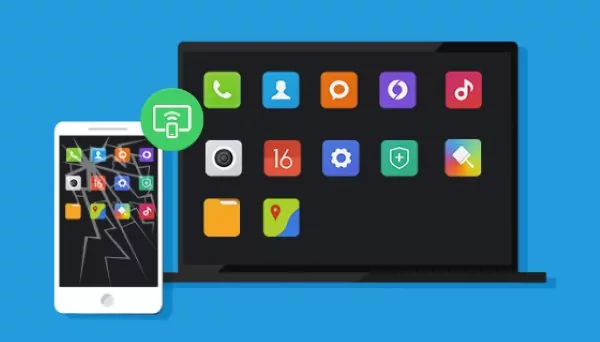 To make sure you do the following steps smoothly. Please download AirDroid Cast on both your phone and PC first.
WLAN Connection
This method is amazing by which you can remotely connect your broken screen Android phone to PC. Here is a step for casting an Android phone to PC wirelessly.
Click download button in above or go to Google Play Store to install this app onto your phone and PC.
Scan the QR code of PC with your Android phone AirDroid Cast or input 9 digit code which is displayed on your PC.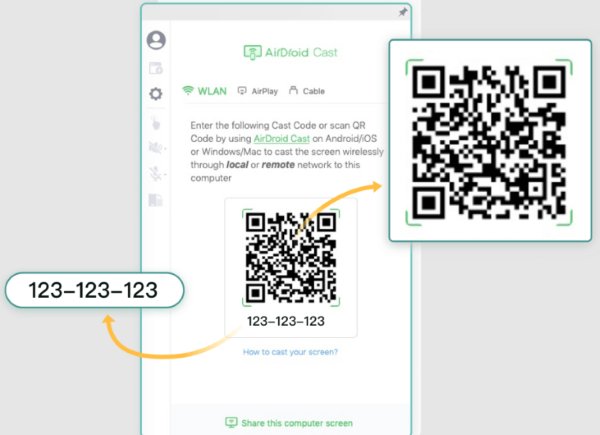 A pop-up will appear on the screen for asking for permission; allow it and tap on start casting.
Now you will see a notification on the PC for permission to allow the device to cast its screen on the computer.
Enable the screencasting permission option, click on start now.
You are done. Now you can access and control your AirDroid Cast screen on your PC.
USB cable
How to cast broken phone screen on computer quickly? The quickest way to mirror your broken screen Android phone is the USB option of AirDroid Cast.
First of all, get physical access to the PC you want to monitor your phone.
You need to pick a USB cable and connect your phone with PC.
Go to AirDroid Cast on PC, click on the USB option, select your device from available list, start casting.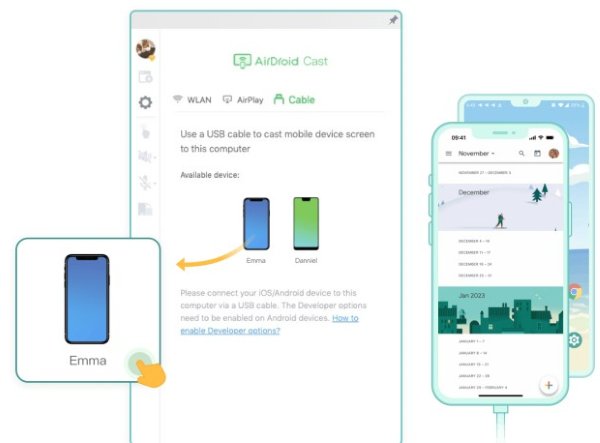 After a successful connection, you can see your broken Android screen on PC.
2. Mirror broken iPhone Screen to Computer with AirDroid Cast
AirDroid Cast application presents three different options for mirroring broken iPhone screens to PC. Two methods are the same as we have discussed above for Android. Now let's introduce the last method - Airplay. This option only works for iPhone users. It is the best way to mirror phone with broken screen to PC. For casting via airplay mode, follow the below-mentioned steps:
Download AirDroid Cast on broken screen iPhone and your PC.
Open AirDroid Cast on PC, and make sure your server is working properly.
Now connect both devices to the same Wi-Fi networks.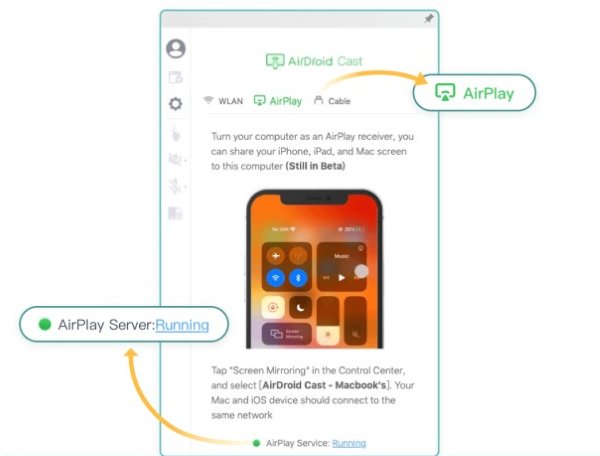 Go to your iPhone, open a control center, and tap on the "Screen mirroring" option.
Choose your AirDroid Cast - XXX and tap on start broadcast.
Now your broken iPhone screen will be visible on your PC screen.
Video Tutorial: How to Use Broken Phone on PC by Using AirDroid Cast?
3. Access Samsung Phone with Broken Screen via Samsung Flow
Samsung is an Android phone which has the option to access your phone if its screen gets broken. The Samsung Flow helps to transfer your data easily.
.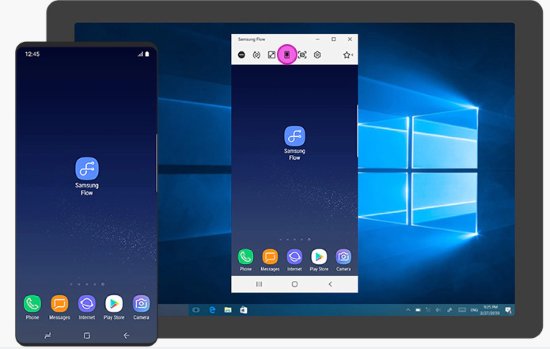 First of all, download Samsung Flow on Samsung phone and PC.
Connect both devices with the same PC and Samsung phone to the same Wi-Fi.
Pair the devices with each other, confirm the verification.
Now you can access your Samsung phone and transfer any file.
4. USB Devices
How to cast broken phone screen on computer without touch screen? If you have dropped your phone, you can still see everything on your screen, but the touchscreen is unable to work properly. Don't panic. We have a solution with which you can access your phone. For this, you require extra equipment. A USB mouse and a USB hub with an HDMI port.
The first step is to check if your phone is unlocked or not. Make sure your fingerprint/face code/password is unlocked, and you can easily access your phone.
Now, enable USB debugging on your Android mobile phone.
Connect one end of the USB cable to your phone and the other end to the USB hub.
Then connect a USB mouse to a USB hub.
With the help of a mouse, enter your password and unlock your mobile.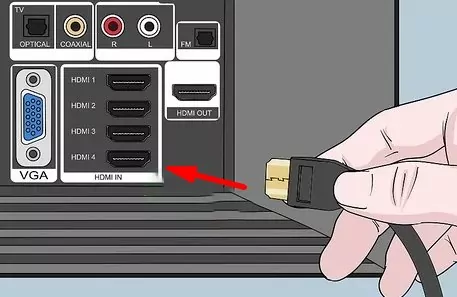 After unlocking your phone, connect your USB hub to your personal computer.
After that, a message on your mobile will appear in "file transfer mode".
Click on that option to use the mouse, your phone is now connected to your computer. You can see all the files on your PC and save them.
Part 2. Black Screen, Touchscreen Can Work
Sometimes you can't even see the screen of your phone after you have dropped it. This happens after severe physical trauma. Then how can you know whether your phone is working or not?
If the phone is working, you can hear notification sounds and feel the vibration, and your touch screen is working. In this condition, you can get your data from your mobile.
For this, you will need another phone. Connecting your phone to your charger. After charging, your phone will be turned on.
Now take another Android phone, this should be the same model as yours.
With the help of USB, connect your broken device to your computer.
A message will appear on your screen showing "file transfer mode".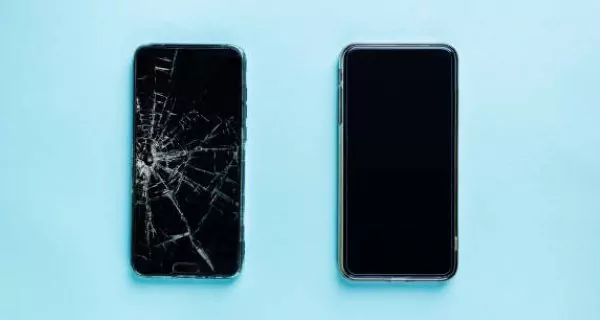 Now, remember which part of the screen you pressed.
Now connect your mobile phone to your computer with a USB cable.
As your screen is broken and black, you won't be able to see anything, but as you have performed this before. You will be able to guess.
After connecting it, you will hear a notification sound, now you can access all the files on your computer.
Now you can fully control your phone, can transfer files and data to PC or other devices.
Part 3. Access Phone with Black Screen and No Touch Function
If your phone fell down and both screen and touch are not working. It is worst-case because, in this case, you can't access or control your phone easily. But it is possible to connect your phone to the TV. You can access your black screen and no touch screen working phone by connecting it with the TV.
Follow these steps:
Pick a USB hub, connect it to your phone, select an HDMI cable, and connect one end to the TV and the other end to the mobile USB hub.
Now connect the mouse and USB hub, turn on your smart TV, select HDMI input.
Now you can Access your black screen no touch phone with your TV.
Part 4. Replace the Screen of Your Phone
If your phone got cracked and no screen and touch is working, you should replace your mobile screen because, in this way, you can save your precious data and preview this. If you replace your mobile screen, you may not access your mobile data.
Part 5. Use Broken Android Phone Screen on PC without USB Debugging
It is hard but possible. If you are in a situation where you are not able to connect your Android device with PC via USB Dubbing, download an additional application on your Android device.
There are numerous applications available on the internet, but you have to use a screen stream over HTTP application to connect an Android broken screen to a PC. This is the finest application that connects your Android device wirelessly.
Here are easy steps to mirror your Android screen to PC:
Pick your broken screen Android phone; go to the Google Play Store and download the Screen Stream over HTTP on your phone. it will take a few second to download.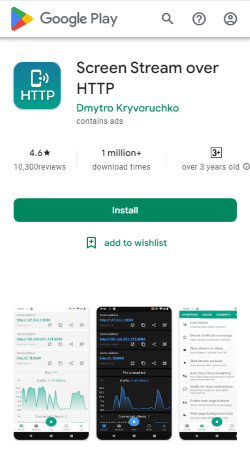 After installation, launch this application; here, you will see the Device address .

Copy this address, and paste it onto a PC web browser.

Go to App and tap on the start button to start mirroring.

Now grant permission by clicking the start now button.

After permission, mirroring of your broken Android screen will be started; you can view and use your broken android phone screen on PC.
Part 6. Closing
As you know, it is very painful when our mobile screen gets cracked and we can't use our phone anymore. But it becomes complicated when you have to deliver some important file to the boss or client and your phone screen and touch do not work correctly after falling. There are different methods to access your phone and share data to PC, but AirDroid Cast is the best application. It has multiple options connecting options for both Android and iPhone. Users can control their phones with its remote control feature.