2022 Updated: The Best Indoor Home Security Camera
Home is where your heart and your wealth reside. Home security is a primary concern as the reports of home burglary are always on the rise. It often takes place when there is no one at home. Besides, if you have kids or pets at home, you can check their situation when you are far away from work. That is why indoor home security camera has become essential in today's world.
However, when it comes to purchasing the best home indoor security camera, the problem of plenty can spoil your decision. We have picked and reviewed the best indoor home security cameras for your convenience.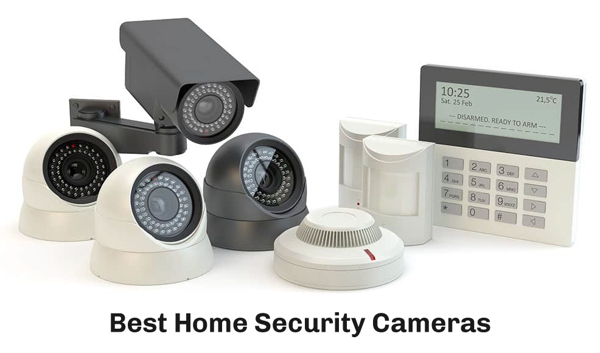 What to Look for in an Indoor Home Security Camera?
When it comes to choosing the best indoor security camera, there are multiple factors you have to compare. Here are the most important parameters that you should consider for choosing an indoor home security camera.
Video Quality: The camera should capture video at high resolution so that the video has clarity when viewed. We recommend 1080p HD resolution to be the bare minimum.
View Angle: The camera should have a wild field of view so that it covers the room as much as possible. We recommend a bare minimum of 120 degrees. But 360-degree viewing cameras are the best.
Optical Zooming: The security camera should have a great optical zoom. This is because you need to zoom at subjects and objects for better viewing. We recommend a bare minimum of 4X optical zoom but the higher, the better.
Night Vision Quality: The majority of burglary takes place at night time, and hence, your security camera needs to have clear night vision. This will help to capture movements and identify subjects easily.
Audio: It is always better to purchase a security camera with two-way audio so that you can not only listen, but talkback whenever required.
AI Features: Motion detection is a basic AI feature that every security camera has. But face detection is equally important to distinguish humans and other creatures and lower false alerts.
Storage: There are two storage options available for security cameras, namely local storage through SD card or online storage through cloud storage. Cloud storage is better, but it can come with a subscription fee.
Price: Security cameras come with different price tags. The higher the price tag, the more features, and specifications. You should purchase as per your budget, but the camera should have balanced features.
Apart from these factors, you can also check for smart integration with Alexa or Google Assistant. The power source can be a factory based on whether you want a wired or wireless security camera. Besides, the app through which you can monitor your home in real time should be user-friendly and flawless.
Low Budget for Home Security Camera? Turn Old Phone as Home Security Camera!
8 Best Indoor Home Security Camera
1Blink Indoor
The security camera is a 1080p HD wireless camera that is powered by AA batteries. The battery life can last up to two years with regular use. The camera has stunning night vision and you can save video clips in cloud storage as well as local storage.
However, there is a subscription fee for cloud storage. You need Sync Module 2 for local storage. The installation process is simple and instant. The camera has Alexa smart integration. You get one-year warranty on the product. It is clearly the best indoor wireless security camera.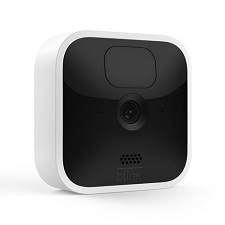 Price: $79.99
Features:
Battery-powered wireless camera.
1080p HD video resolution.
Stunning infrared night vision.
Versatile storage options.
2-way audio system.
Custom motion zones.
Remote viewing from Android and iOS.
Easy installation and Alexa integration.
Pros
Sharp video quality and night vision.
Temperature sensor and smart alerts.
Easy installation and cloud storage option.
Feature-rich app for customized surveillance.
Cons
The field of view is only 110 degrees.
Some complained about short battery life.
2Wyze Cam V3
It is a wired camera with 1080p HD resolution. You can use the camera in outdoor conditions as well. You can integrate the camera with Alexa and operate it hands-free. It happens to be the most affordable and best home security camera system indoor and outdoor. The camera has the best-in-class color night vision thanks to its Starlight sensor.
The sound and motion sensors are quite advanced. You can customize the motion detection zones for better alerts. You can record continuously on your local SD storage. The camera is IFTTT certified to work with different apps and devices seamlessly.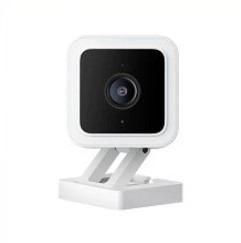 Price: $35.98
Features:
Starlight sensor for enhanced color night vision.
Better view in darkness with more light to aperture.
IP65 rating for indoor and outdoor use.
Continuous video recording in local storage.
Compatible with Alexa and Google Assistant.
Support IFTTT for compatibility with other apps.
Pros
Vivid color night vision.
Customized detection zones.
Pan and tilt for all-round monitoring.
Cons
Free cloud storage is misleading.
3Eufy Security Solo IndoorCam 2K
If you are looking for a high-resolution security camera, this is the one for you. The camera has 2K resolution which scores over the regular full HD security cameras. However, if you use it with HomeKit, you will get full HD resolution only. The higher the clarity, the better will be the viewing experience.
The smart recording feature prevents unnecessary recording because it records only eventful activities. The device has complete integration with Alexa, Google Assistant, and Apple HomeKit. Besides, enhanced night vision makes objects clearly visible in the dark. The camera offers dual storage options.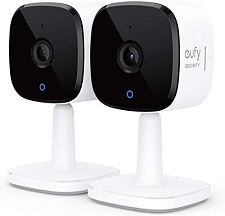 Price: $42.99
Features:
Selective recording based on AI.
2K resolution with absolute clarity.
Two-way real-time communication.
Smart integration with Alexa & Google Assistant.
Compatible with Apple HomeKit.
Enhanced night vision in low light.
Auto-response of pet detection.
Local and cloud storage options
Pros
Records only relevant events.
Identifies human faces accurately.
Customize activity zones for smart alerts.
Cons
Some features are unavailable with HomeKit.
4Arlo Essential Indoor Cam
The wired camera has a privacy shield to keep your personal moments private. You can activate the shield automatically from the app. The camera supports Alexa, Google Assistant as well as Vera. The wide viewing angle stands at 130 degrees. It captures videos at full HD resolution with sharp clarity. There is the standard two-way audio system. You can connect it directly to Wi-Fi, and hence, there is no need for a hub.
You will need to subscribe to get smart notifications when it identifies people and vehicles. It offers several actions that you can take immediately. There is a unique siren option available to deter intruders. The night vision of the camera is commendable. However, this is the most expensive security camera on the list but the best indoor camera system.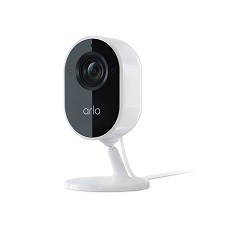 Price: $99.99
Features:
Activate privacy shield remotely.
Clear and detailed 1080p full HD resolution.
Two-way audio system.
Advanced motion and face detection.
Smart alerts with actionable options.
Enhanced night vision.
Compatible with Alexa and Google Assistant.
Pros
Advanced privacy shield.
Automatic and manual siren option.
Easy installation with Wi-Fi.
Intelligent notifications with quick actions.
Cons
Several advanced features require subscription.
No advanced sound detection option.
5Nooie 360 Cam
If you are looking for versatile security camera with all-around monitoring, Nooie 360 Cam is a great option. The camera has 360-degree motion tracking feature, and you can pan and tilt the cameras as per your requirements through its app. The video resolution stands at 1080p, and the camera has enhanced night vision.
You can clearly see objects at a distance of 10 meters. The status light can be turned on and off as per your preference. You can go for live viewing through the app, and there is two-way audio with noise cancellation. You can do continuous recording through local SD storage as well as opt for cloud subscription storage service.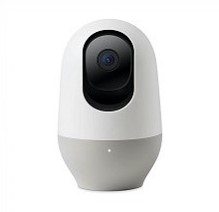 Price: $49.99
Features:
360-degree motion detection.
1080p full HD resolution.
Pan and tilt remotely through app.
Long distance viewing at night.
Dual storage options.
Works with Alexa seamlessly.
Pros
Complete all-round protection.
Two-way audio with anti-noise mic.
Superior night vision.
Cons
Does not support 5GHz Wi-Fi.
6Ring Indoor Cam
The camera happens to be one of the best-selling and best buy indoor home security cameras to purchase. It has a compact structure that you can hide it between objects and monitor remotely. You can control multiple Ring cameras with Ring app. It is a wired camera with easy installation steps.
It is a 1080p HD security camera with 2-way audio system. The camera sends real-time notifications based on its sensors. The camera supports cloud storage for recording and reviewing videos for up to 180 days against a subscription fee. It works seamlessly with Alexa. You get a one-year warranty on the product.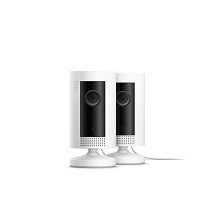 Price: $59.99
Features:
1080p full HD video resolution.
Compatible with Alexa.
Easy installation.
Superior motion detection.
Control multiple devices from app.
Two-way audio with noise cancellation.
Cloud storage option.
Pros
Compact size for hiding from view.
Wide and versatile field of view.
Live viewing with enhanced night vision.
Cons
For recording, you have to pay subscription fee.
No sound detection option available.
7Logitech Circle View
Logitech is one of the most popular brands in the camera industry. This is the best indoor camera for home from the brand. The circular structure of the camera is useful in placing it inside an object to hide it from everyone. It is a wired camera with full HD resolution. You get the signature 180-degree wide field of view. In fact, you can use the camera in outdoor conditions as it is weatherproof.
The wide dynamic range ensures clear visibility irrespective of the lighting conditions. The night vision is equally outstanding. You can clearly see objects in the dark up to 15 feet. There is also a privacy option that you can activate when required. However, it is developed for compatibility with Apple HomeKit only.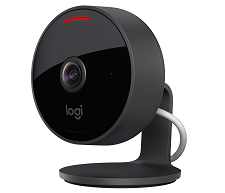 Price: $159.99
Features:
1080p full HD sharp resolution.
IP64 weatherproof rating.
Superior infrared night vision.
Two-way audio and smart detection.
High contrast video in all lighting conditions.
Compatible with Apple HomeKit only.
Pros
180-degree wide angle view.
End-to-end encryption for secure video.
Press button or tilt camera for privacy.
Circular structure for secret installation.
Cons
Not compatible with Logi Circle app.
Highly expensive in comparison to others.
8GE Cync Indoor Smart Camera
This is a wired security camera with advanced features. The camera features a privacy shutter to block microphone and camera when required. This helps in maintaining personal privacy. It comes with advanced motion detector as well as audio detector. These sensors reduce false alerts.
The installation is super easy and it supports Alexa as well as Google Assistant. It is a 1080p HD camera with clear night vision. There is also two-way audio system. The storage options are versatile. You can use local SD drive as well as opt for cloud storage option.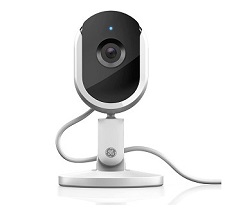 Price: $69.99
Features:
1080p full HD resolution.
Two-way audio system.
Smart mobile alerts.
Shutter to disable mic and camera.
Advanced motion and sound detectors.
Local and cloud storage options.
Pros
Privacy shutter and improved app.
Compatible with Alexa and Google Assistant.
Versatile storage options and advanced sensors.
Cons
The average rating from users is not high.
You may come across certain bugs and glitches.
Bonus: Is It Possible to Use A Phone As Home Security Camera?
If you have an old Android smartphone at your home, you can use that smartphone as a home security camera. This is the most affordable option for everyone who does not want to purchase a dedicated security camera. AirDroid Personal is the app that helps you turn a phone into a home security camera.
What Can You Monitor Your Home with AirDroid Personal?
Here are the features of AirDroid Personal app that will help you monitor your home remotely.
Monitor Home Environment: You can get remote access to your phone camera and view the surrounding. You can place the phone strategically to get a wide-angle view of the room. Besides, no one will suspect your phone to be a home security device.
Remote Screenshot & Recording: Apart from live viewing from anywhere and anytime, you can capture screenshots of what you are seeing through your phone camera. Besides, you can record the video for future reference. These screenshots and video clips will be saved on your computer hard drive, and hence, there is no limitation of storage space.
One-Way Audio: You can listen to the surroundings of your phone through one-way audio supported by AirDroid Personal app. You can listen to the audio only without viewing the screen to ensure there is no suspicious activity.
No Network Limitation: Your phone and your computer can be on different network connections. This means your phone can be on mobile data connection or Wi-Fi connection while your computer can be on a different Wi-Fi network or LAN internet connection for remote monitoring. There is no limitation on the network connections for both devices.
Works on Multiple Platforms: You can monitor your home through your phone camera from your computer as well as another Android phone. On your computer, you can monitor through AirDroid Personal app as well as AirDroid Personal Web.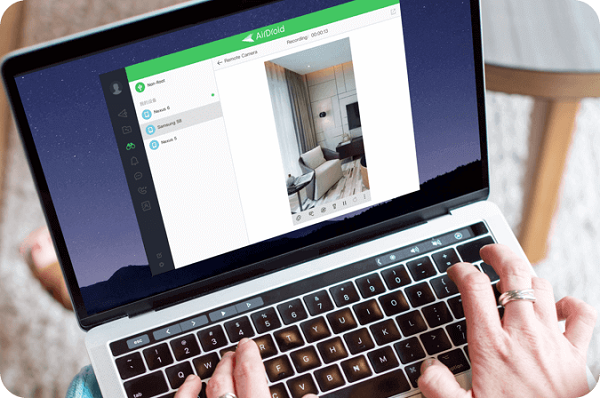 How to Make a Phone As Home Security Camera with AirDroid Personal?
Here are the steps to use Android phone camera as home security camera with AirDroid Personal app. We are considering that you want to monitor your home through your phone from your computer.
Step 1: Install AirDroid Personal app on your Android phone as well as computer. Create AirDroid Personal account. Launch AirDroid Personal app on both devices and log into your account.
Step 2: On the phone, tap on Me option located at the bottom of AirDroid Personal app. GO to Security & Remote Features option.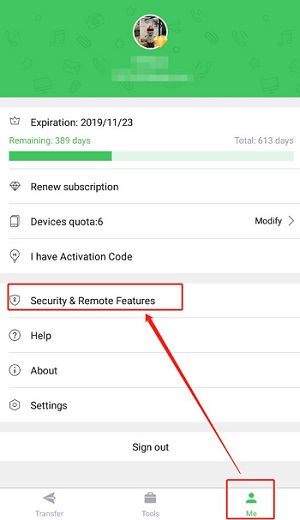 Step 3: Turn on Camera option. Tap on Grant Permission button to proceed. You should also turn on One-Way Audio and follow the on-screen instructions.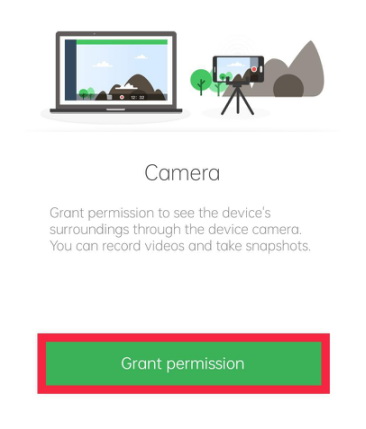 Step 4: On your computer, click on Remote Camera from the left panel. Thereafter, click on Remote Camera button for remote viewing. Follow the on-screen instruction to view the phone surroundings in real time.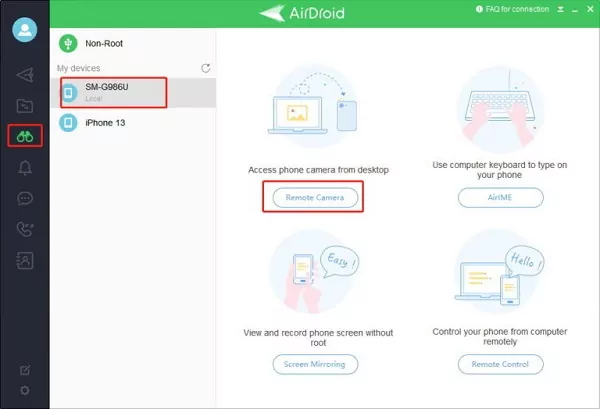 Conclusion
You should definitely install indoor home security cameras as per your requirements. We have picked the best indoor home security cameras and reviewed them so that you can choose from them as per your preference. We have also stated how you can use your spare phone as an indoor home security camera using AirDroid Personal app.
FAQ about Home Security Camera
Is there a security camera that works through Windows?
There are only a few security cameras that work through windows. Logitech Circle View and Wyze Cam V3 are suitable for the purpose. Besides, these are both indoor and outdoor security cameras and they can withstand different weather conditions to perform at their best.
How can I hide my security camera in my living room?
There are different ways you can hide your security camera in your living room. If there are books, you can place it strategically on the bookshelf. If there are artificial plants, you can place in between. You can also place it in a fake hanging pot. Basically, you have to hide it in between objects so that no one will suspect that there can be a security camera.
Which security camera has no monthly fee?
There are two types of security cameras available. The first type is where you have to pay monthly fee for certain premium features like recording. The second type is where you have to pay monthly fee for cloud storage only. Apart from Ring security cameras, you can choose from any security camera and opt for local storage to pay no monthly fee.