[2023] Remote Control Android from Another Android
Controlling a mobile phone remotely without the owner's consent is a breach of privacy. But let's admit it, many a time we want to share our Android screens like if you want prank your mates, keep tabs on your children, ensure security, troubleshoot certain problems, or guide your friend how to use certain features. Regardless of the reason why you need to remotely control Android phone from another phone, we are here to help you out. This article will discuss some of the best apps to control someone's phone remotely in 2023.
Part 1: Best App to Control Android from Android
When it comes to the best software for how to control android device from another android device, then AirDroid Personal stands out from other players in the market. Its powerful "Remote Control" feature empowers users to control and manage another Android smartphone in real-time. Users need to install AirMirror on the device they want to control from the AirDroid app on their own Android phone. Once connected, you have complete control over file management, file transfer, SMS, and notifications. Aside from that, you get one-way audio and camera access which comes in handy to turn your phone into a security device.
Features of AirDroid
Support mobile to mobile access and control.
Gets complete access to a remote phone's camera to keep tabs on surroundings
Allows screen mirroring in real-time to guide or find out the issues
You can reply to text messages, WhatsApp, and manage other notifications on PC
Users can manage notifications remotely
Offers an intuitive way to transfer files between two devices
Pros
Users get comprehensive remote control over another device
Check the other device in real-time
24/7 professional support service
Text Guide
Check out how to remote control one Android device from another using AirDroid:
Step 1

First of all, download and install the AirDroid Mobile client on your own Android phone(the phone you want to control)
Step 2

Launch the program and sign in/up with your AirDroid account. After that, go to Me > Security & Remote Features, and enable "Remote Control."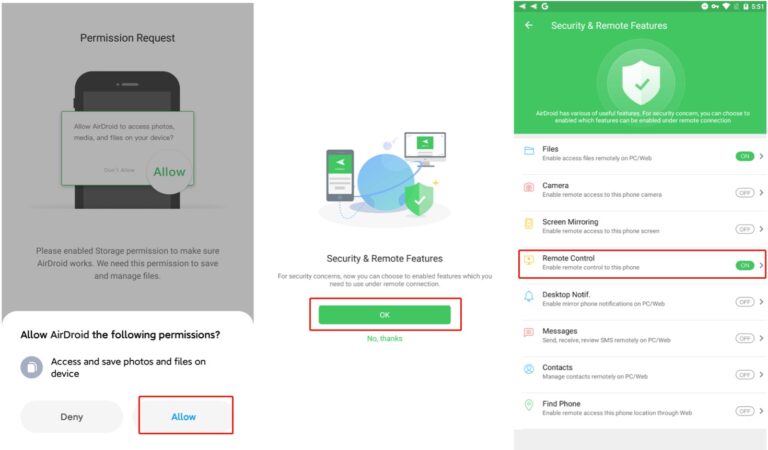 Be sure your Android phone is non-root. If not, download the AirDroid Control add-on onto it to get going.
Step 3

Now, install AirMirror on the Android phone as controller end and log in with the same AirDroid account.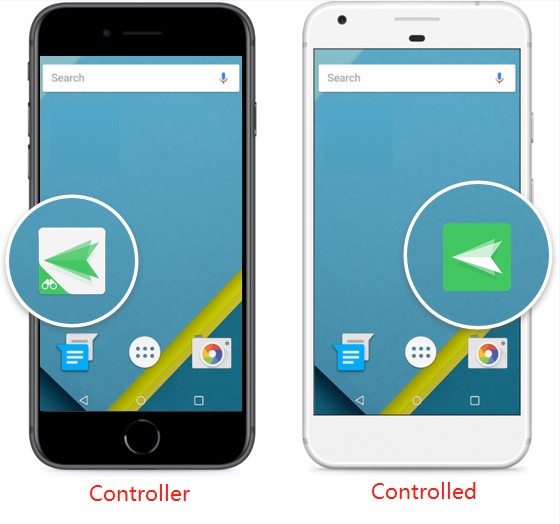 Step 4

After that, you'll be able to control the Android device and check its screen in real-time from your own Android phone.
Price
AirDroid offers the most friendly prices to customers. It comes in three premium packages. You can get the yearly subscription of AirDroid Personal for $3.99, quarterly for $9.69 while it costs you $29.99 to get yearly subscription.
Part 2: Remote Control Android from Android with TeamViewer QuickSupport
Developed by TeamViewer, Quick Support can do wonders when it comes to controlling an Android device remotely. It offers an intuitive way to remote control Android device from another Android seamlessly using a unique ID. What makes it so popular is its friendly and easy-to-use interface that allows even non-technical users to get the job done without any hassles. With every installation, it generates an ID that you have to use to control that device from afar. As great as this app is, many users have complained of a glitch that automatically changes the ID number and they have no option but to contact the customer support. Similarly, the app often stops working citing reason that you're using it for commercial purposes – though you're not. In such a scenario, you have to pay extra to continue using it.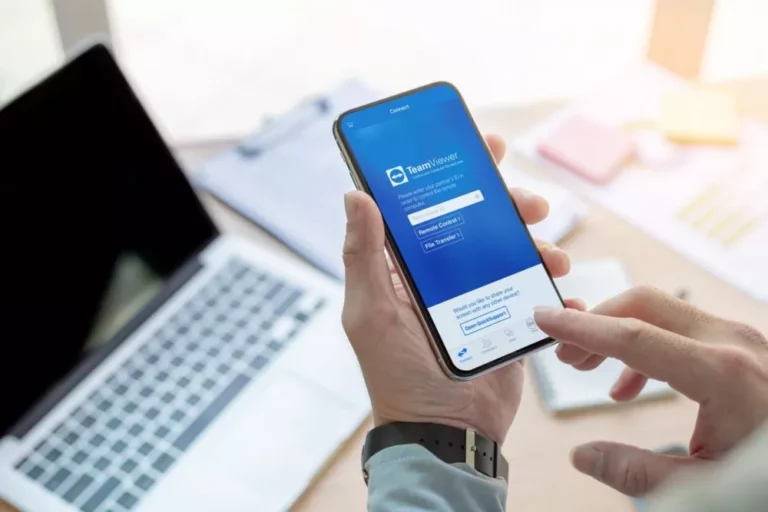 Features of TeamViewer QuickSupport
Offers a quick and simple way to access an Android device remotely
Transfer data between phones including photos, images, texts, folders, and other files
Using it whiteboard, you can highlight and draw objects on the remote screen
Screen recording feature
Pros
No router configurations to set it up
Allows you to preview the basic hardware information of the controlled device
Easy installation and set-up process
Cons
Can be sluggish at times
Changes the user ID which can cause unnecessary delays
Text Guide
Check out how to use this program:
Step 1

To begin, install TeamViewer QuickSupport app on the remote Android phone.
Note : The program may ask you to install the add-on to continue. Follow the on-screen instructions to do so.
Step 2

After installation, you'll get the device ID on the start screen of the app. Add this ID to your Computer & Contacts list.

Step 3

Now, install TeamViewer on your own Android phone, launch it and enter the partner ID. Hit Remote Control.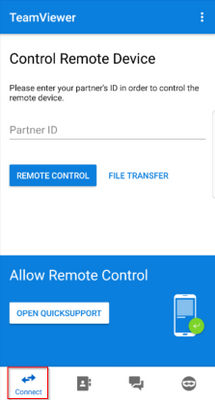 Step 4

Now, you can control your Android from the host device.
Part 3: Comparison: Which App to Choose
The question stands: which app you should use to Android remote control another Android? The answer depends relies on cost, efficiency, features, price, and ease of use. Based on user feedback and our own research, AirDroid is hands down your best option to access any Android mobile from afar. Compared to TeamViewer, priced at $23.9/month, AirDroid is just $3.99. That's why it is an ideal option for students and professional users alike. Similarly, AirDroid provides even a more consistent and seamless connection and its advanced features like remote camera and audio access make it a more popular choice than TeamViewer. Lastly, using AirDroid is as easy as it can get and the process is free from any bugs or glitches as in the case of TeamViewer QuickSupport. This proves that AirDroid is the best Android app remote control another Android.
Final Words
To sum up, this article has provided a step-by-step guide on how to remotely control Android phone from another phone. Both the apps we reviewed are efficient, user-friendly, and offer a straightforward procedure to control an Android device from afar. But as far as our recommendation goes, use AirDroid to get the best connection between two Android devices as well as enjoy tons of spectacular features.
FAQs
How do I remote access my Android phone remotely?
You need a competent third-party app like AirDroid to access your Android phone remotely. To do that: Step 1. Install AirDroid on the host device and sign up. Step 2. Now, go to Me > Security & Remote Features, and enable "Remote Control." Step 3. Then, install AirMirror on the host mobile and log in. Step 4. Now, you'll be able to control the device.
Can I control an Android device from the PC?
Yes, you can control an Android device from your desktop. Just install AirDroid on both your Android and PC and log in with the same account. You'll be able to get a seamless connection.
What is the best remote desktop app for Android? Having millions of satisfied users, AirDroid is the best remote desktop app. It allows users to control Android from PC via three methods:
1. Remote access 2. Via Wi-Fi 3. Via USB
Can I control my Samsung phone with my computer?
Install AirDroid Personal on your computer and Samsung mobile. Login with the same AirDroid account on both devices Then, you can control Samsung from PC via Wi-Fi and remote access into your phone.
Can I control my Samsung phone with my computer?
The answer is Yes. AirDroid allows users to remotely access an Android device from your laptop. Just install the app on both devices, log in with the same AirDroid account, and connect them via USB, Wi-Fi, or remote access.
Was This Page Helpful?