5 Best Business-Used Tools to Control Remote Device
Though remote device control software has been applied in a variety of scenarios from home to office, its demand mounted to a new peak during COVID-19, especially among enterprises.
Companies need reliable and effective control remote device tools to help businesses, not only to constantly handle their customer issues ranging from app to hardware but also to monitor remote devices so can take further steps.
In this article, we will explore remote device control and best software to use in industries, such as IT & SaaS, healthcare, retail, and hospitality.
Part 1 : What is Remote Device Control in Technology
Remote device control is the process of observing a device and taking over the operation authority by another device that is under legal technology and by mutual consent.
It requires network support so devices can be connected and leave out the distance limit. As the connection is active, the operator can access device system to execute commands. Clicking, dragging files, and swiping screen can be implemented.
Since the usage of IoT devices increased, notably, home automation and IoMT, enterprises cannot do without remote device control. Because the attendant technical support and troubleshooting are part of their businesses.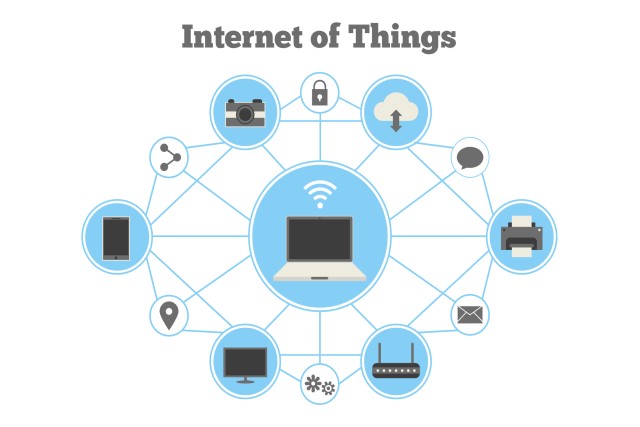 Part 2 : Best Practices for Remote Device Control Service
The rapidly evolving technology and companies' willingness to bank on technology are giving remote device control services a thriving space. It can work on any connected endpoint.
Smartphones, Tablets & Laptops
When enterprises require remote access and control of those mobile devices, they usually do so for two purposes - serving customers and device management based on company policy.
Companies will apply mobile device remote control when customers have trouble using their products or apps. It's an effective way to give technical support without physically visiting customers. At the same time, it can also reduce customers' rejection of door-to-door visits.
The service is mainly used by SaaS companies, software solution providers, and hardware manufacturers.
Remotely controlling BYOD or company-owned devices is another practice. It is an outgrowth of enterprise mobile device management which become a trend due to remote working. IT admins will apply the service to handle device or data loss.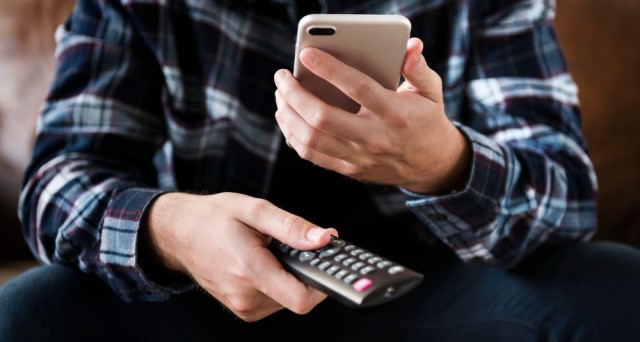 Smartwatches
Smart healthcare businesses grow and thus drive the need. In addition to IoT medical devices, smartwatches, positioned as wearable health monitors, are major endpoints that need the service.
Usually, healthcare companies boot remote control together with other features, such as monitoring, voice calling, remote transferring medical record, etc.
Unattended Devices
Unattended devices, for example, self-service kiosks and digital signage, are also the major object that needs. The equipment may be placed far apart from one another and it's impractical to repair every faulty piece of equipment on-site. Hence, in-house maintenance techs find remote device control software an ideal solution.
Hardware
Memory devices, monitors, and printers are common computer hardware to apply remote control service in order to troubleshoot remotely. Hardware manufacturers are the main users of it.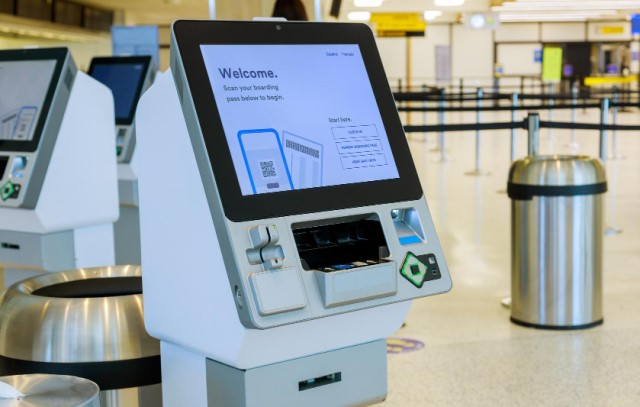 Part 3 : 5 Best Remote Device Control Software for Business
For any devices and commercial purposes, it's not enough to use 'control' only in practice.
Thus, software to control remote device offers additional functionalities, like screen sharing and voice chat, to better help businesses. And some are available for monitoring, managing apps and device setting.
You don't want to let down your customers or slow down your workflow because of poor choices. We give you the best software for your business to avoid plunging yourself into an unpleasant remote control experience.
1Airdroid
Airdroid is a comprehensive remote device control software as well as an MDM tool for all kinds of endpoints including mobile phones, tablets, POS, kiosks, digital signage, rugged devices, custom devices, etc.
It offers AirDroid Remote Support for Business which conforms to enterprise-level security, for instance, ZTNA (Zero Trust Network Access) and AES (256-bit) session encryption to secure company data.
Pricing:

Basic: $ 199/seat per year
Standard: $ 599/license per year

Features:

Quick & easy remote access with on-screen code
Black Screen Mode
Remote Monitoring and Management
Screen sharing in real-time
AR camera
Live chat via voice calling or text
Seat Management for IT support team

OS Supported: Android/iOS/Win/Mac/Windows

(some features are not available due to OS limitations)

For Who: SaaS companies from various industries, IT support teams, hardware manufacturers, software solution providers, etc.
2Chrome Remote Desktop
Here comes the best free remote control software for small businesses, Chrome Remote Desktop. You can use a phone, tablet, or computer to remote access another computer and give support by connecting the screen.
It supports Android, iOS, Windows, Linux and ChromeOS.
3Teamviewer Tensor
TeamViewer is great to control remote device containing computer, mobile phone, and IoT device. The good thing about the cloud platform is that it supports various IoT systems and enables users to monitor all devices on a network. However, it does not allow users to view two remote systems simultaneously. Besides, if you need mobile access, you ought to provide additional cost.
Pricing: $112.90 - 229.90 per month, Free for 14 days
Features:

Single-Sign On
Screen sharing
Outgoing & incoming connection reporting
File transfer
User & device management
Chat on mobile devices
Monitoring

OS Supported: Android/iOS/Windows/Mac/Linux
For Who: IT technicians, customer support team, remote work employees.
4DameWare
DameWare is a cloud-based remote device control system. It is ideal for basic end-to-end device support and IT troubleshooting. DameWare offers security systems with multifactor authentication and smart-card support for enterprises.
Pricing: $212 - 540 per license, Free for 14 days
Features:

Fast remote control
Monitoring & alerting
Live chat & video call
Remote access computers shutting off
Reporting

OS Supported: Windows/Mac/Linux
For Who: IT professionals, customer support team.
5Zoho Assist
Zoho is one of the popular names in the remote device control industry. It is a convenient and cost-effective software for PCs, laptops, and mobile devices. If you're looking for a help desk tool, Zoho Assist is one of the best options.
Pricing: £8-19/user per month, Free for 15 days
Features:

Remote access via email
Monitoring
File transfer
Custom portal URL

OS Supported: Android/iOS/Windows/Mac/Linux/Chrome OS
For Who: Outsourced IT & MSP support, customer support team, IT help desk.
Part 4 : How to Control Remote Device with AirDroid Remote Support
Accessing and controlling devices remotely with AirDroid is never a challenging task. The steps are simple and easy to follow, as shown below.
1. Create a business account
Go to the AirDroid official homepage, and click the "Sign in" button. Choose the "Business" account option and fill in the required details.
2. Download AirDroid Remote Support installation package
Log into the console and find the 'download' icon in the upper right corner. Select 'Remote Support', then choose the package according to your device system.

3. Ask for connect code
If you want to remote access and control your customer's device, the installation package of Client End should be downloaded to the device.
Then, open the AirDroid Business Desktop software on your computer and click 'Remote Support'. You will see a blank for entering the connection code.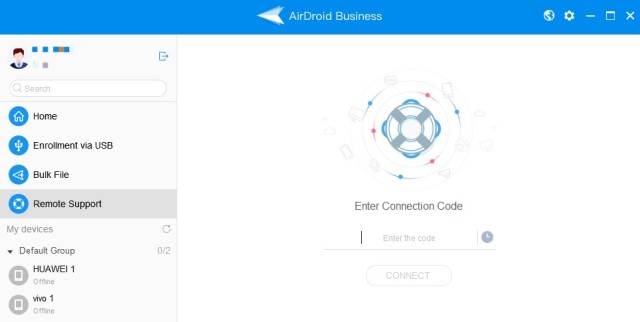 Request your customer to give you the 9-digit key. Once the session is activated, you can start controlling the remote device and give customer support.
Find out more
What security technology is used in remote device control?
While this is true, scores of people are worried about the security of remote device control systems. Fortunately, there are several security technologies deployed to combat instances of insecurity. These effective technologies include zero-trust network access, VPNs, firewalls, password management, multi-factor authentication, and identity access and management.
Is VNC (Virtual network computing) a better solution to control remote device?
VNC is a desktop sharing system that is most used in software to control remote devices. It is often compared with RDP (Remote Desktop Protocol), a protocol developed by Microsoft. VNC is a better solution if you want to offer technical support. Its benefits are as follows: 1. Available for screen sharing between two endpoints. 2. Transfer data across via network so that software can be used in cross-platforms.
How to remote control Android with Android?
Using suitable Android remote control software, you can remote control an Android device with Android. Fortunately, AirDroid is one of them. You can enroll an Android device to the console and take actions like remote lockdown screen, remote wipe, remote file transfer, etc.
Was This Page Helpful?