6 Best Vending Management Systems for 2023 You Need to Know
Let's face it: managing a vending machine based business comes with numerous unique challenges. Pulling off such a business model often requires highly effective remote vending machine management and monitoring systems.
Still, finding the one that works for your business is never an easy decision. As a result, ensuring that you have started out with top-quality vending machine management software is essential. Fortunately, we've outlined some of the main things you need to know about the best vending machine management systems to help with this.
Part 1. What is a Vending Management System?
Before we look any further, we first need to define what a vending management system actually is. Vending management systems are generally focused on optimizing the process of managing vending machines remotely. They provide a wide array of different functions and features that help make it easier for businesses to manage their vending machines accordingly.
The exact features of each vending management system will naturally vary. However, as a general rule, vending management systems help streamline inventory management, monitor sales and transactions, and the like. This data often proves hugely important for optimizing a business's vending machine management and product offerings.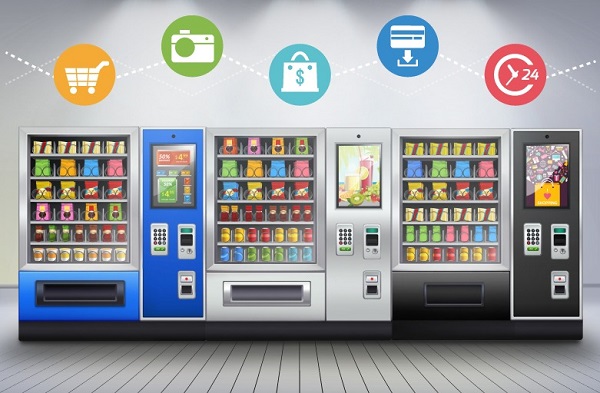 Part 2. Why is a Vending Management System Important?
There are numerous different reasons that professional vending management software can provide hugely important when it comes to business management. With this thought in mind, the following benefits are well worth noting as part of your decision.
1. Track All Information Remotely
Many vending machine businesses have numerous units scattered across a region or country. In line with this, being able to track information about a vending machine's stats remotely – without having to visit the machine in person – can be incredibly helpful. This saves your business time and hassle, allowing you to focus on more important matters at hand.
2. Better Sales Management
Managing sales is critical for any vending machine. After all, sales management strategies can directly influence how your business performs; smart vending management software fortunately makes this very simple. See which sales are performing well (and which are struggling) to better understand your sales model.
3. Gain Revenue from Advertising
Did you know that many modern smart vending machines come with the unique ability to advertise? This feature means that your business can actually gain an additional revenue stream directly through paid advertisements from other brands.
4. Better Customer Experience
Customers deserve the chance to enjoy a great level of service – and vending management software helps ensure they receive this. Don't leave your customers' satisfaction to chance! Take proactive steps to improve the quality of service they receive instead.
5. Optimize Operation Process
Overall, considering the above benefits, vending management software is excellent for boosting the overall efficiency of your business model.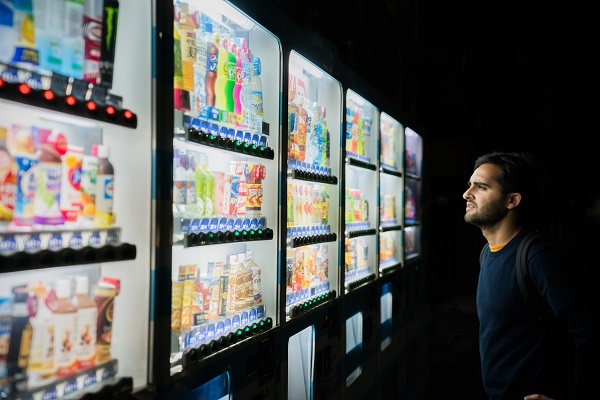 Part 3. What Features Should a Vending Machine Management System Have?
At this point, we have outlined some of the key benefits of the best vending machine software – but what features do these systems offer? While every system will differ slightly, the best vending machine management software should offer the following key features ideally:
● Monitor machine information: Being able to access the information you need when you need it is highly important. Fortunately, vending machine management software should allow you to do this, giving you an all-in-one system.
● Real-time error alerts: Errors can leave your vending machine unprofitable and ineffective. As such, ensuring you have real-time error alerts that inform you of when something's gone wrong is vital!
● Issue troubleshooting: Wherever possible, an effective vending machine management system should be able to rapidly troubleshoot issues, providing quick feedback for you to work on.
● Statistical analysis of sales: It's not enough to just monitor your business's operational status. Good vending machine management software should also provide valuable statistical analysis and insights into your sales, allowing you to optimize transactions accordingly.
● Security guarantees: Security breaches can cost your business thousands. As such, security guarantees are an undeniable staple of the best vending machine software, without a doubt. Don't ever invest in vending machine management software without first ensuring it comes with full security inbuilt as standard.
Part 4. 6 Best Vending Machine Management Software for Businesses
Now that we have outlined the main features of top-quality vending machine management software, we can begin looking at some of the different solutions out there.
It's important to remember here that there's no single vending machine management software that's perfect for every business – but these options come close!
1. AirDroid Business
If you've been looking for professional vending machine management software, very few solutions are better than AirDroid Business. With AirDroid Business, it can help you manage and control your multiple Android-based vending machine remotely, which can ensure the stability of your machine and bring continuity to your business.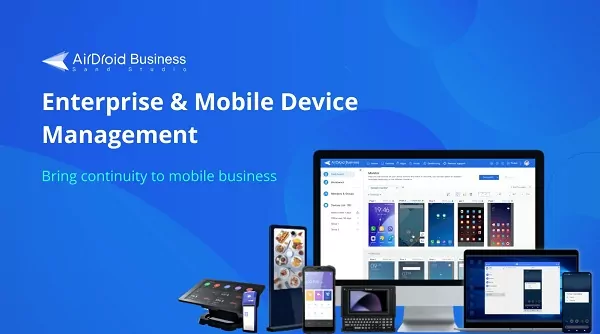 Some of the key features of the AirDroid Business software include the following points:
Monitor, alerts, and automated workflow:
With the AirDroid Business tool, it's easier than ever to monitor your vending machine. It will timely alert you when detecting abnormal events in your vending machine and execute automated workflows to resolve machine problems immediately.
Unattended remote access:
Don't wait around for someone at the other end to approve your remote access. AirDroid Business is fully unattended, which means that remote access is more readily available than ever.
Manage devices in groups:
Generally speaking, most vending machine businesses have numerous machines. Luckily, AirDroid Business allows you to manage your machine in groups so that you'll never have to waste time.
Secure corporate data:
Your business's corporate data is hugely important. Don't let security get compromised; AirDroid's security systems offer exceptional security as a result.
App management:
AirDroid makes it easier than ever to manage your vending machines directly from within the app. You can create an your own app library or you can manage apps from Google Play store, as It supports Android Enterprise. Why not give it a try?
Device location tracking:
Device location tracking is a hugely valuable feature in many cases, not only for security purposes but also to make the management of your vending machines easier. AirDroid's device location tracking function ensures your vending machines are always where they're supposed to be.
2. VendSoft
When it comes to quality services, the VendSoft platform is definitely one of the most effective. VendSoft's unique software is designed with vending machine businesses specifically in mind; as such, you know you can count on it for a reliable solution.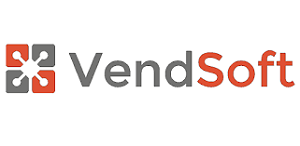 Top statistics: Quickly see which of your locations, products, and machines are converting most effectively, allowing you to focus your business efforts on areas that need it most.
Inventory management: The VendSoft tool is an excellent solution to quickly display the items you need to reorder or restock – reducing the risk of the machine running out.
Cash flow analysis: VendSoft's cash flow analysis feature is an excellent tool to help you quickly and easily see your current financial position (helping you make effective changes accordingly).
Real time stats: View stats and information in real time to inform your business decisions effectively! The platform's handy real time integration ensures you will never miss updates for downtime, low stocking levels, and the like.
3. Parlevel
As an alternative to VendSoft, it's safe to say that Parlevel could be a brilliant software option to consider. Parlevel is a specialist retail management software that is designed to enhance accountability for businesses in the vending niche, providing new opportunities that allow businesses the chance to monitor vending closely. This excellent tool has hence rapidly become one of the biggest software solutions for vending providers.

Remote access: Thanks to Parlevel's cutting-edge remote access technology, businesses can easily access their kiosks and machines remotely.
Live inventory: Never run out of stock again with Parlevel's live inventory system. This feature helps businesses keep track of how much stock is left, making refills much more efficient than they may otherwise be.
Performance reports: The Parlevel software is incredibly helpful for business management thanks to its unique performance reporting feature. Generate and analyze performance reports rapidly, optimizing your work.
Manage promotions: Boost your business's conversions by running sales and promotions, thereby enhancing profitability as a result.
4. OTI Global
It may not be as well known, but the OTI Global technology software could still offer an excellent solution if you have been looking to integrate vending management software into your business.
The numerous excellent features of the OTI Global platform have helped establish it as a potentially firm contender for the best vending machine software.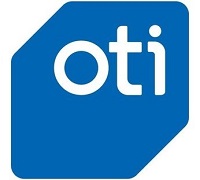 Some of the key features of the OTI Global platform include:
Remote access: See information about your vending machines while on the go, thanks to remote access functionality.
An easy-to-use platform: The user-focused platform design makes OTI Global a quick tool to learn and begin integrating into your regular business model.
Inventory insights: Thanks to the OTI Global platform's unique inventory management systems, tracking your stock levels and ensuring suitable amounts of stock are available at any one time becomes incredibly easy.
Data analysis: Use the data provided by the OTI Global tool to quickly analyze your business transactions and make cost-effective decisions.
5. Supply Wizards
Designed with OCS operators in mind, first and foremost, the Supply Wizards tool is incredibly effective for providing several notable features. Importantly, Supply Wizards' key features include: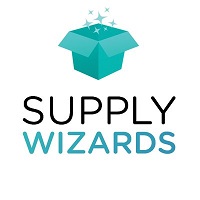 Effective, user-friendly tools: No matter your level of IT knowledge, the Supply Wizards tool could be ideal. This excellent tool is easy to use and navigate, making it brilliant for people needing an easy to learn solutions.
Accounting integration: Pair up the Supply Wizards software with your current choice of accounting system (dependent on software support) to make processing your taxes easier than ever before.
Apple and Android friendly app: Supply Wizards offers its very own Apple and Android friendly app, depending on the user's operating system. This helps ensure that the system is readily available for anyone to use.
Online ordering: Take your business to the next level with Supply Wizards' online ordering system – the ideal way to streamline processes for your customers.
6. VendMax
As a final option, why not give the VendMax system a try? VendMax has been running for over twenty five years. During that time, it has become one of the most popular vending machine software solutions on the market.

Real time alerting systems: Never miss out because of missed downtime or stocking issues. The VendMax system offers real-time alerts, so you always know what's going on.
Mobile applications: Thanks to the available VendMax mobile applications, using the tool while on the road has never been easier.
Dynamic scheduling: With the VendMax dynamic scheduling solution, you can hugely decrease your fleet size by optimizing and streamlining your team's routes and production methods.
Support for third-party software: If you're already running third-party software, great news: VendMax's third party support systems may be able to pair up with these perfectly.
Final Thoughts
Without a doubt, if you have been looking for top-quality options to boost your business's performance, vending machine management software could be ideal. However, if you want to invest in vending machine management software, make sure you've first considered today's key recommendations to find the software solution that best meets your needs.
How much should I pay for a vending machine?
While vending machine prices often fluctuate significantly, a high-quality vending machine will usually cost around $1000 to $2000. Refurbished models may be available at a cheaper rate of around $500 to $1000. Be sure to consider the type of vending machine you need before making this decision.
How do vending machines use wireless technology?
Specialist apps, such as AirDroid, are designed to support vending machine businesses by using wireless technology to deliver real-time updates. This is usually achieved through a GSM cellular modem. If you would like to use wireless monitoring technology, make sure you have chosen a vending machine model that is compatible with this.
How secure is the wireless payment system for vending machines?
One of the great features of wireless payment options is that they are still entirely secure in most cases. High-quality systems should still require authentication for the payment to be made. As such, if the company seeks this level of security and safety, there is a much better chance that the user will have a positive experience with the vending machine.
Was This Page Helpful?