Naviman Telematics is a logistics service company providing asset management and data analysis services to businesses in the logistics, transportation, and construction industries. One of their telemetry solutions involves providing tablets to customers' drivers, which are used for tasks such as handling orders, navigation, and communicating with the office.
However, managing over 500 devices is no small task. No to mention, these devices are often on the move and spread across multiple locations. Any technical hiccups could lead to delivery delays. Recognizing this concern, Naviman Telematics quickly began seeking a more robust device management solution.

Key Challenges:
During this period, Naviman Telematics encountered these main challenges:
1. Struggling to offer timely technical support for a large fleet of devices.
2. Drivers using company tablets for work unrelated tasks.
3. Their MDM solution lacked a geofencing feature to track route activities.
4. Time-consuming manual application update.
At first, they did utilize a simple MDM solution to remotely access the devices, but they required more advanced features to address other concerns. For example, drivers were using tablets for personal tasks and changing device settings, which caused more technical problems and increased the IT workload.
Considering the size of the device fleet, when Naviman Telematics needed to update applications installed on the tablets, it became an extremely time-consuming process. How to effectively update navigation map every 6 months was also a headache for them.
This is why Naviman Telematics were actively seeking a more comprehensive MDM solution, with features like AMS (App management service) with the function of mass application distribution, Kiosk Mode, geofencing, and device usage reports.

The Solution from AirDroid Business:
Naviman Telematics turned to AirDroid Business for streamlined fleet device management. The MDM package covers every feature they need, including:
Remote Control & Real-time Support:
This allows their IT team to troubleshoot issues from a distance, solving technical hiccups more efficiently. They can also activate "Black Screen Mode" during maintenance, displaying a maintenance message and keeping sensitive operations to IT personnel only.
AMS (Application Management Services):
Naviman Telematics uses this feature to remotely perform mass app updates and remove applications on tablets as needed. They also gain valuable insights from reports on app usage and can track the overall progress of updates on each device.
Kiosk Mode:
By locking tablets into a specific setting, Kiosk Mode turns them into reliable work tools for drivers. Now, tablets are locked down for work tasks only and won't distract the drivers. Alerts will also trigger if the system detects any unusual activity, allowing IT to promptly address any unexpected issues.
Geofencing:
Naviman Telematics uses this feature to not only track truck routes but also set up workflows based on location. For example, when a driver enters a specific area, a notification will remind them of the tasks that need to be done. Another scenario involves restricting tablet data usage when drivers are outside the borders of Poland, thereby saving on data costs.
File Transfer:
Updating navigation maps on over 500 tablets is a breeze thanks to the bulk file transfer capabilities. AirDroid Business has further fine-tuned the file transfer feature to activate exclusively when devices are connected to Wi-Fi, effectively conserving mobile data costs.
And the best part? All these features are available at a highly competitive price.
Timely technical remote support for devices

Drivers strictly use tablet on Kiosk mode

Applied geofencing features on devices

Remote application update and management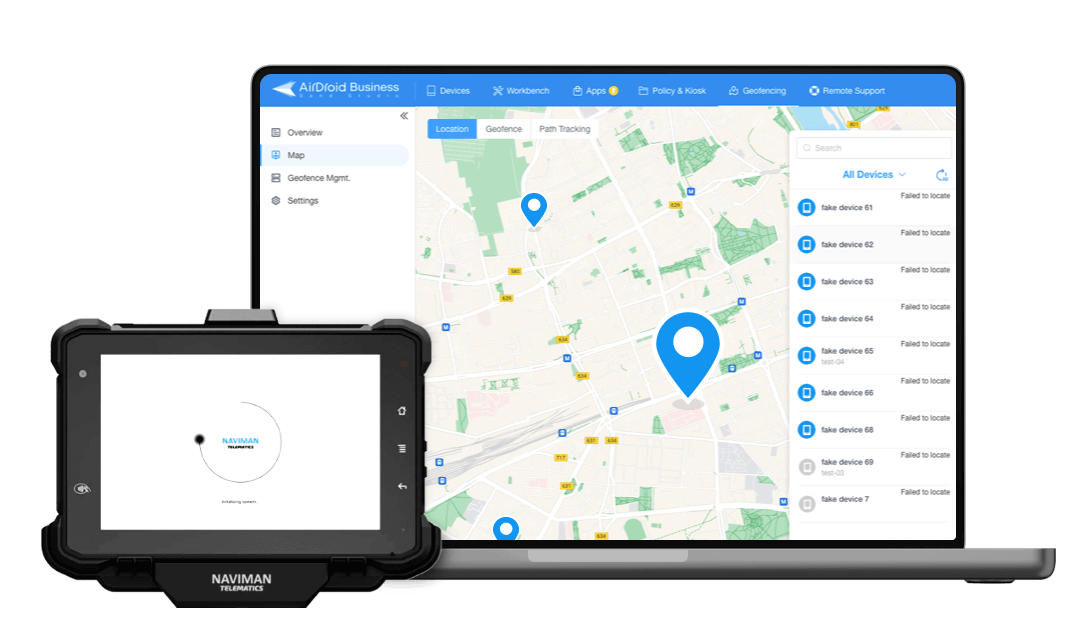 AirDroid has given us a box full of great tools to take our services to the next level. Managing hundreds of devices is simple and intuitive, and features like customizable kiosk mode or geofence notifications allow us to adapt to the needs of our customers.
In just two weeks, Naviman Telematics seamlessly transitioned from their previous MDM software to AirDroid Business. This new MDM solution not only extends their remote assistance capabilities but also equips them with a range of tools to manage their ever-growing device base. The console also boasts a user-friendly interface, making it a pleasure to work in this environment.