5 Remote Device Management Software for Mobile & Unattended Devices
Whether you have remote working employees or running a business that highly relies upon IoT devices, device monitoring and management is prime work. Remote device management is an ideal solution to work less.
What is Remote Device Management? It's the operation to access, monitor, control, and maintain distant devices. The practice is fulfilled by wireless network and remote device management software.
Here, we will emphasize 5 best tools and their key points.
Part 1 : Devices You Should Use Remote Device Management
What kinds of devices can be managed by remote device management? In a nutshell, endpoints with networking ability are available to use that any of Android-based, iOS, Windows-based, and Linux-based devices.
The following classifications give a clear picture.
Employee-use Devices
A wide range of industries requires MDM remote management in order to keep work-used devices right under the nose. Enterprises with oversea offices will hope to protect confidential data through device remote monitoring. Others like transportation, warehousing, and retail trade are able to improve work efficiency.
Supported Device Types:
Smartphones
Tablets
Laptops
Desktops
Handheld Barcode Scanner
etc.
Consumer-use Devices
Not just limited to devices used by employees, customers-use devices are also great candidates for Remote Device Management. Instead of visiting the spot in person, RDM allows troubleshooting faulty unattended devices remotely.
Supported Device Types:
Kiosks, such as self-order kiosks, check-in kiosks, Ticketing kiosks, etc.
Digital Signage
ATMs
etc.
Part 2 : Best 5 Remote Device Management Software
With businesses making more and more use of remote technologies, optimizing device management can be tricky. It's important to keep a close eye on which platforms and software you use, as well as which ones best suit the needs of your size of business and the type of devices you're using. To make things easier, this part will cover the best five remote device management solutions, examining details such as pricing, supported systems, and device types!
1AirDroid Business - Free for 14 Days
AirDroid Business is a remote device management Android solution with ISO certification. It's perfect for businesses of any size as it easily scales according to the needs.
The software has a clean and orderly console interface making setup easier. Its features are as follows: remote monitoring; remote lockdown/wipe/reboot; trigger alerts; automated workflow; policy configuration; kiosk mode; app management (managed Google Play Store supported); file transfer; location tracking; notification; etc.
Highlight:
Black Screen Mode - This allows IT technicians to remotely maintain devices with a customizable screen.
AirDroid Remote Support for Business - Focuses on IT support and for attended & unattended devices. Can be used together with the Business product.
Free Trial: 14 days for all features.
Pricing: $12-33 per device/year.
Supported OS: Android.
Supported Devices: mobiles, tablets, rugged devices, custom devices, POS, kiosks, digital signage, smart TVs, vending machines, and all other Android devices.
2Jamf
Designed for Apple devices, Jamf has years of experience to deliver centralized management including remote wipe, remote access with TeamViewer, custom alerts, Zero-touch deployment, BYOD user enrollment, app management, and others. The remote access device management solution is best for schools and small businesses.
Highlights: it provides easy and automated device enrollment.
Free Trial: 14 days.
Pricing: starts from US$4 per device/month.
Supported OS: iOS/macOS.
Supported Devices: iPhones, iPads, Macs, and AppleTVs.
3Microsoft Intune
Microsoft Intune is a popular cloud-based remote device management software to support Windows devices. Its features for remote workforces contain Conditional Access, remote wiping and locking, reset password, tracking, app distribution, notifications, etc.
Highlights: integrate with various third-party software to offer remote device management services.
Free Trial: 30 days.
Pricing: starts from US$8.80 per device/month.
Supported OS: Windows/Android/iOS/Linux.
Supported Devices: Mobile phones, tablets, PCs, laptops, and IoT devices.
4Miradore
Miradore is a free remote MDM tool best for start-ups. It enables you to remote wipe, lock, reset password, detect and report system updates, and so on in its free services.
Highlights: free with unlimited devices.
Free Trial: free to use some features.
Pricing: $0 - 3.30 per device/month.
Supported OS: Android/iOS/Windows.
Supported Devices: Mobile phones, tablets, laptops, peripheral devices, etc.
5ManageEngine Endpoint Central (Desktop Central)
If you are thinking of a cross-platform remote device manager, ManageEngine Endpoint Central can be the best choice. With it, you can share desktop remotely, transfer files, deploy patches, software, and operating systems, block and control USB device, detect vulnerabilities and monitor systems, etc.
Highlights: a comprehensive tool for professional IT technicians.
Free Trial: 30 days.
Pricing: starts from $795 per 50 devices/year.
Supported OS: Android/iOS/macOS/tvOS/Windows/Linux/Chrome OS.
Supported Devices: Smartphones, tablets, desktops, laptops, IoT devices, etc.
Part 3 : How does Remote Device Management System Work?
Remote device management services are typically deployed within a company's IT infrastructure, enabling devices to be managed from a single location. RDM software is the medium to make the system work.
1. Enroll devices to the dashboard
Enrolling devices to the remote device management software is the first step to booting the system. When you finish enrollment, you can see all devices in one via the admin console with detailed status and their installed apps.
2. Setup device groups and configure settings or apps
Group the devices and configure their settings in Policy as a second step. It doesn't matter which action you take first. Just make sure that your managed devices are online. Same, you can use app management, kiosk mode, and file management features to restrict device functionalities. These are helpful to avoid misuse and improve security.
3. Monitor devices
Device monitoring is the main part of the systems. And remote access camera, geofencing, alerts, workflows, and reports are features to help. In AirDroid Business, a screenshot wall is provided to check current screen pictures. For tracking, you can see the real-time location in Device Map.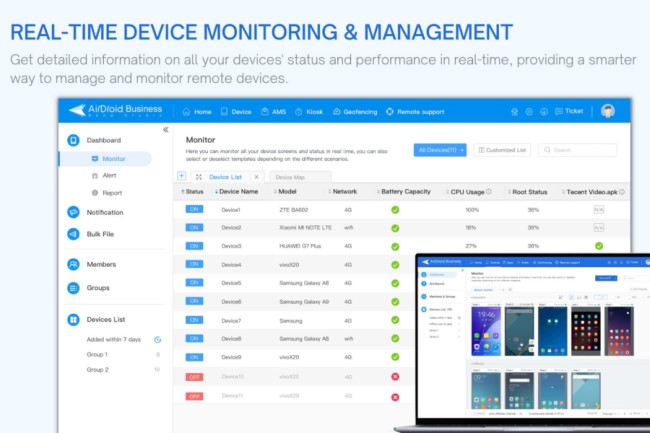 4. Remote control and troubleshoot abnormal device
Remote device management also includes remote device control and troubleshooting. The software will help build a secure session to connect the faulty device to the admin console. And it allows the IT team to fix issues at anytime and anywhere.
Part 4 : Pains of Remote Device Management
As an enterprise-used solution, remote device management has unsatisfactory places during the administration process. Some are brought by personnel, and some by the software. Remote device management poses these challenges and you may have met one of them.
1Insufficient monitoring and lead to poor work performance
Monitoring capabilities are different among remote device management software. Mostly, they focus on the device running state and location which are listed in an analysis report.
However, for some businesses, let's say logistics and transportation, these are not enough. Companies need more features to complete monitoring. Like, geofencing with path history tracking and automatic notification for abnormal activity.
2Fail to take action in time when detecting abnormal device
Device loss or malfunction happens from time to time. Though the software is possible to inform unusual activity by alerts, it's unable to handle problems immediately.
To make up for the deficiency, you can use a solution with Workflows feature. It allows the IT department to preset triggers and implement automated workflows when triggers occur, for example, remote factory reset, reboot, screen off, etc.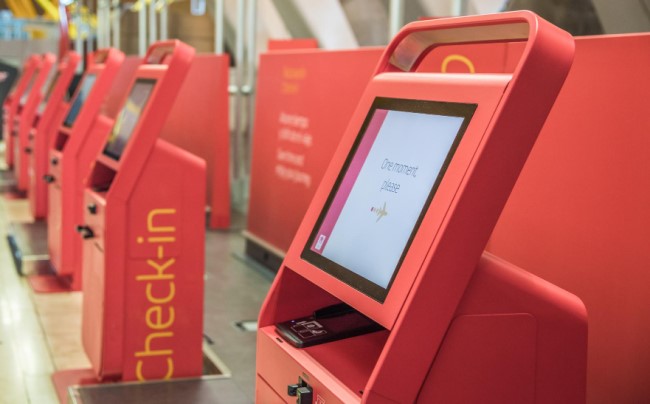 3Data leakage during remote device troubleshooting
Remote maintaining device is a common case to use remote device management solutions. Sometimes, company information may be exposed through the device screen during remote control.
A solution with privacy mode feature will make things better.
4Unsecure and unstable remote connection to devices
Managing remote devices require network connection. But not all software applies secure and fast data encryption methods. It's critical to find a reliable one.
5Employees feel that their privacy has been violated
As reported by Zippia BYOD statistics, there are 75% of employees use personal cell phones for work while 38% of companies have no security policy for that. If you have remote-working employees, you should not leave their phones unmanaged, unless you want to pay for data breaches.
But, some people dislike the management on their personal devices. To reduce disgust, you'd better train your IT personnel and select appropriate software for device management.

Part 5 : How to Choose Remote Device Management Solutions?
Choosing the right remote device management solution for your business is no small feat for solutions are abundant on the market. To make the selection process simpler and clearer, we've outlined key aspects you should consider when weighing up your options.
1Check if it is certified by an authority
Ensure that it is certified by a reputable authority and has up-to-date security certificates, such as ISO 27001 and GDPR. SaaS that offers cloud services is required to comply with regulations to protect clients' data and privacy.
2Check if it uses end-to-end session encryption
Remote accessing can leave devices defenseless and as well as your company data. Therefore, the remote device management software should utilize TSL and RSA private and public keys.
AirDroid Business uses both to encrypt data. Furthermore, we use 256-bit AES which is the most secure encryption layer.
3Test connection and speed performance during the free trial
When considering remote management, a stable connection between software and managed devices is critical. You can test the solution during free trial and see how it performs.
4See if it can be used for BYOD devices
If you are looking for a solution that offers features to prevent employee privacy violations, you should pay attention to its enrollment features. Generally, software that supports BYOD devices is able to access workspace data only when enrolling.
FAQs
What is remote device management?
Remote device management includes the operation of monitoring and administrating devices in order to protect corporate assets. With device management software, enterprises are able to remotely access, view and configure settings on both devices as well as monitor their status and app usage.
How does remote device management work?
With MDM remote management tools, users can enroll devices to the admin console and then monitor their running state or configure settings.
Can you use MDM to manage remote devices?
Yes. Remote MDM allows organizations to gain total control over businesses' remote devices, making sure users don't breach confidential company information or introduce malicious code onto the network.
Was This Page Helpful?