How HIPAA Compliance Help in Protecting Patient Privacy on Devices
Protecting patient privacy is getting tougher these days. The ubiquity of smart devices has tremendously transformed communication and doctor-patient relationships.
However, this has also posed a higher risk of data loss. Healthcare organizations need to strike a balance between delivering quality patient experience and complying with not only the HIPAA requirements but other personal data privacy regulations like the EU's General Data Protection Regulation (GDPR).
Personal healthcare information is sensitive and private. Therefore, it is critical for a hospital IT team to take preventive measures to ensure a more secure and streamlined patient experience.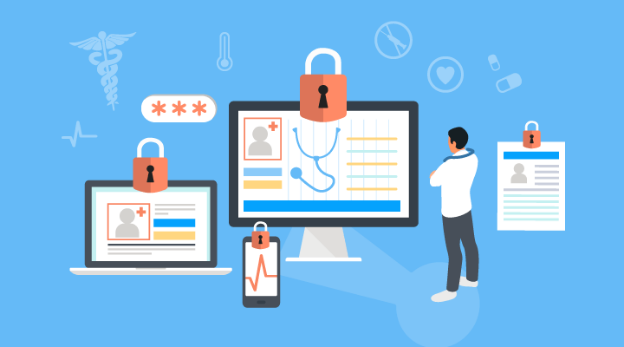 1What is Patient Privacy and HIPAA Compliance?
Patient privacy refers to an individual's right to decide who can have access to his/her protected health information (PHI) and how it can be obtained. The Health Insurance Portability and Accountability Act (HIPAA) establishes the standard rule for protecting sensitive patient data, requiring all healthcare organizations dealing with PHI to provide secure methods for HIPAA compliance.
2The Boom of Healthcare Technology and Innovation
Evidence of digital transformation can be seen in many industries, and healthcare is no exception. Grand View Research released an industry report indicating the global smart healthcare market is expected to witness exponential growth, with an annual growth rate of 13.3% from 2022 to 2030.
Thanks to the prevalence of mobile devices, more organizations are now adopting mobile health (mhealth) and implementing telemedicine into their daily operations. Some of these critical benefits include:
Faster and more effective communication
Shorter response time
Less repetitive paperwork
Streamlined practice management
Lower operational and personnel costs
Enhanced doctor-patient relationship
Real-time, accurate remote data monitoring
In short, mobile technology has expedited the process of patient consultation.
3Six Smart Medical Devices Used by Hospitals/Patients
The core concept of mobile health is using devices to monitor the patient's health, gather relevant data, and provide remote care. From a business operation perspective, this also frees up more hospital resources for organizations to focus on other patient wellness programs and strategies.
Here are some of the most common devices utilized by hospitals and patients in smart healthcare:
Self-service Kiosk
Many hospitals are deploying self-service kiosks near the reception to improve service efficiency and quality. Patients no longer need to spend time queuing. Instead, they can perform self-check-in and even reserve their next appointment directly. Self-service kiosks also provide interactive information that helps hospitals cut down on personnel costs and improve business operation workflows.
Biomedical System Devices
Biomedical devices usually refer to those specific gadgets that track your blood pressure, ECG, diabetic condition, or heart attack detection. Data on these devices are usually connected directly with the hospital, so when abnormal activities are detected, the patient's attending physician will be the first to know and prescribe necessary medication or treatments.
Wearables
Wearable technology, including fitness trackers and smartwatches (Apple Watch, Garmin, Fitbit), are some of the most important innovations in the healthcare industry. Being able to remotely monitor real-time patient status has played a pivotal role in strengthening treatment efficiency and accuracy.
Deloitte conducted a survey revealing that 39% of users had a smartwatch. Many smart wearables now introduce Photoplethysmography (PPG), which is an optical technology that can measure variations in blood volume and composition. Having more precise data and insights help doctors gain a more holistic view of the diagnoses to advise appropriate treatments.
Tablets
Another device type that has been widely used in smart healthcare is tablets. This gives doctors the advantage of accessing their patients' data on the go. Most importantly, with the help of mobile device management, hospitals can further assign data accessibility based on different roles and departments. Hence, patients' medical records will only be visible to specific personnel.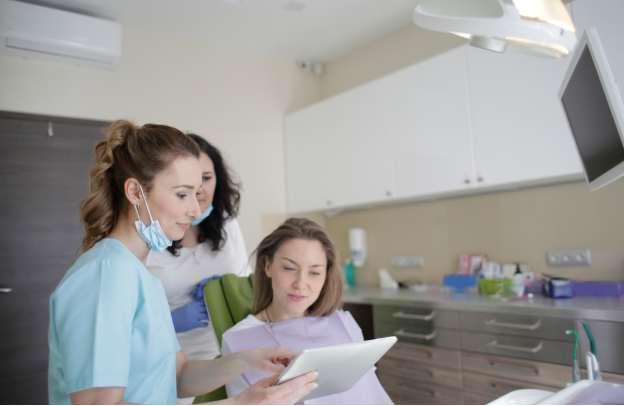 Digital Signages
Hospitals are deploying digital signages to communicate important, real-time health information. Digital signages also help guide visitors to their destination, reduce waiting room anxiety, and deliver personalized patient care.
Smart Medicine Cabinets
A survey from Cross River Therapy suggested that over 7 million American patients have reported being impacted by medical errors each year. Smart medicine cabinets allow organizations to integrate their prescription system with on-call schedules and identity verification so that only authorized staff can have access to medication. This can largely avoid malicious drug thefts and establish clear medical records for future treatment references.
4Three Cybersecurity Risks in Medical Devices
Despite the convenience that mobile devices have brought to smart healthcare, hospitals are also facing more cybersecurity risks that may lead to severe implications. Medical devices are suffering an average of 6.2 vulnerabilities for each device. Furthermore, many critical devices such as pacemakers and insulin pumps have been recalled by the US Food and Drug Administration (FDA) because of security issues.
Let us further address some of the common security risks the IT team should be aware of:
1Data Breaches
We are no strangers to data breaches in this modern, tech-oriented world. However, security breaches in healthcare data could lead to more detrimental consequences. In 2021, over 41 million people in the US suffered healthcare data breaches. Imagine if hackers were able to tamper with a patient's medical record. This could lead to false diagnoses and treatment, or worse.
A developer of electronic medical record software, Medical Informatics Engineering (MIE) recently suffered a data breach impacting at least 11 of its healthcare provider clients. Data breach is an urgent issue that the IT team needs to tackle.
2Identity Theft
Identity theft is another security risk derived from mhealth. It happens when a person claims your identification and uses it to receive medical care. Cybercriminals could also use the stolen identity to scam for insurance compensation or retrieve restricted medication. Medical identity theft is harder to detect, so it is always a good idea to constantly update your database and introduce different levels of data access in the first place.
3Malware
Malware is one of the emerging threats that needs to be addressed in healthcare. Malware can cause malfunctioning in medical devices, deter users from accessing files, and sometimes a complete shutdown until a ransom is paid.
Based on a recent report from IT security firm SonicWALL, the healthcare industry had experienced a roughly 755% increase in ransomware attacks. Malware-affected medical devices may also send false information to healthcare professionals which leads to wrong diagnosis and slows down the treatment process.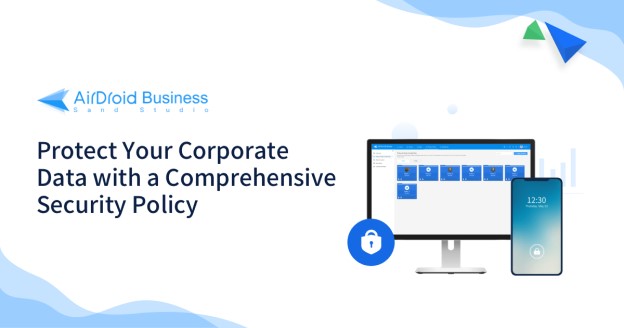 5How does Mobile Device Management (MDM) Help Protect Patient Privacy?
With healthcare data being one of the largest targets of data breaches, organizations must introduce an effective and secure MDM solution to protect medical devices and patient privacy.
Let us take a look at some of the essential MDM features for tackling cybersecurity issues to protect data privacy on devices:
Black screen mode
Black screen mode allows you to display a shaded screen while performing technical maintenance so sensitive data will not be revealed to external users. For example, when a hospital IT team needs to update some apps on a tablet, they could activate the 'Black Screen Mode' and display an "Under Maintenance" message across the screen.
More importantly, as hospitals are extensively using mobile devices for operations, it is recommended to implement an MDM solution like AirDroid Business, with its patented Black Screen Mode specifically designed for attended and unattended Android devices like digital signages, kiosks, tablets, and robots.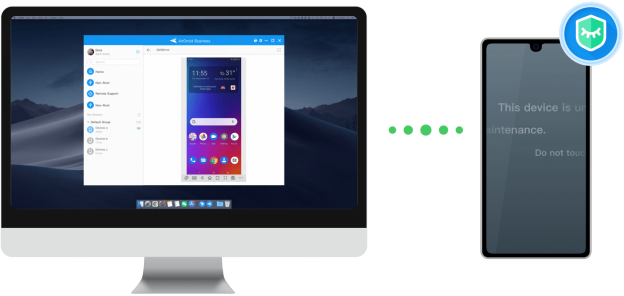 Remote monitoring, alerts, and workflow automation
With the advent of MDM and the development of AIoT devices, remote patient monitoring (RPM) is gaining importance in streamlining the patient care process. RPM refers to the act of monitoring a patient's health status from a distance.
MDM features like remote monitoring and automation workflow allow admins/doctors to create event-based alerts. When devices break down unexpectedly or when the patient's health status appears abnormally on their wearables, IT admins and doctors will be able to respond faster with appropriate measures.
Multi-level data accessibility
A healthcare organization consists of different departments and therefore it is important to establish clear data access rights for different purposes. AirDroid Business MDM supports corporate data management via roles and ownership assignments. This helps organizations avoid internal data breaches and cyberattacks through mobile devices.
In addition, it helps healthcare organizations with HIPAA compliance when it comes to protecting who has the right and authority to access a patient's information.
Kiosk Mode
Kiosk Mode allows IT admins to lock devices into single app mode, create whitelist websites, and block unauthorized network access. For example, self-service kiosks can apply single app mode to prevent visitors from accidentally tampering with the system settings. Website whitelisting and blockage of unrecognized networks can greatly reduce the risks of unknown file downloads and malware infections.
AirDroid Business Kiosk Mode
Device Lockdown: limit access to apps and system settings.
Single & Multi-App Mode: limit users to use only one or several apps.
Kiosk Browser: create website whitelist and allow to auto-clear cache.
Custom Layout:display brand and customize interface.
Remote app management and updates
Regular system updates and organized app management are essential to prevent device malfunctioning problems. In addition, it helps expedite the process of updating patient information and relevant business data across all types of devices when necessary. With Mobile Application Management, IT staff will be able to update all apps remotely and swiftly.
63 Most-Practiced MDM Tips in Healthcare
The importance of properly managing and protecting patient information has grown significantly for healthcare organizations in recent times. The increased numbers of cybersecurity attacks and the urgent concerns for patient privacy also indicate that having an effective MDM system for healthcare in place is more integral than ever.
Here are the three tips that will help you to leverage the power of an MDM solution:
1. Identify your mobile needs: You need to know what kind of operating system your devices will be using, and how many devices will you deploy. For example, AirDroid Business provides comprehensive MDM features for Android devices and swift bulk deployment.
2. Enforce strong policies: It is essential to establish strict mobile device management policies. These include how the devices should be deployed, the level of data accessibility, the SOP for device maintenance, and the integration with other business systems.
3. Provide security training: A study conducted by IBM revealed that 95% of cyber security breaches resulted from human error. Therefore, organizations should provide regular training courses for team members to reinforce the importance of cybersecurity, the proper use of device management, and policy compliance as part of the orientation program.
Final Thoughts
With continuous technological advancement, we are expecting to see the future of smart healthcare expanding through the use of cloud computing and AIoT devices. We believe data automation, data privacy, data storage, and big data analysis will also be underlined within the realm of the healthcare industry. Healthcare organizations should continuously utilize their MDM solutions and stay on top of industry trends.
Start 14-day Free Trial Now!
Was This Page Helpful?