Google Find My Device: Everything You Need to Know
Google's Find My Device is an incredibly useful tool to help you locate a misplaced or stolen Android phone/tablet. With it, you can sound an alarm remotely, and lock and erase your device - providing simpler retrieval and greater safeguarding of your personal info.
Here, we'll walk you through everything you need to know about how to use Find My Device - learn how to track and find it on the map. This invaluable asset is the perfect choice for any Android user seeking lost-phone peace of mind or wanting to ensure their data remains secure.
1 What is Google Find My Device?
Google Find My Device is an incredibly handy service, which helps you find, ring, lock, and erase your Android phone or tablet remotely. To access this great tool, make sure you're logged into a Google Account with location services turned on.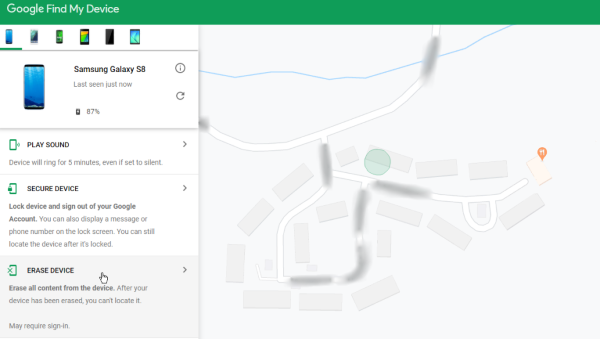 Requirements
In order to utilize Google Find My Device, a few requirements must be fulfilled:
The device must be turned on and connected to the internet.

The device must be signed in to a Google Account.

The device's location setting must be turned on.

The Find My Device feature must be turned on in the device's settings.
Features of Google Find My Device
The Find feature allows you to locate your device on a map, and see its last known location.
You can see the device's last known location on a map and play a loud sound if it's nearby using the Ring feature.
The Lock feature also allows you to password-protect your device and erase all data stored on it through the Erase function if necessary - no location info required.
2 How to Use Google Find My Device?
We've put together this step-by-step guide to make using it a breeze:
Head to the Find My Device website (https://www.google.com/android/find) and open a web browser. Log in with the same Google Account associated with your lost or stolen device.

Log in and you'll be presented with a map indicating your device's exact location (if possible). If not, the most recent site will be seen.

To find your device, tap the Play Sound option. This will cause your device to ring at full volume for five minutes, even if it's on mute.

Safeguard your device by clicking the Secure Device button. You'll be asked to enter a fresh password and this will activate the lock on your device, displaying a notification with your contact number on the lock screen.

To delete your device, hit the Erase Device button. You'll be asked to confirm the action, as erasing all of your data is an irreversible action.
3 Why You Should Enable Location Tracking on Your Android Device ?
Location tracking is a key feature that allows applications and services to determine your device's location.
This info can be used for personalized services, e.g. weather forecasts, directions, and location-based notifications. But one of the main reasons to enable location tracking is to find a lost or stolen device fast.
Benefits of Enabling Location Tracking
Locate Lost or Stolen Devices: You can use Google's Find My Device to locate your device on a map when enabled. This can be really helpful if you've lost or had your phone stolen - you can get its exact location and recover it quickly.

Keep Personal Data Safe: When you turn on location tracking, you also gain access to Find My Device's Lock and Erase features. These let you remotely lock or delete all data on your device, keeping your private info safe from prying eyes.

Enjoy Personalized Services: Taking advantage of location tracking on your Android phone enables you to get personalized services that perfectly fit your location. This means you can get informed of weather forecasts for the region, locate restaurants and attractions close to you, as well as receive directions to wherever you're headed.
4 Tips for Better Android Enterprise Devices Security
Maintaining top-notch security on Android enterprise devices is absolutely essential for safeguarding sensitive business data and keeping productivity up to par.
Seeing as more and more mobile devices are being utilized for work purposes, organizations need to make sure they have sound security protocols in place.
To that end, this piece will explore a few tips for ensuring superior Android enterprise device security―covering app management, device management, and user training.
Protect Android Enterprise Devices from Theft or Loss
Android enterprise devices are vulnerable to theft or loss, putting sensitive business information at risk. Theft or loss can lead to data breaches, financial damages, and reputation loss.
To prevent such risks, organizations need to take preventive measures, including:
Device Encryption and Password Protection: Secure your business assets with Device Encryption and Password Protection to protect against unauthorized access.

Remote Wipe Feature: The Remote Wipe Feature allows you to remotely erase data in the event of theft or loss.

Employee Training: Educate employees on smart device usage like avoiding public Wi-Fi networks and not leaving devices unsupervised.

Device Tracking System: Tracking Systems enable you to quickly find lost or stolen devices.
Utilize these measures to keep your Android enterprise devices safe from theft, loss, and potential data breaches and financial damages.
How AirDroid Business Can Help?
The risks associated with Android devices getting lost or stolen can not go unchecked – which is when solutions like AirDroid Business come in clutch. With it, businesses are able to benefit from 2 key features: tracking the device's real-time location via GPS and executing remote lock and factory reset.
Track Real-time Location
Using AirDroid Business, businesses can monitor the whereabouts of their devices through GPS. They're able to create virtual limits on a device, and if it exits the area, an alert will be sent. This alert can initiate an automated process complete with allocated tasks to hasten the process of locating the device.
Remote Lock and Factory Reset
The administrator has the ability to wipe off a device remotely if they are unable to recover it when lost or stolen – stopping sensitive business data from being accessed by unauthorized parties.
This MDM solution provides remote lock and factory reset features to ensure predetermined protection of corporate info carried in enterprise Android devices when combined with other find my device Android solutions.
5 Find My Device vs Find My App
Keep track of your gadgets easily with two widely-used applications, Find My Device and Find My App! Although they have similar functions, you'll find a few key differences that set them apart.
Supported Devices
Find My Device is a Google app that is available on Android gadgets like phones, tablets, and smartwatches. Plus, you can explore it through your browser.
On the other hand, since Find My App is an Apple application, it can only be used on iPhone, iPad, and Mac.
Features
Find My Device enables you to track your missing Android device, remotely lock it and delete all data stored in the device. Additionally, it allows you to play a sound that can aid in finding the device.
With Find My App though, you get to find your Apple gadget with its help too, and trigger a noise from the phone alarm. This will help trace it down conveniently and remotely secure or delete it if necessary.
Other Points
For Find My Device to work effectively, you must have an active Google account with location services turned on at all times.
On the other hand, for Find My App to do its job competently; you'll need an Apple ID and also make sure iCloud service is enabled.
Below is a table summarizing the differences between the two apps:
| Features | Find My Device | Find My App |
| --- | --- | --- |
| Supported Device | Android | iOS |
| Play Sound | Yes | Yes |
| Lock Device | Yes | Yes |
| Erase Device | Yes | Yes |
| Account Needed | Google Account | Apple ID |
6 Apple Find My App
Apple Find My App is a location-tracking tool developed by Apple Inc. that enables iOS and macOS users to locate their lost or misplaced Apple devices.
How to Use:
Open Find My App on your iOS or macOS device.

Choose the device you want to locate from the list of devices associated with your Apple ID.

Select the "Play Sound" option to ring the device if it's nearby.

If the device is not nearby, select "Mark As Lost" to enable Lost Mode. You can also add a message to display on the lost device's lock screen.

If you're unable to locate your device or suspect that it's been taken, you can always try the Erase This Device option to delete the device's info remotely. Just remember this should be a final resort since it will remove all details from the device, such as pictures, contacts, and apps.
Note : In order to use the Find My App, you need to have an Apple ID and the device must be connected to Wi-Fi or cellular data. Additionally, location services must be enabled on the lost device.
7 Further Reading: How to Find Your Lost Samsung Phone?
First of all, you must have a Samsung account and the corresponding feature enabled on your phone. Then accessing "Find My Mobile" via a web browser or app, you're able to track location, lock/unlock remotely and even delete data if needed.
Being familiar with how to use Find My Mobile is an invaluable skill for Samsung owners to find lost phone and keep their devices secure.
8 FAQs about Find My Device
Does Find My Device Work When Location Is Off?
No, Find My Device requires location services to be turned on in order to accurately track the device's location. If location services are turned off, Find My Device will not be able to provide the device's current location.
Can I Use Find My Device Without Internet?
No, Find My Device requires an internet connection to communicate with the lost device. Without an internet connection, the device cannot receive the request to ring, lock, or erase it remotely.
How Can I Track My Stolen Phone If It's Switched Off?
Unfortunately, if a stolen phone is switched off, Find My Device will not be able to track its position. However, when it's turned back on and connected to the web, Find My Device will be able to trace its whereabouts if location services are active.
What Happens If You Erase A Device with Find My Device?
Erasing a device through Find My Device removes all of its data and settings. This includes all personal info (e.g. contacts and photos) and any apps or settings you may have had on the device. Once wiped, the phone cannot be tracked using Find My Device anymore.
Will the Phone Ring If It Is Set to Mute??
Using Find My Device is an effective way of making your phone ring even if it's been silenced – although it may not always be heard depending on external noise levels in the area.
Bottom Line
This article has listed some useful content about Google Find My Device and other solutions for different mobile os. AirDroid Business is a MDM solution for Android enterprise devices. All of these solutions provide you with the following functions: monitoring your device's real-time location, remotely locking the device, and performing a complete factory reset.
In addition, please remember that some of them need an active Internet connection or location tracking before they can be put into action. If you find or suspect that your equipment is missing/stolen, please contact the relevant legal institution and equipment provider immediately.
Was This Page Helpful?