Endpoint Security Management: Why Is It Important?
What is Endpoint Security Management?
It is a mechanism to secure various endpoint devices connected to an organization's network. Endpoint security management involves a range of software that provides a centralized system for the administrators to manage the end-user devices smoothly.
With the rise in endpoint devices, the threat to security also increases. Security risk is a crucial factor that always remains for enterprises, regardless of the size or maturity of the business. One important security measure for enterprises is endpoint security management.
In this article, we will discuss some strategies and tools for endpoint security management.
1 Types of Endpoint Devices
Various endpoint devices are introduced to support business transactions and operating. Here are some standard endpoint devices:
Desktop computers and laptops.

Android and iOS mobile devices and tablets.

Point-of-sale (POS) Systems.

Printers.

Smart home devices like lighting, cameras, wearables, and other IoT devices.

Network hardware such as routers and servers.
2 4 Reasons Your Business Needs Endpoint Security Management
Endpoint management security plays an essential role in the development and processing of a business. It positively impacts various factors like cybersecurity, costs, data privacy, and endpoint visibility that directly consolidate the organizations.
1. Protect Cybersecurity
Endpoint security management is critical to protecting your business from cyber threats. It helps to ensure that all the devices connected to your business are secure and that potential vulnerabilities are identified and addressed before cybercriminals can exploit them.
With endpoint security management, you can implement firewalls, anti-virus software, intrusion detection and prevention systems, and encryption to safeguard your business and data from cyber-attacks.
2. Gain Endpoint Visibility
Some endpoint security management tools provide remote monitoring and control features. They enable you to gain visibility into all the devices connected to your network regardless of location.
This visibility lets you detect and respond to security incidents more quickly and effectively. Endpoint security management also helps enforce security policies and ensure all devices are correctly configured and up-to-date with the latest security patches.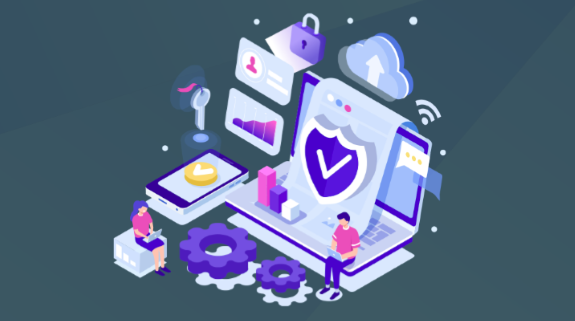 3. Reduce Costs
Endpoint security management can help you optimize your IT resources by automating patch management and software updates, freeing your IT staff to focus on other critical tasks.
Effective endpoint security management can reduce cyberattacks and data breach costs. Moreover, by preventing security incidents, you can avoid the costs of data loss, system downtime, and reputational damage.
4. Protect the Information
Protecting your organization's sensitive information, including customer data, intellectual property, and financial information. It can help you comply with data protection regulations and avoid legal and financial penalties for non-compliance.
By securing your endpoints, you can prevent unauthorized access to this information and ensure it remains confidential and protected.
3 4 Essential Features of Advanced Endpoint Security Management Solution
The primitive endpoint security management was only confined to the traditional anti-malware and anti-virus software because they were enough to manage the cyber-security.
Later, special cyberattacks were observed, requiring more advanced endpoint security management solutions.
So, they have evolved to include advanced features such as behavioural analysis, centralized management, supervision and control, rapid remediation, application, and patch management features...
Centralized Management - Secure All Endpoints in One Place
Allowing the security team to manage all endpoints in one place, providing a holistic view of the entire business.
It enables administrators to enforce security policies, set configuration standards, and monitor compliance across all endpoints from a single Dashboard.
With centralized management, IT teams can ensure that all endpoints are up-to-date and secure, reducing the risk of security breaches.
Supervise and Control
Advanced endpoint security management solutions provide real-time monitoring and reporting of endpoint activity, allowing administrators to supervise and control endpoint usage.
This feature enables IT teams to instantly detect and respond to security incidents, prevent data loss or theft, and control unauthorized access to sensitive information.
Administrators can set up automated alerts and responses to security events, reducing the response time and minimizing the impact of security incidents.
Rapid Remediation/Troubleshooting
Administrators can identify and resolve security issues on endpoints quickly. With advanced endpoint security management solutions, IT teams can remotely diagnose and troubleshoot endpoint problems, minimizing downtime and ensuring that business operations are not disrupted.
Rapid remediation also reduces the risk of security breaches by quickly addressing vulnerabilities or threats before they can be exploited.
Application & Patch Management
Administrators are able to manage applications and patches on endpoints from anywhere. This feature ensures that all applications are up-to-date and secure, reducing the risk of security breaches caused by outdated or vulnerable software.
With this feature, administrators can automate the application and patch management process, ensuring that endpoints are always protected without disrupting business operations.
Web Filter
This feature enables administrators to restrict access to websites and web-based applications on the terminal.
With web filtering, IT teams can prevent users from accessing malicious websites, reducing the risk of malware infections and security breaches.
Web filtering also enables administrators to enforce web usage policies, ensuring employees are not accessing inappropriate content or wasting time on non-work-related websites.
4 Endpoint Security Management Solutions
UEM - A Comprehensive Cross-platform Solution
UEM stands for Unified Endpoint Management. It is a solution for endpoint management that consolidates the control of traditional endpoints with the management of modern endpoints, such as PC, IoT devices, wearables, and cloud-managed endpoints.
The primary goal of UEM is to provide a centralized view and integrated management approach for all endpoints within an organization's boundaries, regardless of the operating system or location.
A highly built-UEM solution also provides analytics for device usage and the operational app details in the endpoint devices. Unified endpoint security and access management tools are also part of UEM.
Microsoft Intune
Microsoft Intune was launched in 2011 with a different name, "Windows Intune," and was renamed "Microsoft Intune" in 2014. It is a unified endpoint security management tool providing cloud-based mobile device management (MDM) and mobile application management (MAM) services.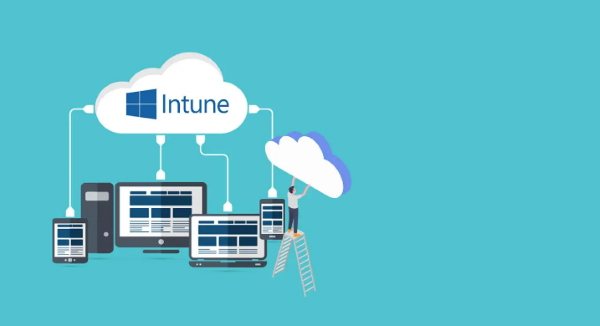 Intune allows administrators to manage devices and applications across multiple platforms, including Windows, iOS, Android, and macOS. Being cloud-based, it does not need to install and maintain on-premises servers or infrastructure. It can reduce costs and simplify management.
Appealing Features of Microsoft Intune
Application Management: Intune allows administrators to manage applications, including deployment, updates, and removal.
Device Management: Intune provides device management features such as enrollment, configuration, and policy management.
Compliance and Conditional Access: It allows administrators to set access policies based on conditions such as device health, location, and user identity.
Autopilot: The autopilot feature of Microsoft Intune is a self-service deployment and enrollment mechanism that simplifies the deployment process of endpoint devices and enhances the security of the whole system.
MDM - Deployment, Management, Security, and Control of Mobile Devices
MDM is the ultimate solution for all the concerns related to mobile endpoint devices for enterprises.
A perfect MDM solution must incorporate flexible and secure deployment methods, remote access and control over mobile endpoint devices, and fully customized management features to ensure highly safe and smooth business supervision.
AirDroid Business is an MDM solution that delivers everything an enterprise needs to manage and control its Android devices with a single interface.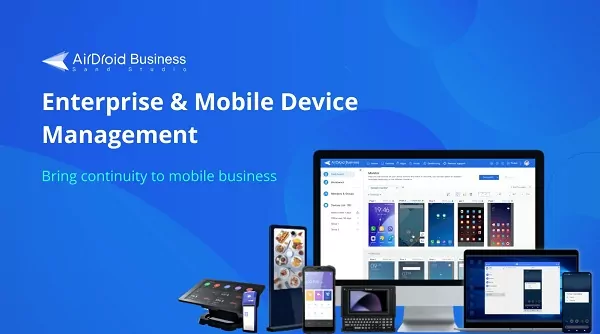 A large fleet of devices can be smoothly managed from any platform with this ideal management tool.
Discover AirDroid Business's Top Features for Optimal Effectiveness:
AirDroid Business has a unique feature for enterprises to make their Android devices fully purpose-oriented by limiting them to a single-app or multi-app kiosk mode. Hotels and restaurants commonly use kiosks to take orders.
It supports customization for security policy settings in a smooth way. Administrators can easily restrict device's functions from the dashboard.
Location tracking and geofencing are two significant features every enterprise needs to track its devices. The transportation and logistics industry makes excessive use of these features. AirDroid Business provides high-quality location tracking and geofencing alerts to update organizations on their device's security.
5 Endpoint Security Policy Template
Managing endpoint security policy is a serious concern for enterprises as the risk of a data breach is higher.
By customizing the security policy, confidential data can be secured. Now, we will discuss some security policies that must be considered while using Microsoft Intune and AirDroid Business MDM solution.
Apply Tightly Focused Policies with Microsoft Intune
Determine the specific security requirements for your organization and create a policy that aligns with those requirements.
For example, if your organization has a strict password policy, you can create a policy that enforces password complexity and length requirements.
In Intune, navigate to the policy settings and select the policy you want to configure. You can choose from various settings, such as device compliance, app management, and conditional access.
Configure the settings based on your defined policy. Once you have configured the policy, assign it to the relevant users or groups, and then regularly monitor compliance to ensure that the policies are being enforced and are effective.
Implementing Comprehensive Security Policy on Android Enterprise Devices
While using AirDroid Business to manage large business transactions, it is necessary to customize the settings and policies to make the system more secure. Here are some approaches that everyone needs to know:
Set security authentications to your devices, like lock screen passwords, to keep data safe.

Adding malicious and useless apps to the blocklist prevents such apps from running on the company's Android devices.

Customize the device's functions and settings, like the camera, microphone, system update, USB external device, network roaming and wireless network settings, Bluetooth, and location.

By customizing all these attributes per company needs, you can safeguard your endpoint devices smoothly.
Protect the security of your devices by implementing the policies of AirDroid Business
Force passwords configuration
This feature allows enterprises to enforce password policies on all devices enrolled in AirDroid Business. They can set requirements for password complexity, length, and expiration and configure other security settings, such as biometric authentication.
App Blocklist
This feature allows administrators to block specific apps from being installed or run on devices enrolled in AirDroid Business. It can help them prevent the installation of malicious apps or apps that could pose a security risk to their organization.
Restriction Settings
Allowing organizations to set restrictions on specific device features or settings. It helps them ensure that devices are being used securely and appropriately. Administrators can block access to Wi-Fi or Bluetooth, restrict access to particular apps or data, and disable certain device functions such as the camera or microphone.
Explore additional functions within AirDroid Business for remote management of your Android devices.
6 What Are the Different Types of Endpoint Security Strategies?
There is a vast list of endpoint security strategies that organizations can implement to protect their devices and data. Here are some of the most common types:
Browser Isolation
This strategy isolates web browsing activity from the endpoint device to a remote virtual environment. This approach reduces the risk of malware, phishing, and other cyber threats by keeping all web browsing activity off the endpoint device.
Secure Email Gateways
Email is a common entry point for cyber-attacks, and secure email gateways help protect against these attacks. These gateways scan all incoming and outgoing emails for malicious content and provide advanced threat protection to ensure email communication.
Endpoint Encryption
This strategy involves encrypting data on the endpoint device to prevent unauthorized access. It is vital for mobile devices at risk of being lost or stolen.
URL Filtering
This strategy involves blocking access to potentially dangerous websites, preventing users from accidentally downloading malware or accessing malicious content.
Insider Threat Protection
This strategy helps monitor and control user activity on endpoint devices to detect and prevent malicious behaviour from insiders, such as employees or contractors.
Data Classification
This strategy involves identifying and categorizing sensitive data on endpoint devices. It allows organizations to apply appropriate security measures to protect sensitive data.
Data Loss Prevention
In this strategy, the technology prevents sensitive data from leaving the endpoint device, intentionally or unintentionally. It may involve controlling access to sensitive data, monitoring data usage, and restricting data transfer.
Network Access Control
This strategy involves controlling access to network resources from endpoint devices. It includes authentication and authorization measures and policies that govern how endpoint devices can connect to the network.
7 FAQs about Endpoint Security Management

Why Is Endpoint Security Management Important for Your Business?

Endpoint security management is crucial for any business because it protects the endpoint devices used to access critical data and applications. It protects against threats, preventing data breaches and other security incidents. It also safeguards confidential data from unauthorized access, thus protecting the business's reputation. Endpoint security management ensures compliance and reduces system downtime, resulting in low costs and increased productivity.

How Does Endpoint Management Work?

Endpoint management refers to remotely monitoring, securing, and maintaining endpoints. Its goal is to ensure all endpoints are up-to-date, secure, and compliant with company policies and standards. The endpoint devices are selected and then remotely monitored. With patch management, the software is kept up-to-date on all the endpoint devices to avoid cyberattacks and perform all operations uninterruptedly.

What is the Purpose of Endpoint Security Management?

Endpoint security management aims to develop protection and support for any business. It provides maximum support to the enterprise in managing and controlling endpoint device access. It also enables remote troubleshooting and monitoring of endpoint devices.

What Is the Difference between Endpoint Security and Network Security?

Endpoint and network security are complementary approaches to securing an organization's digital assets. Endpoint security focuses on securing individual devices like laptops, mobile devices, and servers that connect to a network. On the other hand, network security concentrates on securing the entire network infrastructure, including the communication channels between devices, servers, and other network resources.
Bottom Line
In this article, we discussed the critical role of endpoint security management in developing and managing large enterprises. Endpoint security management protects businesses from cybersecurity, reduces costs, and improves endpoint visibility.
Various types of endpoint devices are involved in running large companies that demand a secure system to maintain the credibility and honor of the organizations. Hence, it is mandatory to use a reputable endpoint management tool to meet all organizational needs. For comprehensive security protection, we recommend Microsoft Intune and AirDroid Business as top UEM and MDM solutions.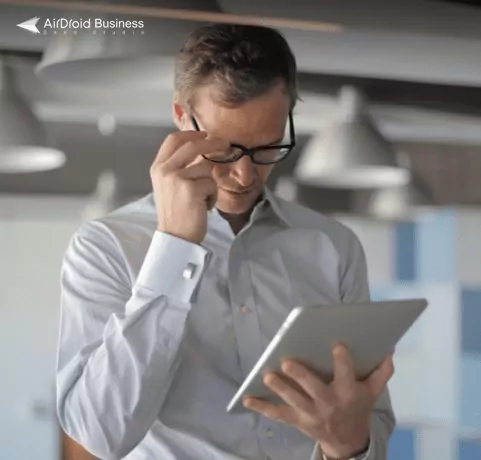 Mobile Device Management for Android Devices
Download free whitepaper
AirDroid Business provides an all-in-on MDM and remote control solution that helps your IT teams remotely provision, monitor, control, and secure unattended or attended Android devices. This datasheet gives you on overview of the benefits , core features and pricing plans to fast track your research.
Was This Page Helpful?