Digital Signage Kiosk: What Customers Want and Solutions
What is Digital Signage Kiosk?
A free-standing device known as a digital signage kiosk displays digital material at eye level to draw in onlookers. Digital kiosks come to have software, a built-in media player, and a secure payment feature, whereas other digital displays only come with the display feature.
1 Are kiosks the Future of Digital Signage?
The market for digital signage has experienced rapid expansion and prosperity. The digital signage sector is continually on the cutting edge because of the numerous technological developments and upgrades. So, Kiosks are truly the future of digital signage.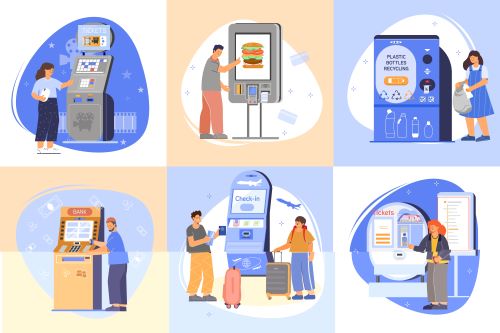 Digital Signage Kiosk Usages
Digital signage kiosks can be useful in a wide range of businesses and industries. For example, it can be used in airports to offer customer service FAQs, and show flight information, and maps.
In the Museums, digital signage kiosks can show videos, show important information, and maps.
The third major industry that also benefits from this technology is the retail sector. In this case, digital signage kiosks are used in advertisements, sales, loyalty programs, and for self-service.
For the lobby directories, the digital signage kiosks can be used to show news, to welcome customers, and show other valuable information.
Last but not least, another great industry that uses digital signage kiosks is the hospitality industry. The hotel kiosks can be used to show maps, display amenities, list events, and greet guests.
Benefits of Digital Signage Kiosk
Advertise
Kiosk advertising is a great option for businesses that want to deliver their brand and product in front of consumers without being unduly obtrusive because display kiosks come in a range of sizes and configurations and may be put in areas with high foot traffic. The utilization of promos, bundles, discounts, and other alluring offers may assist persuade your clients to purchase certain items using interactive kiosks, which are amazingly efficient marketing tools.
Promote
For retail enterprises, a digital signage Kiosk is a great promotional tool. You may promote a certain product and display the quantity of stock left in real-time. This strategy will make clients feel more compelled to act quickly and acquire the offered product. Digital signage kiosks provide customers with top-notch incentives or rewards programs. So, this is a great way for companies to promote their products easily and effectively.
Interaction
The day when salespeople were necessary to increase store traffic is long gone. It is safe to say that with the advent of kiosks in the digital signage sector, your sales personnel may be able to be replaced.
Improved engagement is only one of the many benefits that kiosks provide. Technology has advanced so much that it is now able to communicate with customers more effectively. Kiosks are a terrific interactive tool for surveys and questionnaires and are thus a wise investment.
2 Why is Digital Signage Gaining Popularity?
Technology mainstays for showing pertinent and current information to engage clients are interactive digital signage kiosks. With the use of individualized ad content, operators may engage with customers more deeply and increase average sales orders and product conversions.
Access to digital data: Social networking material, RSS feeds, weather forecasts, and other information can all be included and shown with digital signage.
Increased customer outreach: One can simply engage consumers and increase ROI by integrating digital signage into your brand shop.
Enhanced brand awareness: The use of digital signage may amuse customers. Additionally, if customers come upon any digital content associated with your products, they will remember and believe in your brand.
Multi-Location: Digital signage aids in simplifying every aspect of every business, making it simple to promote products throughout every store. The business may create its content by utilizing cloud-based technology. Additionally, it enables speedy content posting to the system and to all of their business locations.
Cost-effective solution: Digital signs can be adjusted in a fraction of the time, money, and effort required for traditional signage. Without the aid of a trained team, the duties could only require one person to execute them. As a result, it is highly cost-effective and helps to do work on time.
Digital Signage can be controlled remotely: It is handy to remotely control digital signages. Since they are connected to the internet, all you need to produce and disseminate the data is a computer. The time it takes to transition from concept to advertisement is likewise quite short.
Increase in Impulse Purchase: Digital signage aids in drawing potential customers' attention and enticing them to make an impulse purchase. Having digital signage that draws people in this way is therefore quite advantageous for businesses.
Digital signage minimizes perceived wait times: Retailers may use digital screens to amuse their customers by giving them access to a range of information. It could feature news about the weather and other current events, as well as films connected to the things your business sells.
3 What do Customers Want?
Intelligent and Efficient Devices
The interactive digital kiosk is a great way to understand what customers want and it also increases customer satisfaction. Wondering how? Better and quicker customer service is the most evident advantage of digital kiosks and interactive digital signage. High-quality customer service may be delivered through an interactive digital kiosk quickly, professionally, and with minimal effort.
Additionally, a kiosk allows for the honest opinion of clients without putting them under any pressure. Of course, customers need to be heard. Customers will want to return once they see that their input is being taken into consideration.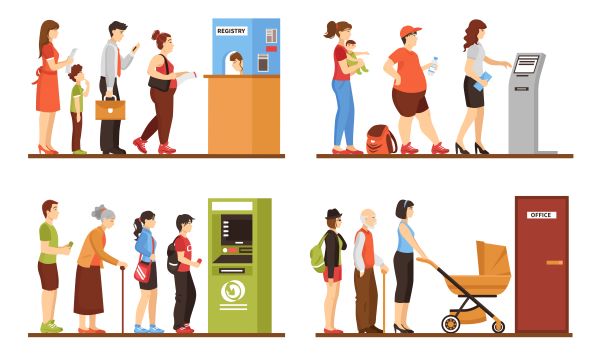 4 5 Considerations When Choosing a Digital Signage Kiosk
Quality: Interactive kiosks have to be produced by a company that adheres to a set of rules and guarantees both quality and security.
Durability: Public access makes kiosks vulnerable to theft and damage. If the kiosk will be outdoors, ensure sure the hardware is resistant to harsh weather.
Brightness and Screen Visibility: It is advised that an outdoor display have a minimum brightness of 2,000 nits to preserve readability.
Content Management: Some manufacturers might be able to provide you with their own CMS. The tool enables you to manage your content using a straightforward drag-and-drop editor. It also enables you to remotely control your campaigns from the cloud.
Security: Many kiosks have an operating system and a player integrated into them, this makes them a target for thieves. When making a choice, pick the digital signage kiosk that includes a tamper-proof inside locker that's secured against unauthorized removal of the integrated player.
5 Components of Digital Signage Kiosk
Hardware: Digital signage may be angled using a variety of mounting hardware to make them more pleasing to the eye and more visible to the audience.

Software: A platform for maintaining and upgrading digital signage material is known as a content management system for digital signage, also known as the system's software. As long as there is internet connectivity, you may change your material whenever you want with a web-based digital signage system.

Content: The efficacy of the display is determined by the photos, movies, and text that are shown on it. Having the correct elements is crucial.

Media Player: The media player is essentially a little computer that uses your software programming to instruct the system on what digital information should be displayed on various monitors at a specific moment. It also links to wifi, enabling you to modify the digital signage system through a website.

Digital display: Digital display, in our case kiosk is one of the most essential components of a digital signage kiosk. The majority of digital signage firms buy their screens from well-known suppliers rather than producing them themselves.
6 Reliable Software for Digital Signage Kiosk Management - AirDroid Business
What is AirDroid Business?
AirDroid Business offers remote management services for numerous devices. It is one of the best Android device management software. Some of the AirDroid Business features include remote monitoring, device enrollment, app management and Kiosk mode.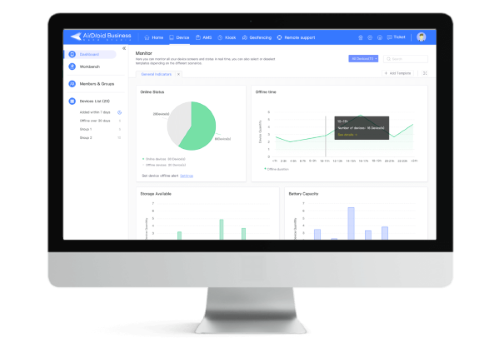 By using this app, businesses may easily and quickly deploy their campaigns in the management dashboard.
Android MDM Solution for Digital Signage Kiosk
AirDroid Business offers wonderful mobile management solutions. Customers may utilize this functionality to transform any Android mobile device into a kiosk to offer digital signage adverts.
Manage Digital Kiosk Display
When having the AirDroid MDM solution, digital kiosk display control is simple and easy. Every sign's home screen is displayed in the admin panel, allowing one to instantly identify those that are malfunctioning.
Configure Device Accessibility (Kiosk Mode)
Airdroid Business MDM is a very important platform for companies and it can make the manufacturing and service process much easier. First of all, it offers kiosk mode, which only allows devices to show the company apps. Administrators may alter and lock a device's look in the AirDroid Business Kiosk mode, giving users a consistent brand experience.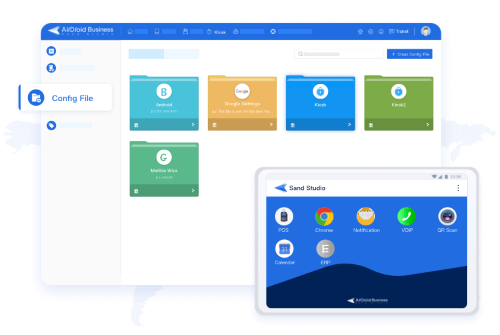 Users of the service can also develop and switch between brand profiles for certain contexts. With the use of AirDroid Business, You may frequently limit access to the operating system and online content directly from the device by using kiosk mode. This improves security policies by configuring accessibility.
Remote Monitor & Control (Troubleshoot Anytime)
From their cloud-based Admin Console, administrators may check each device's status to determine if it is operating properly and showing the advertising. When there are several locations and you need a rapid status update, this is extremely useful. It makes it simple for businesses to monitor and operate their digital signs from a distance.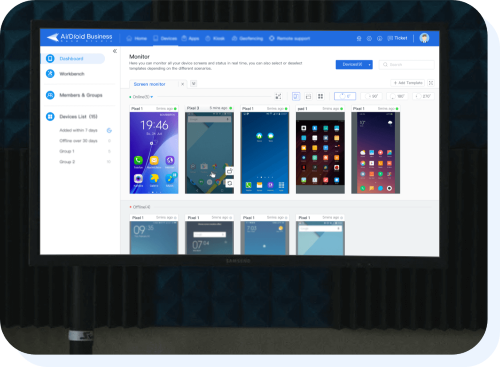 If there is an issue with the device, with the use of AirDroid Business MDM, the problem can be troubleshot easily anytime. Typically, the maintenance of the device and support can take quite a time, however, with this tool, it happens quickly and effectively. This tool is a great remote support solution and helps companies remotely access the device and resolve the problem right away.
Black Screen Mode to Prevent Data Breach
IT administrators may hide the remote screen during a remote control session using the Black Screen option in AirDroid Business MDM to protect the device from data breaches. When the mode is activated, the controlled device's screen will darken and a maintenance message will be shown on top so that end users or bystanders will be aware that the device is undergoing maintenance without really being able to see what is occurring on the device. In this way, the only company has access to IT operations and important data.
7 Bottom Line
Kiosks are interactive tools that are often positioned to help draw consumers. Kiosks' primary objectives have been to draw clients and produce leads for the company. Businesses are able to track client activity as well as get direct customer feedback free from psychological snooping. It serves as a covert means of enhancing the purchasing experience.
AirDroid Business MDM solution is one of the best tools for managing digital signage kiosks of Android. It offers digital transformation across all markets thanks to automation systems that are simple to use, versatile, and backed by end-to-end Managed Services employing IoT real-time monitoring.
INFOGRAPHIC

Download this infographic as an image
FAQs about Digital Signage Kiosk
What Are the Types of Digital Signage?
The four main types of digital signage are Automated, advertising, interactive, and dynamic digital signage.
What's the Difference Between Digital Signage and Touchscreen Kiosks?
Digital signages are less expensive than digital kiosks. Digital kiosks need more infrastructure and are less mobile than digital signage. However, touchscreen kiosks give the viewers a more personalized customer experience.
How Large Is the Market for Digital Signage?
In 2021, the digital signage market share was approximately $16.3 billion. It is believed, that the market share of digital signage will reach $27.8 by the year 2026.
Is Digital Signage Sustainable?
In comparison to regular signage, digital signage is more sustainable.
Was This Page Helpful?