How to Block TikTok on a Router: A Guide for Parents
In the past few years, TikTok has become quite popular. Kids and adults are always watching TikTok because they are fun and interactive. In fact, the stats show that an average person spends 75 minutes on the app once they open it. Since most people use Wi-Fi and there are no internet limitations, they don't even worry about high mobile data costs.
As a result, kids spend a lot of time on TikTok, which is why it's recommended to block TikTok on a router. However, if you don't know how to block TikTok on router TP-Link, we are sharing the guide with you!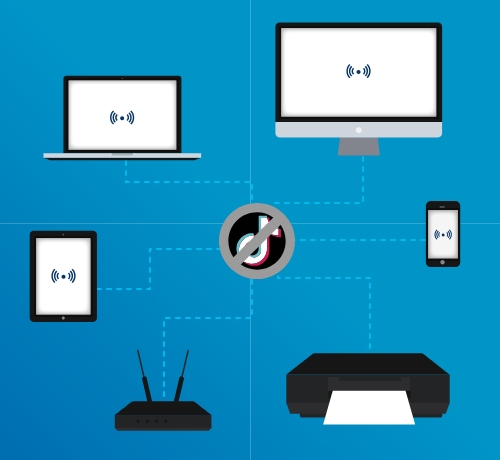 Part 1. Blocking TikTok on Router – The Step-by-Step Guide
Blocking the app itself is the ultimate way of ensuring that kids or adults in the house aren't addicted to these videos. However, it seems like a technical job, and many people don't know how to do it, which is why we have created this step-by-step guide. In this section, we are sharing how to block TikTok on a router.
Note: The exact steps may vary depending on your specific router model and its firmware.
On TP-Link Router
Step 1: Log into your TP-Link Router's web interface. Go to "Access Control" and click on "Target."
Step 2: Click "Add New," select "URL Address," enter a description, enter https://www.tiktok.com/ in "Add URL Address," and hit "Add." Check the details and tap "Save."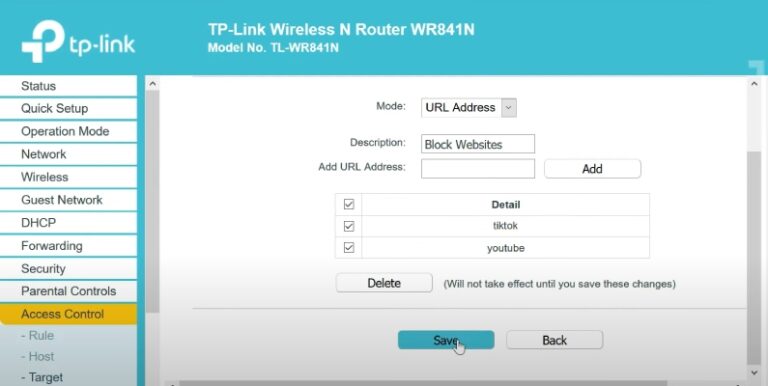 Step 3: Go to "Schedule," click "Add New," enter a description in the "Description" box, customize the days and times you want to block, then tap "Add" and "Save."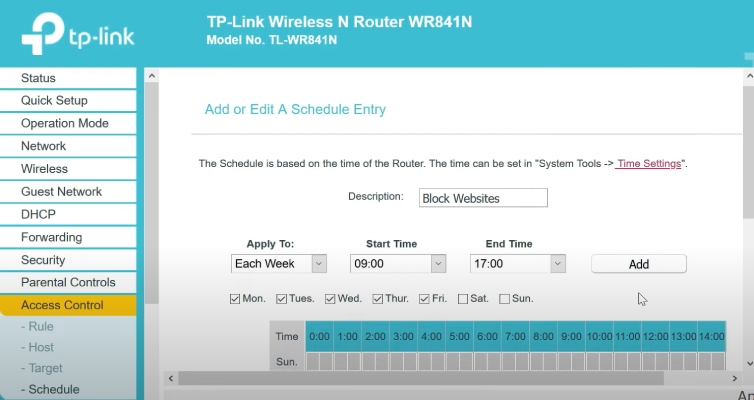 Step 4: Now, click on "Rule," turn on "Enable Internet access control," choose "Allow the packets not specified by any filtering rules to pass through this device," and hit "Save."

Step 5: Scroll down and choose "Add New," enter a description first. In the "Target" and "Schedule" sections, select the rule you defined earlier, and hit "Save."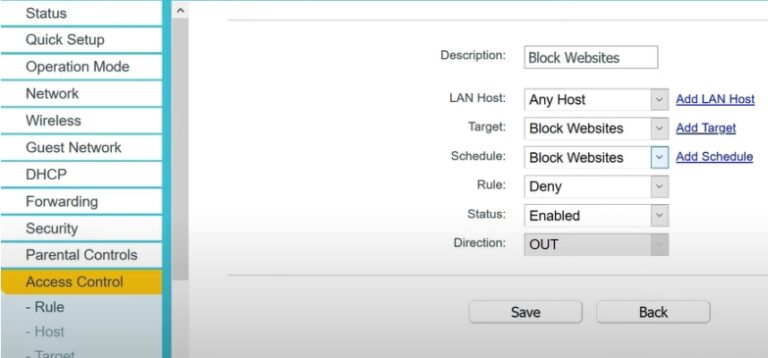 On Beetel Router
Step 1: Open your Wi-Fi router's admin portal and go to "Service." In the DNS settings, switch to "Set DNS manually."
Step 2: Enter "208.67.222.222" in DNS 1, and enter 208.67.220.220 in DNS 2. Then you need to restart the router to save the settings.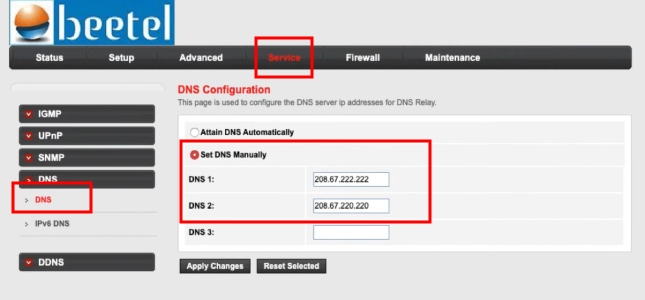 Step 3: Now, go to OpenDNS's official website and create a new free account. You can also log in if you already have an account.
Step 4: Go to Settings > Add a new network. Hit "Add This Network," and create a name for this network.
Step 5: The newly added IP address will be shown below. Click on it to manage this network.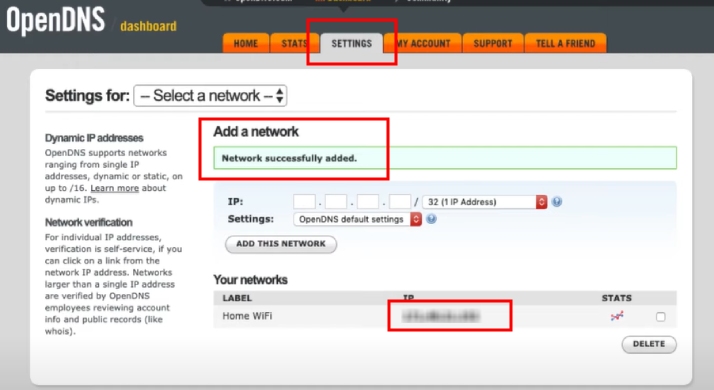 Step 6: In this settings page, you will be defaulted to the Web Content Filtering section. Here, you should add the domain addresses of TikTok in "Manage individual domains" and click on "ADD DOMAIN."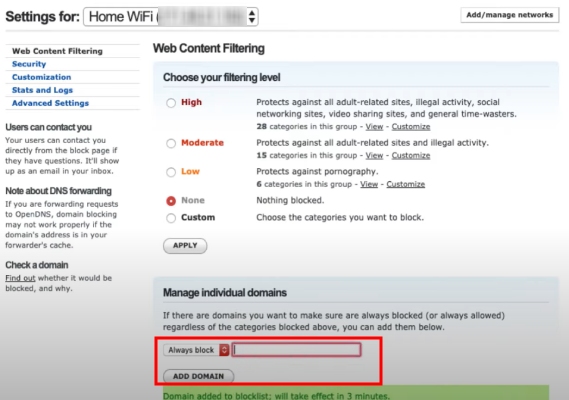 Here are the TikTok domain names that you can add to block in web content filtering:
v16a.tiktokcdn.com.
ib.tiktokv.com
v16m.tiktokcdn.com
api.tiktokv.com
log.tiktokv.com
api2-16-h2.musical.ly
mon.musical.ly
p16-tiktokcdn-com.akamaized.net
api-h2.tiktokv.com
v19.tiktokcdn.com
api2.musical.ly
log2.musical.ly
api2-21-h2.musical.ly
Step 7: Last, tap on "Stats and Logs," choose "Enable stats and logs," and hit "APPLY."
Part 2. Reasons to Block TikTok
Now that you know how to block TikTok on a router, it's important to know the reasons. Many people think that it's for conserving the internet. However, there are many other reasons why parents should block TikTok for kids by banning it on routers, such as;
Inappropriate Content
Kids aren't supposed to use TikTok. It doesn't have a version that is specifically made for kids like some other video-sharing sites do. This is not a bad thing about TikTok; it's just not how the app was meant to be used. A lot of TikTok movies are made by adults for adults, and there's no good way to cut these out.
You should also keep in mind that some TikTok videos that seem to be made for younger kids might not be appropriate for your kids to watch. The main idea of this piece is that it's not really about TikTok but about how you might feel about kids' content in general.
You may also like: How to Block Inappropriate Content on YouTube?
False Information
As adults, we're used to hearing the phrase "false information" or something similar used to describe political views that could be harmful. That's not always what we're talking about here. It doesn't matter if it's political or not; a lot of the "information" on TikTok is just wrong.
This content is sometimes shared to tell a story, sometimes as part of a joke, and sometimes because the person who made it made a mistake. In any case, kids often have trouble telling the difference between what is real and what isn't and between what is solid and what isn't. This can make it hard to talk to people at home, with friends, or even at school.
Dangerous Trends & Activities
This phrase "dangerous activities" is a lot like "false information." The content doesn't usually try to start fights, but there may be stunts or pranks that could be risky. Some content is also changed in a way that makes it safe for the poster to do but not safe for the user. Also, some videos may have information about feelings and thoughts or other things that could be harmful for kids to see without an adult.
One more reason why guidance is very important is this. When you watch a movie with your child, it's easier to tell them that the activity shown might not be safe than to stop them from doing something they saw you do.
Part 3. Benefits to Block TikTok on a Router
Universally Applicable
Changes made at the router level apply to all devices connected to it. This means you won't have to individually set up restrictions on each device.
Consistent Enforcement
No matter what device your child uses to access TikTok, these restrictions will take effect as long as the device is connected to your router.
Saves Time
Given that you're implementing the restrictions at one central point, it eliminates the need to repeat the process on each individual device.
Harder to Bypass
Children often have a harder time understanding and modifying router-level settings, making restrictions more effective.
Better Internet Usage Management
Controlling access to apps like TikTok at the router level can contribute to better management of your overall home internet usage.
Part 4. Other Tips to Take If Your Kid Uses TikTok
To say it again, TikTok is not the bad guy. The app can be hard to keep kids away from, even if they don't have it. TikTok movies can be found on YouTube, Snapchat, and other sites that let people share videos.
Supervision is Necessary
This may sound like a lot to ask, but just to tell you, this is also what TikTok says. Finally, this piece has been about how even the most questionable videos on TikTok aren't a problem if you're there to answer questions. Kids can watch videos on TikTok while you're not around, but the videos are so short and play so quickly that it can be hard to stop them from seeing inappropriate material.
Being there with them is the best thing you can do. In the end, little kids who watch TikTok probably do it on their phone or tablet. You probably like TikTok, too, if you have the app on your phone or tablet. What might seem like typical parental control could turn into a way for kids to grow and learn at the same time.
Use Parental Control Features
It's one thing to watch TikTok with your kids when they are very young. If the kids are in middle school, it might not work as well. It's okay, though; there are other ways to fix the problem, even if they have the app on their computer instead of yours. Start by letting them make their own account. Make sure they enter their real name, though.
As was already said, this automatically adds extra safety measures that can help you relax without having to do anything. Next, don't forget that TikTok has parental settings that let you keep a closer eye on what they watch. You don't need to have the app downloaded to use these settings. You can use them from the TikTok web dashboard.
Use Professional Parental Control App
While we have shared how to block the TikTok app on the router, it's still not enough because kids these days can easily bypass these settings.
For this reason, it's recommended to use third-party parental control apps to protect your kids from bad content. One such option is the AirDroid Parental Control. It has the following features that can help you;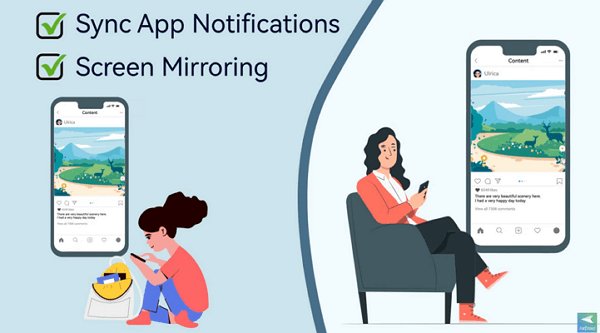 Keyword Monitoring
Want to know if your child is watching inappropriate shorts on TikTok? Try adding keywords you think they might watch. Once the keywords are triggered, it means that the keywords are included in the textual description of the videos your teen saw. And you will receive an alert of the video details.
Screen Mirroring
You can mirror your kid's Android devices to yours, so you can constantly see what they are doing on their devices. It not only includes seeing which apps your kids are using, but you can also see who they are talking to and what content they are consuming.
Screen Time Limits
Controlling the screen time is important for kids. With AirDroid, you can set up screen time limits, so kids won't be able to access TikTok after spending a certain period of time on the app.
Final Thoughts
TikTok is a good app for entertainment, but there are times when it interferes with mental health and productivity. For this reason, it becomes essential to keep the kids and family away from TikTok, and blocking it on the router makes perfect sense. So, use the guide from this article to help yourself and protect the little ones.
FAQs about Blocking TikTok on a Router
Is It Possible to Permanently Block the Router?
Yes, you can do it permanently if you choose the OpenDNS method. That's because unless you unblock the IP addresses of TikTok, people won't be able to access TikTok.
Can I Use App Filtering to Block TikTok?
Yes, it is possible, and it's the easiest way to block TikTok. That's because it will ensure that kids and families won't be able to access the TikTok app itself, even if they use firewalls.
How to Reduce Wi-Fi Usage While Using TikTok?
You can set the Wi-Fi usage from the router's settings and set how many MBs TikTok can use.
Was This Page Helpful?