How to Transfer Data from Broken Phone?
The first thing people do after breaking their phones is wonder if it's possible to retrieve data from their broken phones. Accidentally dropping the phone and breaking the screen is quite common among smartphone users. However, your phone might contain a lot of necessary files. So, how to transfer files from a phone with broken screen?
There are a few different ways to get files from a broken phone. Among them, the most effective is to use an app that lets you remotely access your phone from your PC. In the following discussion, you will learn how to get data from a broken phone using an app like AirDroid. Plus, you will learn about a few more similar apps.
1How to Transfer Data from a Broken Phone?
If you ask 'how to transfer data from broken phone,' there are mainly three options. Firstly you can use your device's cloud backup and access the file from there. Another option is to take out the SD card and extract the data from it. The last and best option is to use an android remote access and control app.
Cloud Backup
If you are using android, you might want to check your Google Drive for backup files. This is especially helpful for those wondering how to get photos off a broken phone. Because Google Drive automatically backs up files in Google Photos. However, if you did not enable auto backup, you may not be able to find your files on the drive.
Downloading your backup files from Google Drive on your computer is easy.
Step 1: Visit drive.google.com
Step 2: Click on a file to select it. You can also press Ctrl to select multiple files
Step 3: Do a right-click and then tap Download
Remember that Google Drive permits a free space of 15 GB only. Plus, it won't back up anything you didn't tell it. So, you might not get all your phone files from here.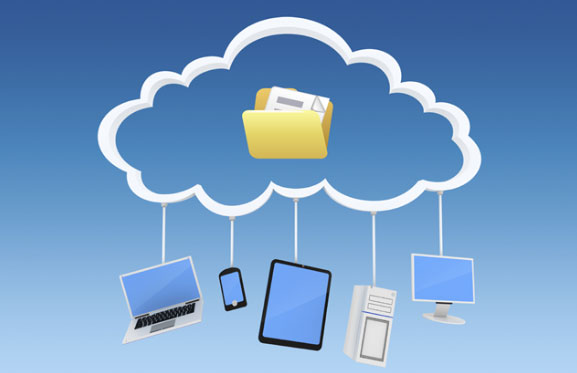 SD Card
Android phones have removable SD cards in them. You can find it in the same tray on which you put the SIM card. Or, it might be located behind the battery. The site varies according to the model of your android phone.
After locating the SD card, insert it into another Android device to access the files. Or, you might put the card in a microSD adaptor. Afterward, you will connect the adaptor to your PC and move the phone files to a folder.
This method can't promise you all the data on your phone. That's because your SD card only contains files you choose to save. So, you won't be able to retrieve the data you saved on your phone memory.
Use a Remote Control And Access App
If someone is thinking about "how to transfer data from broken screen phones," a remote control app is the best option. These apps let you access every nook and corner of your broken phone. As a result, there is no partial recovery of files like the other methods.
However, you must install the app on your device and PC. This might be difficult when your phone has a broken screen. So, it's always a smart move to have remote control apps, like AirDroid, installed on your phone right from the beginning.
2Best Remote Control Apps to Recover Data from Damaged Phone
If you are wondering how to transfer data from a broken phone, remote control apps are the way to go. Some of the best apps include AirDroid, RemoDroid, and TeamViewer.
1TeamViewer
TeamViewer has been around for a long time. And a large number of users have found success in remotely controlling their android devices using this tool. There are thousands of positive reviews and high ratings for this app on the internet. So, look into this app if you are searching for 'A Samsung phone screen broken how to transfer data.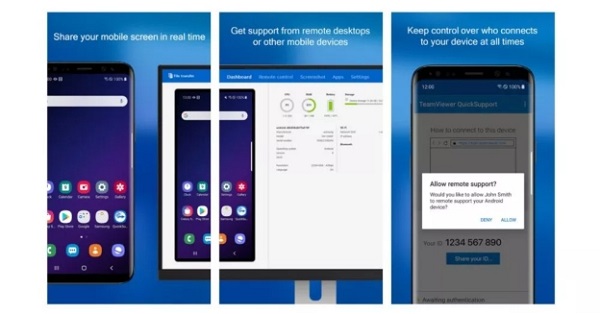 Features
Wide range of compatibility: TeamViewer has been designed to remote control and connect devices at a workplace. Therefore, it has been developed to be compatible with most operating systems. So, you can transfer files from your Android device to Windows, Linux, or Mac Os using this app.
Millions of users: The number of users of TeamViewers is in the millions. So, when you use this app, you get access to a bustling community of users who are trying to solve the same issue as you.
Pros
Has thousands of reviews to attest to the quality
Compatible with all types of PC operating system
Fast transferring of files
Cons
Needs detailed knowledge articles
The interface might be complex for some users
2RemoDroid
RemoDroid is another proven tool to get files off a broken phone. Usually, people use this for presentations in remote workplace meetings. So, you can understand that this app permits the connection of multiple devices at a time.
Features
Screen sharing: The sharing of the screen is one of the most appealing features of the RemoDroid app. You can use this to share the screen of a device that is streaming live and let several people view the content at the same time.
Multi-user support: RemoDroid lets you connect multiple devices and users. So, it can be a helpful app if you are running a business with a small remote workforce.
Pros
Has screen sharing options
Supports multiple users
The app is easy to use
Cons
The installation process is complicated
Requires root permission
3AnyDesk
AnyDesk has been popular with regular users and IT support teams alike. Individual users can easily access their android devices using AnyDesk. Meanwhile, the tech support team can remotely provide service to colleagues utilizing this app. A user-friendly layout and regular updates contribute to this remote control app's popularity.
Features
Sensible layout: How an app's workspace looks on the desktop screen can affect the user's performance. And AnyDesk has considered this seriously when designing their desktop layout. Instead of laying out the tools all around the space, they have artfully tucked them into a toolbar.
Security: Any app you use to extract data must ensure optimum security. And AnyDesk does it by providing end-to-end encryption during all your remote sessions. There is also a two-factor authentication that further strengthens security measures.
Pros
It has a sensible and user-friendly layout
Provides top-notch security during sessions
The app files take up very little space on your computer.
Cons
There are reports of occasional connectivity problems
Not suitable for large businesses
4Vysor
Vysor works for both IOS and android devices. Like similar apps, Vysor lets you share the screen with others and view files on your phone from your computer. Users can also use codes to customize the app. And the camera plug-in helps you to turn your android device into a remote control camera.
Features
Screenshot and record: These are some of the most helpful features on Vysor. You can capture meetings for later review using the recording and screenshotting options. That way, even if you miss something during remote sessions, you can always catch up when the meeting is over.
Type with PC keyboard: Vysor lets you type on your phone using your PC keyboard. As a result, you can type messages fast and work more efficiently on SMS marketing campaigns.
Pros
The interface is primary and convenient for most users
Download and installation are easy
Offers a free version
Cons
The free version lacks many of the critical features
Requires debugging before file transfer
5AirDroid Personal
AirDroid Personal is the best tool for anyone wondering 'how to get files from broken phone.' No other app can sync your android and PC with the level of perfection that AirDroid does. Using this app, you can recover and transfer all your photos, documents, audio, and other types of files.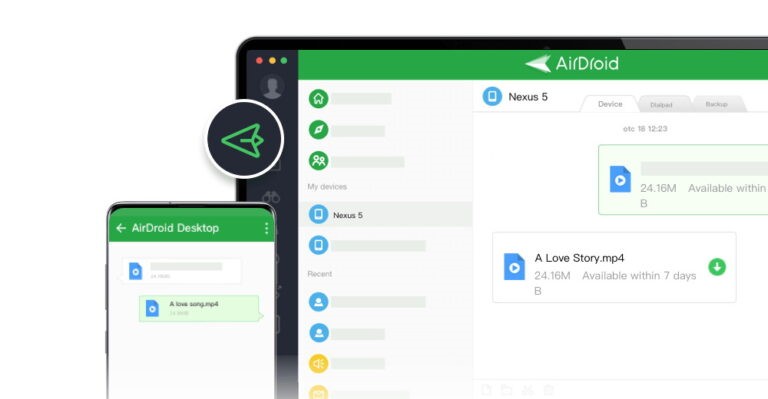 Features
No rooting: AirDroid Personal requires no rooting to gain control over your phone. Following an elementary download and installation, you can start transferring files from your broken android phone to your PC.
Free Version: Although the premium version of AirDroid is a better choice, the free version is also excellent. Unlike similar apps, it doesn't compromise app features on the free version. Instead, it puts a cap on how much you can use them.
Pros
Transfer files at the super speed of 200 MB/seconds
Extract all types of files from every kind of folder of your broken phone
Manage SMS and other phone functions directly from your PC
Cons
It needs more tutorial videos on YouTube.
Should feature more helpful articles on the website
3How to Get File from Broken Phone With AirDroid
So, how to transfer data from broken phone? The answer is to use AirDroid. For those, who still have an intact phone, install a remote control app like AirDroid as soon as possible. This will keep your data safe and accessible in case of theft or a broken screen.
Are you still thinking about 'how to copy data from a broken screen android phone?' Then follow these steps to extract those files using AirDroid.
Step 1.

Downloading And Installing The app

Enter the search term "download AirDroid" in the Google box from your PC. The first address in the search results is the most suitable for the device. Click on the link to view the webpage.
There are two options on the 'Download AirDroid Personal Now' webpage. Here, one is for desktop and another for mobile. Click on the 'For Desktop' option. The app shall download, and a box shall appear asking for your permission to install it. Click 'Install' to complete the process.
Step 2.

Account Creation

After installing the app, head back to the previous web page. Here, at the top right corner, you will find Sign-in. Click on it to create an account.
Account creation is effortless. They will require your email and ask you to create a password. After that, they will send a verification code to your email. Enter this code in the account creation box, and you will be done.
Step 3.

Downloading the Mobile App

In this step, you have to visit the Play Store from your android device. Then, search for the 'AirDroid: File & Remote Access" app. Click on 'Install' to start the download and installation process.
The app is 45 MB in size. So, it may take several seconds to a minute, depending on your internet speed. Lastly, grant the app permission to access your files.
This step might be tricky if your phone's screen is severely damaged. So, it is wise to install AirDroid on your phone from the beginning.
Step 4.

Transfer Files from Broken Phone

Head to the desktop interface of AirDroid. Now, sign in using your email ID and password. You will see that the app is searching for nearby devices. After a few moments, you will find your broken phone listed under 'My Device.' Click on it.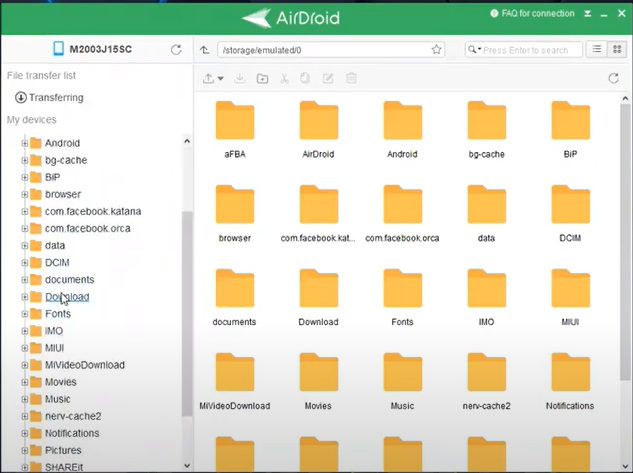 Now, select the file icon (the second one from the top) from the side toolbar and click on it. You will now see all the files and folders on your phone on the desktop interface. from here, you can Drag-n-Drop the files to a desktop folder.
And that's your answer to 'how to copy data from broken screen android phone.'
Conclusion
How to transfer data from broken phone? Hopefully, you have found the answer to that question. Your best option is to use a remote control app like AirDroid. And those who still have intact phones, make haste to install the app on their devices. This will secure the future of the valuable data on your phone.
FAQs
What are the methods of transferring data from a broken phone?
Ans. The most effective methods of transferring data from a broken phone include Cloud Backup, extracting files from an SD card, and using a Remote Control and Access app. Among these methods, remote control and access apps are the best.
Which remote control and access app are suitable for transferring data from a damaged device?
Ans. TeamViewer, RemoDroid, AnyDesk, Vysor, and AirdDroid Personnel are some of the best apps for this purpose. You can especially consider AirDroid Personal for its simplicity and wide range of options.
How do you transfer files from a broken phone using the remote control and access apps?
Ans. You first have to download, install and launch the app on your PC and your broken phone. Also, you must create an account on the app's platform during the process. Afterward, you can access the broken device from the computer and transfer the necessary files or all of it.
Was This Page Helpful?