2023 Top 5 Remote Control App for Android
You are looking for applications to help you control your phone remotely by Android phones quickly and simply. On PC, the remote control app is quite familiar, so what about on Android devices? The following article will summarize for you the top 5 Android remote control apps that you should try in 2023.
1AirDroid Personal
AirDroid Personal is an advanced technology that allows users to access mobile devices from a remote desktop or wirelessly. This makes file sharing and communication easier for users, saving a lot of time. The application is available on both PC and mobile platforms. AirDroid Personal will be one of the best remote control apps for Android that you may need.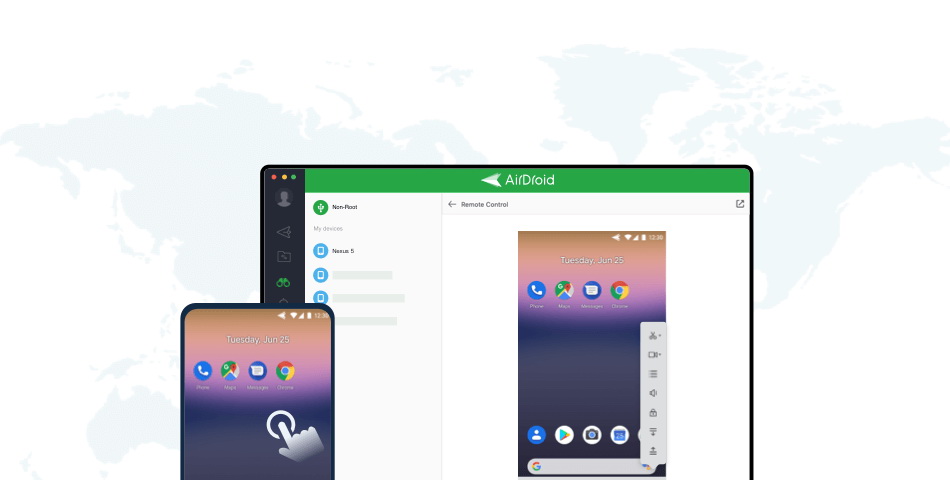 Key features of AirDroid Personal
Fully remote control your Android devices: You can gain complete control of the Android devices without rooting them.
Remote monitoring: Make use of underutilized Android phones by employing the remote camera capability with One-Way Audio.
Screen mirroring: Wirelessly mirror your Android smartphones to your computer. Stream your broadcast, making it easier for sharing your games or photos with your audience.
Other features of AirDroid Personal
Besides the remoting features, AirDroid Personal also has many helpful functions for Android users such as:
Hyper-fast file transfer: AirDroid Personal allows you to transmit files at a blistering 20MB/s across both local and distant connections.
Data management: You can check up on and manage applications, storage, images, movies, music, and more on your devices using the desktop client or the online client AirDroid Personal.
SMS and Notifications management: AirDroid Personal allows you to manage your phone from your computer. From your PC, you can check out notifications, receive and send SMSs.
How to remote control Android devices with AirDroid Personal?
Step 1 Get started on AidDroid Personal.
Download Airdroid both on your PC and Android device. Create an AirDroid Personal account or sign in if you have had your AirDroid account.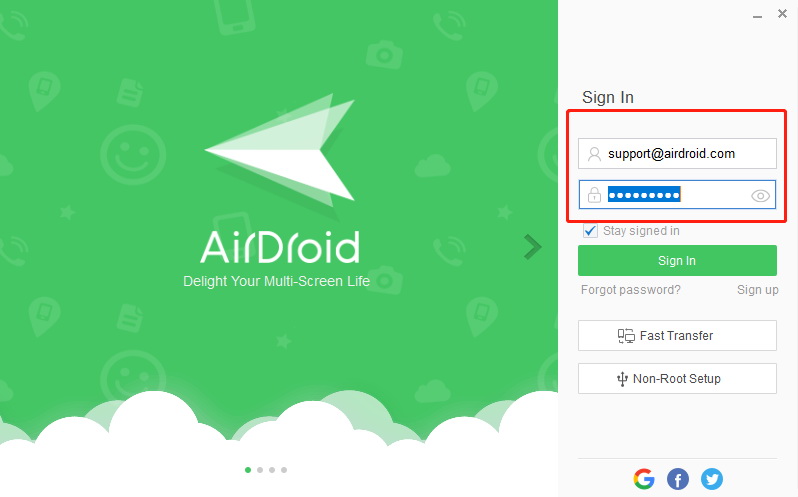 Step 2 Set up on your Android device.
Choose your options for permissions. When you initially sign in, you'll be prompted to provide the app access to certain areas of your Android.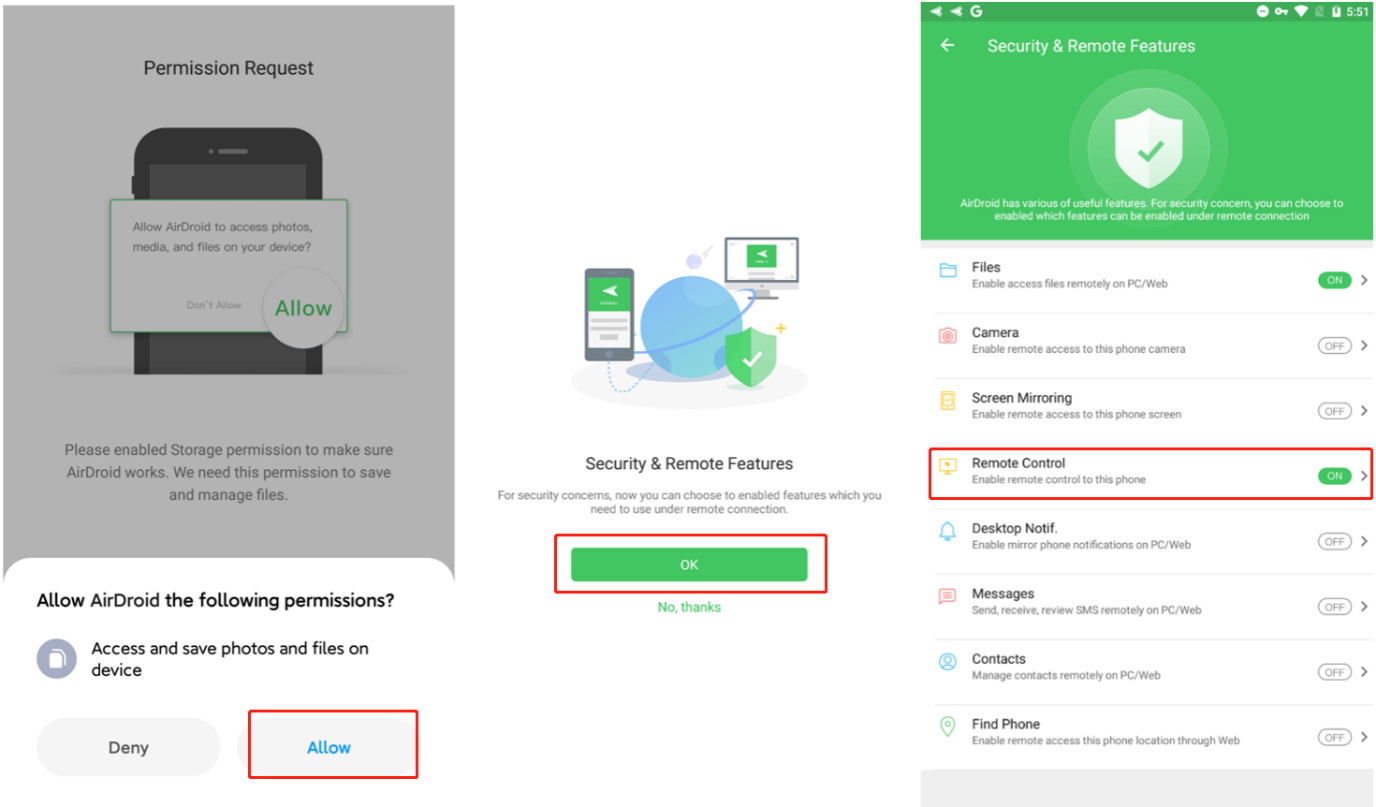 Step 3 Set up on your PC.
Click on the Telescope icon to enter the Remote Control interface in the left bar.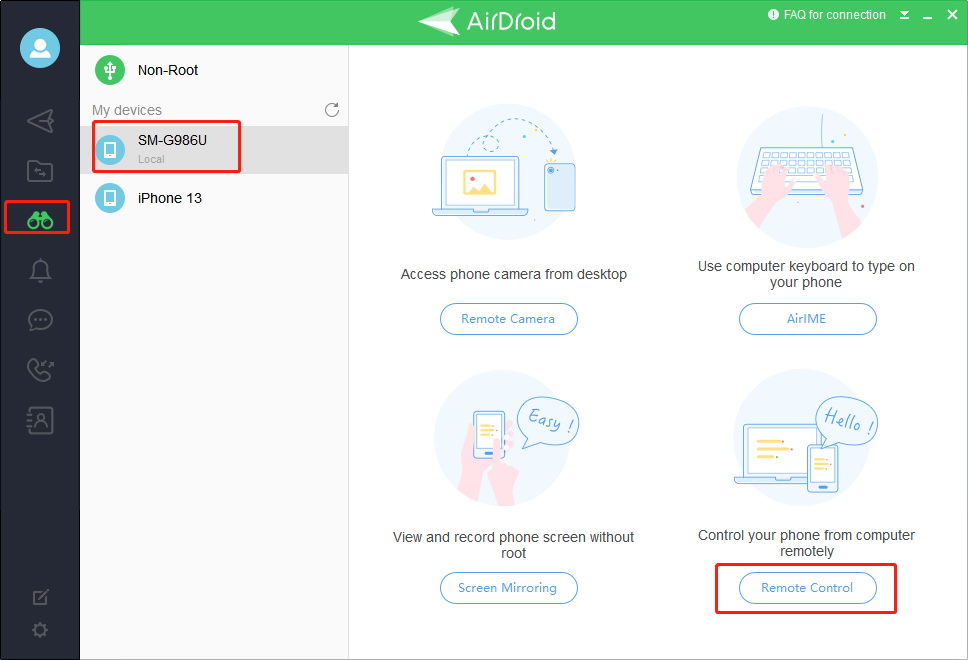 Step 4 Start to remote control your mobile device.
Now you can take full control of your android phone using AirDroid Personal.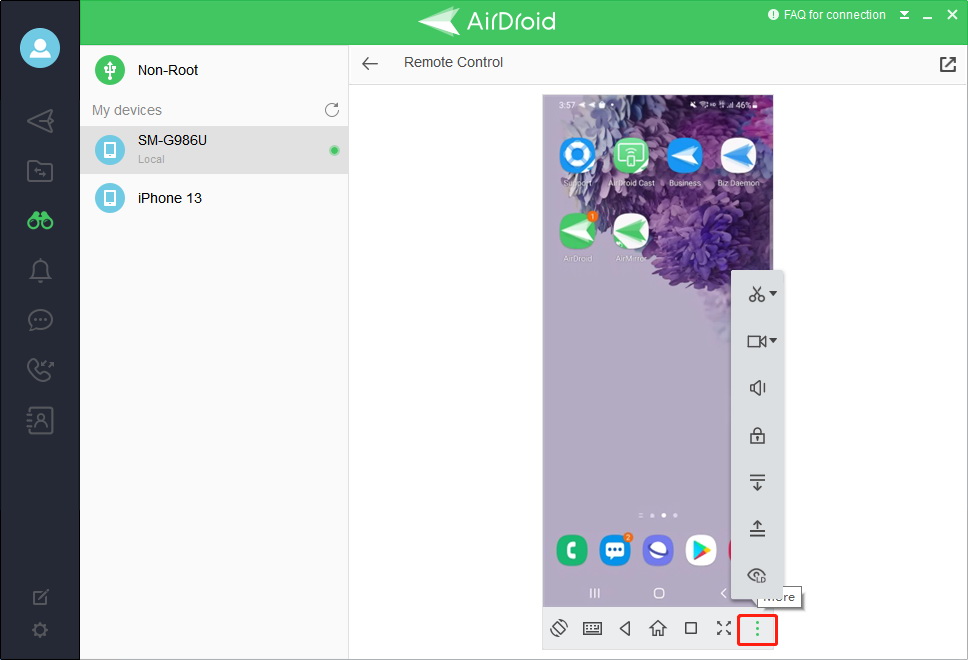 2AnyDesk
AnyDesk is another innovative and reliable Android remote control app from PC. AnyDesk will help you to access any devices at any time, anywhere. It always ensures security and convenience.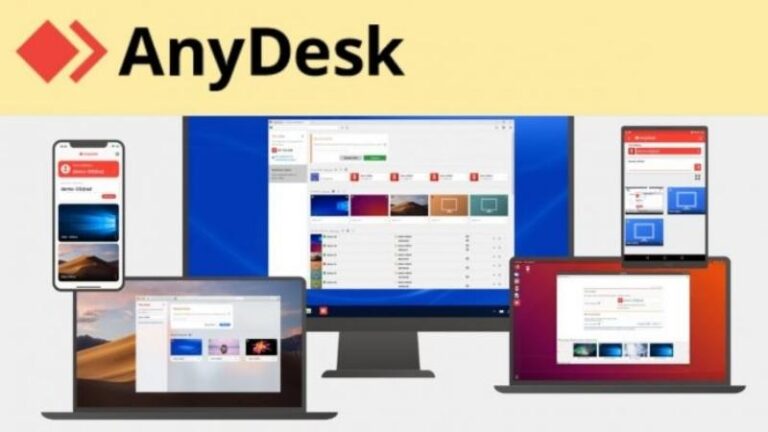 Key features
Share your display with other people or view the screen of another device.
Use another device's keyboard and mouse, or allow other users to interact with your screen.
Parallel to a typical remote connection, manage data and files between two devices.
Connect to devices remotely and turn them on from sleep mode.
Access your remote device using a password rather than manually accepting the remote session.
Print files and documents from any site to a local printer using a remote device.
Pros
Compatible with many different platforms.
The app is quite light with only 3MB.
Extremely secure and safe with Military-grade TLS 1.2 security, 256-bit AES.
Smooth operation with the frame rate is always at 60 fps.
Cons
It lacks in connectivity a little, like sometimes you gets disconnected from the host and you lose the access.
When networks connection gets low, it starts lagging sometimes.
3Vysor
Vysor provides solutions for remote control as well as synchronization of smartphone devices with users' computers. Vysor is proud to be the leading Android remote screen control app today.On a physical device, Vysor provides the integration and convenience of the use of an emulator.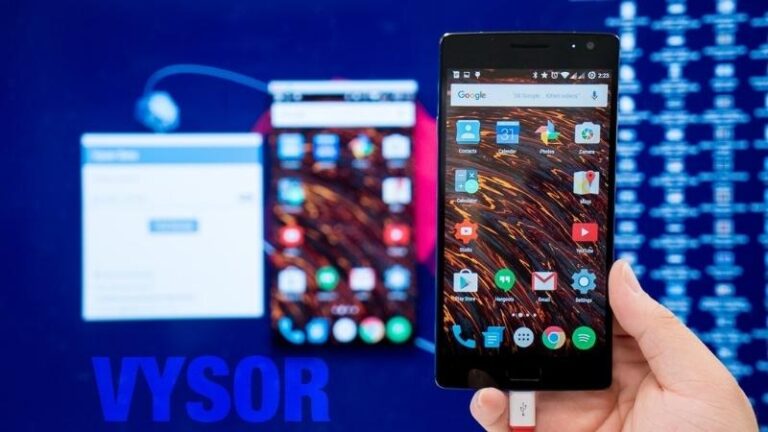 Key features
Vysor allows you to use your iOS or Android device on your computer.
Play games, use applications and control your iOS or Android device.
All operating systems are supported through a desktop or online app.
Using your PC keyboard, type a hundred words per minute on your phone.
Scroll by pointing, clicking, and scrolling. Your mouse is also functional.
Share your gadget with others in the workplace or across the world. Remote devices may be accessed through screen and ADB. It's as easy as emailing a link.
Pros
Friendly interface.
Compatible with many different platforms.
Cons
Disconnection from the primary computers due to network difficulties or outages makes remote access difficult.
4Teamviewer Quick Support
Whenever you need it, get remote help for your PCs and mobile devices. TeamViewer QuickSupport was created with one goal in mind: to provide speedy help. You can get tech assistance at any time after installing QuickSupport on your PC or mobile device. For quick troubleshooting, QuickSupport allows a support specialist to remotely access, operate, and observe your computer or mobile device.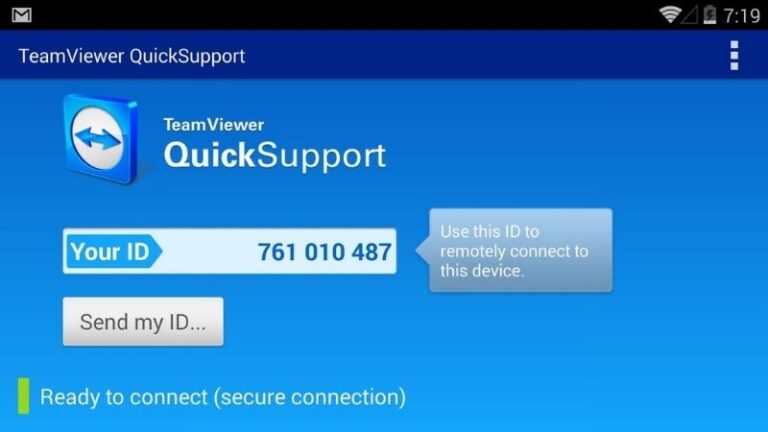 Key features
Allows remote control of computers, Android devices, or iOS devices.
View (and possibly remove) your device's list of apps.
Secure connection with 256 Bit AES encryption algorithm.
Simultaneous display of the device's screen.
Pros
It ensures that we are always connected to the internet on our main PCs.
It makes remote access to our machines simple.
When they come, it sends us a notice.
Cons
The key device that we access remotely have sleep states, and accessing them becomes extremely difficult while they are in this mode.
Large files cannot be shared since the number of file sizes that may be shared is limited.
5Pushbullet
Pushbullet allows you to use your PC to perform operations on your phone such as: messaging, manipulating contacts, apps, photos, music, file/folder management…
Also if you want to copy, delete files on your phone, install, uninstall applications directly on your PC web browser, Pushbullet is a great choice to help you do all of them.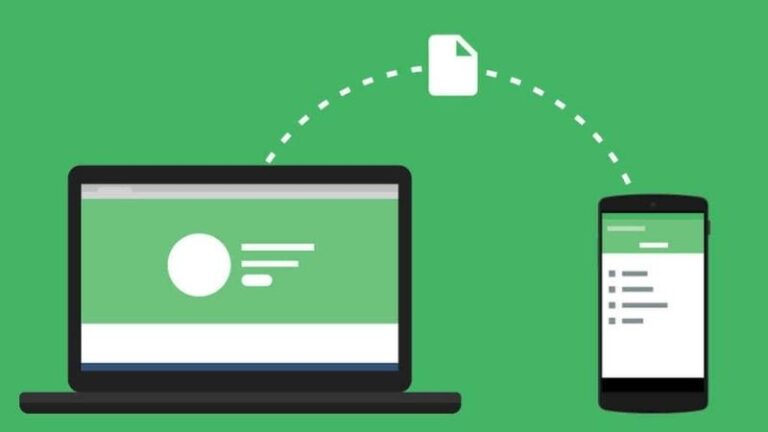 Key features
Mirror notification and send/receive messages from android.
Transferring photos and files between devices have never been simpler.
The files are automatically downloaded and can be accessed directly from the notifications.
Pushbullet displays WhatsApp messages, texts, phone calls, and so on.
Pros
Pushbullet is compatible with all of your devices, making sharing and communicating with friends easier than ever.
Share links instantly between any of your devices that are connected to Pushbullet.
Cons
Can not control your phone from pc directly.
Above are the top 5 remote control apps for Android. You can check out all these apps and choose for your device the most proper app. AirDroid is highly recommended for its remoting features and many other extensions.
Was This Page Helpful?