2023 Top 9 Remote Control Apps for Android
You are looking for applications to help you control your phone remotely by Android phones quickly and simply. On PC, the remote control app is quite familiar, so what about on Android devices? The following article will summarize for you the top 9 Android remote control apps that you should try in 2023.
What is the Remote Control on Android?
It is called remote control when an individual or team chooses to control an Android device from another device, such as a PC, Laptop, Android, iOS, tablet, etc. There can be different functions that you can perform using the remote control apps available in the market. Remote controlling can't be done randomly, but proper permission from the Android owner is required to use the Android phone for remote assistance, creating backups, screen mirroring, etc.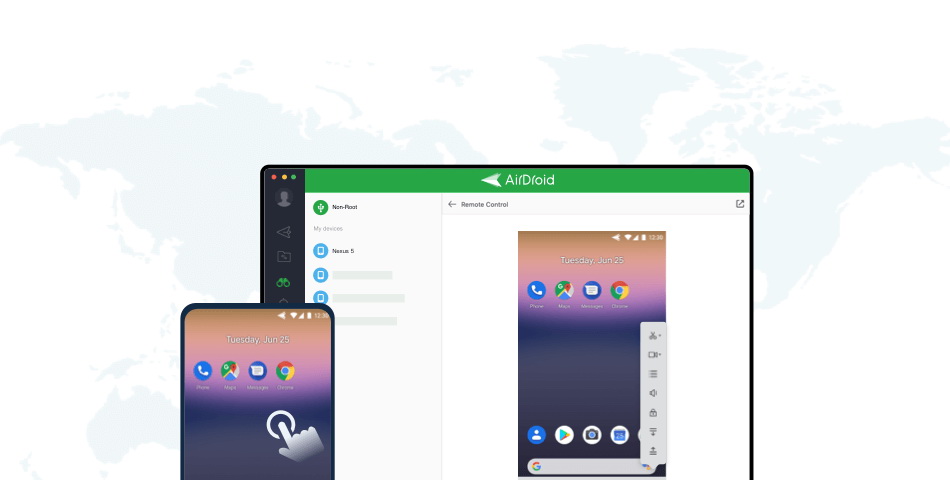 AirDroid Remote Control App
In fact, both AirDroid Personal and AirDroid Remote Support are advanced technologies that allow users to access mobile devices from a remote device (desktop or mobile phone) wirelessly, which makes the communication and remote monitoring much easier for users.
You can pick up the one you prefer after comparing these two applications:
Features
AirDroid Personal
AirDroid Remote Support
Compatibility
Win, Mac, Android, iOS, Web
Android, iOS
Best for
Remote control
Remote support
Remote keyboard
Yes
No
Communication methods
One-way audio
Voice messages or voice call
Free trial
Free under local network
10 mins per day
Price
$3.99/month
$2.49/month
Key features of AirDroid Personal & AirDroid Remote Support
Fully remote control your Android devices: You can gain complete control of the Android devices without rooting them.
Remote camera: You can use the Android device camera and see the on-site situation.
Screen mirroring: Wirelessly mirror your Android smartphones to your device (PC or mobile phone). Stream your broadcast, making it easier for sharing your games or photos with your audience.
Other features of AirDroid Personal
Besides the remoting features, AirDroid Personal also has many helpful functions for Android users such as:
Hyper-fast file transfer: AirDroid Personal allows you to transmit files at a blistering 20MB/s across both local and distant connections.
Data management: You can check up on and manage applications, storage, images, movies, music, and more on your devices using the desktop client or the online client AirDroid Personal.
SMS and Notifications management: AirDroid Personal allows you to manage your phone from your computer. From your PC, you can check out notifications, receive and send SMSs.
You can also try AirDroid Web to access and control your devices from any browser using the internet. The solution, as well, is safe and free to use.
Price: AirDroid Personal has different pricing tiers with a free version or 3.99/month. If you choose quarterly or yearly packages, the price is reduced by a considerable amount.
Support: Android, Mac OS, Windows, and Web
Whether it's about price, performance, compatibility, or versatility, AirDroid Personal is an all-rounder. For more advanced uses, you can opt the AirDroid Business, which will fulfill all needs of your bigger teams with higher data limits.
Video Tutorial on How to Remote Control Your Android without Root?
How to remote control Android devices with AirDroid Personal?
Step 1 Get started on AidDroid Personal. Download Airdroid both on your PC and Android device. Create an AirDroid Personal account or sign in if you have had your AirDroid account.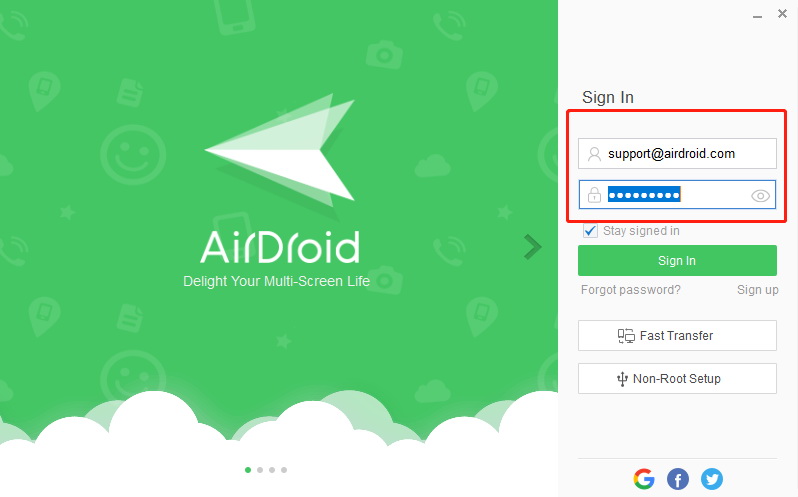 Step 2 Set up on your Android device. Choose your options for permissions. When you initially sign in, you'll be prompted to provide the app access to certain areas of your Android.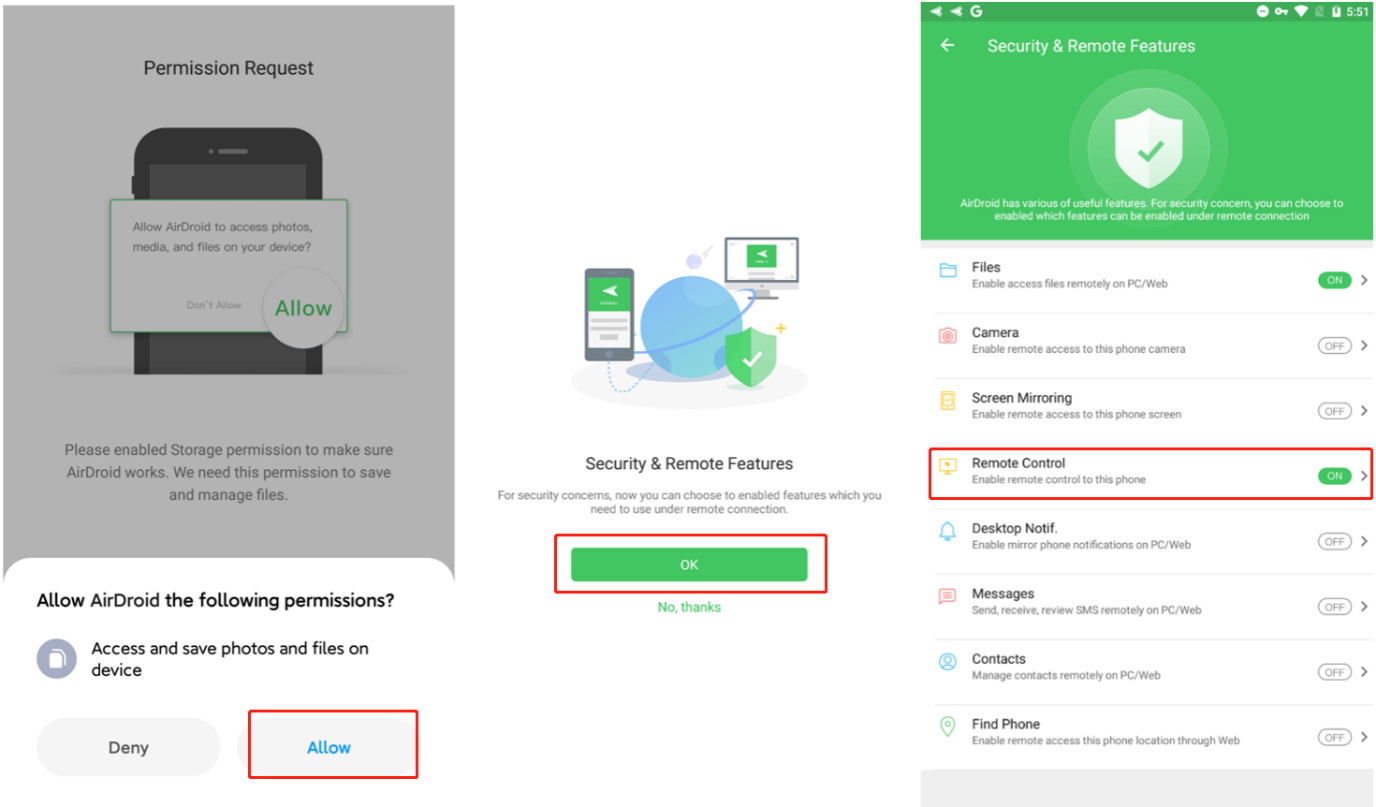 Step 3 Set up on your PC. Click on the Telescope icon to enter the Remote Control interface in the left bar.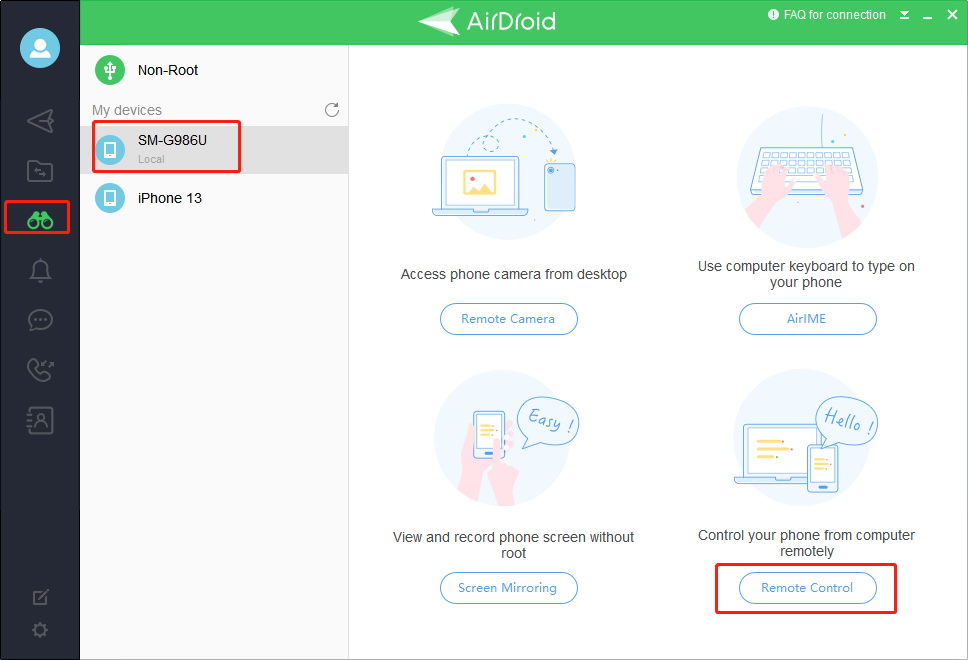 Step 4 Start to remote control your mobile device. Now you can take full control of your Android phone using AirDroid Personal.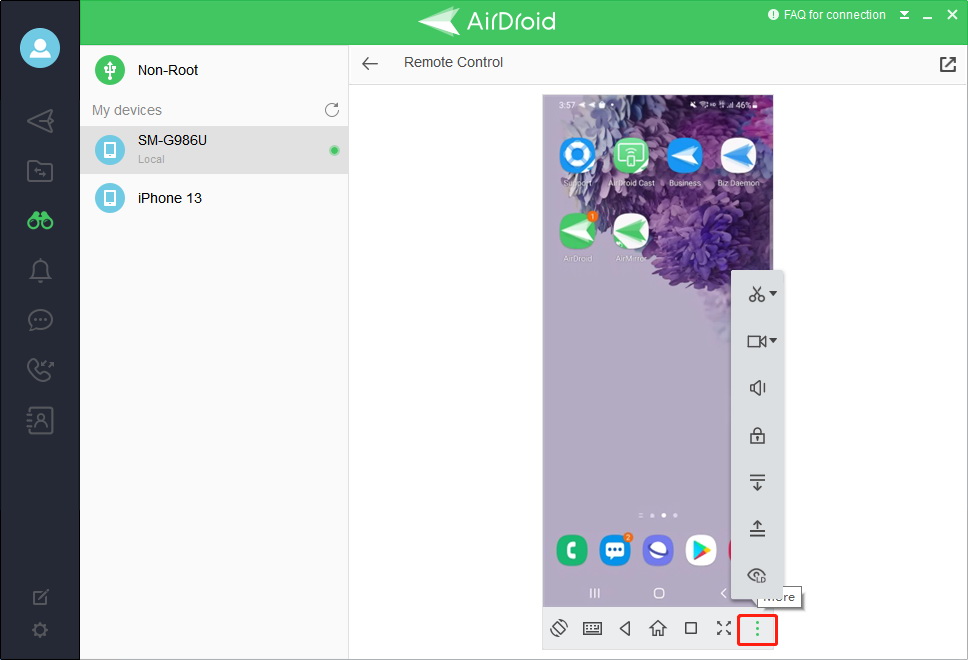 AnyDesk
AnyDesk is another innovative and reliable Android remote control app from PC. AnyDesk will help you to access any devices at any time, anywhere. It always ensures security and convenience. Anydesk is a very popular cloud-based remote access software and Android remote control app that most businesses and IT startups prefer. Anydesk is often used by high-end users having complicated needs and accessibility requirements. The cloud-based tool is available on different operating systems from Android to iOS, Windows to macOS, and even Linux.
You can share desktops, control your smartphones, and perform different tasks like remote printing, device management, data transfer, etc. The tool is also a winner from the administration and customization features available.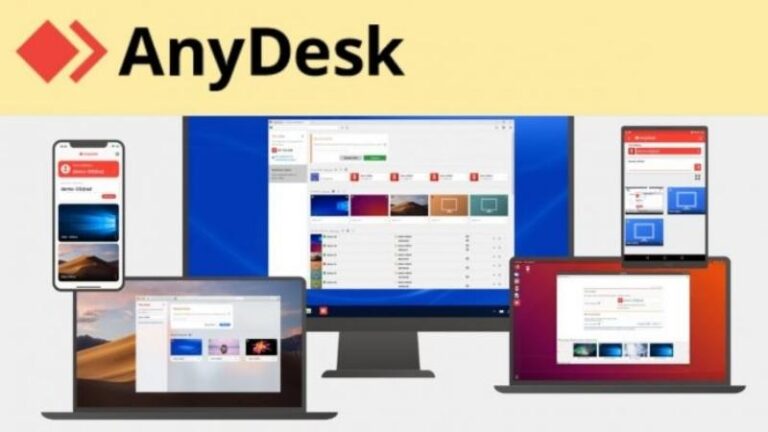 Key features
Share your display with other people or view the screen of another device.
Use another device's keyboard and mouse, or allow other users to interact with your screen.
Parallel to a typical remote connection, manage data and files between two devices.
Connect to devices remotely and turn them on from sleep mode.
Access your remote device using a password rather than manually accepting the remote session.
Print files and documents from any site to a local printer using a remote device.
Pros
Compatible with many different platforms.
Extremely secure and safe with Military-grade TLS 1.2 security, 256-bit AES.
Smooth operation with the frame rate is always at 60 fps.
Cloud-based software is best from a security perspective
No time restriction like many remote access tools
User-friendly and responsive interface
Cons
It lacks in connectivity a little, like sometimes you gets disconnected from the host and you lose the access.
When networks connection gets low, it starts lagging sometimes.
Price is on the higher side for the business users
Copy-paste feature is not very effective
Android remote control suffer through resolution adjustment
Support: Android, Mac OS, iOS, FreeBSD, Windows, and Linux
Editor's Review: Anydesk can be used as an Android remote control app if security is your prime concern. Besides, you can try the tool for ease of use, reliability, and safe communication during remote access.
Price: Free with paid versions for $79-$229 per year/
Vysor
Vysor provides solutions for remote control as well as synchronization of smartphone devices with users' computers. Vysor is proud to be the leading Android remote screen control app today.On a physical device, Vysor provides the integration and convenience of the use of an emulator.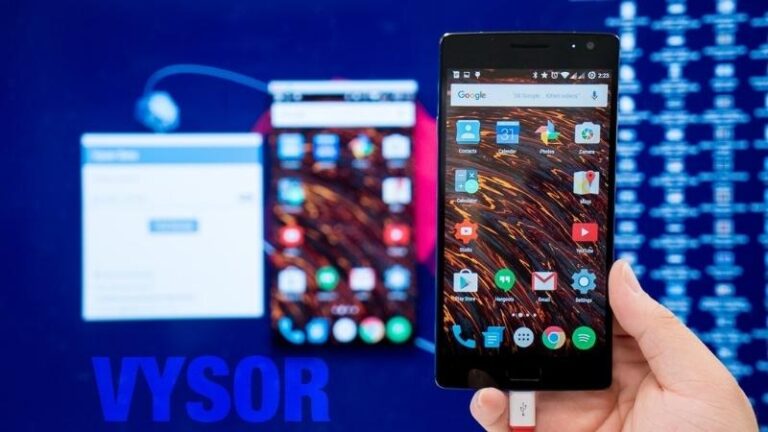 Key features
Vysor allows you to use your iOS or Android device on your computer.
Play games, use applications and control your iOS or Android device.
All operating systems are supported through a desktop or online app.
Using your PC keyboard, type a hundred words per minute on your phone.
Scroll by pointing, clicking, and scrolling. Your mouse is also functional.
Share your gadget with others in the workplace or across the world. Remote devices may be accessed through screen and ADB. It's as easy as emailing a link.
Pros
Friendly interface.
Compatible with many different platforms.
Cons
Disconnection from the primary computers due to network difficulties or outages makes remote access difficult.
Teamviewer Quick Support
Whenever you need it, get remote help for your PCs and mobile devices. TeamViewer QuickSupport was created with one goal in mind: to provide speedy help. You can get tech assistance at any time after installing QuickSupport on your PC or mobile device. For quick troubleshooting, QuickSupport allows a support specialist to remotely access, operate, and observe your computer or mobile device.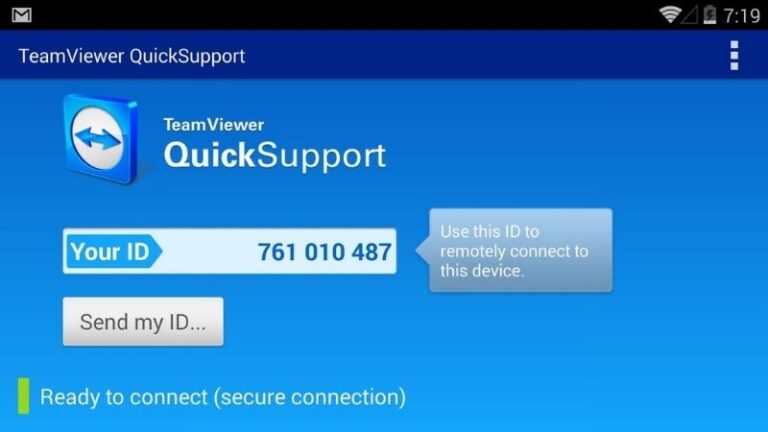 Key features
Allows remote control of computers, Android devices, or iOS devices.
View (and possibly remove) your device's list of apps.
Secure connection with 256 Bit AES encryption algorithm.
Simultaneous display of the device's screen.
Pros
It ensures that we are always connected to the internet on our main PCs.
It makes remote access to our machines simple.
When they come, it sends us a notice.
Cons
The key device that we access remotely have sleep states, and accessing them becomes extremely difficult while they are in this mode.
Large files cannot be shared since the number of file sizes that may be shared is limited.
Support: macOS, Windows, Chrome OS, Android, Linux, iOS
Editor's Review: Teamviewer for Android remote control is something you can go after if you prefer a solution that has a lot of features and is free for personal use. However, you must be okay with the complicated setup of the software before you start collaborating with your friends and family over Teamviewer.
Price: Free for personal use and pricing starting from $50.90 per month to $610.80/year for advanced users.
Vysor
Vysor is for those users who want a simplistic user interface with easy procedures for Android remote control access. Vysor is also a software having screen mirroring of Android phones on Desktops via Chrome browser. We must applaud Vysor as a performance-driven, feature-enriched, and versatile app. You can connect wirelessly or using a USB data cable.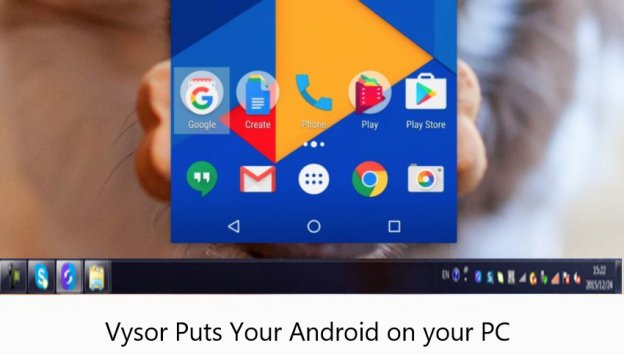 Pros
User-friendly interface
Fast scanning, connection, and functioning
Mirror Android screen on Desktop via Chrome browser
Cons
Not a free Bluetooth remote control app for Android
High-resolution, screen recording, wireless access, and full-screen mode are available in paid version only
In-app ads in the free version
Support: Android, iOS, Linux, Mac, Windows, Google Chrome
Editor's Review: Vysor is a great app to remotely access Android from a PC or laptop using the Chrome web browser. However, it would be great if the company had taken the initiative to provide useful features for the free version.
Price: For personal use, it can be $40 for a lifetime or $10 per year. Enterprise solutions costs are calculated according to the team size and needs.
Scrcpy
Scrcpy is an Android remote control and access application that is based on an open-source platform. The screen mirroring app allows you to remotely access your Android from a PC or desktop. You can use Scrcpy on multiple devices to open applications on remote Android, share files, and a lot more.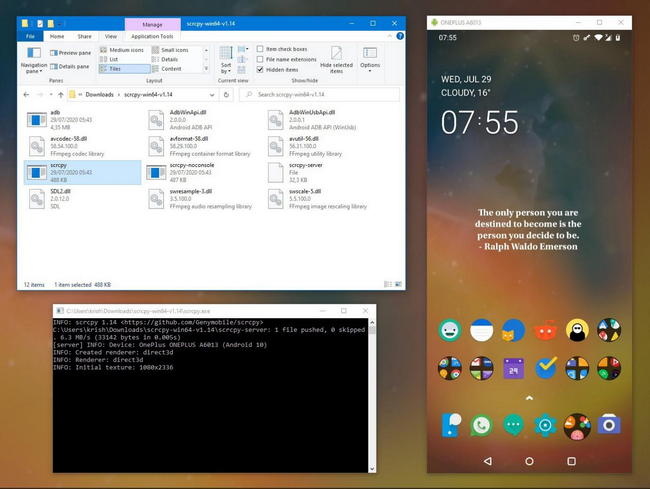 Pros
Open-source software is secure, encrypted, and light on your system
Easy setup for screen mirroring and file sharing
Fast performance due to open-source platform and low latency rate
Free to use
Cons
Sophisticated setup and installation
Hard to get authenticated copy of the software
Audio forwarding is not available in Scrcpy
Support: Windows, Linux, macOS
Editor's Review: Scrcpy is an open-source tool that doesn't require any rooting of devices and can be used for free. However, you must consider the fact that it can be overwhelming for beginners to fully understand and follow the instructions for setting up Scrcpy to access files
Price: Free to use
ApowerMirror
Apowersoft has several tools and apps to facilitate individual users as well as businesses. ApowerMirror is an Android remote control app that can be capitalized for screen mirroring your Android device on a bigger screen like a desktop or laptop. It eliminates the need to install emulators to run Android applications or view the screen on a bigger screen.
In fact, you can use the app to remotely control one Android phone from another phone. Whether you want to record the screen of an Android device, use a painting tool, or use a cloud mirror, you can do it with Apowermirror.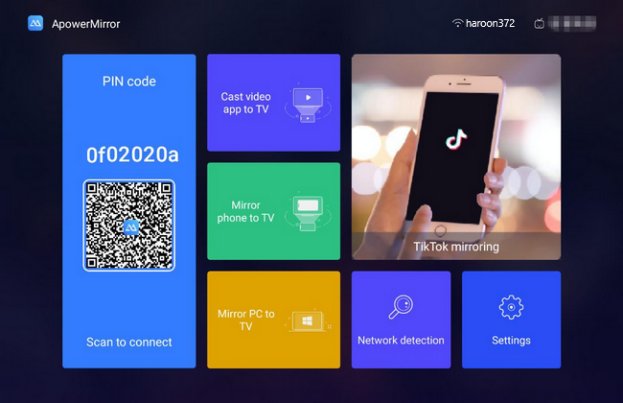 Pros
Easy screen mirroring to PC for gameplays
Full control from a PC or another Android device
File transfer between Android and PC
Free for basic features
Cons
iOS support is not as efficient as Android
the relatively newer tool has some bugs and issues
Sudden quality drops in screen mirroring
Support: Android, iOS, Windows, macOS
Editor's Review: The app might not have as advanced features as AirDroid Personal or enhanced security as Anydesk, but it is a great option for personal use. If you are someone who loves gaming and watching gameplay on a bigger screen, ApowerMirror is a great alternative to Android emulators for gaming enthusiasts.
Price: Free with basic features to an annual subscription of $39.95.
Web Key
Webkey is an Android remote control and remote access platform that can be capitalized on to control your Android devices, mirror screens, and transfer data over the web. There is no need to install any software on your PC to access your Android phone. It is a great option for rooted devices. You can take remote screenshots, screen recording, copy-pasting, view the phone screen on the desktop, and much more.
Pros
Web-based Android remote control from PC
Track Android device over GPS
Terminal access on Linux
Affordable pricing
Cons
Not as many features as other alternatives
No screen orientation setting
Not available for non-rooted devices.
Support: Android, Windows, Linux, macOS
Editor's Review: If you are keen to have a web-based remote access platform to access your rooted device from a desktop or laptop with Windows, you can go for this one. However, bear in mind that it lacks many advanced features that other tools like AirDroid Personal or Scrcpy can offer you.
Price: Starting from $6.99 per month to $14.99/month for professional use
Pushbullet
Last but not least, Pushbullet is a good option when you want to remote control Android phones from your laptop or PC for messaging, file transferring, photos, apps, modifying contacts, etc. The data management and modification tool can also be used to remotely delete phone files, uninstall/install apps, copy/paste data, and perform other tasks on your Android.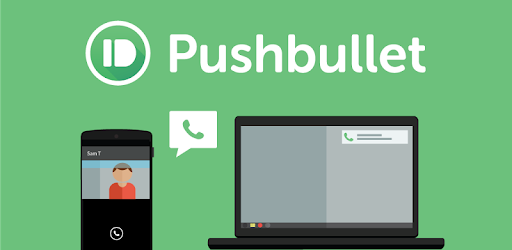 Pros
Multiple device synchronization
Compatibility with most of the devices
Easy collaboration and sharing between devices connected via Pushbullet
Cons
Overwhelming for direct remote access
Not direct control or access but screen mirroring
Support: Chrome, Safari, Opera, Firefox.
Editor's Review: If you are looking for an Android remote control app or iOS remote access tool with the ability to sync across multiple devices, Pushbullet is best for that purpose.
Price: $4.99 per month or $39.99 per year
Comparison Between Best 9 Remote Control Tools
| | | | | | | | | | |
| --- | --- | --- | --- | --- | --- | --- | --- | --- | --- |
| Features | AirDroid Personal | AirDroid Remote Support | Anydesk | Teamviewer | Vysor | Scrcpy | Apower Mirror | Webkey | Pushbullet |
| Support | Android, iOS | Android, Mac OS, Windows,and, Web | Android, Mac OS, iOS, Windows, and Linux | macOS, Windows, Chrome OS, Android, Linux, iOS | Android, iOS, Linux, Mac, Windows, Google Chrome | Windows, Linux, macOS | Android, Mac OS, iOS, Window | Android, Mac OS, iOS, Windows,and, Linux | Win, Android, Web, Chrome, Firefox |
| Mirror Android | ✔️ | ✔️ | ✔️ | ✔️ | ✔️ | ✔️ | ✔️ | ✔️ | ❌ |
| Control Android | ✔️ | ✔️ | ✔️ | ✔️ | ✔️ | ✔️ | ✔️ | ✔ | ❌ |
| Full Screen Mode | ✔️ | - | ✔️ | ✔️ | ✔️ | ✔️ | ✔️ | ✔️ | ❌ |
| Wireless Connection | ✔️ | ✔️ | ✔️ | ✔️ | ✔️ | ❌ | ❌ | ✔️ | ✔️ |
| Screen Recording | ✔️ | ❌ | ✔️ | ✔️ | ✔️ | ✔️ | ✔️ | ✔️ | ❌ |
| Remote Camera | ✔️ | ✔️ | ❌ | ❌ | ❌ | ❌ | ❌ | ❌ | ❌ |
| Remote Keyboard | ✔️ | - | ❌ | ❌ | ❌ | ❌ | ❌ | ❌ | ❌ |
| Notification Mirror | ✔️ | ✔️ | ✔️ | ✔️ | ❌ | ❌ | ❌ | ❌ | ✔️ |
How do You Benefit from Android Remote Control Software?
Why would you want an Android remote access software on your PC to get control of your PC?
Here are the benefits of having Android remote control software:
Full Remote Control Of Android Devices
Whether you want to remove data, install an app, create a backup, or delete contacts from your abandoned Android phone, a full remote access software will let you do it. With a wireless or USB connection, you get access to your broken phone, locked phone, or a remote phone to which access was not possible otherwise.
Remote Manage Android Devices
If you want to remotely manage one of more Android devices, solutions like Anydesk, AirDroid and Teamviewer are best for personal as well as professional use. You can view system information, change apps, use an Android remote control, transfer files, provide system support, etc., by capitalizing on the remote access tools.
Security Camera Monitor
Not every remote access tool provide you with the feature, but you can also convert your Android into a security camera to monitor things happening around you. The feature is specifically useful for parents who have to leave their kids to play around while they are working on important things. You can always keep an eye on your children using the security camera monitor feature.
Increased Productivity
Android remote control apps will increase your productivity and scalability by providing all-time access to your Android phones or desktops. For instance, an employee can always work at his home, move data to his Android, and remotely access the files using his office desktop. It also works vice versa, where an employer can provide system support to employees via remote access apps
Data and Device Security
Data security and integrity is one of the most important concerns addressed by most remote access solution providers. Whether securing the remote access devices or data being accessed, there are end-to-end encryption codings that secure your data as well as your device.
Ditch The Android Emulator
Many Android gamers use the emulators on their laptops and desktops to enjoy the games on a bigger screen. With the remote access, remote control and mirroring features of the apps, there is no need to install heavy emulators on your PC.
Remote Assistance For Friends And Family
You can always provide remote assistance to friends and family who are stuck with anything on their phones. Whether it's a system bug, installing/uninstalling an app, helping them understand a procedure, etc., you can collaborate with them, provide remote assistance, and remotely control other Android devices to provide support.
What is the Best Android Remote Control Software for You?
1. Compatibility
When you are looking for a solution to remotely control an Android phone from another phone or device, compatibility is one of the biggest challenges. And if a solution is compatible with all operating systems, you might not have free access, or it might not be on your budget. In short, you have to ensure that the tool you select is compatible with all devices before you go for it.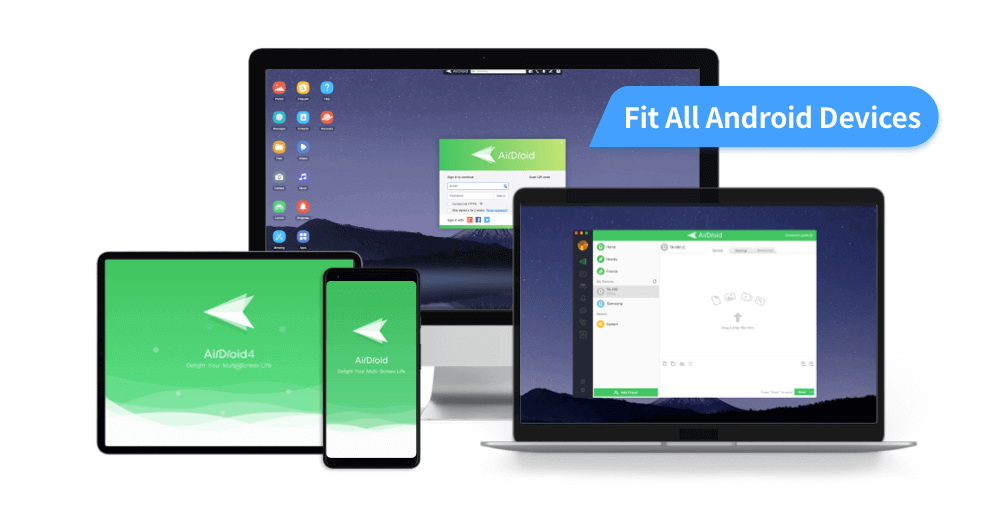 2. Versatility
Versatility is yet another thing to look for in the best remote access apps and tools. The application you are choosing must provide multiple device support because the need for remote access can arise for any device, from an Android phone to a tablet, PC, and even web. You should ensure you are not stuck with a basic tool that does not support certain file types or devices.
3. Security
When you are using a tool for recovering your data or providing remote support to a friend or family member, the security and integrity of your data are also very important. Unfortunately, most remote access is secretly intruding into your privacy or accessing sensitive data. Therefore, ensure that the solution you pot has a centralized system for storing sensitive data that is free from any risk of a data breach.
4. Features
Whether you want to transfer files from one device to another, want to recover data from your old phone, or want remote management access to any device, you need a features-enriched tool. The basic criteria to go after any remote access tool or software is an all-in-one tool that fulfils all kinds of needs. The features you have to look at include the speed of scanning, important tool highlights, performance, user interface, price, ease to use, etc.
5. Performance
Android remote control app performance cannot be ignored in any way. It relates to the previous point of features we discussed. Speed of scanning data, easy access to devices, multiple device support, fluency to provide a solution for different problems, etc., are the main factors that are factored in when assessing the performance of any remote control and remote access app or software.
6. Price
Of course, price is one of the major factors when you are choosing the right solution to solve your problem. If you want a remote mouse Android for personal use, why will you go for a premium tool like Anydesk? Therefore, comparison of price to value you will get is also an important consideration for a remote access tool or app.
7. User-Friendly
User experience, user interface, simple steps, etc., are the factors counted when deciding if an app or software is user-friendly or not. A consumer can turn down software with the best features and support if he doesn't feel comfortable while navigating. And an app can be a deal maker just because of simple steps and an engaging user interface. Therefore, a balance of functionality and user experience is required to make a solution user-friendly.
FAQs
Can people remote access Android without permission?
No, it is impossible to remotely access any Android without permission because it is illegal and unethical.
Can I control my Android phone via Bluetooth?
Certain tools and software let you control your Android phones, tablets, devices, etc., with another by establishing a connection through Bluetooth.
Was This Page Helpful?