How to Record WhatsApp Video & Voice Calls
WhatsApp is one of the most widely used and downloaded messaging and voice & video calling apps. It is also evolving into a one-stop shop for all messaging requirements, including file sharing, group chats, and video calls. Here, we'll explain how to record WhatsApp calls on an Android or iOS device in the best way possible. Let's get to it.
Part 1. Considering Before Recording WhatsApp Calls
You must be in a region or country that supports call recording. Unfortunately, not all locations offer call recording. As a result, features vary depending on your nation or region. You may check Telephone call recording laws in your country.
The feature also needs to be supported by the device and the carrier.
Part 2. How to Record WhatsApp Calls on Android
1Record WhatsApp Calls from Another Phone with Call Recorder App
Numerous apps let you record WhatsApp calls on the Google Play Store. If you need to record kids' WhatsApp calls for their safety issues, AirDroid Parental Control - call recorder app is one good choice. Only if your kid uses the Speaker to make the WhatsApp call, you can listen and record with ease.
Step 1. Download the AirDroid Parental Control app to your device and install it.
Step 2. Open the app and register an account there. Then sign up.
Step 3. Download the AirDroid Kids on your kids' Android devices. Tap One-Way Audio and Activate the Record feature when they are on a call with the target person.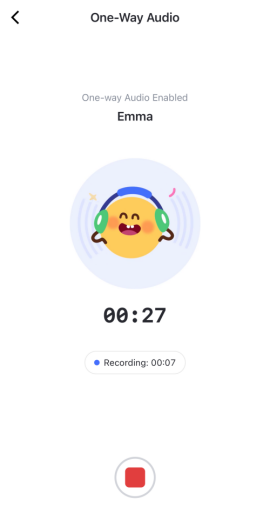 With this, you can record your kids' WhatsApp calls secretly.
Tips :
AirDroid Parental Control provides a web version, click
webparent.airdroid.com
to listen to your child's surroundings' audio.
2Record WhatsApp Video Calls with Cube Call Recorder
You can easily record video calls over WhatsApp using the application call recorder Cube ACR. The Google Play Store offers the app without charge.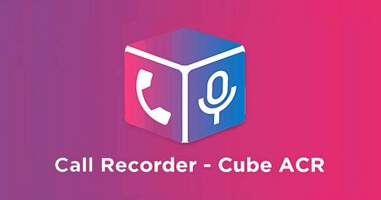 To record WhatsApp voice calls using Cube ACR, follow these instructions:
Step 1. Search for the Cube Call app in the Google Play Store.
Step 2. After installation, launch the Cube Call program before switching to WhatsApp.
Step 3. The Cube Call widget will appear when you receive or place a WhatsApp call.
Step 4. Open Cube Call and select Force VoIP call as a voice call if you are unable to see the widget.
The app will automatically record WhatsApp voice calls and save the recordings to your device's internal memory.
Part 3. How to Record WhatsApp Calls on iPhone
Here are some ways you can record WhatsApp calls on your iPhone;
1Record WhatsApp Video Calls with Built-in Screen Recorder
Apple added a built-in screen recorder feature with iOS 11, which is quite useful. You can easily record WhatsApp video calls on your iPhone using this feature. It also means recording WhatsApp video calls on an iPhone doesn't require additional third-party apps. How to use this feature is as follows:
Step 1. Open the Control Center from Settings. Then, include a Screen Recording option in the list of active controls by tapping "Customize Controls" on the menu.
Step 2. To begin recording, open the Control Center on your iPhone and select the Screen recording option.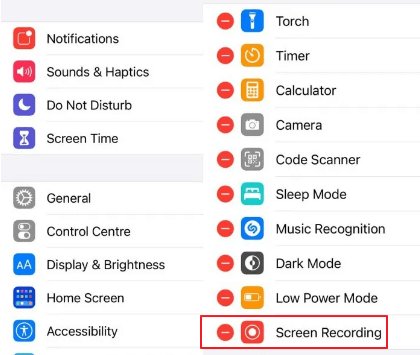 Step 3. Call the person you want to record the call with using the WhatsApp app.
Step 4. Confirm that the microphone is turned on and the call volume is up to record the audio.
Step 5. halt the recording once the call is over and save the file to your device.
2Record WhatsApp Voice Call with Audio Via Mac
It can be challenging to capture a WhatsApp voice call on an iPhone. Unfortunately, there isn't a specific program that makes it simple to record WhatsApp voice calls. However, there is a workaround, though it necessitates a Mac and an iPhone. Here is how to go about it:
Step 1. Using a lightning cable, join your iPhone to a Mac. On your iPhone, click the "Trust this computer" option.
Step 2. Launch the QuickTime program on your Mac. Then, select New Audio Recording from the File menu by going to that option.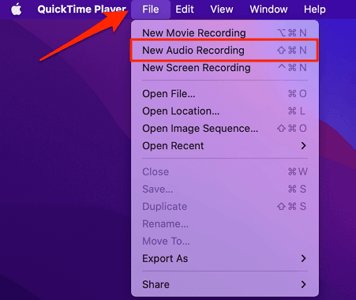 Step 3. Tap the arrow-down icon and select the iPhone option in , then press the record button in QuickTime.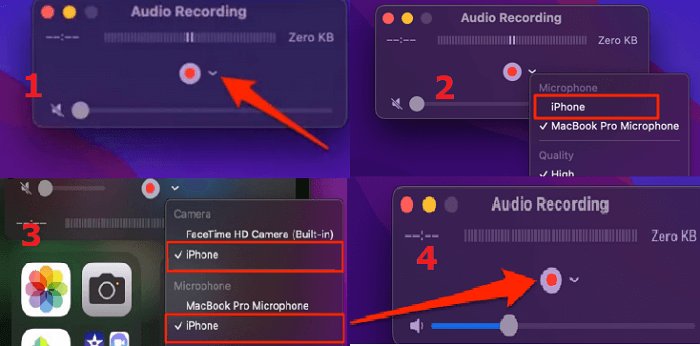 Step 4. Make a WhatsApp call to your phone now from the iPhone. Once you are connected, click the icon for adding users.
Step 5. Call the person you want to record the audio with now, and start speaking. Then, end the call and QuickTime recording once you're finished. Your WhatsApp voice call will be recorded if you save the file on a Mac.
FAQs about WhatsApp Call Recording
How to Record WhatsApp Calls Remotely
You can secretly record a WhatsApp call without their knowledge using AirDroid parental control. In addition, you can record WhatsApp calls by logging into the Cloud Panel on your phone after installing AirDroid on the target device.
How Can I Record My WhatsApp Calls on Someone Else's Phone
There is an easy way to accomplish that. Put your phone on speaker and use a different device to record the WhatsApp call. You must download an external app from the Play Store if the second phone lacks a recorder. The app "Voice Recorder" is available for download.
How to Record WhatsApp Calls for Free
Click "Control Center" under Settings. To add the "Screen Recording" feature, tap "Plus." Step 2: Swipe down from the top of your screen to enable the recording icon and record your WhatsApp calls. Step 3: To stop recording, press the Recording button once more.
How to Record WhatsApp Calls on a PC
Users of WhatsApp's desktop application can make and receive free calls, chat for free, and share media files. In addition, the video calls can be recorded for later use.
How to Record WhatsApp Calls on Samsung
Samsung customers can record calls using the company's native Phone app. First, tap the three-dot button to bring up the Settings menu on your Samsung Galaxy smartphone, then tap "Record calls" to start the call recording process. Turn "Auto record calls" on now.
Was This Page Helpful?