How to Find Someone's Location on WhatsApp
Whether it's a lover, a friend, or your child, knowing a person's exact location is always the first step to being assured of their safety. Thanks to the WhatsApp location-sharing feature, you can now know the location of your loved ones from the comfort of your home. Gone are the days you needed to pay massively for advanced trackers. You can find someone's location on WhatsApp with just a few steps.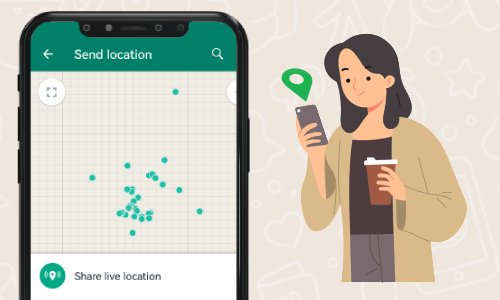 Like most other apps, WhatsApp has a unique location-sharing feature that allows users to share their live location with other users. This live location-sharing feature makes for easier access to people's exact locations, which can come in handy when you need to know the exact location of a loved one. Here's an article that explains everything you should know about the WhatsApp location finder, including step-by-step guides to help you get started.
1How to Find Someone's Location on WhatsApp
1.1 Can You Find Someone's Location on WhatsApp
As explained earlier, WhatsApp now has a location-sharing feature that allows you to find the location of another user. However, the other person needs to accept your location-sharing request so you can see their real-time location.
1.2 How to View Someone's Location on WhatsApp
Here's a step-by-step guide on how to view someone's on WhatsApp using the location-sharing feature.
1) View Someone's Current Location on WhatsApp:
Step 1. Launch WhatsApp on your phone.
Step 2. Click on the chat that sent you the location information.
Step 3. Tap the location message, and it will open Google Maps for you to check out.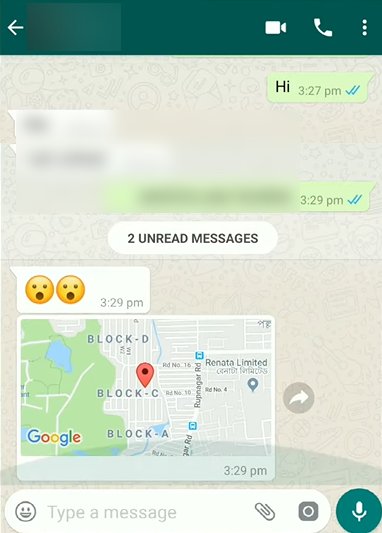 2) View Someone's Live Location on WhatsApp:
Step 1. Open WhatsApp on your phone.
Step 2. Open the chat that sent you the location.
Step 3. Tap "View live location" to view a contact's real-time location for a limited period. Once the time is up or the contact stop sharing, you won't see it.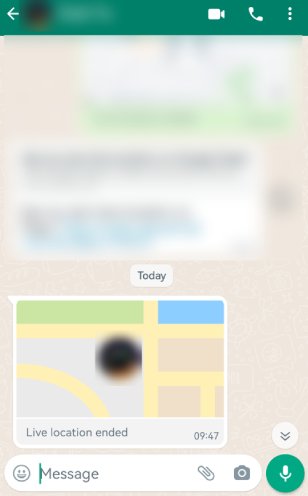 In addition, the chat recipient or everyone in the group can see the location of the contact who shared the location on a map for the selected period, regardless of whether the contact who shared the location is active on WhatsApp.
The contact who shared the location can stop the location-sharing feature anytime during the entire sharing period by clicking the "Stop Sharing" button on the screen. However, other methods of finding someone's location on WhatsApp do not necessarily require that person's knowledge or consent.
2How to Find WhatsApp User's Location without Them Knowing
Before jumping into other solutions to explore WhatsApp locators for finding someone's location, there are quite a few things to understand. Not everyone can find someone via hosting, Command Prompt, or IP address. Most of these methods will require you to be tech-savvy to be able to use them without setting yourself up to be scammed.
1. GEOfinder.mobi Phone Number Tracker
Though WhatsApp allows you to see other's locations if they are willing to share with you, you cannot always track them. If you want to view someone's location, a third-party solution like GEOfinder.mobi Phone Number Tracker may be the perfect live location tracking of WhatsApp option. This is a top-notch GPS location finder that you can use to accurately see someone's location. Let's review some advantages of using GEOfinder to find someone's location.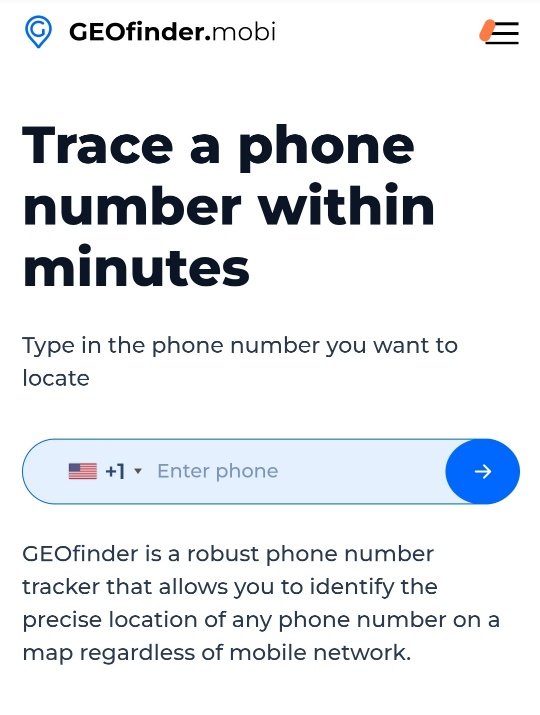 Pros
It works for finding anyone's location, irrespective of whether they're on your WhatsApp contact.
Track other's location anonymously
Offers a range of prewritten editable messages with a link for your target to click.
Cons
It is pretty expensive, considering you have to subscribe to its full features.
The software only updates location data once every three hours, so you may not know exactly when your target leaves a spot.
It doesn't work unless the phone's owner clicks the link you'll send.
Now follow these steps to learn how to see WhatsApp user's location without them knowing using the GEOfinder app.
Step 1. Go to the GEOfinder.mobi website and create an account
Step 2. Input the phone number you want to locate. You'll be prompted to choose from a list of messages to be sent to the target device with the link. Choose the most compelling and edit to suit your needs.
Step 3. Once you choose the text message you want, the App will send the message alongside the link to confirm their location.
Step 4. Refresh the map on your GEOfinder account to update your target's location
2. Google Maps Location Sharing
Another viable option is to share your location with a WhatsApp friend via Google Maps. As the world's foremost maps service, Google Maps makes it easy to find someone's location anywhere. However, like WhatsApp location sharing, Google Maps will also prompt you to choose when to share locations. Additionally, you'll need your friend to initiate location sharing on their phone to be able to see their location.
Pros
It can share real-time location
No need to spend money
Secure and reliable
Cons
The sharing time only lasts for 1 hour
It can be stopped sharing locations anytime
The steps to share their location without the person's knowledge are a bit tricky
Here are the steps for finding WhatsApp user's location via Google Maps
Step 1. When the person is with you, ask for their phone and open Google Maps on the phone.
Step 2. Click on the profile icon at the top right of the screen. It'll lead you to the profile page, where you can select the "Location sharing" option.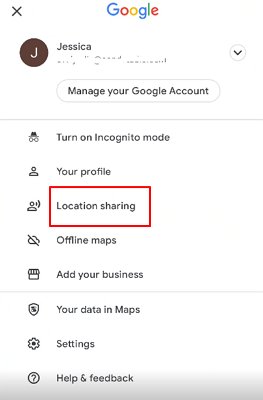 Step 3. Once you select the "share location," it'll lead you to a page where you can share via WhatsApp. If you do, it'll prompt you to send an invite link to the specific WhatsApp contact you want to share locations with.
Step 4. If you don't want the person to know that you open the sharing location feature on their phone, you can delete the sharing link on their WhatsApp chat. You can keep locating their location on your phone on Google Maps.
3. iSharing Location Sharing
Next WhatsApp location tracker option to find a WhatsApp user's location is via iSharing. Its location sharing won't be interrupted until you're ready to turn it off. It also does not require your target to tap any additional location-sharing button for you to view their location.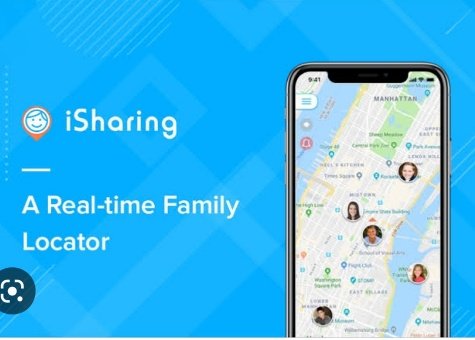 Pros
Find location 24/7
Check location history for up to 30 days
It can set a specific location for alert
Cons
It has to download and install the app
The friends that you want to locate also have to install the app on their phones
Here are steps to find WhatsApp contact's location using iSharing:
Step 1. Download and open the iSharing App on your phone.
Step 2. Add the friend whose location you want to track or who you want to share your location with.
Step 3. Once your friend request is accepted, you can log into your iSharing App and find their location whenever possible.
3Location-Sharing Safety Tips for WhatsApp Users
While the WhatsApp location-sharing feature comes in handy for coordinating meet-ups and keeping track of family members and loved ones, you should also be mindful of how casually you give people access to seeing your live or current location.
Fortunately, the WhatsApp location-sharing feature allows you to limit the time you want your phone to broadcast your location to your friend. So, you can set it to automatically switch off the location-sharing feature after a while.
Also, we typically caution against sharing live locations in group chats where you do not know all participants. Reporting your live location to total strangers can put you or your loved ones at risk.
Therefore, it makes sense to only share your live location when necessary and to only people you know very well to prevent the negative consequences of sharing your location.
4Alternative Solutions for Locating Your Child Without Using WhatsApp Location Message
Apart from the traditional location tracking options that require your target to grant you access for you to successfully find them, there are other options that work by secretly activating the GPS locating system of your target's mobile device to help you find their exact location. Admittedly, this may sound a little creepy and overboard, but nothing is overboard when you're trying to ensure your child's safety.
There's no doubt that risks exist in every neighborhood, and you don't want your child to become a victim of such risks. Having a GPS location tracker in place can help you minimize these risks by giving you a way to always know where your child is, even when they are innocently hanging out with friends. After all, there's the peace of mind that comes with knowing where your child is and ensuring that they're safe. Of course, you don't always have to keep an eye on the GPS, but it's important to be able to find your child when you need to.
The need for being able to find your child is even more essential when you have a special needs child. While wandering away from home, they may be putting themselves at certain risks, and unless you can find them, these risks may cause injuries or damages that you won't like.
Fortunately, there are so many top-notch GPS location trackers that you can use for this purpose. However, for the purpose of this article, we'll briefly review the AirDroid Parental Control.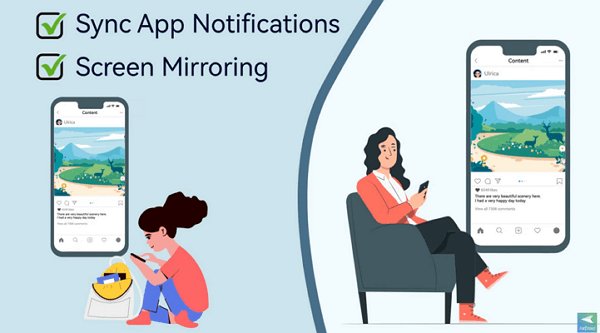 Simply put, AirDroid Family Locator is an advanced family locator app that helps keep your family safe in the real world. With the app, parents can remotely monitor their kid's Android devices. The App is built with different features that enhance your kids' safety without taking away their feeling of independence. Parents do not need to do too much when using this App to monitor their kids' location.
Features
Find your child's current location
Check your kid's location history
Real-time alert to notify you of your child's entry or exit from specific zones
Remotely watch and hear your kid's surroundings
5Tips for Protecting Your Own Privacy
We know we've talked so much about location sharing in this article that it's probably beginning to feel like you can't keep your privacy anymore. The truth is that, in all these, you can maintain your privacy and not have anybody intrude on your business.
Fortunately, WhatsApp is an end-to-end encryption app that does not share your messages or personal conversations with anybody unless you authorize it.However, you can still take some safety precautions while using the WhatsApp location-sharing features to protect your privacy. Here are some of them.
1. Block contact
WhatsApp allows you to block a contact if you don't want them to message you, call you, or even share their location with you. This way, you won't need to tamper with your privacy settings.
2. Disable automatic media downloads
WhatsApp location-sharing features often mean your phone downloads data from the person's phone. By disabling automatic media downloads on your phone, you're stopping anybody from being able to share their location or any media with you without your permission.
3. Turn off your live location feature
You can turn off your live location feature from your settings to prevent WhatsApp or anybody from always accessing your location.
4. Be wary of who you share your location with
This one's a no-brainer. You don't want to share your current or live location with someone you don't know for security reasons. Don't share your location with a WhatsApp group if you do not know every participant in the group. Remember, someone can reach and harm you if they want to by knowing your location or where you've been.
6Strategies for Responsible and Ethical Use of Location Finding on WhatsApp
Despite its locating features, WhatsApp does not expect you to just go about tracking WhatsApp locations. There are rules and regulations for the ethical use of any WhatsApp locater. Understanding and sticking to these rules will help you avoid problems while using the live location tracking WhatsApp feature.
To ensure the responsible and ethical use of location finding on WhatsApp, users should adhere to a number of strategies.
1. Establishing clear communication and consent around location sharing
It is essential to establish explicit communication and consent regarding location sharing first. Before sharing your location with someone, you must ensure the contacts are aware of your intentions and have given their consent. It is also essential to communicate how long and for what purpose you intend to share your location.
2. Maintaining appropriate boundaries and safeguards for privacy and security
Secondly, it makes sense to maintain appropriate privacy and security boundaries and safeguards. Users should exercise caution with whom they disclose their location and ensure that only trusted individuals can access their location data. In addition, users should routinely review their privacy settings to ensure that their location data is shared only with trusted parties.
3. Understanding the limitations and risks of different location-tracking methods
Lastly, it is necessary to comprehend the limitations and dangers of various location-tracking techniques. Sharing your live location, for instance, can be useful, but it entails the risk of misuse or abuse. Users should know these risks and take the necessary precautions to defend their security and privacy.
By following these strategies, WhatsApp users can ensure that they use location tracking responsibly and ethically while preserving their privacy and security.
Final Words
There you have it, everything you should know about how to find someone's location on WhatsApp. The easiest and most efficient way to find someone's location is to just ask where they are. However, if you can't ask for any reason, you now know other options to turn to. Hope this guide helps you locate your family or loved ones on WhatsApp when needed.
FAQs to Location Problems on WhatsApp
Does WhatsApp Track Your Location?
WhatsApp can display your location in chats or groups you have shared it with, but it will not track your location without your consent. If you are worried about being tracked, you can disable location-sharing permissions on your phone.
Can Someone Find My Location through WhatsApp?
If you share your live location with someone on WhatsApp, the person can find your location in the period you set.
Can Police Track WhatsApp Location?
The police might, in some circumstances be able to get a court order or warrant to access location information from WhatsApp, but this should be done through the correct channels and processes.
How Can I Find Someone's Location on WhatsApp without Them Knowing?
Actually, we do not support or endorse finding or tracking someone's location without their consent. To determine the location of a WhatsApp contact, we typically suggest asking the individual to provide location information directly. If you wish to view a person's location on WhatsApp without their knowledge, various mobile number tracking tools or GPS locating software are available as alternatives.
Does WhatsApp Reveal Your IP Address?
WhatsApp officially does not reveal each user's IP address to its users, but it is possible for hackers to obscurely obtain your IP address on WhatsApp through certain technical means, for example, by sending you an IP locating link disguised as a link or image of interest to you.
Can VPN Hide WhatsApp IP Address?
It is theoretically possible. You need to ensure that your VPN is configured correctly and to ensure that all internet traffic is relayed through the VPN before installing WhatsApp.
Was This Page Helpful?