Top 8 YouTube Downloaders for Android in 2023
With the increasing popularity of YouTube, more and more people are using their Android devices to watch videos. However, downloading videos directly from YouTube is not always possible. A YouTube video downloader can be helpful in this regard.
There are many apps to download YouTube videos, but not all are equal. The three best YouTube video downloaders for Android devices are TubeMate, VideoGrabber, and Y2mate. These are the most popular and reliable YouTube video downloaders for Android phones. So, let's have a look:
Things to Look for When Choosing the Best YouTube Downloaders for Android
The first question when looking for an app is a simple one, are YouTube downloaders safe? Genuine apps from reputable developers are perfectly safe, but when looking for a YouTube video downloader extension for Android, make sure you avoid those with few downloads and reviews. Stick to the more popular and proven options with lots of reviews to ensure you are choosing a safe option.
After that, ease of use and compatibility are essential factors to think about. You don't want a complex process to download your favorite YouTube videos, something quick and easy is perfect, and the ability to download in a format that suits the device you want to use them with is also really important. This is especially so for music videos, where the ability to download just the audio can be a really useful option to have.
3 Best YouTube Video Downloaders for Android Devices
1TubeMate
TubeMate is an incredibly user-friendly free YouTube video downloader for Android. The interface makes downloading videos a breeze. Although it's not officially available for Android, TubeMate has been one of the top choices among Android users for downloading videos.
With TubeMate, you can download any YouTube video with ease. You can choose the video format and quality during download; you can enjoy your favourite content on any device and at any quality you want.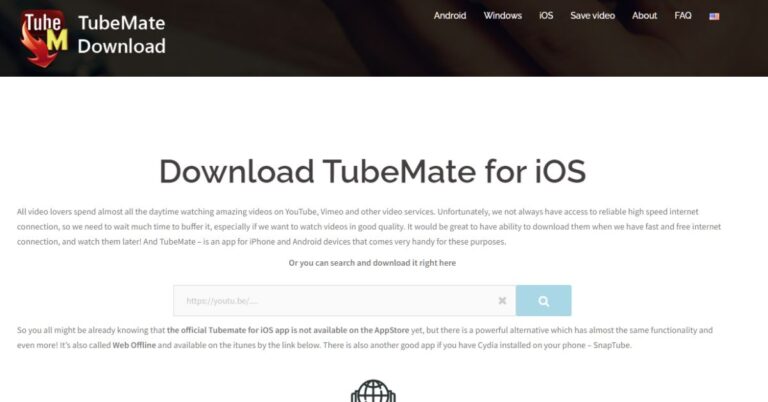 You can also convert videos to MP3 format, a big plus for music lovers. TubeMate can also be an alternative to the preinstalled official YouTube app. Many prefer TubeMate over the official YouTube app because it saves significant data.
If you are outside or in a place without Wi-Fi, TubeMate can help you cut down data usage significantly. Here is how to download videos using TubeMate:
Step 1: Download and install the TubeMate app from the TubeMate official site.
Step 2: Launch the TubeMate app.
Step 3: Navigate to the search, search, and find the YouTube video you want to download.
Step 4: Tap the download button, and choose the video format and your desired quality.
Step 5: TubeMate will download the video to your device. You can also queue multiple videos to download later.
Pros
Easy to use
Supports multiple formats
Supports various video quality
Can convert video to audio format
Completely free.
Cons
Unavailable on the google play store
Some users complain of security issues
Sometimes compatibility issues arise
Price: Free
2VideoGrabber
VideoGrabber is a powerful and efficient video downloader that can be used to download videos from various popular video sites like YouTube and many others. It's incredibly simple to use – you only need to copy and paste the video URL you want to download, and VideoGrabber will do the rest.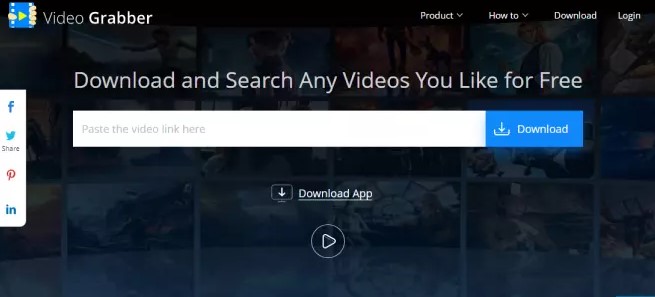 It has an integrated video converter, so you can quickly and easily convert your videos into different file formats – like MP3 and MP4 – perfect for listening to on your favourite device. You can also use the built-in video editor to make quick video changes or create your unique projects.
Another great feature of VideoGrabber is the built-in screen recorder. With this tool, you won't need a separate screen recorder. As it's an online tool, you can easily access and use it using any browser from your Android device.
Step 1: Log on to VideoGrabber.
Step 2: Paste the URL of the video you want to download.
Step 3: Click download and choose the resolution.
Step 4: The video will be downloaded in the default download location of your device.
Pros
A perfect online video downloading tool
Supports a variety of formats and video quality.
Useful built-in tools
Cons
You'll have to download a plugin to use some of the features.
Price: Free
3Y2mate
Y2mate is an online YouTube video downloader app. It is also available as a free YouTube downloader for Android as an app. It allows you to download videos from YouTube and other video-sharing websites with just a few clicks. As it's an online downloader, you can use it from your Android device and computer.
It can help you save your favourite videos and clips without any hassle. Y2mate is very easy to use. You need to copy and paste the URL of the video you want to download and hit the "Download" button.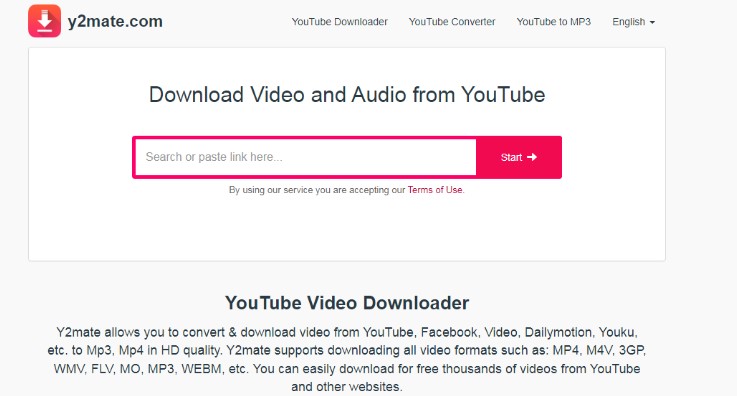 Before downloading, Y2mate gives you the option to choose various formats and video quality. You can also download your favourite songs in MP3 format, but only in one quality; 128 kbps bitrate. Once you click download, the file will be downloaded to the default download location. There is also an app version available for Android devices.
Step 1: Go to Y2mate.
Step 2: Copy and paste the URL of the video you want to download, then click 'Start.'
Step 3: Click the download button beside your desired file type.
Step 4: The video will be downloaded to the default location on your mobile phone.
Step 5: You can also download the app for your Android phone from here.
Pros
No download limit.
Fast conversion
No need to open an account
Supports multiple platforms
Cons
The online downloader requires an internet connection.
No other significant features.
Price: Free
Other Helpful Tools to Download YouTube Videos on Android
When asking which is the best Youtube video downloader for Android, those three sit at the top of the list. However, there are a range of other tools you may want to try. Each offers something a little different, and when looking at how to download YouTube videos without losing quality, you may prefer one of these options.
NewPipe
Focused on privacy and an ad-free video experience, NewPipe is a free app that can boost privacy as well as download videos and audio on YouTube. It is also compatible with other services too, including PeerTube, SoundCloud, and Bandcamp, with more services being added as development continues. A lightweight app for Android, it won't slow your phone down and allows you to download in a number of formats, including audio-only.
The download process is simple, and it shows the size of the file in real-time, so you can choose the best quality to fit your needs and storage space. A great option for those that want a bit more privacy than the native YouTube app, NewPipe is an interesting alternative for YouTube downloads.
YesTube
Another Android solution that can quickly enable YouTube video download to phone gallery, YesTube covers a variety of video and audio formats and also works as a torrent downloader too. It features a built-in browser to navigate videos, and you can save files to a password-protected folder for extra privacy.
YesTube works with YouTube, but can also download video and audio from Facebook, Twitter, Instagram, and TikTok too, handling up to 4K resolution. Great for those who want to save a range of social media content.
4K Video Downloader
A flexible and easy-to-use app that works on YouTube, Vimeo, Likee, Dailymotion, Flickr, Bilibili, Instagram, and more. With options from 360p through to 4K resolution and a range of formats, it offers easy downloading, so you watch your favorite videos offline. The ability to download from some of the less popular sites makes this one unique, so if you are someone who uses Dailymotion, Vimeo, and so on, this could be the perfect choice for you.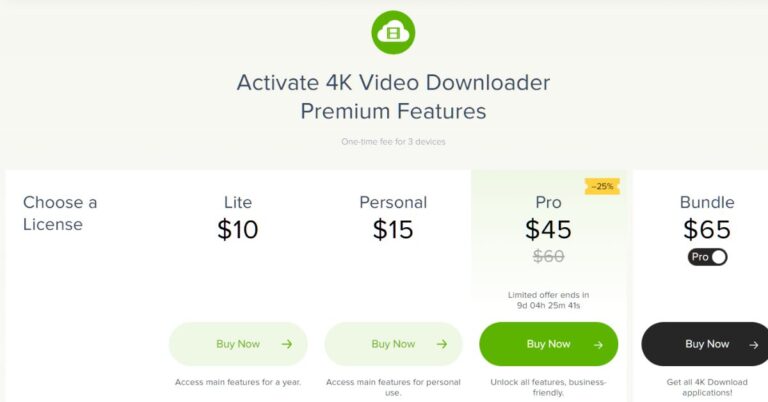 VidMate
Downloads from YouTube, Facebook, Instagram, and TikTok, with a choice of resolutions and file formats to suit most needs. VidMate is easy to use, working on both video and audio files, and has a built-in virus scanner for maximum safety.
If you are concerned about virus or malware infections on your phone, this is the perfect YouTube downloader. Each download is scanned by three different security processes to ensure that you can have complete confidence in your files.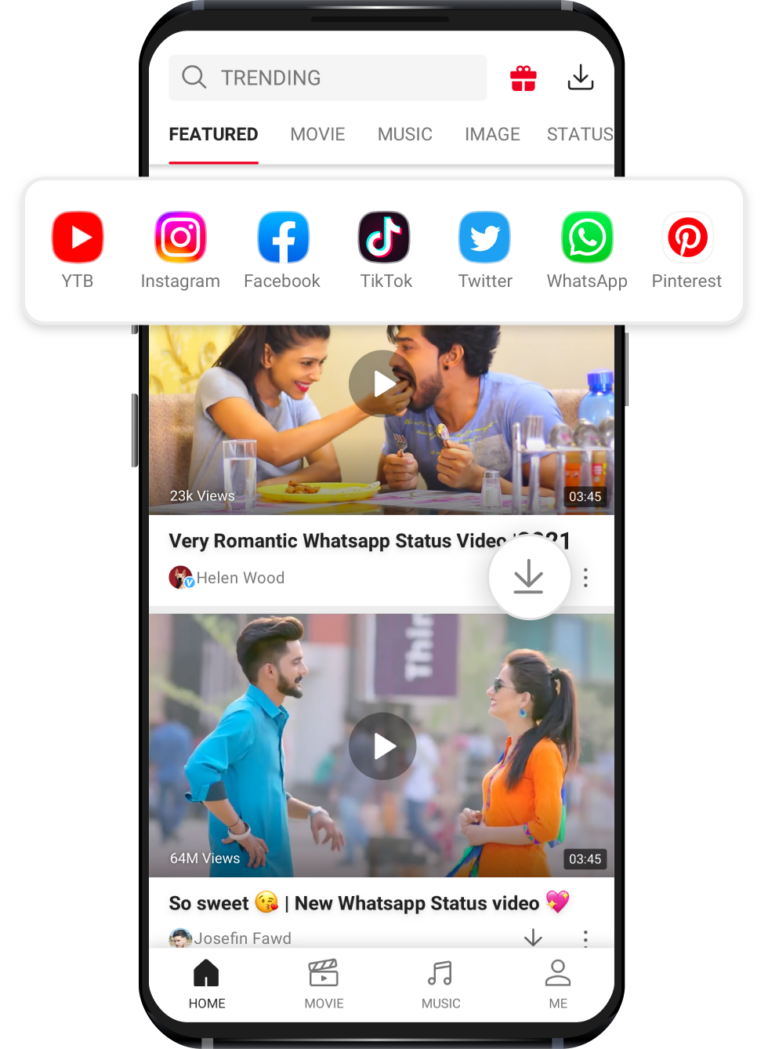 SnapTube
Another free downloader for YouTube on Android, it is also an alternative to the native YouTube app, allowing you to browse and watch videos on YouTube, Facebook and Instagram. This browser offers high-speed performance, restricting unnecessary page requests for a smoother and faster experience.
It can download in a number of formats and includes 4K downloads, and is a great option if you like to download and stream from multiple sites. That faster browsing improvise the video experience for Netflix, Amazon Prime, and Hulu and allows the best 4K viewing experience.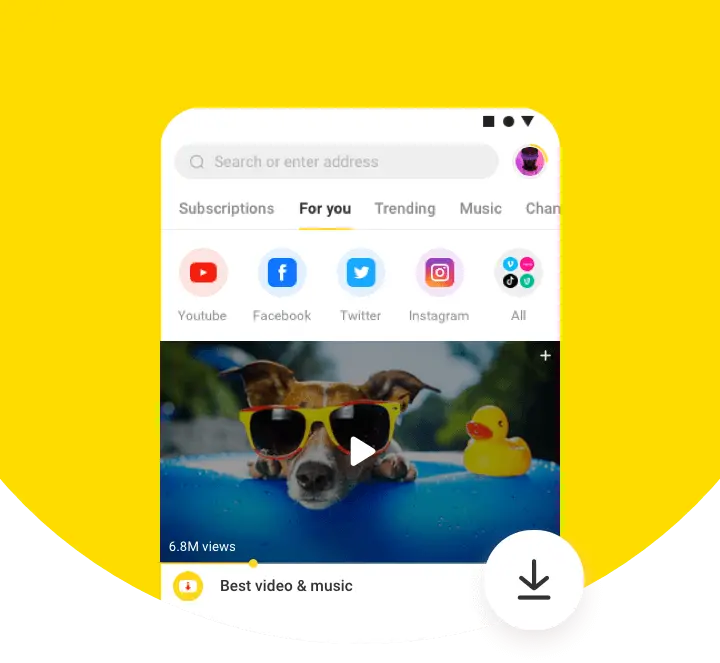 How to Download a YouTube Playlist on Android
Downloading a playlist depends on the app you use, but the top ones we have recommended all feature impressive download managers that can schedule the downloads for you. Simply select your playlist and set your downloader to batch-download all videos in the list.
How long this takes will depend on your connection speed and how many videos are on the list, as well as the file format and resolution you are downloading. However, this is a great YouTube download trick to retrieve a number of videos at once. One click and the app will take care of the rest.
How to Download a YouTube Shorts Video on Android
YouTube shorts are a great addition to the platform, but like all videos, if you want to watch them offline you need an app to help. The good news is that all the apps we talked about can download YouTube shorts as easily as they can any other content on the platform.
To download any YouTube short, just navigate to its page and use the app to download as normal.
Save YouTube Videos to Your Android Device Using AirDroid
The apps I discussed above are very handy. That's the reason thousands of users worldwide prefer these apps for downloading YouTube videos to their devices. However, AirDroid Personal lets you easily get any YouTube video to your Android device.
Although you can't technically download YouTube videos with AirDroid Personal, you can easily get any videos you download on your PC. You can also transfer videos or music files from one device to another.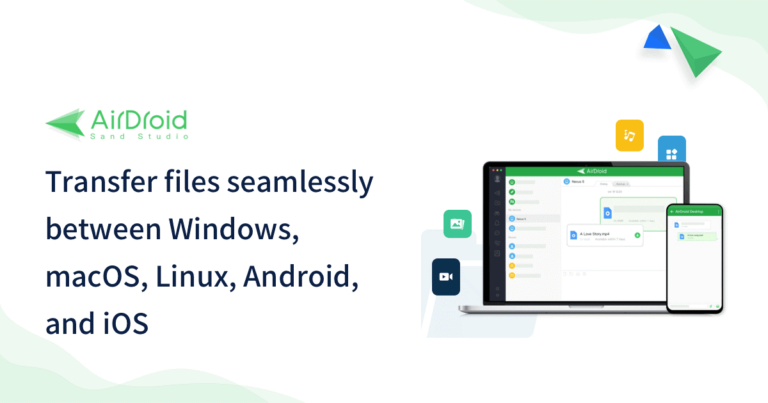 How to Transfer Downloaded YouTube Video Across Devices using AirDroid Personal
Step 1: Download, install and launch AirDroid Personal on your computer and Android phone.
Step 2: Sign in with your account on your phone and PC.
Step 3: Download your desired YouTube video with any online downloader you like, like Y2mate, SaveFrom, etc.
Step 4: After downloading the video, open the AirDroid Personal window and click on the 'Send file' icon
Step 5: Once the file uploads to 100%, click send.
Step 6: The YouTube video should transfer to your mobile shortly.
Why AirDroid Personal?
Transferring data between your devices efficiently and conveniently, AirDroid Personal is your best bet. With its wireless transfer, nearby sharing, and transfer via web features, AirDroid Personal makes it easy to manage your data on the go.
Wireless Transfer: AirDroid Personal provides a secure and reliable connection to transfer files without cables or wires. You need both devices connected to the internet; they don't have to be under the same network. With AirDroid Personal, you can quickly and easily transfer files between different devices regardless of their operating system.
Nearby Sharing: AirDroid Personal makes sharing files with friends and family easy. With Nearby Sharing, you can easily share files with any device that has AirDroid installed. This allows you to quickly and easily share documents without any internet connection.
Transfer Via Web: AirDroid Personal also makes transferring files via the web easy. Its web interface lets you quickly and easily transfer files between different computers. No matter where you are, you can easily access your files and transfer them to another device.
Conclusion
Although you can enjoy YouTube videos directly with an internet connection, you may need to download any video occasionally to enjoy your favourite content offline. Each tool discussed above offers a secure and reliable solution for downloading YouTube videos on your Android device.
With their advanced features, intuitive interfaces, and support for multiple video formats, these YouTube downloaders and Android provide an efficient and hassle-free way to download videos from YouTube. Therefore, depending on your needs, any of these three YouTube downloaders can be the perfect option for your Android device.
Frequently Asked Questions (FAQs)
Q1) Are YouTube video downloaders safe to use?
Ans: YouTube downloaders are completely safe to use, many users are using them without any issues hence their popularity has skyrocketed.
Q2) Which is better, online downloaders or offline downloaders?
Ans: Online downloaders require an internet connection for downloading videos, offline downloaders do not. So offline downloaders are better if you don't have a constant internet connection.
Q3) Why are some YouTube downloaders not available on google play?
Ans: Downloading YouTube videos without proper authorization is a violation of google copyright rules, that's why YouTube downloaders aren't available on the google play store.
Q4) Can YouTube downloaders download any video from YouTube?
Ans: Apart from private videos, you can download all videos from YouTube using YouTube downloaders.
Q5) Can I download videos from YouTube in any format and quality I like?
Ans: You can download videos at the quality the video supports. If the maximum quality for the video is 720p, you can't download the video at 1080p or any higher than that.
Which is the best app for downloading videos on Android?
TubeMate is the best overall app for downloading video from YouTube on Android. It is easy to use, can cope with all resolutions and gives you a choice of file types, making it the ideal solution for offline video use.
What is the safest video downloader for Android?
All the apps we mention here are safe for you to use, however, VidMate uses three separate virus and malware detectors on each download to ensure your device is safe, making it the safest option for Android users.
How do I download YouTube videos to MP4 on Android?
Any of the apps we mention here can download YouTube videos as MP4 files. They all work in a similar way, with a download button appearing next to any video. You then simply choose the MP4 file format, the resolution you want and press download.
Was This Page Helpful?