How to Fix Apple Music Family Sharing Not Working?
If you want your Apple Music shared with your family, the Family Sharing feature on iOS devices can be very convenient. It lets you connect multiple family members to the same music, TV, and news you enjoy on your device. However, the feature has its shortcomings too. And the Apple Music Family Sharing not working issue is pretty common.
There are multiple reasons for apple Family Sharing not working problem. So, there isn't only one answer to 'why isn't my family's Apple Music working.' Instead, you have to consider multiple options and approach them accordingly.
Follow the discussion to learn these methods. Plus, you will know about an even better way to connect multiple apple devices.
Best Offline Music Sharing App- AirDroid Personal
AirDroid grants you more independence than Apple Family Sharing. For instance, you can share content across all devices and platforms. Whereas, with Apple Family Sharing, you are limited to iOS, iPhone, iPad, iPod, and Mac.
Part 1. Cause of Apple Family Sharing Problems
When you can't access Apple Music Family Sharing, you might first try restarting your phone. If a minor software glitch is a cause, this will resolve it. Otherwise, the cause of Family Sharing Apple Music not working might be the following-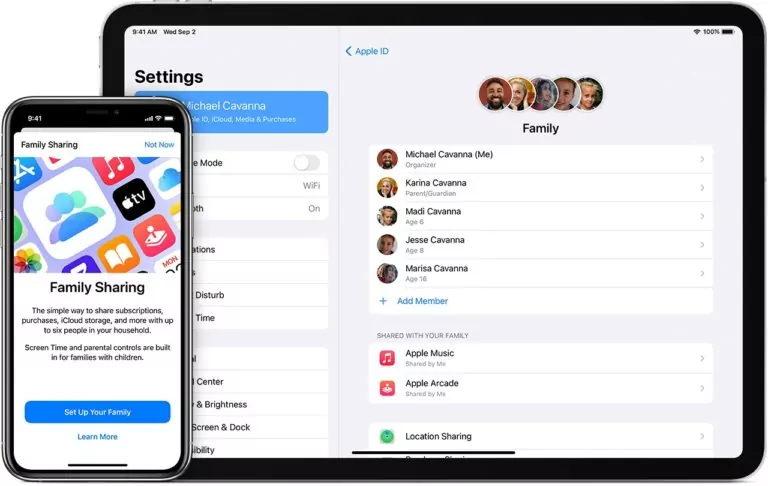 Apple Music Trial Users
New subscribers get one month of trial period for Apple Music. If you add a member to Family Sharing during this time, they will be able to enjoy the shared content. However, as soon as the trial period ends, they will face the 'Family Sharing Apple Music not working issue.
In that case, they need to buy a subscription to access Apple music shared with family. Or the member might try to extend the trial period. Apple has been known to extend the trial period for new subscribers up to 6 months. Needless to say, certain conditions apply here.
Mismatching Apple IDs
When Apple Music is not working on Family Sharing, all members should check the settings. You have to ensure that the Sign-in Apple ID you used for Family Sharing and the one used for Media and Purchases is the same.
Different IDs would tell the system that this device's music and other media content don't belong to the ID using the Family Sharing feature.
Unshareable or Hidden files
The 'apple Family Sharing not working' issue might arise because the app or file you are trying to share with your family isn't meant to be shared. In other words, these files do not support the Family Sharing feature. So, although they appear in your purchase history, a family member won't be able to find them.
Similarly, if someone in your network has turned off the visibility or kept the file 'hidden' on their device, others won't be able to find it. Here, simply unhiding the file or app will make it discoverable to everyone again.
Device Requirement
Family Sharing is one of the advanced features offered by apple. So, your device needs to be the same way to support it. In older and less sophisticated iOS devices, Family Sharing won't work. So, make sure every family member uses an appropriate device.
You will need an iPhone, iPod, or iPad using iOS 8 or later. If someone in the group uses a Mac, it has to be OS X Yosemite or above.
Part 2. How to Fix Apple Family Sharing Music Not Working
Apple music not working on Family Sharing is a common issue for users. You can try these popular fixes and see which works out. However, using a third-party file-sharing and remote access app might be your best option in some cases.
Use The Same Apple IDs
Suppose you have multiple Apple IDs. Are you sure the id you used to join the Apple Music family plan is the one you are currently using to sign in to your device? If not, then Apple Music won't work on Family Sharing.
So, it's best to quickly check the ID using these simple steps-
Step1. Go to the 'Settings' option on your iPad or iPhone
Step2. Find your Account and tap on it.
Step3. When you reach your Apple ID interface, check the information to ensure you use the same ID as the one with the Apple music plan.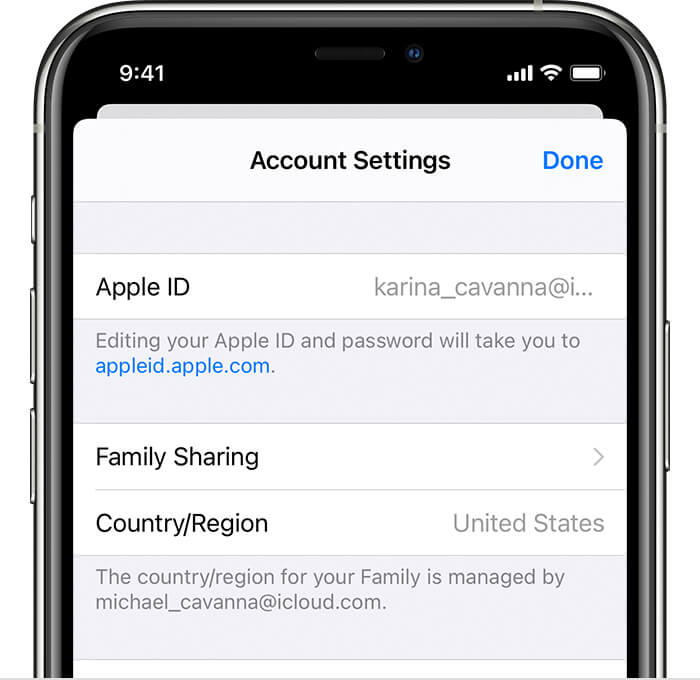 If you are using a Mac -
Step1. Find the Apple Logo on your Mac book's left corner and click on it
Step2. You have reached 'System Preferences.
Step3. Select 'iCloud'. You can now view the details of your active ID
Turn on Apple Music in Share Feature
When your Apple Music cannot connect retry the Family Sharing settings. Sometimes the organizer might not have selected 'Apple Music' in the Family Sharing setup. As a result, the feature is not getting the necessary access to the content. Follow these steps-
Step1: Head to the Settings option on your phone
Step2: Choose "Family Sharing" from the menu
Step3: Open the Share feature list and check it
Step4: Turn on 'Apple Music' in the list.
Solve Software Glitches
Restarting your phone is one of the typical methods to solve software glitches. However, chances are that you have already tried it, as it is the first thing most users do when they face an issue with their device. If restarting doesn't solve your problems, you can try something more specific. Such as logging out and re-sign-in to your Apple ID
Step1: Click on the gear icon and open 'Settings.'
Step2: Select your Apple ID
Step3: Scroll the Apple ID menu and find the Sign-out option at the bottom
Step4: Tap the 'Sign-out' button and then re-confirm to log out of your Apple ID properly
Step5: Re-log to your ID using the same username and password.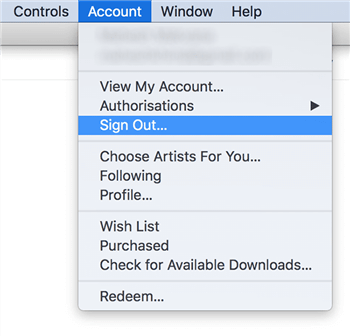 Re-organize Your Family Sharing
A fresh start is always beneficial in solving problems. The same applies to Apple Music Family Sharing not working. You can try removing all the current members from Family Sharing. Then, add them again by sending new invites. You can also use this chance to remove incompatible devices- often the source of problems. The steps are simple-
Step1: Open the Settings option
Step2: Select your Name
Step3: From the menu, find and select Family Sharing
Step4: You will see the name of the member you had selected- tap on the names to remove them
Step5: Now send them (the same IDs) new invitations to join Family Sharing
Turn-off Family Sharing for Good
If you still can't access Apple Music Family Sharing, maybe it's best to disband the current group. You can then start with new IDs and devices. Or even better, an app like AirDroid, which lets you share content across multiple devices. So, for the apple users wondering how to turn off Family Sharing, this one's for you.
To turn off or disband the current group, you must be the Family Organizer of that group. Follow these steps if you are on your iPhone or iPad-
Step1: From settings, select your name
Step2: Tap on Family Sharing in this list
Step3: After the menu opens, choose your name
Step4: Click on 'Stop Using Family Sharing
You can do the same thing from your Mac-
Step1: Head to the System Preferences and select 'Family Sharing
Step2: You will find your name at the top of the list. Click on it and select 'Details.'
Step3: Now choose 'Stop Family Sharing.
Part 3. Can't Join Apple Music Family? Try AirDroid Personal
If you're having trouble joining Apple Music Family, or if you're simply looking for a more flexible way to share your music with friends and family. The best solution to your Apple Family Sharing not working is to use a third-party system like AirDroid Personal to share your music. The software lets you share music and other media content across multiple devices.
Why AirDroid Personal?
AirDroid grants you more independence than Apple Family Sharing. For instance, you can share content across all devices and platforms. Whereas, with Apple Family Sharing, you are limited to iOS, iPhone, iPad, iPod, and Mac.
With AirDroid, you are less likely to face issues like Apple music not working on Family Sharing. Because being an application solely focused on the transfer, sharing, and connecting of files, AirDroid's system is more sophisticated and free of glitches.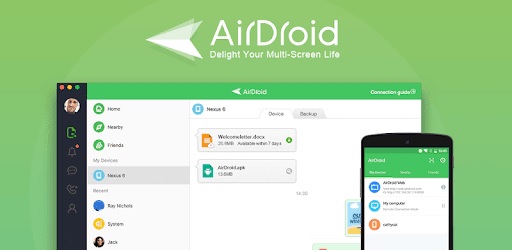 Features
Send files to Nearby family member's devices
Allow you to transfer types of files such as photos, music, videos, files, apps and more.
Remote iPhone file access and management from AirDroid Web
Fast Transfer of files (200 mb/s across all networks)
No platform and format limitations.
Pros
Fewer system restrictions
Low priced
Easy download & installation
Cons
Scarcity of literature
It needs good YouTube videos.
Price: 3.99$/month;29.99$/year
Conclusion
If a member can't access the Apple Music shared with family, the cause is often hard to detect. As several devices are involved, keeping track of everyone's Family Sharing settings can be difficult. Therefore methods like disbanding the group or removing and re-adding can work best for you.
However, the best solution to Apple Music Family Sharing not working is to use an alternative app to share music with your family. Here, AirDroid is your best choice.
Besides letting you share media files, AirDroid Personal can be a handy tool in various digital emergencies. For instance, you can access a broken iPhone or stolen iPhone from a Windows PC using AirDroid.
FAQs
What are the alternatives to Apple family sharing?
Ans. Many alternative apps let you share files with family members with less hassle than Apple family sharing. The main advantage of using professional file sharing apps instead of Apple Family Sharing is that you can share across platforms other than IOS.
My ID and settings are alright, but why can't I still join the Apple music family?
Ans. This might happen because the organizer might have removed you from the group. Or the content is hidden. You should also consider if you were on the trial period of Apple Music.
Can you access the 'apple music shared with family without the internet?
Ans. No, you can't use Apple Family Sharing without the internet. You should be connected to Wi-Fi or mobile data if you want access to the shared content. However, you don't need to be on the same network as the organizer of family members.
Was This Page Helpful?