How to Play Stumble Guys on A PC and Mac?
Play Stumble Guys on your PC using AirDroid Cast
Evade obstacles in time with a high frame rate(120Hz).
Enjoy the game's cheerful music better with high-quality audio.
Play Stumble Guys on your PC lag-free.
Stumble Guys tops the list of all gamers who prefer multiplayer obstacle racing games. It is such an enjoyable game that you would want to take this experience to a PC to:
Play on a larger screen.
See obstacles better.
Have more time to avoid them.
However, it can be challenging to play Stumble Guys on a PC because it has no dedicated version for macOS and the Steam version demands a lot of RAM. Thankfully, you can solve this problem by playing Stumble Guys on your PC using AirDroid Cast. And in this post, we'll show you how.
Part 1: Stumble Guys - What Do You Need to know?

Stumble Guys is an online multiplayer party game involving 32 players racing through an obstacle course. As a player, your main objective is to beat the other 30 players to the finish line. You race across a platform with rotating cubes, a pillow hammer, falling parts of the platform, and so on. And if you fail to stay on the platform, you will fall from the sky and respawn a short distance behind where you initially fell from.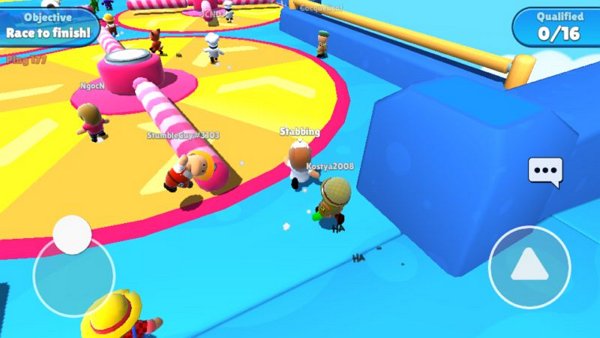 After the success of Fall Guys, Kitka Games (a Finland-based gaming company), opted to create Stumble Guys, a Fall Guys clone that was available on mobile devices and PCs. As a result, the majority of Stumble Guys players use mobile devices (Android and iOS). These two games are nearly identical; they're both free and have the same gameplay formula.
Since Stumble Guys is primarily made for mobile devices, it has a shorter match length, and the game loads instantly. But Fall Guys has more game modes. Also, the racing platforms are different between the two games.
Part 2: Tips and Tricks to Win More Races on Stumble Guys

Although the ultimate goal of playing the game is to finish first, it's not always about speed. There's a lot you need to do to dominate your opponents. Here are some tips you can use to win more games.
Control your camera
Stumble Guys, just like most 2D or 3D platformer games give you the notion that you can't control your camera. But, you can control your camera by moving the joystick halfway. Controlling your camera will help you to see obstacles early so that you successfully avoid them.
Don't spend your gems on skins
As appealing as new skins may be, don't use your available gems to purchase random skins, especially when they are in limited supply. Stumble Guys provides you with new free skins daily. So you can prioritize gems for the upgraded Stumble Pass which helps you to knock players off the course.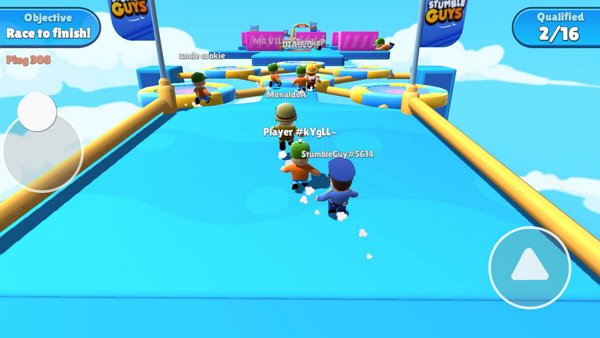 Avoid boxers
If you see any player with a boxing glove emote, keep away since they can knock you off the course.
Use air dash to move faster
When you jump you will automatically perform an air dash mid-air. You will also land on your belly and move faster on the course.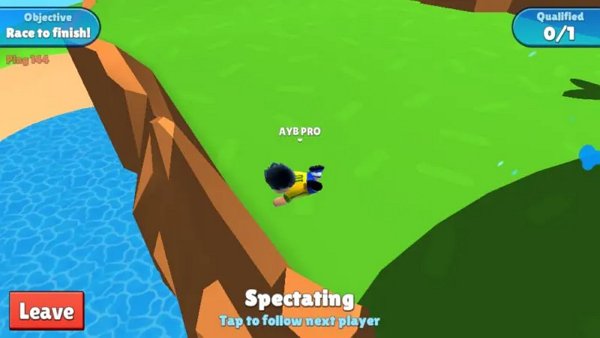 Belly slide for more speed
A belly slide differs from an air dash in that, it is performed on a sufficiently angled slope and it allows you to gain more speed.
Can you play Stumble Guys on your Windows PC/Mac?
Although Stumble Guys was initially a mobile game, a PC version was released in late 2021. It is available on Steam and is only playable on a Windows PC. Unfortunately, Kitka Games is yet to release a macOS version. Here are the system requirements to play Stumble Guys on your Windows PC.
OS - Windows 10 and above
RAM - at least 4GB
Graphics: AMD Radeon HD 7750 | NVIDIA Geforce GTX 260
From this, you can see that you will face some challenges if you want to play Stumble Guys on your PC. First, all Mac users are ruled out since the game doesn't have a dedicated Mac version. And for Windows users, you have to meet the demanding requirements mentioned above.
The good news is that you can play Stumble Guys on your Windows PC or Mac using AirDriod Cast. Let's see how to do this in the next section.
Part 3: How to Play Stumble Guys on PC?
The following solutions enable you to easily play Stumble Guys on your PC.
1AirDroid Cast
AirDroid Cast presents a simple and convenient way to play Stumble Guys on your PC via screen mirroring. With AirDroid Cast, you can play the game on any PC system you want. Whether you're using Windows 7, 8, 10, or a MacBook, it doesn't matter. All you have to do is install the app on your phone and PC, connect them, and play.
Using this solution won't just guarantee you the basic PC experience of the game. It has futuristic features that will enrich your experience with the game and help you to dominate races more. Using AirDroid Cast to play Stumble Guys on your PC enables you to: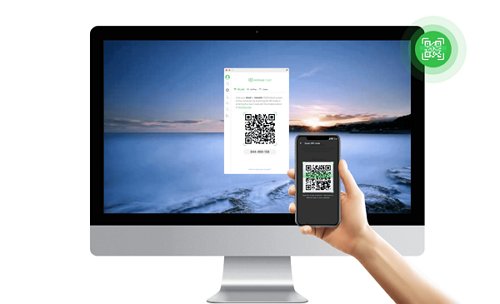 You can rely on this tool to get the following benefits:
1. Timely evade in-game obstacles
With AirDroid Cast's high frame rate (120Hz), you'll be able to see the pillow hammer and other obstacles in real time. This will help you to evade them easily and stay on the course. This feature will also help you to perform air dashes and slides more efficiently.
2. Enjoy Stumble Guys' cheerful gaming music better
If you're an enthusiast of the game's cheerful music and impact sounds, AirDroid Cast's high-quality audio will let you enjoy this.
3. Play Stumble Guys on your PC lag-free
One of the main reasons why Stumble Guys lags on a PC is as a result of the PC not meeting the system requirements. With AirDroid Cast you won't have to worry about that because you can play the game without installing it on your computer.
4. Have an immersive visual experience with high video quality
AirDroid Cast's Full HD video quality lets you experience the game's colorful theme completely.
5. Launch and play the game on your PC (mouse control)
You can use AirDroid Cast's mouse control feature to launch and play the game right from your PC.
That's not all, AirDroid Cast offers multiple options for connecting your phone and PC, allowing you to connect at your convenience.
Now you know what AirDroid Cast offers, let's use it to play Stumble Guys on your PC.
How to play Stumble Guys on your PC/Mac using AirDroid Cast
You can play Stumble Guys on your PC or Mac with AirDroid Cast by following these simple steps.
Step 1. Install AirDroid Cast
You'll first need to download AirDroid Cast on your phone and PC. You'll get the download links from the AirDroid Cast download page:
Select the link that suits your system and install once the download is complete.
Step 2. Initiate casting request
Launch AirDroid Cast on your phone and PC. You'll three options for initiating a casting request:
Wireless
First, ensure your Mac and phone are connected to the same local area network. Here, you can either enter the cast code on your phone or use your phone's camera to scan the QR code.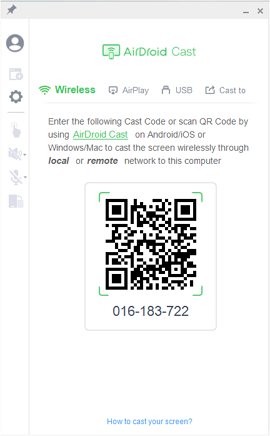 USB
First, ensure that USB debugging has been enabled on your phone. Connect your Mac and phone using a USB cable, then click on the Cable tab. Select your phone from the available devices.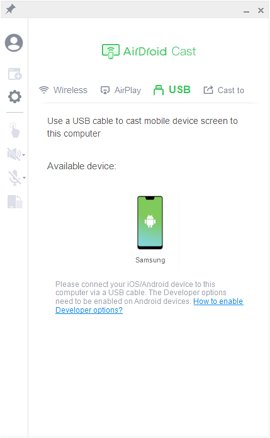 AirPlay
If you're using an iPhone and you want to connect to a computer, this is the best way to do so. Ensure that your phone and PC are connected to the same WiFi then click on the AirPlay tab and ensure that the AirPlay service is running.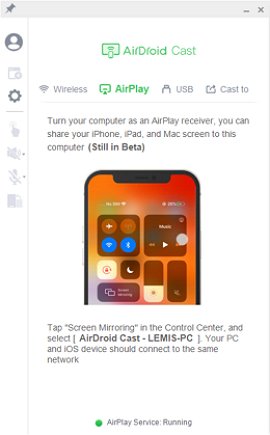 Next, go to Control Center>Screen Mirroring on your iPhone and then select the device labeled AirDroid Cast - xxx.
Step 3. Accept Casting permissions
After initiating the casting request, accept the permission to allow your phone to start casting and click the 'Start Casting Now' option on your phone. When you're done, your phone's screen will be mirrored to your PC.
Step 4. Play Stumble Guys on your PC
Click the mouse control button to turn this feature on. Next, use your mouse to launch the game from your PC.
From here it is pretty straightforward because this is a very easy game to play.
Start by using your mouse to accept the privacy policy.

You can choose to customize your avatar or enter tournaments, and when you're done click play to start a new game.

Move forward during the race and click on the upward arrow to jump over obstacles and missing pieces.

That's about it!
2Emulator
Another decent option for playing Stumble Guys on your PC is by using Android emulators. An Android emulator is a piece of software capable of imitating the Android system. Because Stumble Guys is on Google Play Store, you can install it from there.
One of the best Android emulators in the market today is BlueStacks.
Key Features of BlueStacks

Support for external controllers.
Translation for games in foreign languages to your local language.
High video and sound quality. It also has screen recording.
Automation for repetitive game tasks.
High and smooth frame rate.
Now you know what BlueStacks brings to the table, let's see how to set it up and play Survivor.io.
Step 1. Download and install BlueStacks
Download it from the official site: https://www.bluestacks.com/ and install it on your computer. During installation, it will take some time to download additional files before installing it.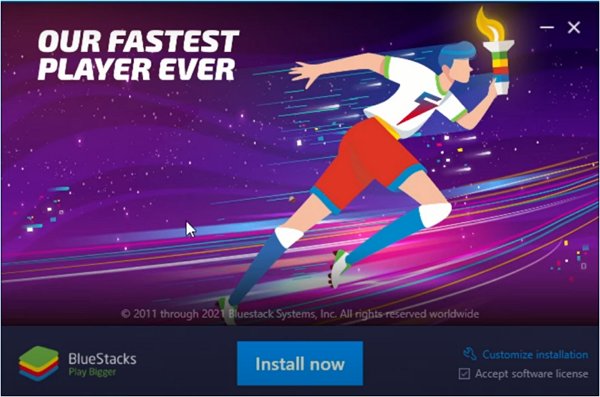 Step 2. Sign in to your Google account
After installation is complete, launch it. This will take a little longer because it is the first time. Next, click on the Play Store app and sign in to your Google account.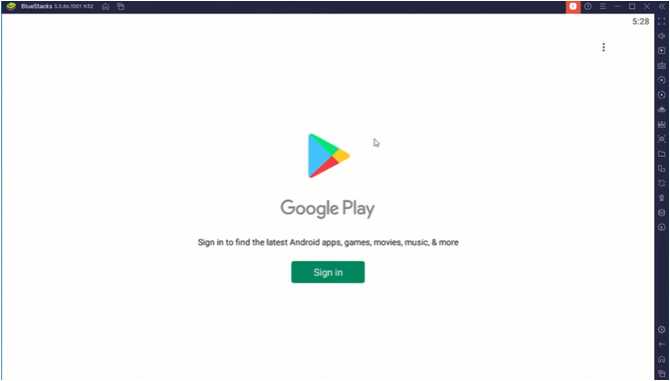 Step 3. Install Survivor.io
Use the search bar on Google Play Store to find Stumble Guys and install it.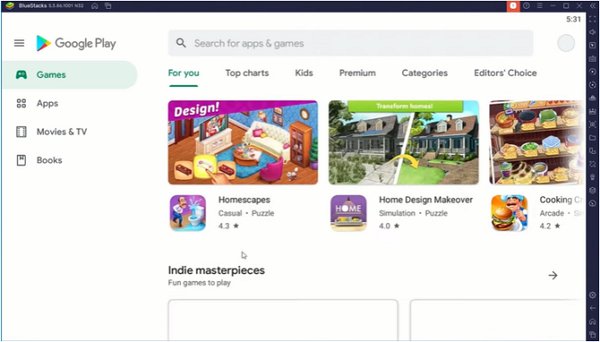 Once installed, you can launch and play it on the emulator.
Limitations of emulators:
There are currently no emulators for iOS systems. So you won't be able to install the game from App Store. In addition, emulators use up a lot of memory which may cause your PC to freeze. This leaves AirDroid Cast as the only viable option.
Part 4: Games like Stumble Guys
Stumble Guys is very popular and it has managed to amass over 160 million downloads globally. If you're part of this statistic, here are some games like Stumble Guys that you can explore.
Subway Surfers
Just like, Stumble Guys, in Subway Surfers you also race through an obstacle course.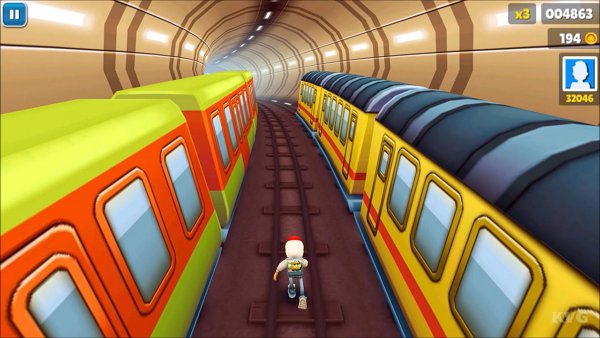 However, here the obstacles are trains and you're not actually racing against any players.
Knockout Race
This is the closest game to Stumble Guys apart from Fall Guys. Here you also race through an obstacle course while trying to knock other players off.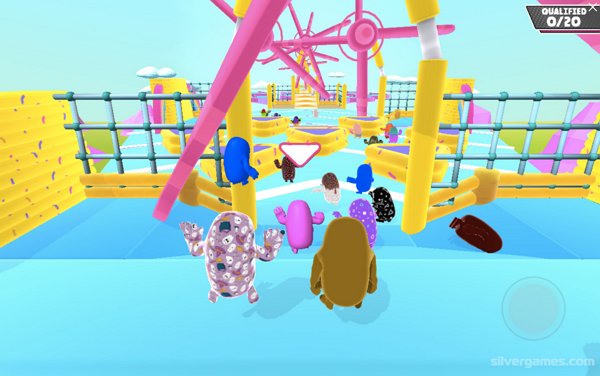 Fall.io - Race of Dino

In Fall.io you get to run against 49 opponents on an arena platform.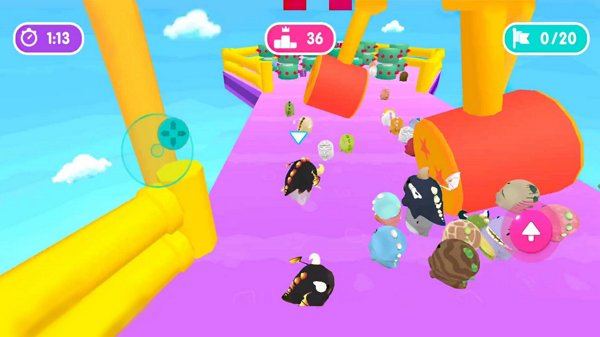 Also, the obstacles here are insane but you can avoid them if you're extremely careful.
Part 5: Final Verdict & FAQ about Stumble Guys
Playing Stumble Guys on your PC can be challenging since it doesn't have a dedicated version for Mac and the Windows version has fairly high system requirements.
Fortunately, you can work around this by using AirDroid Cast to connect your phone and PC and play the mobile version of Stumble Guys on your PC. Apart from enabling you to play the game on your PC, it enriches your experience with high-quality video and audio, high frame rate, mouse control, and so much more.
Can I play Stumble Guys on a mac?
Yes, you can. Although Stumble Guys doesn't have a dedicated version for macOS, you can play it on your PC using a powerful screen mirroring and controlling tool: AirDroid Cast.
How long does a Stumble Guys game on PC last?
A game of Stumble Guys typically takes less than 10 minutes, since it was built for mobile devices. Depending on how good the players are, the game can even go for only 2 minutes.
Does Stumble Guys have an offline mode?
No. Stumble Guys is entirely an online game.
How can I increase speed on Stumble Guys?
To get a short speed boost, align your avatar at an angle and run them through a bump. You can also use the air dash and belly slide to do the same.
What is the easiest map to beat on Stumble Guys?
Although this can be subjective, the easiest map to beat is arguably Paint Splash. Other easy maps are Laser Tracer, Block Dash, and Super Slide.
Was This Page Helpful?