4 Workable Ways to Cast Movies to Chromecast TV from Firefox
If you love to use the Mozilla Firefox browser but are unable to connect it to your TV, no need to WORRY! We have a solution - firefox Chromecast for you.
Chromecast works by transferring the contents from one source such as your laptop, PC, or smartphone, and displays them on your big-screen Television. But unfortunately, there aren't too many guides available on how to use Chromecast with Firefox. So allow us to guide you through it here!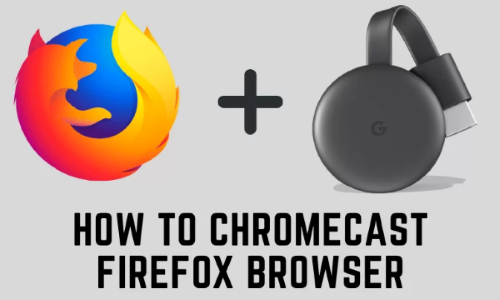 1. How to Chromecast from Firefox Browser Using Extension/Add-on?
Here is how to firefox cast to Chromecast Using Extension or Add-on.
Install Firefox browser on Windowsdesktop or laptop or your mobile phone.

Connect the Firefox browser and your TV which enables Chromecast to the same Wi-Fi network.Now Visit the "Github page on your browser to add the fx_cast plugin. The extension will now add a "cast icon" to Chromecast from your Firefox browser!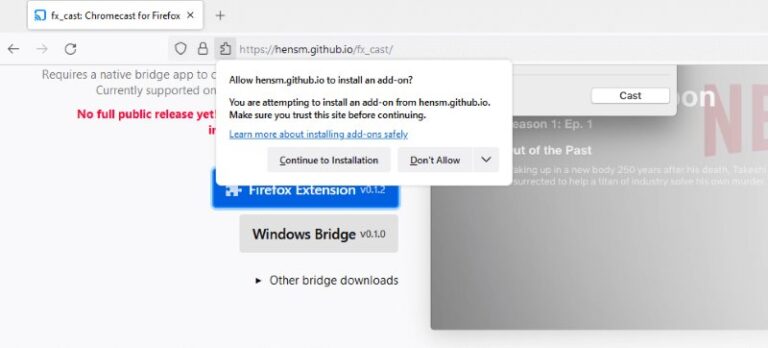 Download the Firefox extension by tapping its icon.

Once the download is complete, tap the "Continue to Installation" option.

A pop icon will appear for asking extension permission, allow it.

After adding the extension, find the "Cast"icon on the menu bar.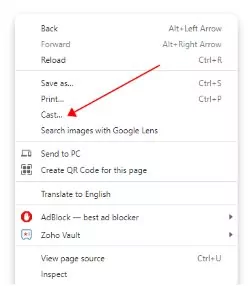 To cast a web page, go to the website that you would like to stream directly to your television.

Hit the cast icon and enjoy the big screen with Chromecast. On popular sites such as YouTube, the cast icon will be visible on the video and it can then be streamed via Google Chromecast.
2. How to Chromecast from Firefox on Win/Mac?
Since Chromecast support is not available in the Mozilla Firefox browser, you can use the extensions or add-ons to install. First, connect the PC and Chromecast to the same network so that they are accessible from one another. Then refer to all the steps given in the above section.
3. How to Chromecast From Firefox on Android?
The Firefox browser doesn't have built-in cast support, but you can use Chromecast to start.
Prerequisite:
Android
Firefox browser installed on the Android
TV with Chromecast built-in feature.
Here is the step-by-step guide to casting Firefox to Chromecast on Android.
First, connect the Chromecast to the HDMI port of the smart TV.

Connect Androidphone and Chromecast device to the same Wi-Fi network.

Now download the "Firefox browser" and open it on your Android

To check whether the casting feature is enabled in the browser, enter "about: config" in the search bar. Find the "browser.casting.enabled" feature and make sure it has a True value; if not, set it to True by changing its value from False-to-True.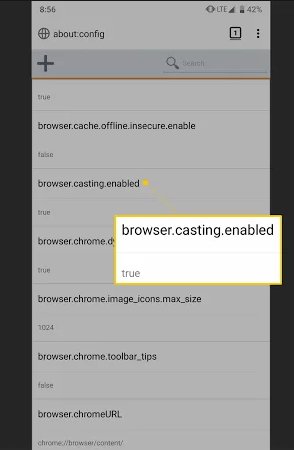 Disable any installed "Adobe Flash player" because it will change the video configuration for some files.

Visit any page and search for a video you want to cast.

The "Cast icon" will appears and click it.

Tap the Chromecast device name that you wish to connect to your TV.

Once connected, the Firefox content will be displayed on the TV.
4. How to Chromecast From Firefox on iPhone?
To Chromecast from Firefox on iPhone, you'll have to use a workaround. Despite iOS supporting Firefox, this operating system does not support the cast functionality. The iPhone users need to download an "All Cast application" such as Replica App and begin mirroring their devices in this way:
Install the Replica app on your iPhone.

Ensure that the device and Chromecast are connected to the same Wi-Fi network.

On the home screen of Replica software, select your Chromecast device.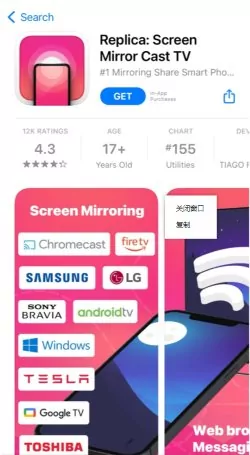 Now select "Start Broadcast" to screen mirror the iPhone screen.

Finally, open the "Firefox" and play the video you want.
5. How to Cast Movies from Firefox to TV without Chromecast?
If you want to cast movies from Firefox to your TV without using Chromecast, you can use any third-party tool for this purpose. AirDroid Cast Web are very beneficial in that case.
AirDroid Cast Web is an online screen-sharing website that you can use to project your device screen; Android, iOS, tablet, iPad, PC, or Mac to any browser across multi-platforms.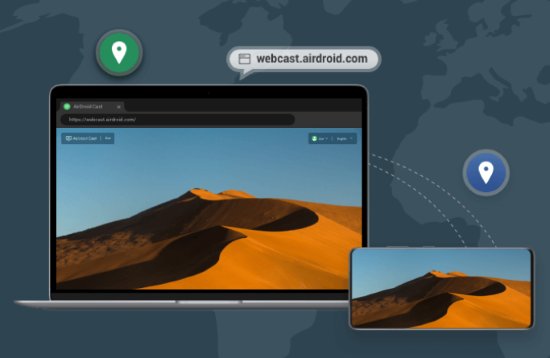 Through Airdroid Cast Web, you can now easily share your screen no matter where you are and whatever device you are using as it is compatible with all mobile devices, computers, or smart TV.
5.1 Start casting from Firefox to TVvia AirDroid Cast Web
Step 1. Download and install the AirDroid Cast
First of all, you need to download AirDroid Cast App on your phone/computer. You can click "Try It Free" button below or download it through official website.
Step 2. Connect both your devices
Open webcast.airdroid.com on your Smart-TV. Launch AirDroid Cast on the device that you want to cast and scan the QR code which is displayed on the browser of TV.
If you want to cast your computer's screen to TV, open AirDroid Cast software on your computer and enter the cast code that was created by the website.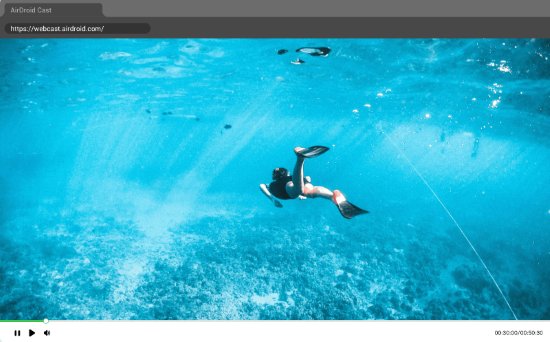 Step 3. Start casting
After successful connection, your phone/PC screen will be showed on your TV. Now search the video you want to display on Firefox. Your video will be displayed on the TV from your phone/PC.
5.2 Benefits of AirDroid Cast Web
No Cable is required:
Airdroid Cast Web does not require any cable for connection. Rather it provides you remote connection over Wi-Fi.
Cross-Platform Screen Sharing:
This web browser will enable your entire team to share their screens live, effectively making it easier for individuals across all platforms to communicate better without any barriers. Tablet, computer, and smart TV web browsers can all become the receiver whether it's Windows or macOS.
Casting No Matter Where You Are:
Airdroid Cast Web offers an easy solution to staying in touch with all of your friends, family, and coworkers no matter where you are. Therefore, when it comes time to do some work at home, mobile office, or on the go, you'll be able to stay productive by easily sharing your screen with others.
Cast to Any Browser in Any Scenario:
Airdroid Cast Web enables you to cast to any browser in any scenario; whether you are sharing your screen with attendees in any meeting, or its traditional or online teaching. Also, you can share your screens and device audio anywhere with any browser for publishing content, playing music or video, showing pictures, or even gaming together.
6. Is There A Chromecast Add-on for Firefox?
An experimental Firefox extension called fx_cast has been released which brings with it Chromecast capabilities. The extension implements the Chrome Sender API and exposes it to web apps so that content can be cast from any website to your TV quite easily.
You do need a bridge application on the operating system (Windows, Mac, or Linux) to handle communication with the receiver device.
Once both are installed, all you have to do is click on the new Cast button that will be added to the toolbar and you should be able to start casting videos from YouTube and Netflix as well as content from various websites straight from Firefox itself!
7. Final Words
Chromecast for Firefox is one of the best methods which can be used to stream videos and audio on TVs and many people like this method very much. However, not everyone knows how to directly access the Firefox browser on their TV using Chromecast. There are some effective methods which will help you overcome this problem. I hope you got all the effective instructions about accessing Firefox on your TV from the above-detailed guide.
Was This Page Helpful?