Can I Use an iPad with an Android Phone?
AirDroid Cast Screen Mirroring App
Mirror the screens of mobile phones to PC wirelessly & wired.
Mirror & Control your Android/iOS devices with mouse and keyboard from computer.
Mirror Windows and MacOS screens to a computer wirelessly.
Are you thinking about controlling and using the iPad with an Android phone? As you know, Apple has no policy or system to give access to iOS devices to any other devices like Android and PC. Few applications assist Android users in controlling iPad devices on their Android devices. In this blog, we are going to tell you how you can use your iPad with an Android device.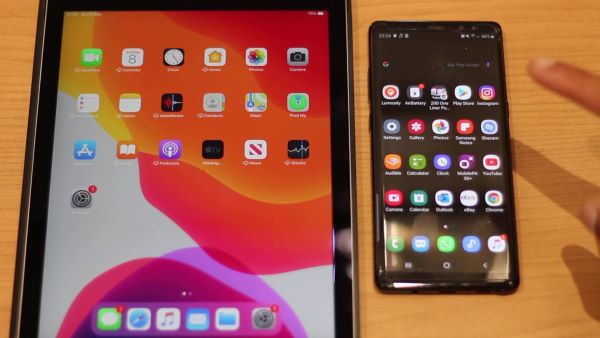 Why Do People Want to Control and Use iPad on Android?
Every iPad or Android user has their own reasons to control their iPad phone on Android:
The iPad user whose screen is cracked or damaged really needs to control or use his or her iPad on an Android phone because it is hard to use a cracked-screen iPad.

In addition, when someone wants to share their small iPad screen with an Android screen for high audio volume.

People usually want to control their kid's or partners' iPad on Android devices. Usually, parents give their kids an iPad at a very young age for studying or playing games. But they want to monitor their iPad to keep them safe from online sex predators, drug dealers, and scammers.

Moreover, company owners sometimes want to control employees' iPad when the owners get to know that employees are swindling.
How to Access an iPad on An Android Phone?
It was a real challenge to control an iPad with an Android device. We have tested several applications and found that these 2 applications can be helpful.
1. FamilyTime
FamilyTime is an amazing application for getting access to iPad devices with Android phones. This application is available for Android, and iOS users. Because cross-platform compatibility helps in controlling one device to another device easily.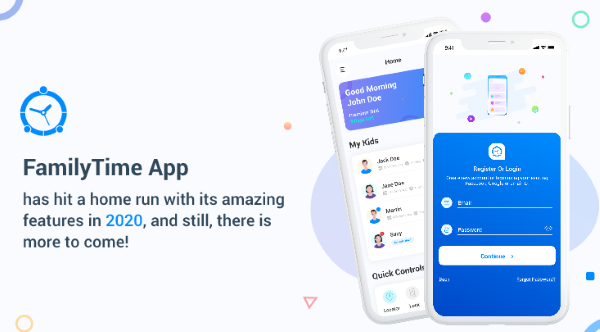 Parents use it as a parental control application because nowadays, kids use iPad, and parents are still using Android iPad/iPhones. Parents have limited options for controlling iOS devices with an iPad, but this one is an amazing application.
Additionally, it has all the useful features that make this app worth using. You can block any application from the iPad, like adult applications, adult games, aggressive games, etc.
In addition, the Android user can restrict any website on the iPad without touching the iPad device of the targeted person. Parents mostly block all adult websites like social websites, chatting websites, web games, porn websites, etc.
How to Use the FamilyTime App?
First of all, download the FamilyTime application on your Android device from the Google play store. Downloading process will take a short time.

After downloading the family time application, install it and click on its icon.

Now, this app will ask you to create an account; for account creation, it will ask you to create an account.

After signup, your account will be created on the FamilyTime.

Now, this application Will request you to add a child account for controlling the iPad on Android.

Now, pick your or your kid's iPad, and visit the link get.familytime.io.

After visiting; it will give you an option to download this FamilyTime.jr.

Signing in with the parent account or QR code, you will be asked to give permission to control the iPad device.

Then accepting the controlling iPad device to Android.

Now you can now control and use your iPad with an Android phone. Like calls, messages, dramas, or movies. You can block any app or website with FamilyTime.
3. Sunlogin
Sunlogin is an amazing remote control application that helps to remote access mobile devices. It is compatible with different devices like Mac, Windows, Linux, Android and iOS.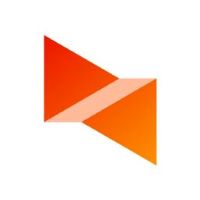 If you forgot your iPad at home but you urgently need it in the office for official work, you can get access to that iPad securely with the help of the Sunlogin application. It allows you to remotely record your iPad screen and screenshot.
How to Use Sunlogin to Access iPad on Android Phone?
First of all, you need to download Sunlogin remote control app on your iPad and Android phone. You can get it from App Store or Google Play Store.

Launch this app on your Android phone and create an account.

Then both your devices need to log in to the same account.

Click "Screen Mirroring" on iPad, now you will see your ID and passcode.

Click "Remote Assist" on your Android, enter your iPad ID and passcode here.

Please allow the visit permissions on your iPad, then your iPad screen will appear on your Android phone.

Now you can access your iPad from your Android phone, you can easily record screen actions and do screenshot.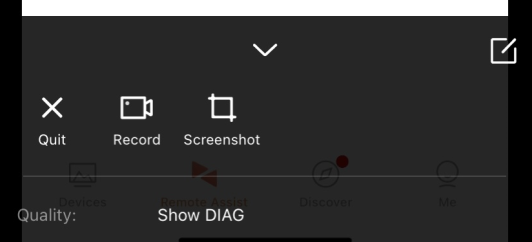 Extra Tip: Is It Possible to Mirror and Control the iPad on a PC?
Yes, it is totally possible to control an iPad on a PC/Mac with AirDroid Cast. The AirDroid Cast is a screen mirroring application that also helps to control Android/iOS devices on a PC.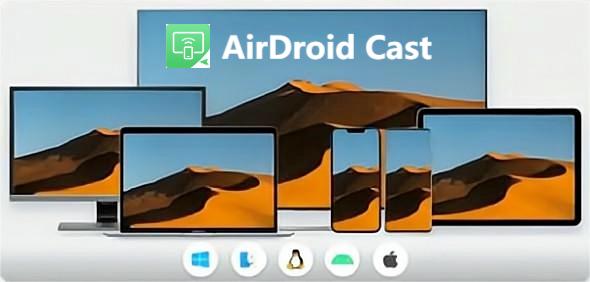 iPad users can effortlessly use the iPad on PC and access all its material. But the question is how to do? Let me tell you, AirDroid Cast gives you three different options, like Wireless, AirPlay, and USB cable.
Note :
To mirror and control the iPad on your PC, please download AirDroid Cast on both your devices first.
1. Wireless Method
Launch AirDroid Cast on your iPad and Windows PC. Click "Wireless" on AirDroid Cast desktop client. You will see a QR code and 9-digit cast code display in the main interface.

Now note the casting code from PC and put it on your iPad AirDroid Cast app. Or use your iPad to scan the QR code to create connection.

You will receive a casting request, click on accept, and your iPad screen will be visible on your PC.
2. AirPlay
Connect your iPad and PC with the same Wi-Fi connection.

Go to the iPad screen, swipe down the screen and click on the "screen mirroring" option.

Choose AirDroid Cast-xxx where you want to share your iPad screen and follow the instruction to finish connection.
3. USB cable
Connect both devices to each other with a USB cable.

Click "USB" from AirDroid Cast desktop client and choose your iPad from the available list.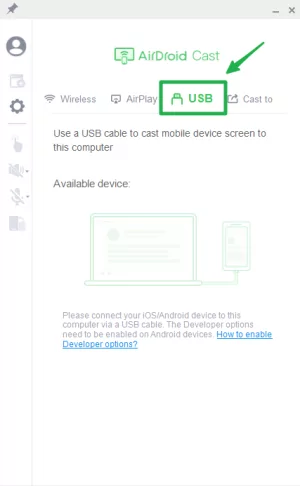 How to Control iPad on PC via AirDroid Cast?
To control iPad on your PC, please click the control icon on the left menu bar of AirDroid Cast desktop client, follow the instrcution to set up Bluetooth to connect your iPad and PC. When you finish setup, you can start to control your iPad by using the mouse and keyboard from your PC.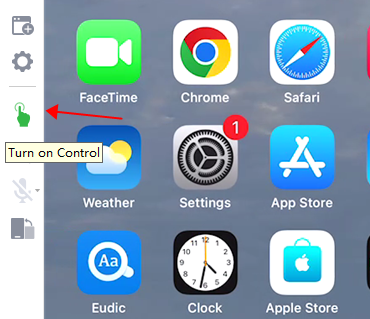 Conclusion
There are a few applications that are really useful to access iPad on Android devices in the above mention, hope can help you a favor. We also introduce a great tool to mirror and control iPad from PC - AirDroid Cast. It is a powerful and easy-to-use screen sharing and controlling tool.
Was This Page Helpful?