How to See Unsend Messages on Instagram
Are you looking for a way to see unsend messages on Instagram? If yes, then here are some of the effective tricks on how to see unsend messages on Instagram.
Surprisingly, it is quite easy to read unsent messages on Instagram as long as you have the right tools and knowledge. Unfortunately, Instagram doesn't have a feature that allows you to see unsend messages. Therefore, officially there are no ways to do so using Instagram itself.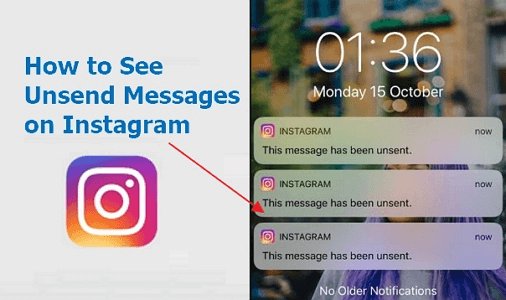 However, this doesn't mean you can't read unsend messages on Instagram because there are simple tricks that will help you achieve that. You can use several key tricks to see unsent messages easily without complication.
So, keep reading to learn how to see unsend messages on Instagram!
Part 1. Practical Tips for Reading Unsend Messages on Instagram
Officially, as noted before, there is no way to view unsend messages on Instagram. We are saying that Instagram hasn't included a feature that will allow you to do that. So, once the person unsend their DMs, they get automatically and permanently deleted from both sides (senders and receivers ends).
And because of this one reason, you may need to use third-party tools to track these unsend messages.Please note that you should have installed the apps before the sender unsent the messages.
Part 2. How to See an Unsent Message on Instagram
1Social Media Monitoring Tool
We currently have many third-party social media managing or tracking tools that help us achieve several things. It is very hard to keep track of many things when you have busy social media pages; however, using such apps makes that very easy.
AirDroid Parental Control is a good example and an app that we highly recommend. It is simply because it has features that help you sync your incoming social media messages from all your devices.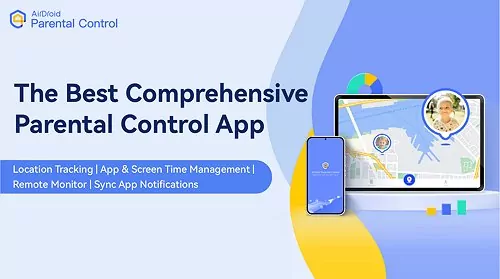 Why Choose AirDroid Parental Control?
AirDroid Parental Control is undoubtedly one of the Best comprehensive parental control apps available on the market. Besides being a user-friendly app, this app also features comprehensive and practical features that deliver in-detail information.
Generally, the reason why you should choose it comes down to the fact that it has interactive features, which are highlighted below:
Remotely monitor Instagram messages and online activities
Manage when and how long you kids can use Instagram
Watch and hear the surroundings of multiple devices
Track mobile location and get alerts of geo-fenced zones
Rather than collecting generic information about what you are tracking, it delivers daily reports of well-defined information. For example, rather than just relaying info that you accessed YouTube several times that day, it gives you that and all videos you watched and how much time you spent on that app.
2DM to Email feature
Many third-party tools promise to help you track all your Instagram DMs, whether deleted or unsent. One is AiGrow which works as a DM to Email software.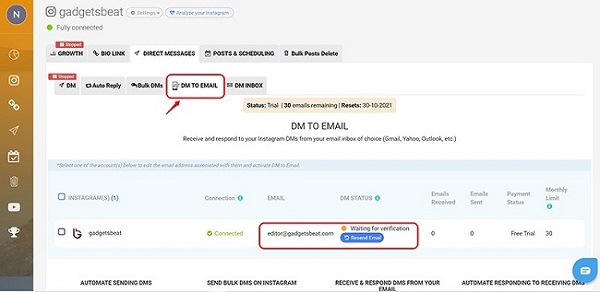 With this third-party tool, you can easily and conveniently receive all your DMs to the paired email. It means you can read and have all your DMs backed up in your email inbox. If the sender chooses to delete or unsend any of their text, that text will already be in your email.
Besides directing your DMs to email, this application also comes with other essential benefits as well including:
Scheduling your Instagram posts
Growth matrix for Instagram
Content creation
And several other services
Bonus: How to Unsend Messages Sent Using Instagram Direct
If you have accidentally sent a message on Instagram, you can follow the below steps to unsend the message.
Step 1. Launch your Instagram app or web page.
Step 2. Open your direct messages page to see your chat list.
Step 3. Click on the chat you want to unsend to open it.
Step 4. Hold your finger on a message.
Step 5. Click on Unsend once the prompt options pop up.

Step 6. Tap on Unsend to confirm the action.
Once you tap Unsend to confirm, the message will disappear from your Instagram and the recipient's Instagram chats.
Frequently Asked Questions on Unsend Messages on Instagram
To help expound on this topic, let's answer some of the commonly asked questions about reading or recovering unsent messages on Instagram.
1How Do I Find Who Unsent Messages on Instagram?
When a person unsent a text on Instagram, that message gets deleted from both ends meaning the sender and receiver will not be able to see it. And so, if you can't see the unsend text, how can you know who has an unsent message on Instagram?
Since there is no official way to use Instagram to see or tell who has unsent a text on Instagram, you will opt for third-party tools. You can easily see unsent and deleted texts with any of these tools. So, try out any of the ways and tools mentioned above.
2How to See Unsent Photos on Instagram?
Besides text messages, a person can also see unsent photos on Instagram. It means you will not be able to see any of the images they sent you before if you go through your previous conversation with them. And so, can you see unsent photos on Instagram?
Well, yes, that is possible.
All you need to do is apply any of the above options. Remember that all the above options are practical when installed before you delete the photo or text. If not, they won't be able to work since they have zero histories of the previous data sent to you.
3Does Instagram Unsend Have a Time Limit?
Unsending a message on Instagram is possible; to make it even better, you can do so whenever you want. Unlike on Facebook, you will have a maximum of 10 mins to unsend that message. Failure to do so within that timeline the message will permanently stay in your conversation.
No time limit is applicable also when you are using Instagram Direct to message someone.
4Does It Notify You When You Unsend a Message on Instagram in 2023?
No. Instagram doesn't notify you or the person you were messaging that you have unsend a message. And so, you don't have to worry about your friend, clients, or colleagues knowing there is a message you reverted. The message you chose to unsend will disappear without anyone getting notified.
5Can You Unsend an Instagram Message After It's Been Read?
As noted, there is no time limit to unsend a message on Instagram. Now the baffling question is, can you unsend a message that has been read?
The answer to this is YES.
Keep in mind that unsending the message works like deleting a message. And so, the message you unsend won't be archived. Still, instead, it will be permanently deleted from your Instagram and the recipient's Instagram account.
Therefore, this means that even though they have read your message, once you unsend it, they won't be able to see it.
6Can You Unsend Messages on Instagram After Being Blocked?
No, not possible. It is important to note that once you are blocked, you will not be able to message that person.
Blocking someone doesn't delete messages; instead, Instagram hides your personal chat threads with a person from each other in DMs. Since blocking is a way of preventing someone from interacting with your account, messages, therefore, will be hidden, not deleted.
Final Thought
In conclusion, seeing unsend messages on Instagram is not officially possible by simply using Instagram. To achieve this, you will need to incorporate one or a couple of third-party applications to be able to see unsent messages on Instagram.
The best choice and, ideally, the best app that can help you do this while enjoying benefits is the AirDroid Parental app. This app is designed with interactive interfaces as top-notch features that always deliver accurate information. Make sure you test the free trial and see if it is worth investing in.
Was This Page Helpful?