How to Read WhatsApp Messages without Opening
Have you ever wondered how to read WhatsApp messages without opening the chat? Or if it was even possible for WhatsApp messages to be read without opening the conversation? These are frequently asked questions on the internet, and the answer is a big YES! Indeed, you can read WhatsApp messages without the blue tick, but you must follow a few easy steps.
You can indeed benefit from reading WhatsApp messages without opening them. Your friend might send you a WhatsApp message; you would like to read it but might not want to respond right away. This approach will help you here. The five easy methods in this post will show you how to read WhatsApp messages without opening them or informing the sender.
| | | | | |
| --- | --- | --- | --- | --- |
| | Success rate | Difficulty | What Can Read | Cons |
| | 70% | Easy | Short and recent messages | For limited messages |
| | 70% | Easy | Short and some unread messages | Only for iPhone |
| | 80% | Medium | All unread messages | Easy to tap the chats by mistake |
| | 90% | Easy | Most recent messages | Not friendly on mobile |
| | 100% | Easy | All incoming WhatsApp messages | Need to install apps |
Video Tutorial: How to Read WhatsApp Messages Without Opening
Read WhatsApp Messages through Notification Bar
Most of us are aware that without opening an app, we can receive notifications from Notifications about any update in the app. It is only when the WhatsApp app is opened to see messages that the blue ticks do appear. Hence, you may use this feature to view WhatsApp messages without opening the chat.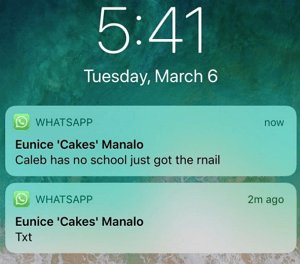 Nevertheless, be cautious when viewing messages in the notification box until you are prepared to respond.
The steps to follow to use Notifications to read WhatsApp messages without opening the chat include:
Step 1. Open your WhatsApp app.
Step 2. Navigate to Settings.
Step 3. Locate Notifications and turn on Show Notifications and Show Preview by scrolling down.
Step 4. Now exit the app. You may now access the WhatsApp messages by swiping down on the notification panel.
Note : If there are too many messages, the notification bar's full content won't display. In addition, you cannot access any media items here, including pictures and videos.
Read WhatsApp Messages with iPhone 3D Touch
To answer the question of how to preview WhatsApp messages on an iPhone without the sender knowing, we will now discuss the 3D Touch function. Bit first, you should ensure that your iPhone model is the iPhone 6s or later model.
Now, let's take a look athow to read WhatsApp messages on iPhone without openingor letting the sender know you have seen their message.
Step 1. Launch WhatsApp chats, but avoid entering any specific conversation.
Step 2. To view unread messages in a chat, tap and hold the chat for a moment.
Step 3. A peeling window will appear, so you may peek in on the discussion without opening it.
Step 4. It is indicated that to close the window, you must tap outside of it; otherwise, the discussion will open, triggering read receipt status.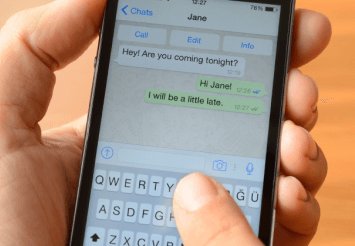 Note : Because this method displays a screen preview, if there is more data to display than screen space, you won't be able to see all the unread messages. Additionally, Android phones are not supported.
Read WhatsApp Messages from Widgets
This way, you no longer need to open a WhatsApp chat to read the messages. Your previous (unread) messages will also be accessible to you.
Step 1. Long-press the home screen of your smartphone to bring up a menu page.
Step 2. Tap Widgets. There are a lot of shortcuts that you will see here. It would help if you located the WhatsApp shortcut.
Step 3. Various WhatsApp widgets will be provided. You must click the "4 x 1 WhatsApp" widget.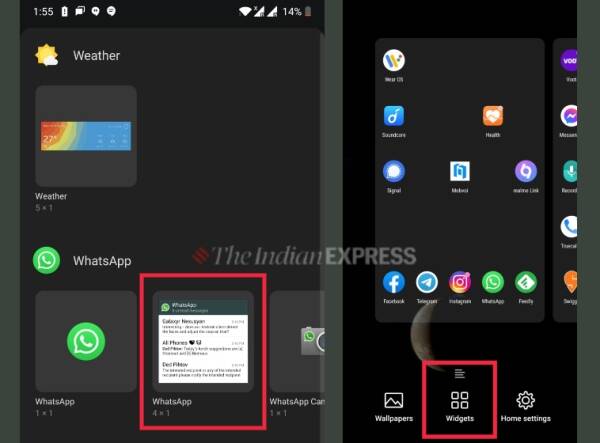 Step 4. Drag that widget from the menu screen and drop it on any of your home pages. You can long-press the widget once you've added it to your screen to make it bigger.
Please be aware that tapping on any chats (on the widget) will load that chat and notify the sender that you have read their messages.
That's all! Now, without notifying the sender, this widget will display all of your unread messages. The only limitation is that you can only read text messages; you cannot access any images, audio, videos, or voice messages through it.
Read WhatsApp Messages from WhatsApp Web
You need to link your WhatsApp account by opening the WhatsApp web on your device's web browser.
When you log into your WhatsApp account, it will remain linked so that you can access the synchronized encrypted WhatsApp chats whenever you open WhatsApp Web. The steps to follow are listed below:
Step 1. Visit "web.whatsapp.com" in the web browser on your device.
Step 2. Open the WhatsApp app on your phone. In the top right corner, click the three dots icon.
Step 3. Navigate to Linked Devices and select "Link A Device."
Step 4. Using your WhatsApp app, scan the QR code displayed on the WhatsApp web on your device. It will connect your WhatsApp account to WhatsApp on your computer.

Now, whenever you use WhatsApp Web on your smartphone, all of your synced encrypted WhatsApp messages will be visible.
Without launching the chat, users may effortlessly read WhatsApp messages on the web. When you receive a message over WhatsApp Web, you must move the cursor over the conversation. A floating notice will then appear for you.
You won't need to open the chat to see the most recent message on the web version if you do it this way. However, it's vital to remember that you can only see the most recent messages—not the older ones.
Read WhatsApp Messages with Third-party Tool
An app that is being used in addition to the one you are actively interacting with is referred to as a third-party app. The ideal method for decrypting Android text messages is to use a specialized WhatsApp monitoring app. From your account on your smartphone, you may access the target person's WhatsApp conversations.
To access encrypted WhatsApp chats remotely and covertly, you should consider using AirDroid Parental Control. In real-time, encrypted incoming WhatsApp messages are synced with the AirDroid for the WhatsApp web server. As a result, you don't need to launch the WhatsApp app to view the most recent messages.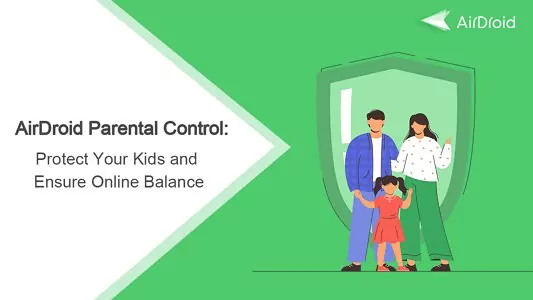 From the Dashboard of AirDroid Parental Control, you can access all incoming WhatsApp messages in Notification. You will also be able to monitor WhatsApp activities by showing the screen of the target phone on yours.
Here are the instructions to follow if you want to use AirDroid for WhatsApp to see encrypted text messages on an Android device.
Step 1.

Install AirDroid Parental Control

Download and install AirDroid Parental Control on your phone.
Step 2.

Register Your Account

Create an AirDroid Parental Control account. After creating an account, you can log into the program.
Step 3.

Install AirDroid Kids

Install AirDroid Kids on the target phone and launch it.
Step 4.

Begin Reading WhatsApp Messages with Seen

To view the encrypted WhatsApp messages, launch AirDroid Parental Control and go to Dashboard > Notifications, search WhatsApp or tap Screen Mirror to see kid's live screen.
Rounding off
The above methods are both practical and feasible for reading WhatsApp messages without opening them or informing the sender. These techniques are all quite easy to use, so that anyone may try them. Which method is your favourite? Let us know in the comments section below.
Now that you knowhow to read WhatsApp messages without opening them or alerting the sender, what are you waiting for?
Additionally, the AirDroid Parental Control app will never let you down and provides the best results you could require if you want to secretly monitor someone's WhatsApp (or any other social media). Why not give it a go right now?
Was This Page Helpful?