Stay Ahead of the Competition with Retail IT Solutions & Services
A retail business provides ready-to-consumer products at the closest locations to the customer, ensuring convenience. Stores in the retail sector include convenience stores, speciality stores, supermarkets, and drug stores.
The retail industry faces technological advancements regularly for both in-store and online services. It includes advanced kiosks, AI, and inventory management.
As a vital part of a country's economy, retail business management is crucial to using modern retail IT solutions. Their services assist retailers in managing their stocks, improving the visibility of their products, increasing efficiency, reducing costs, enhancing security, and providing customers with better service.
1 Retail IT solutions in many ways
Inventory Management
Inventory management software reduces stockouts and overstocking with real-time inventory visibility.
Sales data, historical trends, and seasonality help merchants manage inventory levels, saving money and space.
IT systems evaluate demand and optimize production. Reporting and analytics help merchants track inventory and turnover and make data-driven decisions.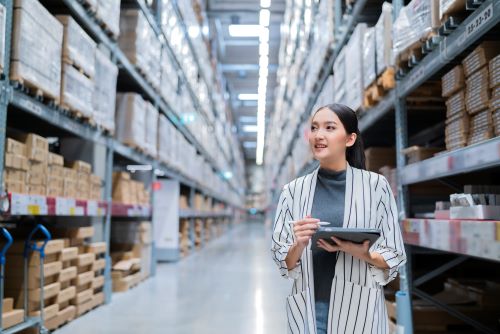 Point of Sale (POS) Systems
POS systems streamline checkout and provide multiple payment methods like cash, credit cards, and mobile payments for client convenience.
Retailers can provide discounts and promotions and enable loyalty programs to reward and retain frequent consumers.
POS systems also reduce manual calculation mistakes, ensuring proper pricing and decreasing inconsistencies.
Customer Relationship Management (CRM)
CRM simplifies and automates customer contacts, helping retailers manage interactions, monitor customer preferences, and create tailored experiences to boost customer satisfaction.
CRM systems analyze customer data, purchase history, and sales patterns to optimize inventory levels.
It revolutionizes business operations to position retailers for long-term success in a competitive market.
E-commerce
One of the most significant benefits of e-commerce is the 24/7 availability of business opportunities for retailers and their scalability.
It provides an increased opportunity to increase sales and revenue compared to traditional in-store sales. It also allows retailers to expand their enterprises internationally and reduce costs.
Digital Signage Kiosks
Digital signage kiosks let businesses express their brand story with appealing pictures and videos, delivering an immersive consumer experience.
They are attached to the windows, displaying eye-catching information such as event details, customized messages, and promotions for passersby to attract them.
They also help retailers advertise items and services by highlighting their features, and special offers, influencing purchases and boosting sales.
2 How do IT solutions accelerate growth for retail clients?
IT solutions play a significant role in accelerating growth for retail clients with these benefits:
Enhanced customer experience
IT solution allows retailers to personalize and expedite consumer interactions.
CRM systems allow retailers to personalize recommendations and promotions by analyzing client preferences, purchase histories, and demographics.
Integration of omnichannel channels simplifies online purchasing, while e-commerce platforms offer convenience. Retailers can enhance customer satisfaction and expand their business by using IT solutions for retail industry.
Increased efficiency
IT solutions increase the efficiency of working in the retail industry.
The point-of-sale systems help automate the transactions, reducing the waiting time. Coordination is improved to reduce the complexities of the supply chain using various IT tools.
Proper storage of the client's database and statistical analysis help manage the business efficiently.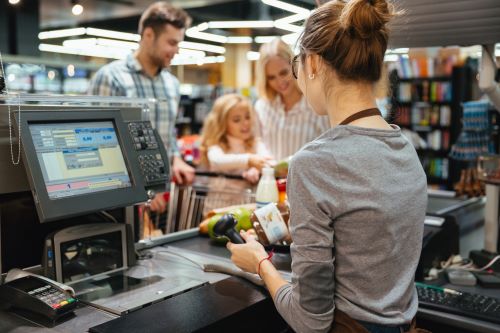 Improved inventory management
Inventory management involves a first-in, first-out methodology. It means the items that come first should sell first. IT solution helps to ensure that the products selling before the expiration date.
Inventory management by IT improves stock management and helps allocate resources efficiently. They also help to distribute the products category-wise so that they are easily accessible when needed.
Better data analytics
Business intelligence solutions assist retailers in analyzing sales, consumer behaviour, and market information. Retailers can make decisions based on product performance and consumer preferences.
These details can inform marketing, product creation, pricing, and expansion. Using data analytics, retailers can outperform their rivals and prosper.
3 What is retail software?
Retail software is a toolset built for retail businesses that empower store staff to automate various tasks seamlessly and achieve customer satisfaction.
Retail software examples and applications
Here are four retail software with their applications in retail stores:
CISePOS is retail business software designed for all levels of businesses, from large to small retail stores. It has a POS system that keeps you updated with every transaction, and no data is left unread with the help of this software.
By accumulating and analyzing client data, it assists businesses in developing accurate customer profiles. The data enables you to gain insights into your consumers' purchasing habits and preferences and then create marketing campaigns.
CISePOS also provides real-time analytics, allowing you to track key performance indicators (KPIs) and respond quickly to market movements and emergent opportunities.
Heartland is retail management software that perfectly operates on PCs and Macs. It is also applicable to smart touchscreen devices.
It is suitable for small and medium-level retail stores and is easily accessible with web browsers. It is specifically designed to assist organizations with multiple retail stores.
It enables them to efficiently manage inventory, pricing, and sales data across their complete network by providing centralized management and visibility across all locations.
It is compatible with third-party software and applications, like e-commerce platforms and payment processors. Heartland also provides built-in support to design and manage loyalty programs to reward frequent customers and encourage customer retention.
Iridium is another retail software that is scalable for all sizes of retail businesses. Hence, it is preferable when there are more chances of enhancing business.
It provides in-depth and quality services to retailers for better management and maintenance of records. It is specially designed for retailers that provide additional services like home delivery, repair, and installation of products.
It provides retailers with POS, accounts payable/receivable, employee management, commission management, and forecasting. Iridium software only provides email support to retailers.
COMCASH has been working for retailers for the last 25 years. Its features are always up-to-date with market trends and thus empower retailers to enhance growth and innovation in business.
The COMCASH point of sale provides simpler and multi-touch capabilities to manage the screen and perform transactions. It is also compatible with equipment like printers, scanners, and scales.
It provides uninterrupted services even if the internet is not working. The data automatically updates online when the connection is restored. It provides e-commerce retail service connected with the POS system to update stock on time. It also sends alerts for low stock when the need arises.
4 AirDroid Business MDM solution for retailers
AirDroid Business is a robust mobile device management solution purposely built for various industries. It includes special features for the retail industry to manage their apps, files and other operations on Android devices.
Here are some great functions retailers can perform using AirDroid Business to increase their businesses' productivity, security, and revenue.
Device management
AirDroid Business provides holistic device management capabilities. Retailers can administer and monitor their fleet of mobile devices, such as smartphones, tablets, and rugged devices, from a central location. It enables device enrollment, configuration, and application management, ensuring that devices are optimized for retail operations.
App management
You can manage applications remotely on the company's Android devices. Update, install, or uninstall applications on different store devices. GMS devices can also manage applications directly using Google Play Store.
Remote access & control
AirDroid Business enables retailers to access and manage their Android devices remotely. This feature enables IT administrators or support personnel to remotely troubleshoot device issues, install or update applications, and configure device settings, minimizing the need for physical device management and reducing outages.
Kiosk mode
Kiosk mode makes the Android devices purpose-built for retail businesses, allowing only relevant apps to run on the devices. Retailers can modify and lock down the device's interface to display product information, promotions, or interactive experiences. Kiosk mode ensures that devices are focused on specific functions, optimizing in-store engagement and experiences.
Monitor, alerts & workflow
AirDroid Business offers real-time device monitoring and alerts for network connectivity, battery levels, SIM removal, and other operations. Retailers can configure custom alerts to receive notifications for specific events or issues, enabling proactive problem resolution and prompt responses.
In addition, the workflow feature enables the automation of several tasks related to getting geo-fencing alerts, like auto-lockdown of devices, thereby ensuring process consistency and minimizing manual labor.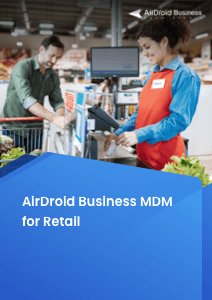 Datasheet
AirDroid Business MDM For Retail
Remote manage, control, and troubleshoot all your retail devices with one MDM solution tailored for your business. Keep your POS machines, digital signage, self-service kiosks always up and running with timely IT support.
Download
5 IT service for different retail segments
Here are a few popular categories of retail businesses with the IT support they need:
Department stores
A department store carries a large variety of products. It consists of distinct sections, each with a particular product category. For example, a department store has hardware components, groceries, men's, women's, and children's clothing, and other items. IT solutions help department stores store consumer data and inform them of new discounts, promotions, and arrivals.
Discount stores
Discount stores are retail businesses that offer products at comparatively lower prices than traditional stores. Using data analytics tools makes it possible to identify popular products, optimize pricing strategies, and monitor consumer purchasing behaviour. Integration of e-commerce can expand the reach of discount stores, attracting more consumers and facilitating online sales.
Grocery stores
Grocery stores are retail outlets that sell food and household items. These stores are always crowded, so IT solutions like POS systems must be installed and utilized for smooth transactions. An inventory management solution is also necessary to ensure the availability of each product as needed.
Speciality stores
Speciality retailer stores rely on a particular product category or market niche, such as furniture, electronics, sports equipment, or prestige merchandise. IT retail service can assist speciality stores by providing customized solutions for inventory management, consumer engagement, and marketing. E-commerce services can increase the revenue of such stores, and email marketing is made easy using IT solutions.
6 FAQs
How are IT systems used in retail?
IT systems in retail are used to make the processing smooth. POS systems, inventory management, e-commerce, CRM, and ERP. All these solutions help with customer satisfaction and engagement, the accuracy of calculations, stock maintenance, and product analysis.
Which technologies are currently used in retail?
Artificial intelligence has covered the whole retail industry through its diverse usage. Similarly, machine learning, IoT devices, mobile apps and mobile payments, data analytics and business intelligence, robotics and automation, and omnichannel integration are the latest technologies serving the retail industry.
What does a retail solutions company do?
A retail solutions provider offers a range of products, services, and knowledge to support retail enterprises' operational and strategic requirements. These include software solutions, system integration, consultancy and advisory services, training and support, and hardware equipment.
Transform your retail business with cutting-edge technology
People are connected with the retail industry regularly, so it significantly affects the country's economy. Thus, retail businesses require full attention and 24-hour availability. In the current business environment, it is impossible to manage your retail business without the assistance of technology. With IT solutions, labor costs and human efforts can be reduced, and accuracy can be improved. It is easy to store and access stock management information, transaction details, customer histories, and other parameters through databases. Thanks to the advent of e-commerce, products are now available at your doorstep every minute you need them. We need a management solution like AirDroid Business MDM solution that offers all-in-one support for our retail businesses.
Was This Page Helpful?