[2023] Best Mobile Device Management Solution for Retailers
When you are in the retail industry, you know the importance of keeping up with modern trends. Kiosks and POS have become common in retail stores for regular transactions. But the modern trend is leaning towards mobilePOS where smartphones and tablets are converted into point-of-sale devices.
This is where the term mobile device management originated in the retail industry. MDM for retail is helping businesses to scale up and provide a better customer experience. It is also boosting employee productivity and better management of the overall business. We will discuss in detail every aspect of MDM in retail industry and provide the best MDM retail solution.
Part 1. What is Retail Mobile Device Management (MDM)?
Retail MDM refers to the process of controlling the mobile devices involved in retail stores for a company. The process includes deploying, monitoring, regulating, as well as protecting mobile devices. You can enforce certain standards and policies for connected mobile devices.
Instead of managing the mobile devices individually, you can use a mobile device management solution to manage the devices in groups for similar devices.
MDM is bringing workflow efficiency and management convenience to the retail industry. Besides, retail MDM has introduced remote support and automatic maintenance for all connected mobile devices.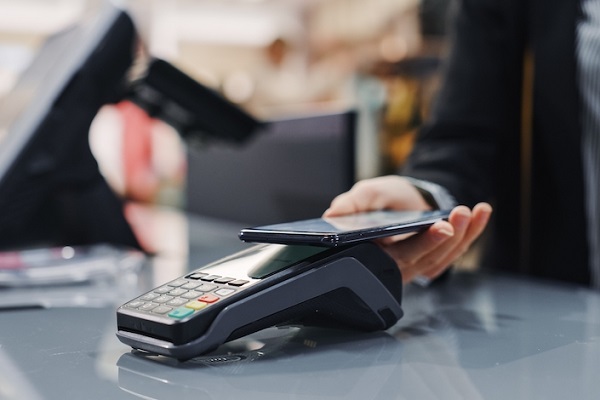 Part 2. Why MDM is Necessary in Retail?
The main focus of any retail company is to enhance the customer experience so that they can retain their customers as well as gain new customers. At the same time, companies want to rely on technology for better management of their retail businesses.
Mobile technologies have transformed the retail industry for better management and customer service. Mobile devices such as smartphones, tablets, POS, Kiosk, rugged devices, and IoT devices have become an integral part of the retail industry.
Customers do not have to wait in long queues to place orders or make payments thanks to mobile technology. Since mobile devices are indispensable for retail companies, MDM in the retail industry is necessary for monitoring and regulating connected mobile devices. Besides, MDM in retail is directly responsible for improving work efficiency as well as brand image.
Part 3. What are the Benefits of Using MDM in Retail?
The reason why MDM has become necessary in retail is that there are several benefits that are taking businesses to the next level. Here are the main benefits of MDM in the retail industry.
Better Device Management
You can create different groups for similar devices and assign functions for the different groups instead of individual devices. You can control usage duration as well as user permissions for devices.
Moreover, you can schedule maintenance during non-working hours as well as monitor and control device remotely. All the connected devices can be managed effectively from a central dashboard.
Improve Work Efficiency
Using MDM in retail is a great way to improve work efficiency. Staff can access the required information on their devices and help customers instantly. Moreover, the ability to monitor all devices from the central dashboard and reach out instantly for remote support enhances work efficiency.
Besides, customers can make payments on mobile devices, and this cuts the workload on specific devices and improves work efficiency significantly.
Better Device Protection
Depending on the MDM solution application you use, you can protect the connected mobile devices perfectly. You can securely store data in encrypted form as well as back them up by implementing different security protocols. Data stored in the devices can be wiped remotely if the devices get stolen.
You can also track the locations of the devices and set Geofence so that you can get instant alerts when they are taken out of their boundaries. The remote sessions are protected to prevent hacking attempts. You can implement an authentication protocol for establishing remote connections and configure the firewall to prevent malware attacks.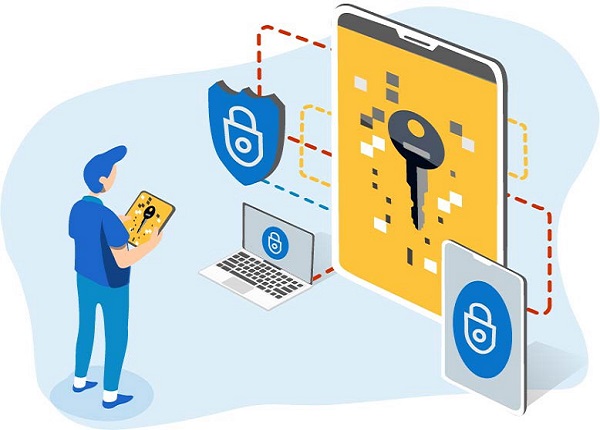 Fix Device & System Issues Timely
One of the biggest benefits of MDM retail is that the connected devices can be monitored remotely. The support team can set alerts based on certain parameters so that they can get instant notifications whenever any device starts to malfunction.
They can reach out to the device remotely and troubleshoot the technical issue instantly. Therefore, the downtime of the device during working hours will be minimal, thanks to timely troubleshooting.
Avoid Misuse & Distraction
Whenever you give a device to your customer, there is always a chance of misuse. Even employees can misuse the devices allotted to them and get distracted from their regular work.
Through mobile device management, you can lock device into single app, restrict downloading apps, browsing websites, exploring device functions and likewise. You can have useful apps only that are related to your business and lockdown everything else to prevent misuse and distraction.
Improve Brand Image
The corporate logo on the lock screen and home screen of a device is now considered to be part of the device's identity. A corporate logo can be quickly added and changed using MDM to suit your company's branding requirements and demands. Retail mobile device management offers a professional user experience with corporate branding in addition to streamlining the operations of these mobile devices.
You can set up a wallpaper policy to prevent end users from making any changes. Through a polished interface, this not only guarantees a consistent design across all platforms but also strengthens brand recognition.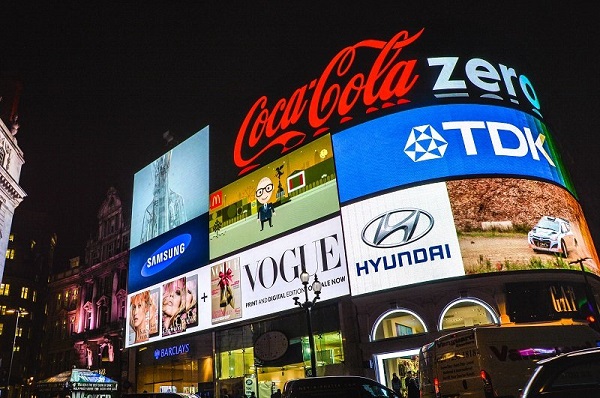 Part 4. Best MDM Solution for Retail - AirDroid Business MDM
To implement mobile device management properly for your retail business, you need the best MDM solution application. We recommend AirDroid Business for managing Android devices in the best possible way.
AirDroid Business has all the features and options that you need to manage the connected mobile devices for running your retail business smoothly.
1. What is AirDroid Business MDM Solution?
AirDroid Business is an award-winning MDM solution that can simplify the management of any endpoint that runs on Android. Starting from Android phones, tablets and rugged devices to the point of sale, kiosks and digital signage, AirDroid Business is compatible with all these common devices used in the retail industry. The all-in-one Android device management software has cloud as well as on-premise deployment options.
You can monitor the connected devices remotely, troubleshoot technical issues from anywhere, and protect corporate data with customized security policies.
If you have a mobile workforce, you can track the location of the mobile devices assigned to your staff. The software has cloud as well as on-premise deployment options, and there are customized plans that businesses of all sizes can afford.
2. How AirDroid Business MDM Can Help Your Retail Business?
Here are the main features of AirDroid Business MDM that are going to take your retail business to the next level.
1Remote Access & Control
With AirDroid Business, you can remotely access and control Android devices to do anything. For example, you can remotely control it to fix any issues so that the devices have minimal downtime. Also, you can use the device remotely like you are onsite.
Furthermore, it supports the remote camera and real-time voice chat functions so you can view the device's environment. If there is on-site staff, you can also communicate with them.
2Monitor, Alerts & Workflow
AirDroid Business has a central dashboard from where you can monitor different parameters of the connected devices from anywhere and anytime. Also, you can create groups of devices for easy monitoring.
Moreover, you can set filters on critical parameters with AirDroid Business, when it detects abnormal events on your device, you will get alerts as well as execute automated workflows to resolve problems immediately.
It also supports bulk and automated configuration and flexible permissions, along with grouping the devices for improving workflow.
3Kiosk Mode
AirDroid Business has an exclusive kiosk mode through which you can limit access to apps, websites, and settings to prevent misuse as well as distraction. You can ensure safe operations on the connected devices.
Besides, you can customize the interface to showcase your brand. Moreover, you can create different kiosk profiles for different groups of devices for better management.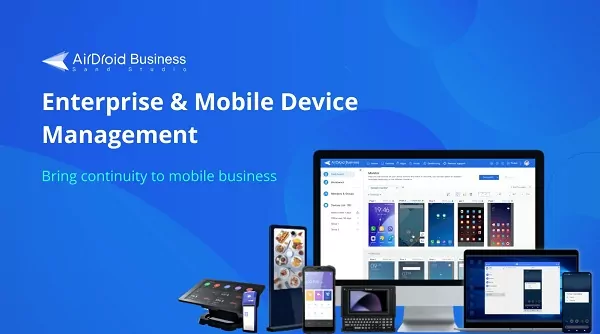 4Track Device Location
You can track the locations of the connected devices instantly in real-time. You can even set Geofence so that you can get alerts when the devices cross the permitted boundary.
That way, you can track your mobile workforce as well as take action against the theft of devices. You can track locations, and monitor, as well as analyze the parameters of all devices from one central dashboard.
5Device Management & Security
AirDroid Business takes care of all the security concerns that are common in mobile devices used in the retail industry. With AirDroid Business, all data transfers are encrypted using TLS, ensuring data privacy. Also, you can lockdown devices remotely. To unlock, the screen-lock password needs to be entered on the device. The security of the device is greatly enhanced.
What's more, AirDroid Business has a black screen mode patent technology. You can darken the device screen so information on the device is not visible which can effectively protect your data.
6Mobile App Management
With AirDroid Business, you can deploy any app on remote mobile devices in your retail business instantly. You can create an app library that can have your company's apps as well as the apps that your retain business needs. Besides, you can roll out updates of the apps in stages to minimize risks of device failure due to updates.
Conclusion
MDM for retail is the need of the hour. The use of mobile devices is very common in the retail business to offer self-service and faster transactions. To manage mobile devices, mobile device management is a necessity.
We recommend AirDroid Business as the best MDM solution for managing all the endpoints that are based on Android. You can monitor, control, troubleshoot and protect your Android devices remotely from anywhere.
FAQs about MDM in Retail
How do retailers manage mobile device in multiple locations?
Retailers use mobile device management solution to manage mobile devices in multiple locations efficiently. MDM solution supports remote monitoring of the connected mobile devices from a central dashboard. Retailers can track the locations of the devices as well as reach out and control the devices remotely.
What is a kiosk used for in retail?
A kiosk in retail is a device to display information as well as offer self-services to customers for faster ordering and processing transactions. A kiosk's main objective is to offer automation for a better customer experience and minimize the load on regular checkout points.
Was This Page Helpful?