Retail Inventory Management Software: Why it Matters?
Want to boost the productivity of your retail companies? That's where Retail Inventory Management Software comes in. With the deployment and use of it, retailers of all sorts can effectively handle stock, distribute, reduce waste, and improve their bottom line.
But, it can always be an arduous and upsetting process. Peculiarly, if you own a big retail, you have to manage that inventory system properly and effectively.
Let's go through the advantages of using retail inventory system, best features, and what best fits your retail inventory management.
1What is Retail Inventory Management Software?
Retail inventory management software is a digital tool that designed for retailers to manage their inventory and control their stock, sales, customer data, bundling, and multi-location inventory both accurately and efficiently.
Encompassing inventory tracking, order management, and reporting capabilities, this sort of software is accessible for retail businesses of all sizes. It can be deployed on-premises or installed via the cloud. An ideal retail inventory management software can streamline your supply chain, improve sales productivity as well.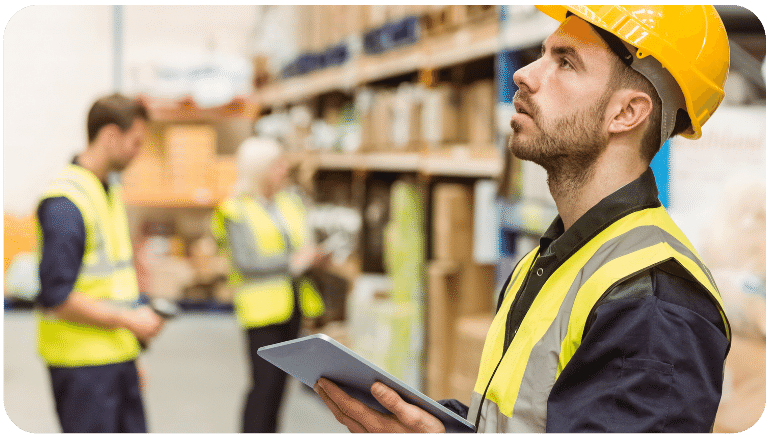 2Features of Retail Inventory Management Software
1Inventory Tracking
Enncompassing inventory tracking capabilities, retail inventory management software enables retail owners to track the movement of commodities in their stores, from when they are received to when they are sold. Inventory tracking can help retailers identify as stock levels are running low and reorder products before they run out of stock.
2Order Management
Generally speaking, it can help retailers manage their commercial orders more and more efficiently. This function contains tasks such as order processing, order tracking, as well as order fulfillment. By automating these tasks, retailer owners are able to save time to focus on other transactions and thus have more leisure time.
3Demand Forecast
It can also project the competitive market trend and inclinations to schedule your purchased orders.The shop inventory management software do help you prepare better for very future and get rid of understocking or overbuying.
4Reporting
This sort of software typically includes reporting capabilities. This allows retailers to generate reports on product sales, inventory levels, and other key metrics. Reports can be used to identify trends in customer behavior and adjust inventory levels and marketing strategies accordingly.
5Scanning System for Inventory
Barcode scanning capabilities allow retailers to scan products as they are received and sold, which can help improve inventory accuracy and reduce waste through this retail inventory system.
6Multi-Store Support
This software can support multiple stores. This means that retailers can manage inventory levels across all of their stores from a central location. This can help improve efficiency and reduce costs.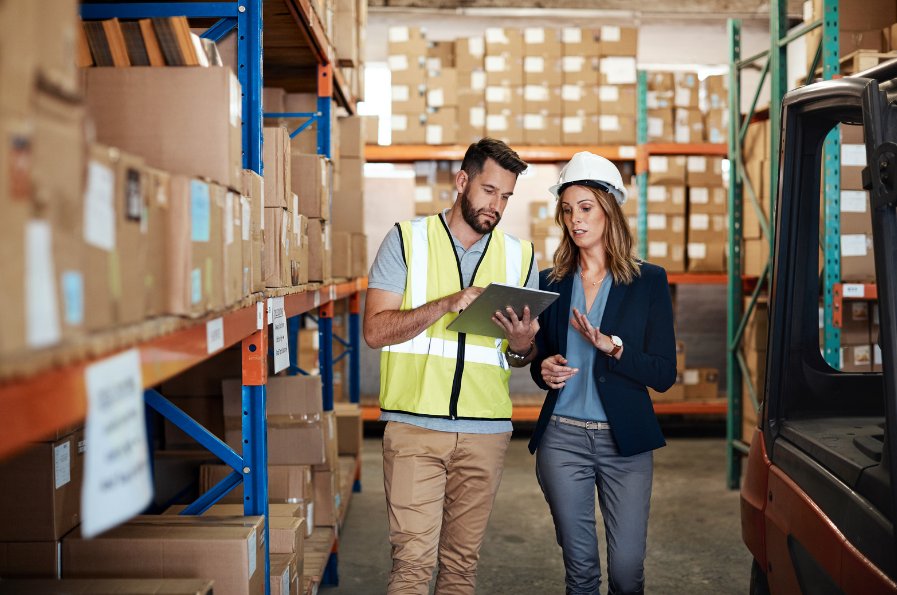 3How Can Retail Inventory Management Software Help?
Nowadays, businesses of all sizes are using this software to streamline their business processes and boost productivity.
The easy-to-use software application has been developed with fast speed and it comes as an affordable retail management software solution, with specific benefits. Regardless of whether you own a small business or a large retail supply chain, it can assist you in managing your inventory effectively and outpacing your peers, especially your competitors ignored it.
If you run a retail store or warehouse, utilizing retail inventory management software can do help you simplify your operations, decrease redundant spending, and enhance customer satisfaction.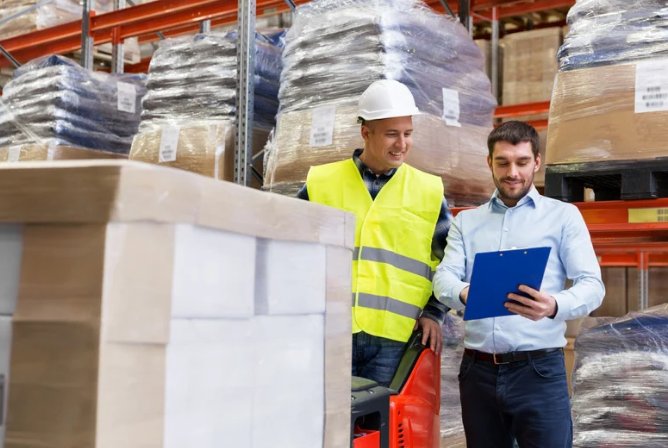 1Improve Inventory Accuracy
Speaking of this benefit from the usage of this software, which serves as an outstanding service for business owners, it can markedly help enhance inventory accuracy from receiving inventory, counting inventory, and store-to-store stock transfers to store fulfillment, which provides real-time updates on stock levels and reduces overselling or underselling. This enables retailers to promptly and swiftly identify low stock levels and reorder products before they run out. Furthermore, it can also be applied as a efficient system to help retailers recognize slow-moving items and take measures to minimize waste.
2Increase Efficiency
During the global pandemic, with the high IT cost for recording retail operations, high time consumption in inventory management, retail inventory management face inefficiency by many of the tasks not associated with retail inventory management levels. This includes tasks such as order processing, stock level monitoring, and performance reporting.
Generally speaking, most retail owners often feel difficult to copy and maintain the transactions records in their businesses, and businesspersons are sometimes easy to neglect the order status like tracking solutions to customers after payment has been received.
Therefore, through automating these process, retailers can save time to pay more attention to other important aspects of their operations, namely, customer service and marketing.
3Enhance Customer Service
Now that customers expect exceptional services, especially during the long-standing supply-chain shortages, and the automation has to back up the sale. As an essential inventory management software in retail, it can enhance customer satisfaction for numerous businesses in the competitive market.
Via providing real-time visibility of inventory across all sales channels, retail stores can deliver compelling in-store customer experiences by making sure that their services are always available for purchases. And it allows businesses to meet customer expectations, and enables customers to enjoy high business value at the lowest cost ever.
In addition, the benefits can assist retailers, in a more accurate way, identify best-selling products and ensuring that they are always restocked. It means that customers are less likely to leave the retail store empty-handed due to the unavailability of their desired product.
4Better Information Analysis
Real-time information analysis is key to making the right labor, procurement, merchandising, pricing, and promotion decisions which retail organizations emphasis on. Nevertheless, data fragmentation remains an issue for most of them.
Equipped with this information, you are able to analyze business performance and make informed decisions about how to maximize your inventory and marketing strategies to meet retail management demand better.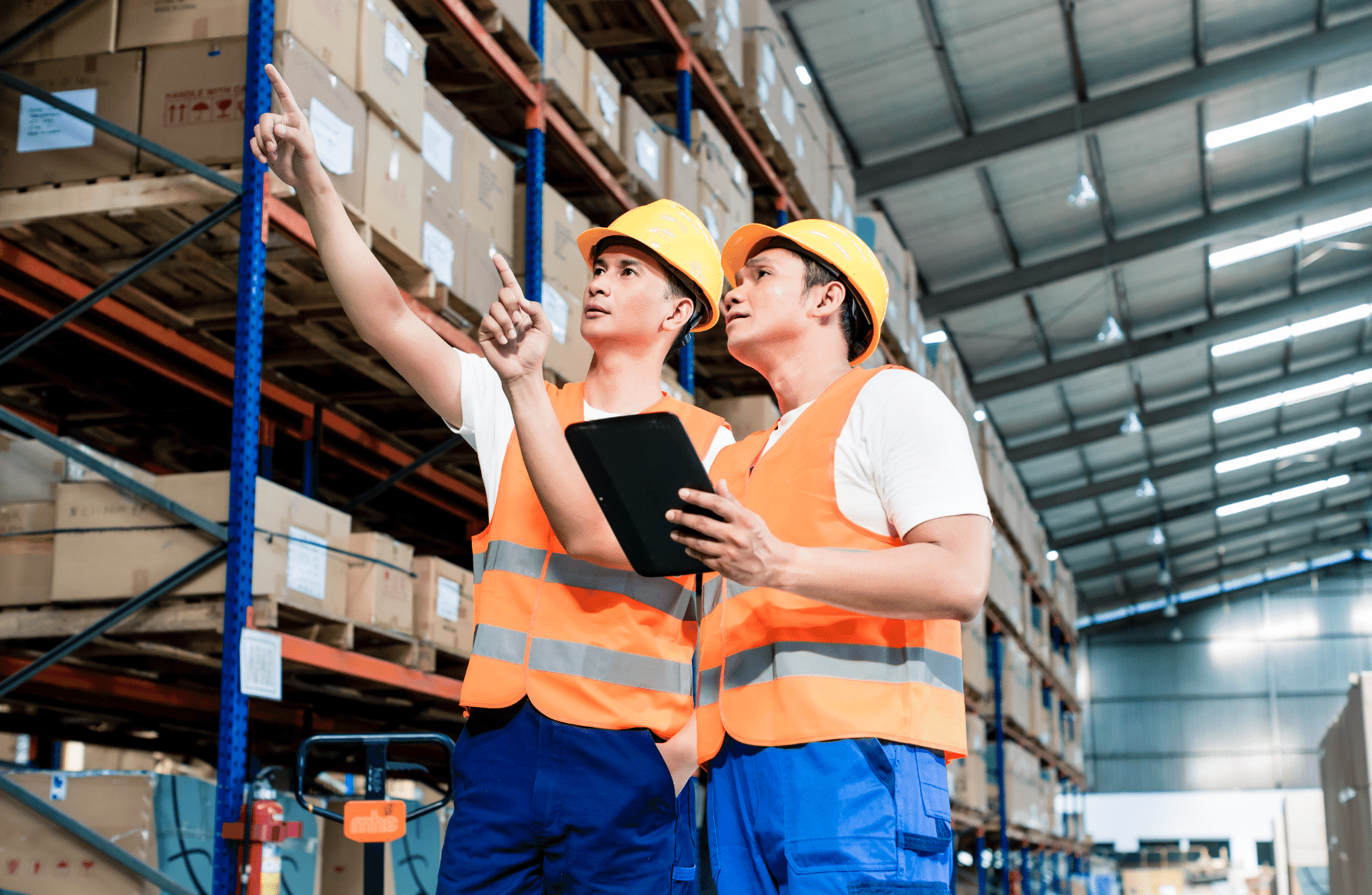 5Cost Savings
Statistics show that business users can decrease out of stocks by as much as ten times, labor costs can be reduced by up to thirty percent, and fulfillment times can be slashed by as much as 87 percent.
As a cost-effective solution for retailers looking to get rid of redundant expenses by minimizing unnecessary waste and optimizing inventory levels, this software functionality offers low-cost options that are highly affordable, and guarantees that products are always in stock, preventing over-ordering and reducing the amount of unsold inventory.
Moreover, retailers can utilize this software to take necessary measures to avoid waste. The main factors that decide cost are the size of your business, the volume of your inventory, the number of orders you receive, and the number of locations you need a store inventory management system to cover.
4How Can AirDroid Business Help?
Deploying retail inventory management software appropriately is not always an easy deal for your business, that's why you have to find out the best solution provider both in efficiency and value for money.
AirDroid Business, an award-winning MDM company, owns all your needed features and powerful solutions that benefit you to manage Android devices including phones, tablets and rugged devices to the point of sale, kiosks and digital signage for running your retail business securely.
Here are the key functionalities of AirDroid Business that can help you cope with the problems in retail inventory system and bring you continuous productivity.
1Security
AirDroid Business prioritizes security and always develop its technologies to deal with concerns that are common in mobile devices used in the retail industry. With AirDroid Business, all data transfers are encrypted using TLS (Transport Layer Security), making sure corporate privacy. You can lockdown devices remotely. To unlock, the screen-lock password needs to be entered on the device.
In addition, AirDroid Business owns Black Screen Mode technology that documented in European Union authority. With this Mode, you can make the device screen black thus the commercial and sensitive data on the device is not visible, which can effectively protect your data.
By the way, you might have multiple mPOS devices due to your business. At this time, with AirDroid Business, you can make groups for mPOS devices and manage them effectively.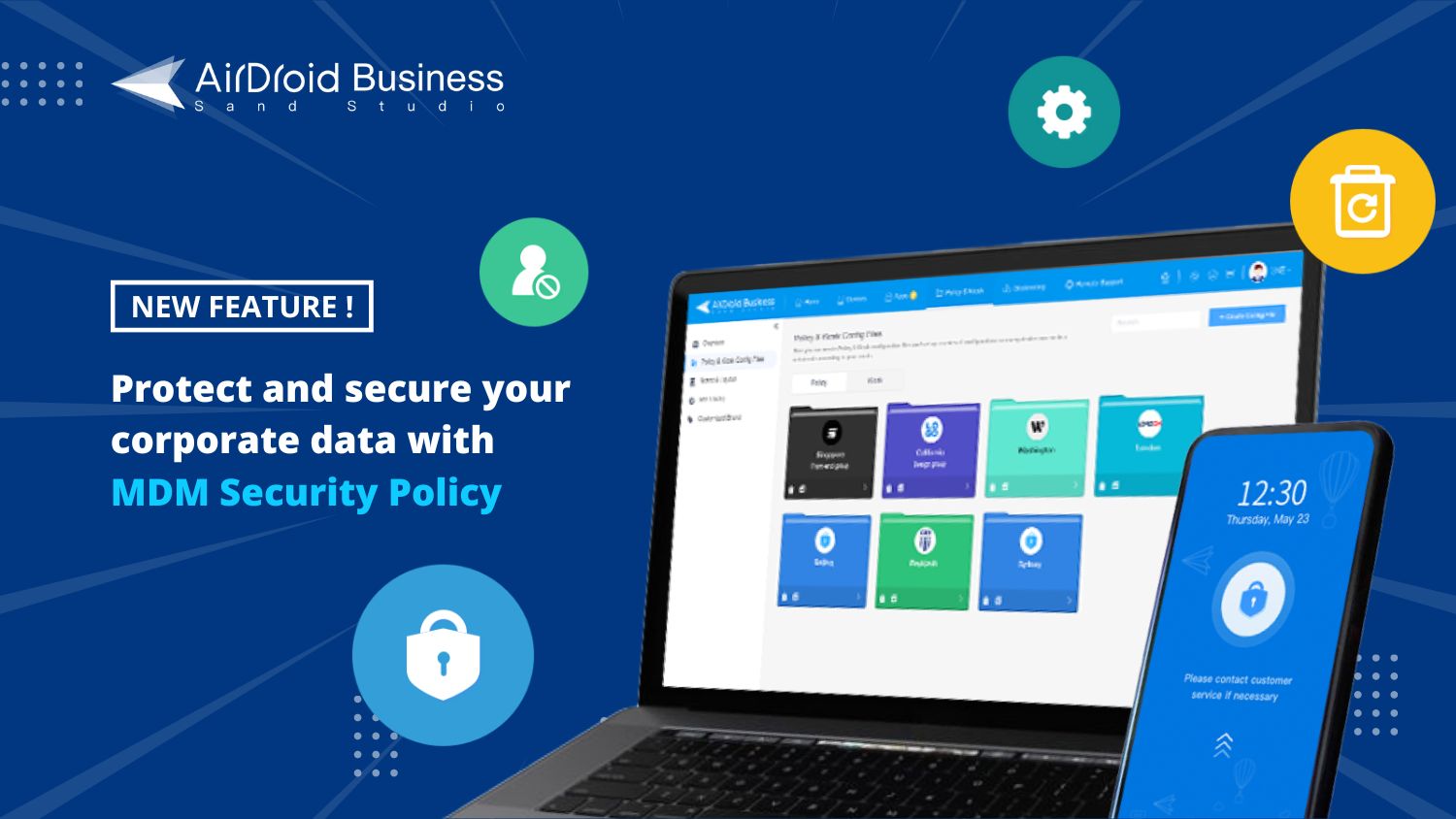 2Remote Control and Access
With this function, you are able to remotely access and control any Android devices you own. For instance, your IT team can remotely control your company-owned devices to fix any issue so that you can eliminate downtime and its damages. Besides, managers can take advantage of the device in long-distance without being on-site, saving the costs.
Furthermore, it supports the remote camera and real-time voice chat thus you have the capability to view the device's environment. If there are coworkers in the field, you can also communicate with them instantly.
3Monitor, Workflow and Alert
Through AirDroid Business easy-of-use dashboard from where you can monitor different parameters of the accessed devices, wherever and whenever you. And you could set up groups of devices for easy monitoring.
With AirDroid Business, you have the ability to set filters on critical parameters. If any aberrant events occur on your Android device, you will receive alerts and automated workflows will be executed to quickly resolve any issues.
It offers bulk and automated configuration, as well as flexible permissions. Additionally, users can group devices to improve workflow.
4Tracking and Geofence
AirDroid Business lets you track the locations of the connected devices instantly in real-time. Meanwhile, you can create Geofence to receive notifications and alerts as the devices cross the setting boundary.
Therefore, you can find and track your mobile device if it gets stolen or you misplace it. You can track locations, and monitor, as well as analyze the specifications of all company-owned devices from the central dashboard.
5Mobile Applications Management
With AirDroid Business, you can simultaneously deploy applications on long-distance mobile devices in your retail businesses. With creating an app library that can have your company's applications and the applications that your retain business needs. In addition, you have the ability to roll out updates of the applications in stages to minimize risks of device going wrong because of the updates.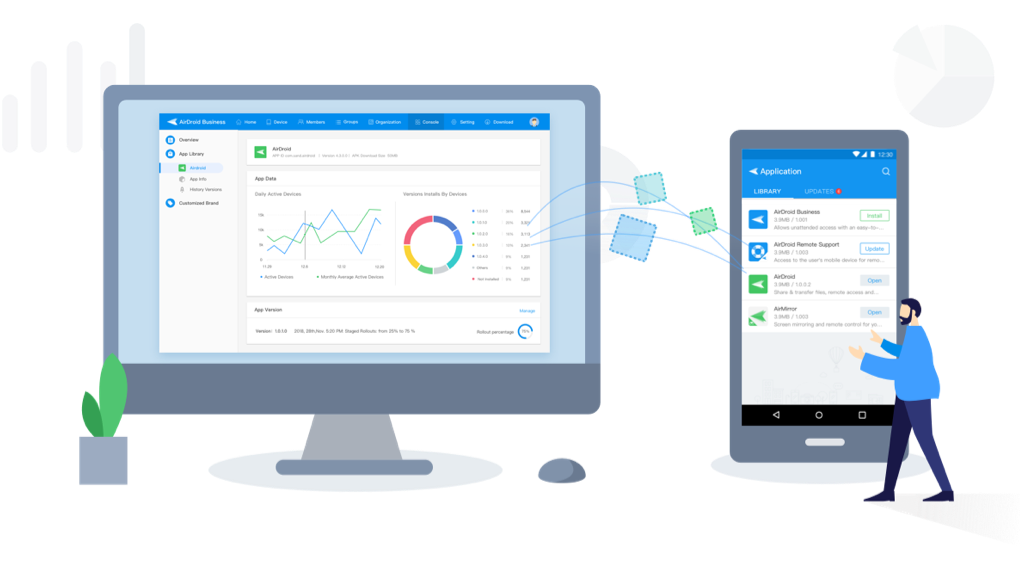 5Conclusion
Retail inventory management software, as an essential tool for retailers of all sizes, can play a key role in creating incremental efficiency, improving customer service, providing greater data and information analysis, and reducing costs. With AirDroid Business, retailers can streamline their business managing operations, offer a 360-degree view of their inventory and stock transfer, allow them to get rid of shrinkage, save time and money on repeated and redundant tasks, and thus keep their retail running profitably.
FAQs
Is it worth having retail inventory management software?
Only you can determine whether a retail inventory management solution is a worthwhile investment. Consider whether the software can help you save time and energy, reduce errors, increase sales, provide better customer service and ultimately make your business growing.
What is the best cloud inventory management software?
The right cloud inventory management software for you will depend upon your own business needs. Each solution may offer different features. We encourage you to try AirDroid Business because of its powerful solution and the more favourable and flexible pricing.
Was This Page Helpful?