What's BYOD Policy & its Requirements? How to Create Effectively?
According to the survey conducted by Oxford Economics, employers value on-call availability, and 80% of employees claim they cannot function efficiently without a mobile device. In addition, companies now recognize the benefits of increased productivity owing to the familiarity associated with employee-owned devices. As a result, 39% of organizations have a functional bring-your-own-device (BYOD) policy.
A BYOD strategy is vital for businesses to ensure that all employee devices comply with the company's policies, especially for cyber security. Please continue with the article and learn helpful tips about its best practices.
1What Is BYOD Policy? What Devices Does it Apply To?
Modern businesses allow employees to use their personally owned devices for work. It benefits the employer by saving capital costs while making users comfortable because of familiarity.
Smartphones, laptops, PCs, tablets, USBs, and even smartwatches are now part of workplaces.
However, without an adequate personal device policy to carry out safe use, these devices may cause loss of sensitive information, infect the network with malware, create compliance issues and overburden the company's IT department.
So what is BYOD policy?
It combines mobile device usage guidelines at work, privacy policies, disclaimers, and rules. An employee must sign the policy in person mentioning the devices and acknowledging the risks and costs associated with using personal devices for business. BYOD device policy ensures both the company and employees' rights as two-way protection.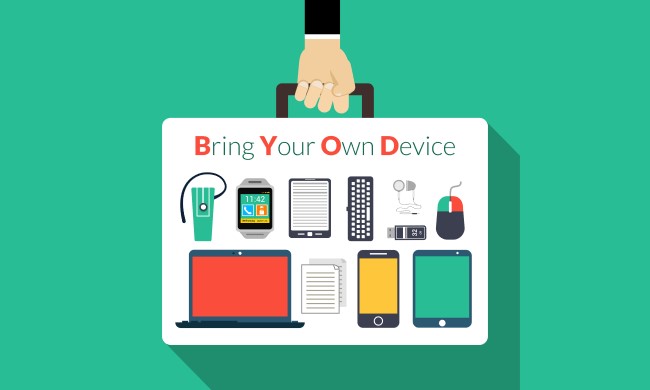 2Benefits and Risks of Enterprises Implementing BYOD Policy
As with any policymaking, there are associated benefits and risks. Here are some of the BYOD policy pros and cons to further clarify different aspects:
Benefits
Save Costs:
Companies save $341 per year per employee when opting for a BYOD strategy, according to Cisco.
Increased Productivity:
Factors such as familiarity with devices, the flexibility of work, and faster access directly affect productivity. Intel reported saving 57 minutes of employees' time daily with BYOD, translating to $700 million in yearly productivity.
Employee Satisfaction:
Implementing BYOD policies for organizations has significantly decreased the gap between management and employee. 53% of employers state that their satisfaction has increased with allowing their workforce to use their devices.
Risks
Data Leakage Caused by Personal Devices:
Allowing personnel to bring their devices to work can cause a security breach because of connecting to the company's network. Moreover, downloading unsecured apps, loss of devices, malware, and vulnerability exploits may lead to corporate espionage. Cybersecurity professionals (62%) consider data loss as the primary concern of BYOD implementation, according to the BYOD SECURITY REPORT by Bitglass.
Inoperative for Resignated Employees
Not every employee will follow the BYOD policy when leaving. And there will be difficulties when the IT department erases data on the personal device after an employee quits.
Legal Risks:
Organizations need to access device data and monitor the employee's activity occasionally. Implementing a personal device work use policy on employee devices can sometimes lead to privacy infringement, like location tracking.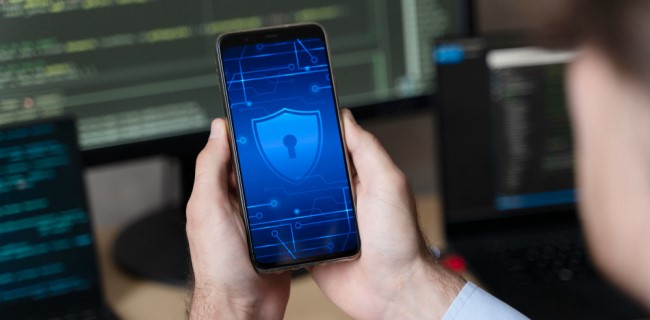 3Procedures for Corporate BYOD Policy Implementation
Now, let's come to the practical part. We have summarized three phases for BYOD policy best practices:
Prepare Phase
Create a BYOD policy use guide: you will need to specify device scope, company access to employee devices, privacy protection, legitimate basis, reimbursement, security measures, etc.
Establish an IT team: the team will help with BYOD management and handle tasks related to device security.
Choose MDM software: a secure solution is helpful to ensure BYOD policy enforcement.
Implementation Phase
Notify employees: tell your employees about the corporate BYOD policy and emphasize how to appropriately use a personal device for work.
Request consent: obtaining consent is important if you do not want to be involved in privacy disputes.
Enroll BYOD devices to the organization: using an MDM tool, the IT team should have those devices deployed and managed in the admin console.
Deal with incidents: enable remote wipe with the MDM tool in case of employee resignation or device loss.
Training: employees must be aware of BYOD's potential risks and benefits.
Improvement Phase
Collect employee feedback: know what your employees think about the policy and whether they are dissatisfied with the execution.
Explore device management strategies: decide whether to add CYOD or COPE options for enterprise mobility management to meet different needs.
Update BYOD policy: analyze the policy effectiveness, gather employee feedback, and review security breaches to ensure improvements.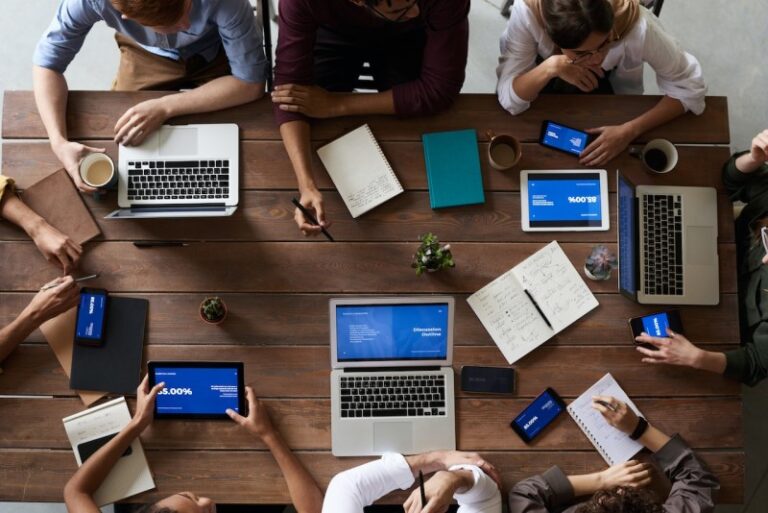 4What Should Be Included in BYOD Policy? (Guidelines)
While there are guidelines templates, it is essential to note that each company is unique, and the Bring Your Own Device policy may differ significantly from one organization to another.
But usually, it includes the following aspects. You can consider these BYOD policy requirements as a template for a tailored guideline for your organization.
Purpose of Applying BYOD Policy
The document is meant to guide the employee in agreeing to securely use their personally owned devices for work. The emphasis should be on the company's and employees' responsibilities and rights for better cooperation.
Scope of Applicability
In this section, the organization should define what devices are covered and what people are. The policy should clarify that it applies to contractors, consultants, and other third-party individuals from outsourcing companies who access the organization's data and systems using personal devices. (The extent can differ based on factors such as the company's size, industry, and particular requirements.)
Company Access & Employee Privacy Protection
The corporate BYOD policy should address companies' access to devices as well as employee privacy protection, for example, accessing and deleting work-related data and services like emails and applications. The IT personnel can take possession of the device that falls under the BYOD policy for security or legal purposes. However, it will keep private data out of reach of others, including the IT team.
Device Usage & Restriction
This section should mention how the personal device can be used during work, including app safelists and deny lists, file access and permission, disabling external storage devices, etc. The enterprise can use MDM, EMM, or UEM software for controlling and monitoring.
Security Measures
Based on potential risks when allowing BYOD, the organization may require employees to agree to the following BYOD device management policy measures:

Implementation of 2FA or password policy
Installing MDM software for monitoring and protection
Restrict connectivity to only the company network
Do not perform "jailbreak" or any modification to the operating system

Incident Response
In case the employee loses their device, the employee should inform the IT department as soon as possible. An MDM software can remotely wipe or lock the device so that it becomes inaccessible to the offender.

The policy needs to address the case of an employee quitting clearly. The BYOD policy should outline employee obligations, data deletion procedures, exit interviews, and legal agreements to ensure company data security during termination.
Reimbursement
According to Oxford Economics-Samsung collaborative research, 98% of companies with BYOD policy pay a monthly stipend to the employees as compensation for using a personal device. Therefore, the need for a clear BYOD reimbursement policy is evident.

The reimbursement section may include rules defining the company's payment to an employee. For example, it may be a percentage of device cost, payment of the fixed allowance, complete or partial coverage of data/phone plan cost, or any other extra charges that may incur.
Violations
In case of violation, BYOD policy should mention that the enterprise retains the authority to implement appropriate measures for disciplinary action. For example, it may start from a written warning, device restrictions, or wipe. In an extreme case could lead to employment termination.
5BYOD Policy Best Practices (Step-By-Step Guide)
How to implement BYOD policies for organizations? Typically, it goes with six steps.
1. Create a BYOD policy use guide for employees.
A use guide helps employees better understand how is the corporate BYOD policy working and better cooperate with the organization to implement the policy.
The organization should explain company access which is security-related, at length. In some cases, such as a device is lost or stolen, the IT team should wipe the device in order to avoid data loss.
However, a remote wipe may violate privacy and labour laws as employee-owned devices may contain personal and confidential information. The employer has the right to investigate unlawful behaviour, but accessing or deleting personal information may be restricted, especially if it involves legally-protected bargaining or reporting illegal activity.
As a part of BYOD policy best practices, it is advised to consult an employment law expert before using such authority or implementing a policy.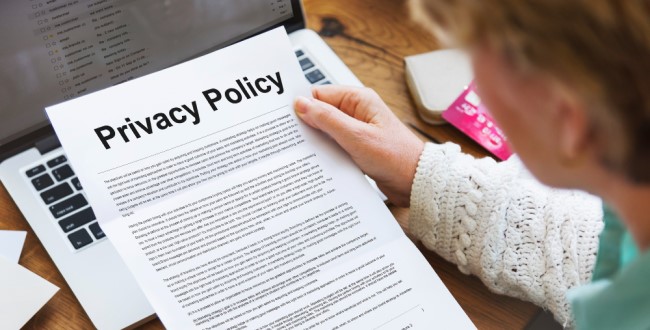 2. Communicate policy and obtain agreement.
The organization must effectively convey the BYOD policy through official announcements. Communicate privacy concerns with employees, such as access to certain applications, documents, and location tracking. The organization must highlight the limited applications allowed in the workplace and user permissions for file sharing online.
Regarding BYOD policy enforcement, companies consider providing a monthly stipend as the best means to compensate BYOD employees. On average, organizations provide $482 per year for each employee.
After the communication, obtaining an agreement from employees is necessary to ensure that everyone complies with the company policy. In addition, it will help mitigate potential risks and maintain a safe, productive workplace.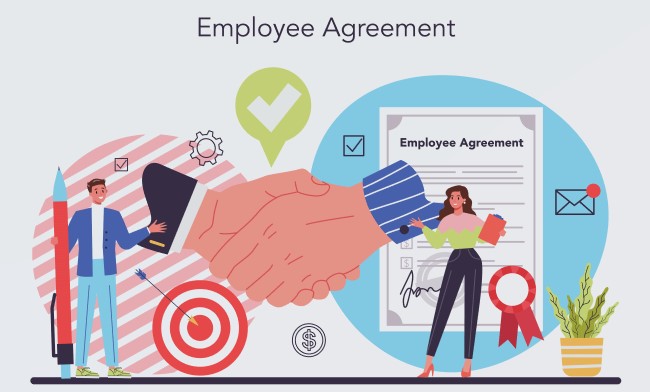 3. Use MDM or EMM Solutions to manage BYOD devices.
Implementing advanced-level device policy is now easy with MDM or EMM solutions. It can enforce robust MDM BYOD policy by configuring devices and apps, using kiosk mode, monitoring, and others. Using these tools is another best practice to bring the policy effectively.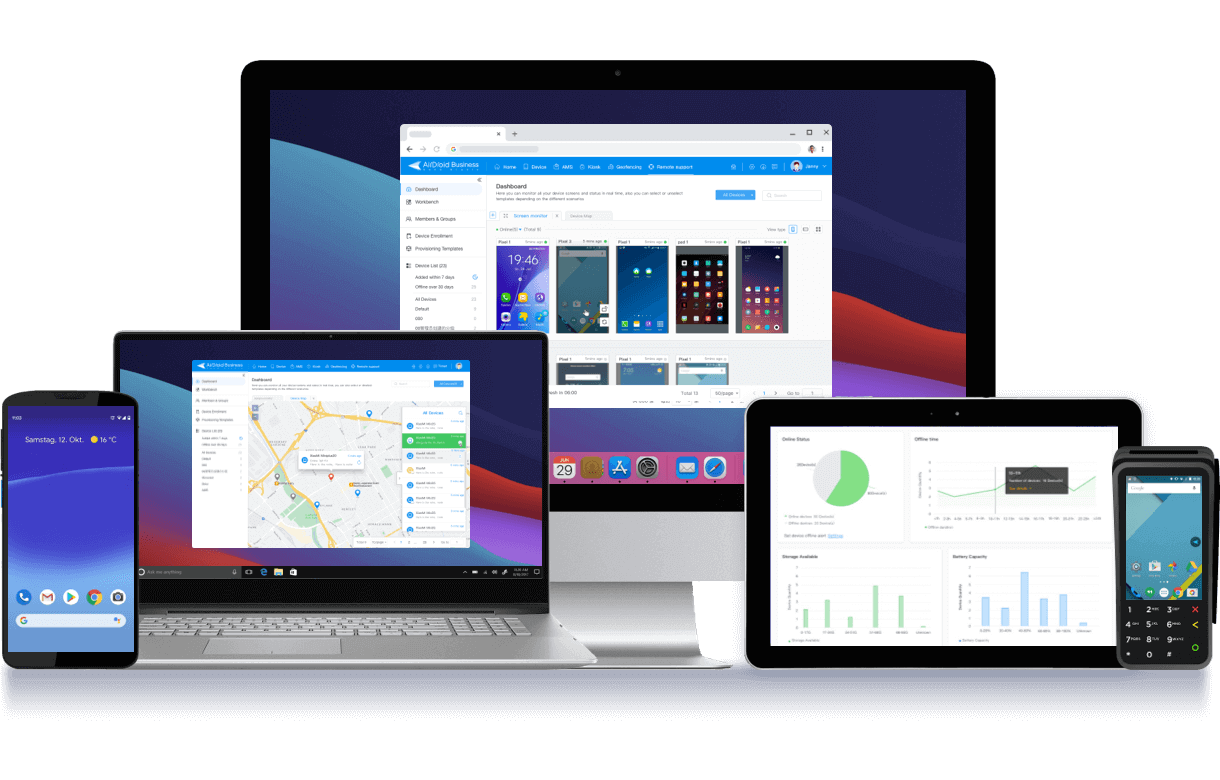 Beginner's Guide
How to Choose Right Device Management Solutions
Everything you need to know, from device management solution comparison, top core features, and checklist to help you at every step. Learn more about MDM.
Download
One of the biggest benefits is that the IT admin can enforce a robust password policy or other user authentication on devices to ensure security. More, the MDM solution can help with the following:
MDM Key Features
Policy: configure device functions like mandatory storage encryption, USB access, network and roaming, etc.
App Management: app whitelist & blacklist, install/remove/update apps, and configure app settings.
Publish Enterprise Apps: release apps based on device types, percentage, location, etc.
File Management: two-way transfer and bulk distribution.
User Management: assign roles and permissions; distribute device groups.
Monitoring, Alerts & Workflows
Geofencing & Location Tracking
Note:
AirDroid Business is an MDM solution dedicated to Android company-owned devices and supports Android Enterprise.
4. Formulate BYOD Management Team.
A dedicated team to constantly monitors all the BYOD devices will make the company policy implementation successful. More than device monitoring, the team should also take over the following tasks:
Update and upgrade devices (including apps and systems) to install security patches.
Set up a password policy and implement 2FA/MFA to limit unauthorized access.
Configure and control employee access permissions to the company database, devices, and other corporate assets.
Manage and maintain data backups.
Deal with data recovery in case of data loss or system failure.
Configure network security protocols to prevent external cyber attacks.
Develop incident response plans.
5. Educate employees on how to use BYOD in workplace.
Training employees regarding proper usage and security protocols associated with BYOD is critical to ensure a safe work environment free from cyber threats. The training should focus on password management, use of public Wi-Fi, downloading unauthorized applications, storing data on a cloud server and access to sensitive corporate data during off-hours.
IT team should educate the employee to keep the device updated with the latest security patches and report any suspicious activity or breaches within their device. In addition, IT personnel should give special training to personnel dealing with HR or Finance with enhanced knowledge highlighting the latest threats.
6. Keep updating the BYOD policy and cover the deficiency.
It is essential to review and update policies and procedures regularly for bringing BYOD policy best practices. Training the IT team through attending industry conferences regarding cybersecurity will help them gain valuable insights to improve BYOD policy.
Conducting regular audits, feedback from employees, stay up-to-date on the latest trends and best practices can lead to better security. It will also ensure that the employees adhere to the policies and practices expected by the management.
6What Are the Main Concerns with BYOD Policies in the Workplace?
Bring Your Own Device policy allows a personal device that the user may have connected to an unsecured network and become infected with malware or virus. The same device connecting to companies network may cause a security breach. Legal issues associated with private data are also a concern for employers.
AirDroid Business - Best MDM to Enhance BYOD Security
Applying a comprehensive MDM solution is the best way to enhance BYOD security. AirDroid Business is an excellent one-stop solution for all devices with Android. Its easy enrollment process, group-based policy implementation, app management for enterprise and Google Play apps, location tracking, geofence-based tracking, monitoring, alerts, remote control features make it an ideal application for any enterprise.
FAQs
What regulations or laws should BYOD policies follow?
According to the Internal Revenue Service (IRS), BYOD policies should follow regulations and laws related to security, privacy, and confidentiality, such as the Internal Revenue Service's IRM Part 10-008-026r, FISMA, HIPAA, and FTC Act. They ensure proper safeguards for employee-owned devices, protect sensitive information and compliance with relevant laws and regulations. The BYOD policy should also comply with the IRS's IT security standards and policies, including IRS Publication 1075, which guides safeguarding taxpayer data.
What is the average amount of BYOD reimbursement?
According to the research conducted by Oxford Economics-Samsung, it mentions that the BYOD policy costs $482 annually per employee in the form of stipends or reimbursements to the employer. The company spends an additional 66$ for the software and $345 for managing MDM software as costs for implementing the BYOD policy via MDM software.
What is not covered by the BYOD policy?
A BYOD policy is a comprehensive one-stop guideline on using mobile devices in the workplace. However, a specific company's BYOD policy or template may not cover device damage, maintenance, repair or local legal complexities. It is always best to consult legal and IT experts to enhance the BYOD policy to broaden its scope.
How to ensure BYOD security for an enterprise?
An Enterprise thriving on mobile device communication must develop a comprehensive BYOD policy. Ensuring 2FA password protection, device restriction, encryption, security update patches, regular audits, training, and VPN can enhance enterprise security. MDM Software such as AirDroid Business is an excellent one-stop solution that can enforce BYOD policy for enhanced security.
What is the future of BYOD?
The future of BYOD policy will likely grow as more companies embrace remote work and mobile devices. Research shows 95% of respondents opt for BYOD due to its reduced cost. However, companies must carefully balance the benefits of BYOD with the potential risks to data security and employee privacy. It may require investment in comprehensive MDM software such as AirDroid Business and more robust policies for BYOD implementation.
Was This Page Helpful?