How to Download Instagram Videos on iPhone & Android in 2023
How often does it happen that you stumble across a stunning video or reel on Instagram and want to save it on your phone? Millions of great videos are uploaded on Instagram every single day. But unfortunately, the platform doesn't offer any official way to download its content.
So, how do you download Instagram videos on your smartphone to be able to watch it later?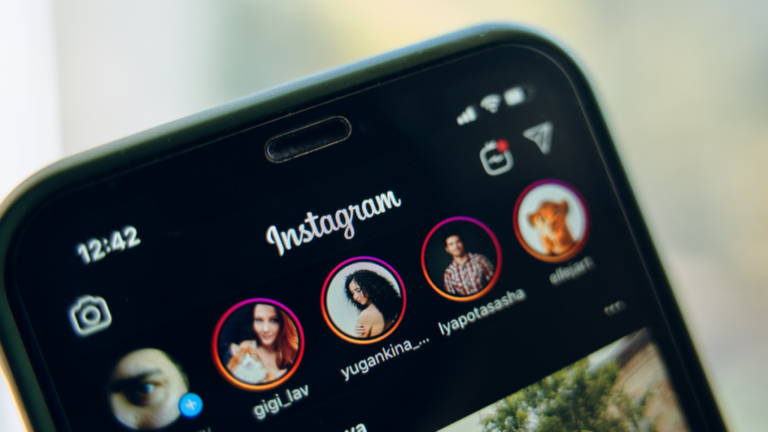 Worry not as we will teach you multiple ways to download Instagram content in the original quality. Just read the article till the end and find out!
Part 1: A Brief Overview of Instagram and Its Popular Video Content Formats
Gone are the days when Instagram was primarily a photo-sharing app. Now, it has become a go-to platform for content creators, celebrities, brands, and social media influencers to share their specific videos.
Today, an Instagram video is available in 4 formats, namely: Reels, Stories, Instagram Video, and Live. Let's take a quick look at them:
Instagram Stories: These are short videos of up to 15 seconds in length that disappear after 24 hours.
Instagram Video: Since 2021, Instagram has combined IGTV and in-feed videos. Now, users can post videos up to 60 minutes in length.
Reels: Instagram reels are portrait-oriented videos, between 15-30 seconds.
Instagram Live: This video feature allows you to share content with your followers in real time. But unlike Facebook, your live story disappears from the app after 24 hours of ending it unless you share it on IGTV.
Note that you can save Instagram videos within the app. It goes straight to your video collection but you cannot access it offline.
Part 2: Why You Should Download Instagram Videos?
Unsurprisingly, there are plenty of reasons why a person may want to download a video IG. First and foremost, it lets you enjoy the video offline, anytime you want. This saves you from the hassle of scrolling through someone's feed to watch the video again.
Similarly, you may wish to share the Instagram video with someone not present on this platform. Just save the clip on your phone and send it via WhatsApp or some other program. Regardless of the reason, it's easy to download Instagram videos on your device.
Important Points to Consider:
Before you begin with Instagram reel video download, consider the below tips to avoid any trouble.
Always use a reliable tool to save Instagram videos. You wouldn't want to become a victim of a data leak or a malware attack.
Go for the Insta downloader that guarantees a lossless download of your preferred video.
No third-party tool lets you save a private video, story, or reel unless both of you follow each other on Instagram.
Use the downloaded videos only for personal use. Else, you may end up violating copyrights.
Part 3: Top Tools to Download Instagram Videos on Your iPhone and Android
To download Instagram videos, you can rely on three different options: web-based tools, third-party apps,or screen recording, Let us discuss them one by one.
1Web-Based
Using an online Instagram downloader, you can quickly save your favorite Instagram video without any hassles. The quality might not come up to your expectations but if you want to download a video quickly, an online tool is right for you.
Below are the two trustworthy websites to Instagram reels video download online on both Android and iPhone.
1.1Savefrom.net
This IG downloader is a handy option for someone looking to save an Instagram video instantly. Just head to this website on your Android or iPhone, paste the video link, and within a few seconds, you'll get the video. Aside from Instagram, it also lets you save videos from Facebook, Dailymotion, Vimeo, and many other video streaming platforms.

Check out the below steps to use save from net Instagram on your smartphone:
Step 1: Go to Instagram, tap the three-dots icon at the right-corner of the video you want to download., and hit "Link."
Step 2: Now, paste this link on Savefrom.net and click on Download.
Step 3: From the available resolutions, click on your preferred option to save it on your device.
1.2SaveInsta.com
Another efficient website for Instagram video download online is SaveInsta.com. This online tool is also free to use and also guarantees satisfactory download quality. But beware of tons of irritating ads during every time you visit this website.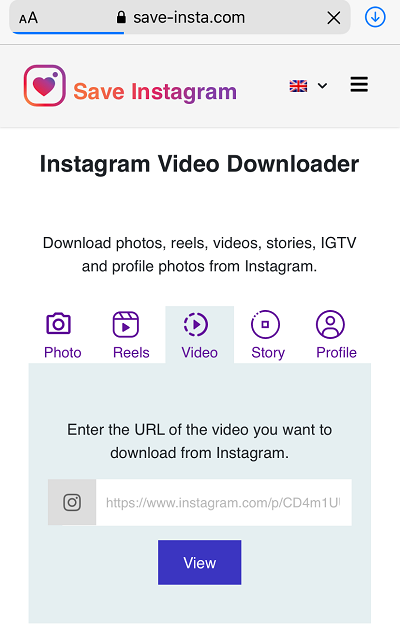 Having said that, here's how to download Instagram reels or video:
Step 1: Visit SaveInsta.com on your mobile web browser.
Step 2: Now, launch Instagram, copy the link of the video, reel, or story you want
Step 3: Paste the link in the corresponding box and tap View.
Step 4: When the website shows results, tap Download. Again, tap Download on the pop-up tab to start the downloading process.
2Third-Party Apps
If you want more control over the downloading process, then it's better to use a professional download app. Luckily, The Google Play Store and the App Store are awash with
2.1Repost: For Instagram
Works with: Both iPhone and Android
Having millions of iOS and Android users, Repost: For Instagram is one of the most popular tools for downloading Instagram videos. Thanks to its simple and easy interface, users don't face much trouble getting acquainted with its basic interface.
The program helps you quickly download any Instagram reel, story, or video in high quality. One top trait of this story saver Instagram is its ability to repost an Instagram image or video from one account to another.
Just follow the below instructions to Instagram reel video download using Repost: For Instagram:
Step 1: Install and launch the app on your phone.
Step 2: Paste the link of the Instagram video in the app and it will automatically process it.
Step 3: Next, tap Download to save it on your phone.
2.2InsTake
Works with: Both iPhone and Android
This app may be relatively lesser known, but it comes loaded with all the necessary features to help your Instagram reels download. What makes it so unique is the added convenience it offers to the users. All you need to do is copy the video link and voila, it will automatically save the video for you.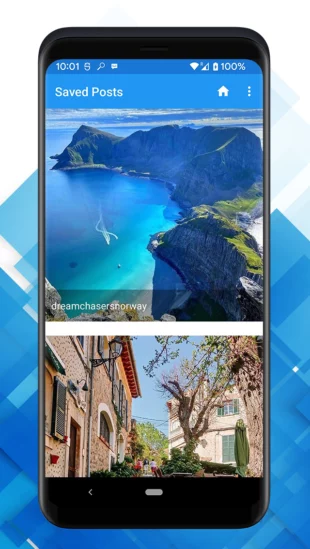 Note that this program needs you to first login to your account within the app before you start downloading Instagram videos. Here's how to use it:
Step 1: Install InsTake on your phone and set it up. Login with your Instagram account.
Step 2: Next, copy the link to the Instagram video you are interested in.
Step 3: Open InsTake Downloader and bang, it will instantly download the video for you.
3Screen Recording
If you're looking for the quickest method to download Instagram videos, then consider using the built-in recording feature. While it offers convenience and speed, it has a few downsides as well.
First, it captures the whole screen. So, you might have to crop the video to make it look decent. Secondly, the recorded video consumes a lot of space compared to the downloaded video.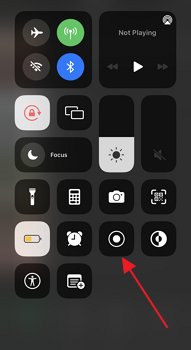 For iPhone
For iPhone users, the recording feature is present right in the Control Center. Now, you can start downloading an Instagram video, story, or reel with just a single tap. Below are the simple steps to Instagram story video download via recording.
Step 1: Tap the "Record" icon in the Control Center.
Step 2: Quickly play the Instagram video you want to capture as it will begin recording within 3 seconds.
Step 3: When you're done, tap the Red icon to end the recording. The file will be saved in Photos.
For Android
The latest Android OS includes a recording feature that you can add to the Notification Penal menu. If it's not present, don't hesitate to download a free screen recorder from the Play Store.
Once you have located the record screen tool, follow the below steps:
Step 1: Open the Instagram video you want to capture.
Step 2: Swipe down and tap the screen record icon to begin recording.
Step 3: You can pause or stop the recording when needed and it will be saved in the Gallery.
Part 4: Bonus Tip: Use AirDroid Personal to Transfer Instagram Videos Across Platforms
There come instances when you need to transfer the downloaded Instagram videos to another device. For that, AirDroid Personal is your ideal companion. It is a one-stop solution to share unlimited data between any two platforms including Android, Mac, iPhone, and Windows. And all this without any wired connection.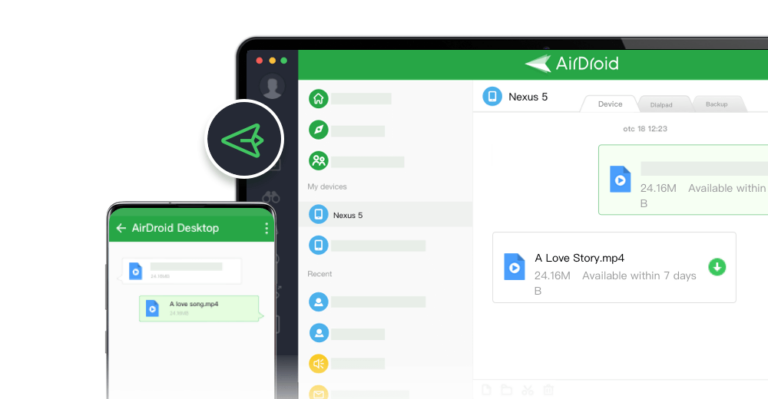 Now, you no longer have to go through lengthy procedures for cross-platform data transfer. Just get this versatile file transfer app and start moving your data seamlessly. What's more, it has the amazing capability to send files to multiple devices in one go.
All that, coupled with a modern interface and tons of other features, make AirDroid your go-to preference for transferring files across platforms.
Final Remarks
This article discussed different ways you can download Instagram videos on your Android and iPhone. Choose the method that fits your requirement like choosing an online tool or recording feature for quick download. Or prefer installing a third-party app if you have to regularly download videos.
In addition, you can rely on AirDroid Personal to transfer Instagram videos or other content between your iPhone, Android, and PC. It is easy to use, simple and comes with tons of useful features like remote control, file management, and more.
Was This Page Helpful?