Best 3 Approaches to Cast PowerPoint to TV
Cast PowerPoint to Smart TV with AirDroid Cast
Cast your PowerPoint presentation from a computer or mobile phone to your smart TV.
No need to install any app on your web browser-enabled Smart TV.
Cast online presentations to larger screens of your TV quickly and easily.
Enjoy cross-platform support for screen mirroring and casting.
A lot of people use PowerPoint for different types of presentations, such as business proposals, meeting agendas, academic reports, and many others. While it has always been common for people to use projects to play a PowerPoint slideshow, the trend of using projectors is rapidly declining due to the popularity of large smart TVs. Therefore, if you are wondering whether you can cast PowerPoint slides on a smart TV, you will get the complete answer here.
Can you cast PowerPoint to TV?The short answer is that yes, you can definitely cast different types of PowerPoint presentations on your TV. Keep reading to learn the top 3 methods of mirroring PowerPoint to other devices, such as a smart TV.
Part 1: Why Should You Cast PowerPoint to TV?

There can be many different reasons and situations why you might want to cast PowerPoint on TV. Following are some of these situations:
You want to show a formal business presentation to your teammates, investors, or anyone else.
Academic presentation.
The quality of the smart TVs is far greater than the projectors. By casting PowerPoint to TV, you don't have to spend a lot of money to buy a premium projector.
Share pictures and videos in the form of a presentation at a family gathering.
Whatever your motivation for casting PowerPoint slides to your smart TV might be, you can greatly benefit from it in different situations, so you must be familiar with different methods to do it.
Part 2: How to Cast PowerPoint to TV? Here Are 3 Best Ways

Casting PowerPoint to a smart TV is possible through both wired and wireless methods. Let's discuss the top 3 approaches you can take to achieve the best results in this regard:
1AirDroid Cast - How to Cast PowerPoint to TV?
AirDroid Cast is a powerful screen mirroring and casting tool. It is a reliable and efficient platform for sharing the screens of your devices with larger screens, such as casting PowerPoint presentations on a smart TV.
Unlike various other screen mirroring tools and methods, AirDroid Cast does not make it compulsory for users to connect to the same network for mirroring. You can rely on the remote casting feature of AirDroid Cast to cast PowerPoint presentations to a smart TV, even when your casting and receiving devices are connected to different networks.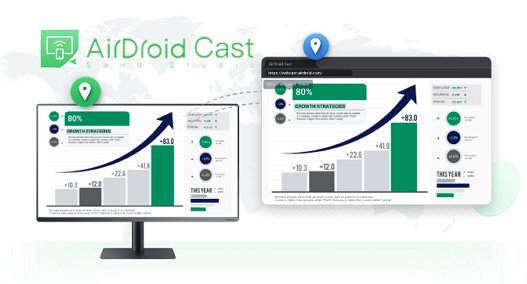 This is a very useful feature to use in presentations when you and the smart TV are located in different locations. Users of AirDroid Cast Premium can benefit from this feature of remote casting.
How to Cast PowerPoint from Windows/Mac to TV with AirDroid Cast?
Follow these steps to cast PowerPoint from your computer (Windows or Mac) to a smart TV:
Download and install the AirDroid Cast app on your Windows or Mac computer from the official web page.
Open the web version of AirDroid Cast on your smart TV by opening webcast.airdroid.com in the browser of your TV.

Open the software on your computer and start screen mirroring through a wireless connection. Click the "Cast to" button. And then enter the 9-digit code shown on the TV onto the designed place of AirDroid Cast Desktop.

Once the code is entered, the software will confirm the provided code and start mirroring your PC screen to the smart TV.
Now, you can open PowerPoint on your PC. The slides will be mirrored to the smart TV in real-time.
Learn a little bit more about how to cast PowerPoint from a Android phone or an iPhone to TV with AirDroid Cast. Check out this quick tutorial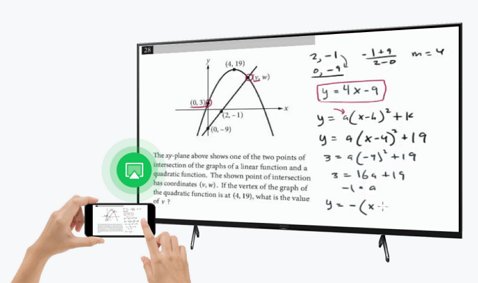 Download AirDroid Cast app on your phone and open AirDroid Cast Web on the TV
Scan the QR code given on the TV or enter the 9-digits code into the mobile app.
Your mobile screen will start mirroring the smart TV.
Now, you can simply choose any app, such as PowerPoint, on your mobile device and enjoy it on the larger screen of your TV.
Why we recommend using AirDroid Cast to Cast PowerPoint to TV?
One of the major reason of using AirDroid Cast is that it is available for all major devices and platforms. It means you can rely on the same platform to mirror or cast presentations from your computer or mobile device to your smart TV.
User-friendly and easy to set up.
Both web and app versions are available.
High performance with no lags when a stable internet connection is available.
Wide-ranging compatibility, including AirPlay, to support mirroring from iPhone and iPad.
Supports meeting tools like Zoom and Google Meets to ensure online presentations can be cast.
2Chromecast - How to Play PowerPoint on TV?

Chromecast is a highly popular screen mirroring and casting device from Google. It started as a dongle for TV that connects to the TV's HDMI port to provide smart functions to a TV. With time, Chromecast has greatly evolved due to the rise of smart TVs. Nowadays, Chromecast is the built-in feature of most smart TVs.
Pre-requisites

In order to mirror PowerPoint presentations to your TV via Chromecast, you will need the following things:
A smart TV that supports Chromecast. Most modern TV models have Chromecast built-in technology.
Computer or smartphone through which you will be mirroring the presentation.
Stable internet connection.
How to Cast to PowerPoint using Chromecast?
It's quite easy to use Chromecast after you have plugged in the Chromecast device in your TV, or your smart TV has this built-in technology. All you have to do is use the Google Slides options to start mirroring presentations from a device like your PC or smartphone to the TV.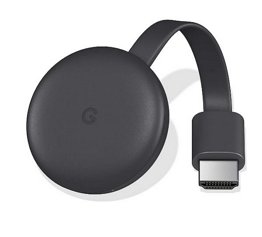 Follow these steps to do it:
Cast from a PC
Open Google Docs in the browser of your PC and log in to your Google account. If the account does not already have the PowerPoint presentation, you can easily upload it from your local drive.
Open the slideshow and click on the "Present" button located in the top right corner to open the list of present options.

Use the "Present on another screen" option. Select your Chromecast, and the presentation will start showing on your TV. Keep in mind that this option will only be available when you have a valid Chromecast device.
Cast from an Android or iPhone
Download and install the Google Slides app on your Android or iPhone mobile.
Open the presentation that you want to mirror in the Google Slides app. Click on the Cast icon and choose your Chromecast device.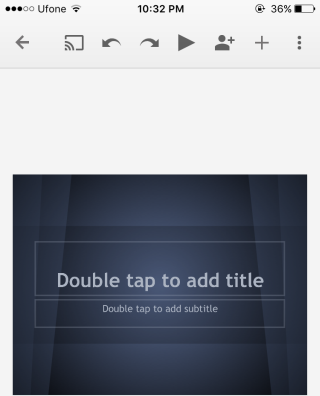 3Through Wired Connection - How to Play PowerPoint on TV from USB?

A stable internet connection is required to cast PowerPoint to TV via devices like Chromecast and tools like AirDroid Cast. While these wireless methods of screen mirroring are highly preferred nowadays, there is still a chance that you might be in a situation where you are not able to get access to the internet.
Modern smart TVs are fully capable of playing images, videos, audio, and presentations from a USB drive plugged into the TV. You can benefit from these capabilities and play your presentation directly from the USB.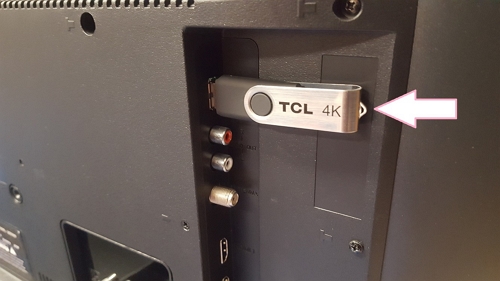 Follow these steps to complete the method of playing PowerPoint on TV from USB:
First of all, save your PowerPoint presentation from your computer or mobile device. Click on the 'File' to open the options and select 'Save As.
Click on the 'Browse' button to access different file types. Save the presentation in the form of a video file, such as an MP4/WMV video. Keep in mind that Microsoft PowerPoint 2010 and higher versions have this feature of turning PPT into video files.
Copy or move the saved video file to your USB.
Plug the USB drive into your TV and start playing your presentation.
Using a USB to play presentations on your smart TV is a good method, but it does not provide much control over your presentation. You will likely have to keep playing and pausing the presentation video unless the animations and timing of each slide are added very carefully.
Part 3: Comparison Chart

| Features | AirDroid Cast | Chromecast | Wired (USB Drive) |
| --- | --- | --- | --- |
| Compatibility | Available for all major devices | Limited compatibility | A USB port is required. |
| Price | Most features are available in the free version. | Paid versions are also available for advanced features. Modern smart TVs that are often expensive have Chromecast built-in technology for free. | Cost of the USB. |
| Target Audience | Anyone who wants to mirror screen and use different apps such as PowerPoint. | Users with Chromecast dongles or smart TVs that support Chromecast. | Anyone with a USB can use this method. |
| User-Friendliness | Easy to use and set up | Quick and easy to use. | The time-consuming process of converting the presentation into video and copying it. |
Part 4: Closing Thoughts

The bottom line is that mirroring PowerPoint presentations to a smart TV is possible through various methods. You should prefer a method or tool that is capable of not only mirroring presentations to TVs but also fulfilling your other screen mirroring requirements.
AirDroid Cast is such a tool because it is available for all types of devices. The user-friendliness of AirDroid Cast ensures you are quickly able to set up the presentation and start mirroring it from a device to the larger screen TV. Hence, you won't have to go through the time-consuming process of checking Chromecast compatibility or saving the presentation as a video on the USB.
FAQs about Cast PowerPoint to TV
Can I Cast PowerPoint Presentations to my Apple TV?
Yes, you can cast your PowerPoint presentations from any of your devices to an Apple TV via AirDroid Cast. Alternatively, if you are an iPhone or iPad user, you can also use built-in AirPlay features to mirror the presentation to an Apple TV screen.
Is it possible to cast PowerPoint without Chromecast?
Yes, you can cast PowerPoint to your smart TV, even if your TV does not support Chromecast technology. It is possible by using AirDroid Cast or through USB.
How to cast PowerPoint from a computer to a TV via a wired connection?
In order to cast PowerPoint from your computer to the TV through a wired connection, you can use an HDMI cable to connect your computer to the TV. You will need a compatible HDMI cable for this purpose. Make sure that you buy the right cable and get any adapter or converter if required.
Can I mirror my online presentations to a smart TV?
It is possible that you might want to mirror an online presentation to a smart TV while you are in a meeting. In such a situation, you cannot use the USB method to save the video and play it. Therefore, you should use AirDroid Cast in such situations because it is compatible with all major meeting tools like Zoom and Google Meet to help you mirror your online presentations.
Does my iPhone/iPad support casting via Chromecast?
Contrary to popular belief, Chromecast is not limited to only Android phones. You can use Chromecast on your iPhone or iPad devices to cast pictures, movies, audio, and presentations to a larger screen, such as a smart TV.
Was This Page Helpful?