Easily Remote Control Android Tablet in Best Ways
Remotely controlling an android tablet can be extremely helpful when you want to teach someone who is not digitally mature to interact with it. These are mostly elderly people in the house or parents who aren't aware of how to pick up a call or turn off their WiFi or Bluetooth, etc.
To remote control android tablet means you can easily help anyone, provided they have an active internet connection and manage their devices from anywhere, anytime. If not for the reason to help someone access the device, there can be many reasons why you need a solution to remotely control android tablets.
This guide is dedicated to helping you know about three great applications to remote control android tablet from PC. Along with how Airdroid can help you do the same, but more efficiently.
Can I Remotely Access and Control My Android Tablet?
To remote access, android tablet means you can control and manage its functions from another device. Depending on the solution you are using, it can be another mobile device, desktop, or tablet.
There are different web applications, mobile apps, and software to help do the same. Almost everyone who knows about remote access has heard about TeamViewer, one of the most popular desktop applications for this task.
Other than this, several other solutions can be used for this purpose. Being able to control the tablet remotely can be beneficial for;
Troubleshooting: The ability to troubleshoot from anywhere across the world, or simply across a desk, is one of the benefits of remote access. Remote access enables you to use another device, help operate specific functions like receiving calls, and swiftly diagnose problems.
Everyone saves time with troubleshooting done with remote access. This can be especially handy for customer support personnel access the user's device from their office saving time and cost of sending a technician to the customer's house.
What could have taken a technician a day or more to do in terms of travel can be done in a few minutes. This ensures that production may proceed without interruption.
Control Device Functions: In recent times, kids have got quick and easy access to digital devices due to switching the education system to a remote setup. Parents working from their home office, study, or from the office can control the tablets their kids are using easily and keep an eye on what they are doing.
With these two type of benefits being primary there are several other benefits of remote access. From corporations setting up remote access systems for effective management to the kids helping their parents with day-to-day issues of using a digital device, remote accessibility is important.
While the ability to remote control tablet from android phone or any other device is essential, the software you use for the purpose also matters. That said, here are the three best applications you can use to remote control android tablet from PC.
3 Best Apps to Remote Control Android Tablet from PC
To leverage the full benefits of remote accessing android tablet, you need to use an application that can work seamlessly without lagging. Yes, a lot of lagging depends on the internet connectivity on both devices. Still, a badly-built application can also make things difficult.
So, you must choose an app that is easy to use, has all the essential features, and lets you control the android tablet without lagging. We have got a list of the three best applications you can use for remote control android tablet.
1. AirDroid Personal
AirDroid Personal tops the list due to the amount of features and functions it brings to the table. With this application, you can access the android tablet from any device without Rooting.
It's a downloadable software you can get on your mobile or desktop, and some of the features include;
Play Games: You can play games on the tablet from your mobile or desktop and vice versa. Using AirDroid personal you need not install an Android Emulator. Imagine using your desktop to play games installed on the android device. How much fun will it be?
Single Device for Access: AirDroid Personal is paired with AirMirror to help you access devices remotely. Furthermore, you can access all the Android-based devices from a single device. Being able to do so makes your work agile and fast because you won't have to switch between different devices.
Use Damaged Tablet: Broke the screen on your tab? No worries. AirDroid Personal will let you access the broken tablet easily so that you can use its functions and features without fail.
Support for Devices and Platforms: Any Android based mobile phone will support AirDroid and give you remote accessibility. The web-based platform is accessible via web.airdroid.com and to control another device from your mobile you can download the AirMirror application.
Connect up to 10 Devices: AirDroid allows you to connect over 10 devices. This is helpful for building a close network of connected devices having seamless remote accessibility. Moreover, with AirDroid every connected device.
| | |
| --- | --- |
| Pros | Cons |
| Ease of access comes with AirDroid Personal as the application is homogenous across the devices. | With the free version, there is a data usage limit of 200MB. For more data usage, you need to get the premium version. |
| Airdroid also lets you share media files between the connected devices. | |
2. Splashtop
Splashtop is known for fast, secure, and cost-effective remote accessibility solutions. Users and companies are already using this application for end-to-end remote control android tablet.
With Splashtop, the users can cover the basic accessibility functions, including IT support, and help desks. Corporations can leverage Splashtop's ability to offer comprehensive remote access and remote setup solutions.
Security Infrastructure: Splashtop has one of the best security features while providing remote access to the users. Moreover, the security system is compliant with the government regulations and support structure, including GDPR, CCPA, and HIPAA.
Education-Specific Functions: Splashtop has built special systems and features for the education sector during the pandemic. It supports hybrid learning making it easier for the students to complete distance learning.
| | |
| --- | --- |
| Pros | Cons |
| Individual access systems for different purposes, including education, business, and general. | The pricing plan is complicated and highly segregated. |
| Offers a highly secure and compliant system for remote accessibility. | |
3. TeamViewer
TeamViewer is the most popular remote access solution that can be used for any type of device and platform. Most of the users start with TeamViewer when they begin using remote access and everything that it has to offer.
TeamViewer gives you more control and better features than other services provided to remote control android tablet from a desktop or another device.
Proactive Remote Access: TeamViewer offers extensive control over the remote accessibility to the users. Its features and functions are meant to improve the user's productivity leading to better management.
Corporate Solutions: There are corporate solutions catering to their specific requirements for users wanting to use TeamViewer at enterprises and companies.
| | |
| --- | --- |
| Pros | Cons |
| TeamViewer has an amazing quick support team. | As there are multiple connection types, some systems may need additional drivers to establish the connections. |
| It has support for almost every operating system. | |
Remotely View and Control Android Tablet from Phone - AirMirror
AirDroid's AirMirror is an innovative solution allowing users to remote control android tablet from a phone. AirMirror works with two models;
Remote Access: With this, you can remotely manage the android device. However, the device which needs to be accessed and controlled must have installed AirDroid Personal.
Remote Support: Besides basic controls and access, you can also help friends, family, colleagues, and customers with support services via the application.
Here's how you can use both the functions of AirMirror;
Remote Access
To remotely access an android tablet from your phone, you need to install the required applications on both the devices.
AirMirror on the device that will be the controller.
AirDroid on the device that needs to be controlled.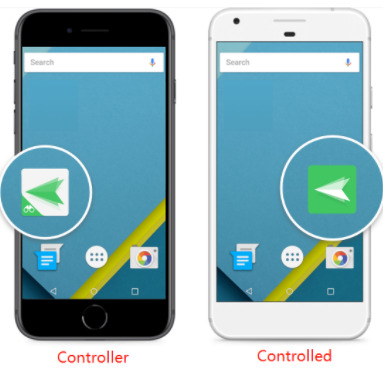 With the application downloaded on the device, sign in with your credentials. The AirMirror interface will show the device that you want to control.
You can easily control the device and access its functions, including the camera. You can use your device to access all the applications on the controlled device and even send or read messages on Whatsapp.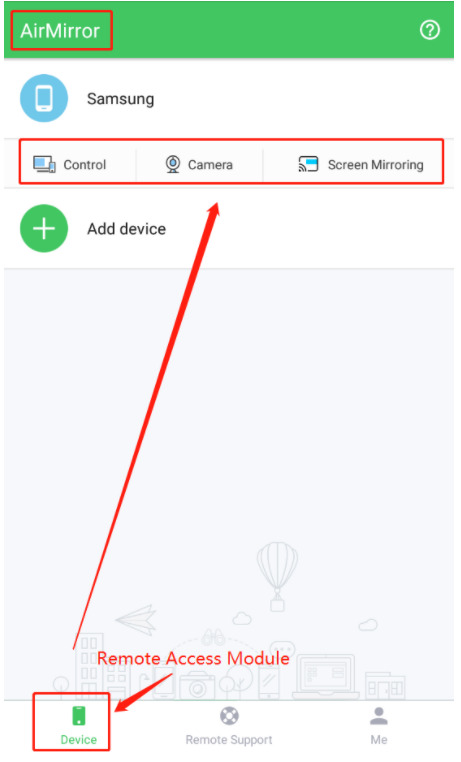 You can use the Remote Camera function to set up the camera for surveillance and remote photography. The Screen Mirroring feature allows you to view and control the controlled device's screen. You can also use it for live streaming and presentations.
Remote Support
For Remote Support functions, you need to install;
AirMirror on your device
AirDroid Remote Support on the devices you need to access.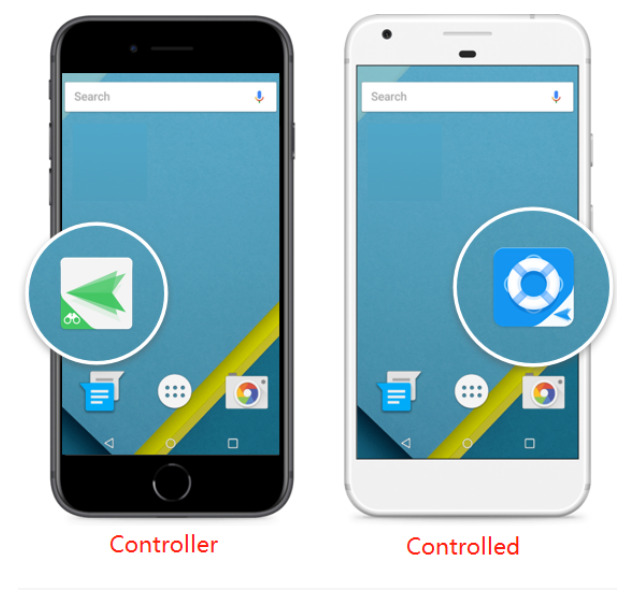 For remote support, the users need to enter the unique code generated on the device to be remotely accessed. Once the user requiring help accepts the session, you will get complete access to the controlled device.
This connection brings real-time screen sharing, communication via text and call, and privacy protection.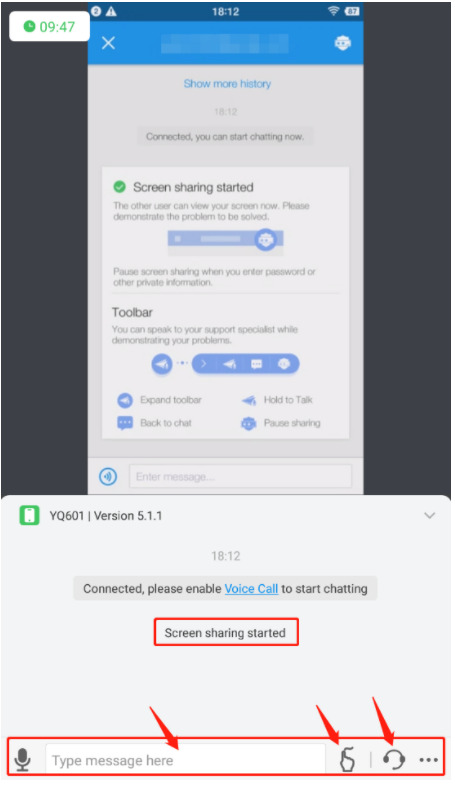 Using the mobile, web, and desktop application AirDroid gives you enhanced accessibility and support solutions.
Final Words
The guide above is shared to help you understand the role of AirDroid in remotely controlling other Android-based devices. With AirDroid Remote Support, AirMirror, and AirDroid Personal solution, you can build a connectivity network for all the devices enabling seamless control. From helping customers set up home surveillance systems, a remote access system can be a useful solution for households and businesses.
FAQs
How to remote control android tablet over the internet?
To remotely control an android tablet over the internet, you need to install the required application on the controller and controlled device. Irrespective of the device you are using, AirDroid has the right solution for every type of device.
Which Kiosk software is suitable for Android tablets?
Kiosk software is an integral part of the advanced mobility solutions we use today to support remote accessibility and feedback submission. These solutions help provide public access terminals to the users to further enhance remote connection capabilities.
How can I restrict my phone from being accessed remotely?
One of the best ways to stop anyone from remotely accessing your phone is installing an antivirus. Although the latest operating systems and their firmware already have built-in security features, adding an anti-virus can help reinforce the security measures.
Can I use android tablet as remote control?
Yes, if you have the right solution, you can use any device to remote control Android tablet, phone, Windows desktop, laptop, and so on. AirDroid is the best solution you will get to cover all the remote accessibility aspects.
Was This Page Helpful?