2023 Ultimate Guide for Personal: How to Use AirDroid Web
Are you wondering what is the quickest method to control your Android smartphone wirelessly from Windows/Mac? Here, we have an answer for you and it's AirDroid Web. This online tool has earned the trust of millions of users for the impeccable features it offers. Surely, you'd want to learn more about it and that's what this article is all about. Starting from its key features and functions, now we will introduce you to how to use web AirDroid on your browser. Without any further ado, let's cut to the chase!
Part 1. Get Started to Use AirDroid Personal Web
Now that you know the basic interface of AirDroid Web, let us learn how to start using this amazing tool. It doesn't require any prior knowledge or technical expertise to get started and even first-time users can use it in the three simple steps listed below.
Step 1. Download the AirDroid Personal app, and visit the web client

First of all, you need to install the AirDroid Personal Android mobile client on an Android device that you want to control remotely. Then, head to AirDroid Web from your web browser.
Step 2. Register and login

After that, log in with your AirDroid account on the mobile client. If you don't have an account, then create one.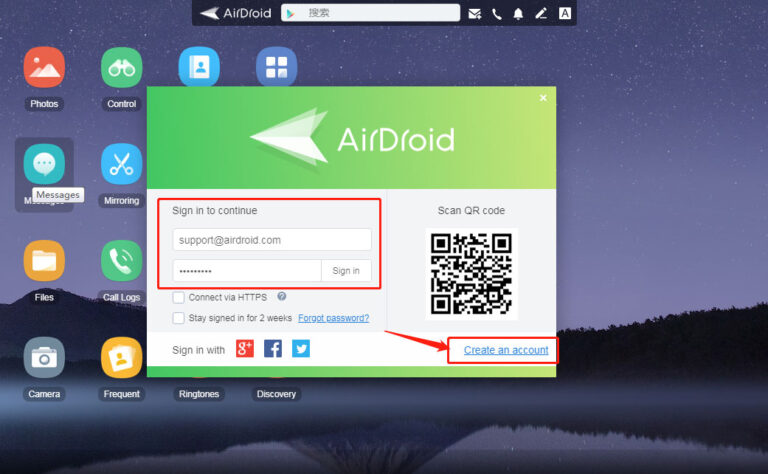 Step 3. Add devices

Once you're signed in, go to the "My Devices" tab and tap the AirDroid Web Scan icon. Then, scan this code on the main page of AirDroid Web. Within seconds, the program will establish a remote connection. Now, you can enjoy all the features using a mouse and keyboard. It cannot get any simpler than that to the AirDroid web login.

Within seconds, the program will establish a remote connection. Now, you can enjoy all the features using a mouse and keyboard. It cannot get any simpler than that to the AirDroid web login.
Part 2. Simple Guide on How to Use
This section is going to provide a step-by-step guide on how to use the main functions of AirDroid Web. Just read the steps carefully to make the most of this program, irrespective of your skill level.
1. Transfer & Manage Files
The program offers a one-click procedure to transfer files between both devices. Just click on Files > Upload to import files and folders from your PC. Additionally, you can download documents from your Android phone on your computer. That's your answer to how to transfer files with AirDroid.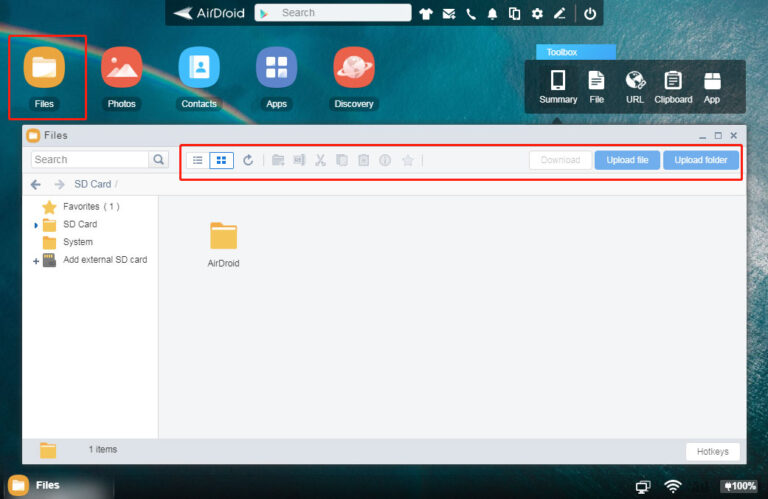 Similarly, you can easily manage audio, video, photos, and ringtones from the web browser.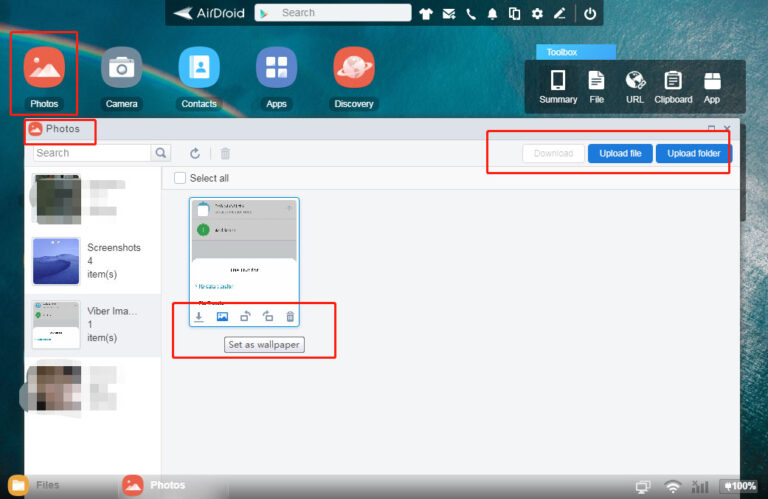 2. Remote Control Android Phone
Controlling an Android phone directly from a browser has never been easier. Just click on the "Control" icon on airdroid.web and start managing the smartphone via mouse and keyboard.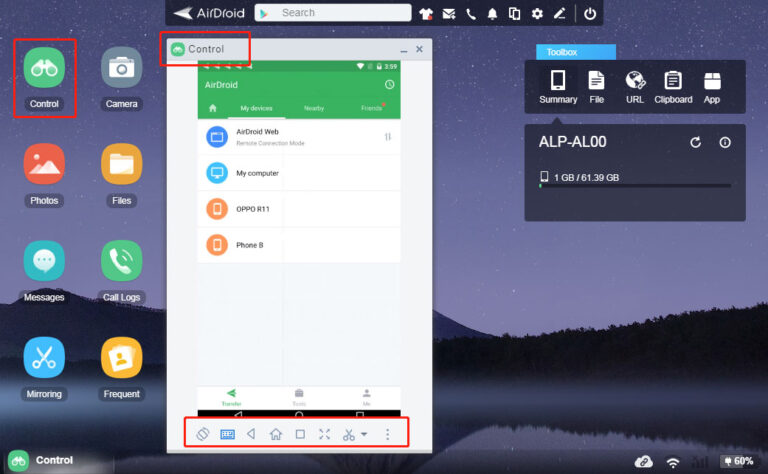 3. Remote Camera
With just a single click on the"Camera" icon, you can remotely activate the phone's camera. What's more, it allows you to keep tabs on the surroundings of your smartphone. That is, it effectively turns an Android into a security camera.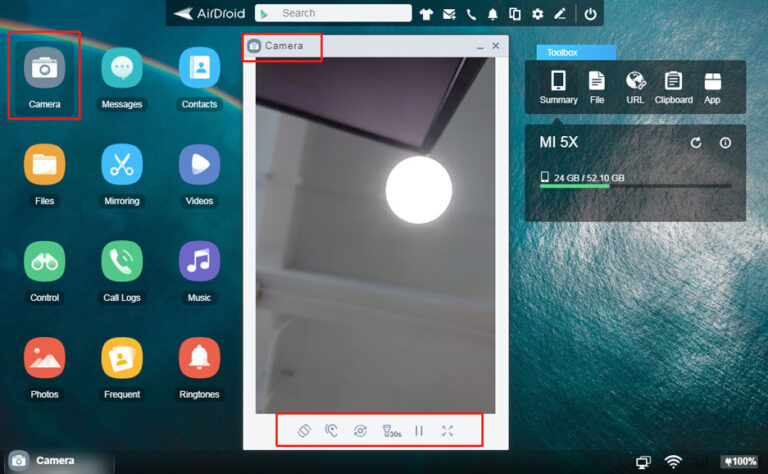 4. Screen Mirror
Screen Mirror is one of the distinct features of AirDroid Personal Web. All you need to do is hit the "Mirroring" icon, and the program will display on the big screen everything you do on your Android phone. With this feature, it doesn't matter if both devices are connected to the same network or not.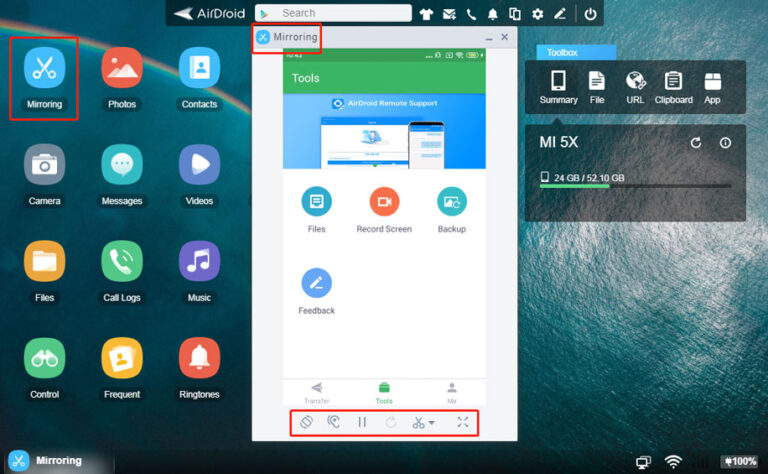 5. SMS & Notifications
Another practical feature of AirDroid Web. Just click on "Messages" and the program will show the message app on the screen for you. However, it doesn't support Group Messages and MMS.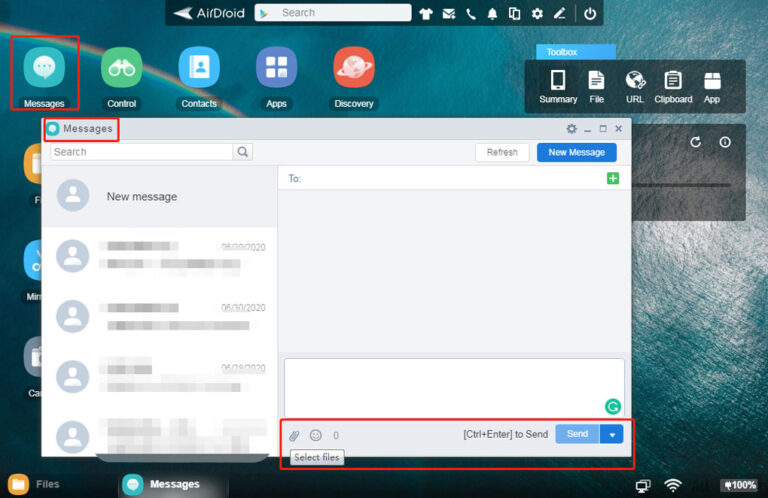 6. Find Phone
Probably the most stellar feature of AirDroid Personal Web. After remotely connecting both devices, you can just click on"Find Phone" on the web to locate your lost Android phone. In addition, this feature also empowers you to Wipe Out your phone's data if it's lost or stolen.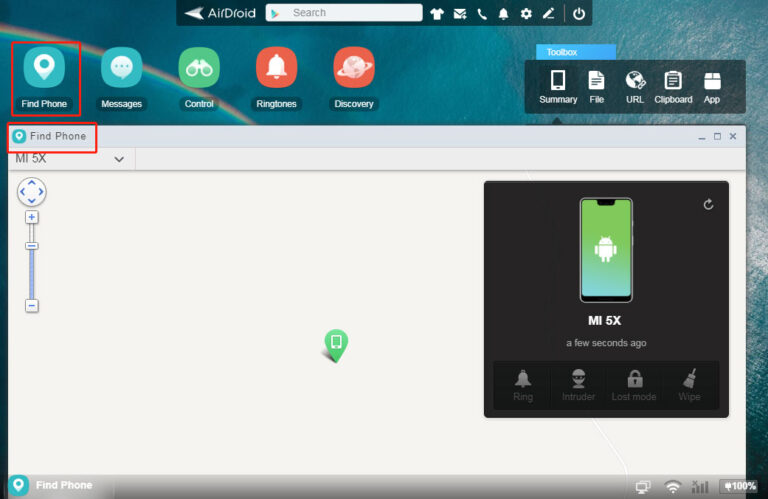 Part 3. Overview of AirDroid Personal Web
AirDroid Web has answered the rising calls of users for an efficient online tool for remotely managing an Android device online. With this program, you don't need to go through the hassle of installing any third-party tools or plug-ins to control any Android phone from a web browser. With all the amazing features it offers, web AirDroid is a perfect option for users who want a quick solution to access the Android smartphone from a PC. All you need to do is navigate to web.airdroid.com from any web browser and start controlling your Android phone and everything installed on it right away.

Compared to its competitors, AirDroid Personal Web is much more stable, efficient, ad user-friendly. even a 10-year kid won't face any issues in using this amazing online program.
3.1 Notable Features of AirDroid Personal Web
Below are some of the key features of AirDroid Web that make it a go-to choice for most users:
Key features of AirDroid Personal
Manage your Android phone remotely from your web browser
Users can remotely activate the camera with just one click
Allows users to mirror the Android phone for live streaming or how-to tutorial
You can send and receive SMS using a mouse and keyboard
Allows you to play and listen to Android music on your computer as well as manage music files
Its Find Phone feature helps you locate and find a lost phone as well as wipe out its data remotely
3.2 How Do You Benefits from AirDroid Web
AirDroid Personal Web is a very useful service for Android users. After connecting an Android device to the web client, you can manage every single feature of an Android phone from a PC using a mouse and keyboard. For instance, you can reply to all message conversations from your computer which saves you from checking the phone again and again. Similarly, it gives an intuitive way to manage all the files and folders on your Android phone including photos, music, videos, ringtones, and much more. However, the biggest benefit comes from its Transfer feature which gives you the freedom to share as much data between Android and PC as you want. Also, its mirroring feature lets you display everything you do on Android onto your computer. This comes in handy for giving presentations, tutorials, how-to-guide, and so on.
FAQs
Q1: Does the Web Client support connecting iOS devices?
The answer is Yes. AirDroid Web is compatible with iOS devices in LAN mode since Apple has strict restrictions of remotely managing an iPhone. Also, the web will show less features when you connect an iOS device compared to an Android phone.
Q2: AirDroid Personal Web Client Vs. AirDroid Desktop Client, how to choose?
If you have to control an Android device very seldom, then Web Client is a handy option. However, users who have to remotely manage Android too often and also want more control over the process should go for AirDroid Desktop Client. Note that the desktop version is much more stable than AirDroid Web and also offers tons of impeccable features, not available on the Web client.
Q3: Can I use a mobile browser to visit the web client?
AirDroid Web allows users to access the website from a mobile browser. However, it's recommended to install the AirMirror app to make the most of AirDroid Web features.
Q4: How to Remove Devices on AirDroid Web?
If you want to remove devices on AirDroid Web, simply click on the "Sign Out" icon at the top. Hit Ok on the pop-up tab to confirm your action.
Q5: AirDroid Connection timed out, how to fix?
If you're wondering why AirDroid web not working, the chances are the connection between Web and your Android phone is timed out. All you need to do is scan the QR code again from the mobile client to re-establish the connection with web AirDroid com.
Was This Page Helpful?