Sprint Family Locator Safe & Found: Review, Guide, and More
The Sprint family locator is a phone tracking service the Sprint network offers for its subscribers only. It tracks the location of all phones connected to the Sprint network when the app is installed or when you use your account on their website. Although Sprint still needs to update its app, it is still in use.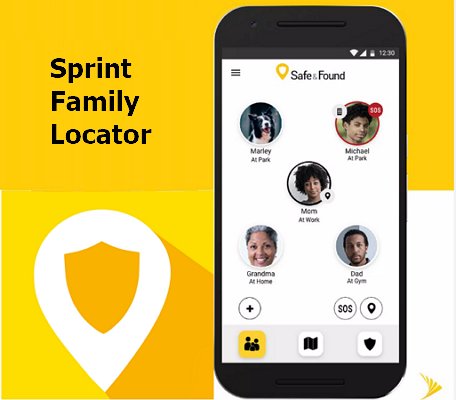 This post guides the Sprint family locator, why you should use it, why you shouldn't, and an alternative locator app to use. Read on to discover more!
Part 1. Sprint Family Locator Overview
The Sprint family locator app is a cell phone app that gives the GPS location and location history of a target device on an interactive map. It is a family locator app that helps parents keep track of their kids or vulnerable family members. It is a service offered by Sprint network to pinpoint the location of phones subscribed to their network.
Sprint Family Locator Key Features
The Sprint family locator app has several features built into the app to enable it to function effectively. Some of its key features include;
Message Alert
The target users get instant text alerts when their location is monitored. They also get monthly text message notifications as tracking reminders.
User's Security
To use the Sprint family locator service, you need first to sign I'm to the website. You will be required to create an account with them using a unique password and username. The reason for this security is to ensure that your privacy remains intact each time you use the app. The locator is passworded for a semblance of security. Your login is unique to you. Thus, only you can track your family.
User-Friendly Map
The Sprint family locator uses an interactive map within the user's dashboard to reveal a location. The app is simple and easy to understand. It can be viewed on any browser-enabled device, whether a smartphone or a laptop, as far as a good internet connection is concerned. The map shows the street name, timestamp, and history for easy tracking.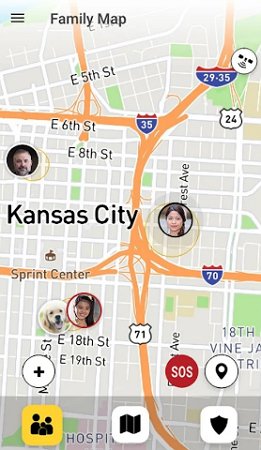 Real-Time Location Tracking
Sprint family locator gives the real-time location of a target device. Changes ate constantly updated for parents and family members to stay in touch and updated with each other's location. Parents can view their kid's location as they move from one place to another.
Sprint Family Locator Pros
It can track multiple devices at once. You don't need a separate subscription plan for each child.
The app does not need additional settings or software to work. It tracks any compatible Sprint phone connected to the network.
It does not need additional programs to access GPS location and information.
Sprint family locator tracks both offline and online locations. Online tracking involves an internet connection. Offline tracking doesn't require the internet.
It creates safety areas for users, and it sends text message alerts to other family members connected.
The locator is simple to use. Just choose the phone number you want to track and sign in to see their location.
You get a text alert when the target device enters a prohibited or risky area.
Subscription is affordable, and you can pay for each function accordingly.
Sprint Family Locator Cons
It has fewer functions, unlike most family locators.
Sprint family locator is a GPS location tracker. It doesn't monitor the target device. You cannot block apps or websites, monitor calls, text messages, or social media messages.
It tracks limited devices. Only 5 per account.
The target device must be connected to the Sprint network before its location can be monitored using the service.
GPS is only accurate for 16 feet when well-calibrated. Hence, the tracking stability is not stellar. There are possibilities of the wrong location if the GPS is not calibrated. The inaccuracy is due to buildings and other obstructions.
The app does not work in stealth mode. Hence, users cannot track a target device without then knowing. The service will always send a text message alert to the device you want to locate.
You cannot use the service for phones not connected to the network. In other words, if the target device changes its operator, you cannot track its location with the Sprint family locator.
Compatibility
The locator is compatible with Android and iOS devices as they are connected to the Sprint network and have GPS. You can check your device compatibility on the Sprint website with the IMEI number. Recently, the service discontinued its app update. But the network is compatible with T-Mobile networks. Users can now replace their Sprint sim with a T-Mobile sim to continue using the service.
Price
It costs up to 9.99 USD for up to five devices. If you need to track more devices, you need an additional plan. The monthly subscription is automatic. It is added to your monthly bill from the operator.
It also offers a 30-day free trial, after which a subscription is required. Overall, the service is affordable.
Part 2. How Does Sprint Family Locator Work?
The Sprint family locator does not need you to install add-on apps on your device to track. It uses tracking information from the device's GPS/location and network. The phone numbers connected to the subscription receive a text message each time their location is tracked. Monthly text alerts are also sent as reminders for the target person to know that their location is being watched.
Overall, the Sprint family locator app is easy to use. First, you need to install it to access the service.
Download the Sprint family locator app on your device. The device managing the subscription is the main device. They will also manage the locator.
Visit the Sprint family locator website and enter your mobile number. You will receive a temporary password for registering.
Create an account on the app with the password, then log into the service.
Each device connected to your network subscription is seen on the map on your user dashboard. The timestamp and location address are also seen.
You don't need to download the app on other phones connected to your subscription. Only the main phone has the app. Hence, only they can uninstall the app or opt out of the service. You can do that in two ways; turning off your location or uninstalling the app from settings.
Turn off Location
The first way to disable the Sprint family locator is to turn off the device location since GPS is used to know the location. The service works both offline and online. So, turning off your internet connection will not disable the app. But turning off your GPS and location will.
But at the same time, the locator might still not be disabled. Hence, the next option.
Uninstall the Sprint Family Locator from Settings
The best way to disable the family locator is to uninstall it. To do that;
Go to your device settings
Go to "apps" under it and navigate to "all apps."
Scroll to the Sprint family locator app and click on it
Tap on uninstall updates or force stop to disable it.
Part 3. How to Use Sprint Family Locator to Locate Your Kid's or Lost Phone
If the phone number of your kid's phone or the lost phone is connected to the Sprint subscription, you can use Sprint Family Locator to locate it.
After installing the app and creating an account, log in to the locator app.
An interactive map is displayed on the homepage or user dashboard with a picture of each family member connected to the subscription.
Click on the device you want to locate.
The timestamp and the location address will be displayed on the map. Howbeit, not accurate. Sometimes, the location displayed is minutes old.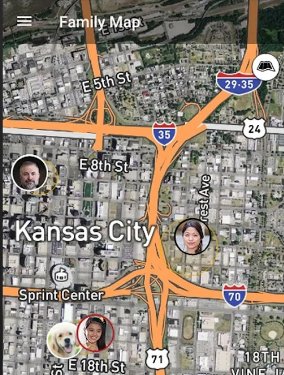 Part 4. Sprint Family Locator Vs. AirDroid Family Locator
The Sprint family locator app is purely a location-tracking tool. It cannot monitor or manage the activities of the target device. Also, it does not run stealthily. It sends Text message alerts to the device or person you're trying to find. An alternative to it is the AirDroid Family Locator.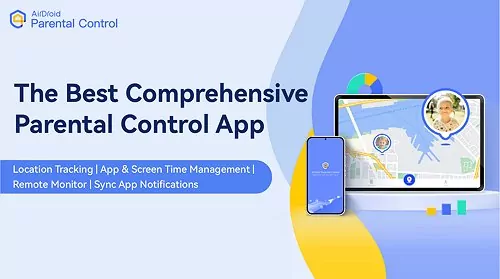 Compared to AirDroid, the Sprint family locator doesn't stand a chance. AirDroid family locator app is a parental control app that combines location tracking and device management. It also works remotely in stealth mode. Its unique features keep kids and teens safe in their smartphones. Hence, it is one of the most trusted and widely used family locators available for download.
It is an amazing app for parents and guardians to keep their kids safe. In other words, if you're concerned about your kid's safety and whereabouts, the AirDroid parental control app is best for you.
Why Choose AirDroid Family Locator
As earlier said, the Sprint family locator is just a locator. It does not go beyond that. But AirDroid offers benefits like;
Remotely watch and hear phone surroundings.
Keep track of incoming call history and text messages.
Monitor chats from social media.
Block or restrict access to certain apps.
Set screen limit to reduce screen addiction.
Set geofencing zones and get instant alerts.
Free trial for 3 to 14 days.
Instant Real-Time Location Tracking
Unlike the Sprint family locator, the AirDroid family locator app tracks real-time locations instantly. It does not stall when tracking. It gives locations accurately; hence, it has stellar reliability. It uses the device's GPS address and Wi-Fi location, not the information provided by its carrier.
information provided by its carrier.
Stealth Mode
AirDroid family locator is completely undetectable. Even the app's icon is not visible on the target device's home screen after installation. It makes it impossible to detect. It also runs in the background. Therefore, you don't need to open the app before it functions. It collects data in the background.
Easy Installation
It takes less than 10 minutes to install the AirDroid family locator and bind your kid'e Android device.
Easy Access to Device Data
The AirDroid app is a virtual key to accessing the target device's details from anywhere. With it, you can access their browsing history, downloaded apps, text messages, calls, media files, social media messages, Etc. You can also remotely use the device camera and voice record to monitor the surrounding.
There is no limit to what you can access. The only limiting factor is the kind of plan you're using - free or paid.
Unlike the Sprint family locator that only tracks devices on its network, AirDroid monitors and manages all Android devices.
Geofencing
Geofences are digital perimeters set on the AirDroid app. When the target user enters or leaves the geofenced area, it triggers an alert. These areas are forbidden areas you don't want your kids going to. The Sprint family locator does not set geofences. It only checks for locations.
Screen Usage Limit
With the AirDroid app, users can set screen usage limits. You can allocate time when your kids can use their devices or a particular app. It can be on weekends or weekdays. The screen usage limit aims to reduce phone addiction and create more time for homework or family activities.
Bottom Line
The Sprint family locator app is s GPS-supported location tracker that helps find misplaced or lost phones. Thus, locating the owner too. You can use it only on Sprint phones or other phones with the Sprint carrier network. It does this by sending out text message alerts to the target device. However, it lacks tracking and monitoring features.
It cannot monitor a phone's activity or track its location stealthily. Thus, it would be best if you had a more suitable option; the AirDroid Family Locator. AirDroid not only locates devices but also tracks a target device's online and offline activities. The app is available for free download. Click here to try it out today!
FAQs about Sprint Family Locator
Does Sprint Family Locator Notify the Person Been Located?
Yes, the sprint family locator always notifies the person been located. The service does not run stealthily. It sends text alerts to the device you're trying to locate each time you track them with sprint. It also sends a monthly notification to devices connected to the network to remind them they're monitored.
Does Sprint Family Locator Work If The Location Is off?
Sprint family locator uses GPS location and information from the network to track a device's location. It works both offline and online. It means that, whether there is an internet connection, the locator still tracks devices online as far as the device's location is on.
How Accurate Is Sprint Family Locator?
The sprint family locator app could be better for accuracy and reliability. Half the time, it works well. The other half is unreliable. It only sometimes gives an accurate location. Most times, the locations are minutes old. Also, since it uses GPS tracking, it may only sometimes be correct. GPS is only accurate for 16 feet when calibrated.
How Much Does Sprint Family Locator Cost?
Sprint family locator cist 5.99 USD monthly. It can locate up to five devices, provided they are connected to the network. It offers free trials for 15 days to test-run the service to determine whether you want to subscribe to it. The subscription fee is usually paid along with the network's monthly charge. Once the subscription is paid, only the main account owner can disable the service.
Is Sprint Family Locator Still Available?
Sprint family locator was available on the 30th of June, 2023. However, the network is integrated with T-Mobile and the 5G network. Sprint users don't need a T-Mobile phone. To continue using the service, they only need to swap their sprint sim for a T-Mobile sim.
Was This Page Helpful?