How Can I Monitor My Child's Snapchat Without Them Knowing
Snapchat is one of the most popular social media platforms on the internet. Often, it comes second place, only behind Facebook, among the locations where users come to connect with their friends and strangers. With its instant messaging features and cool image filters, you can hardly doubt that your child will be interested in something like this.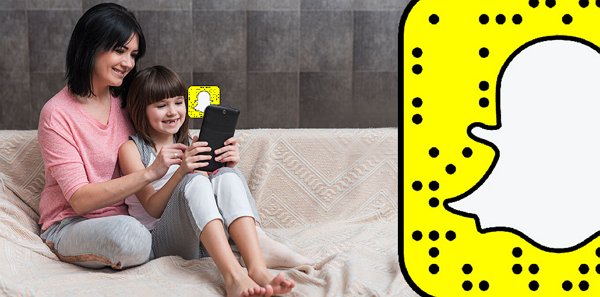 But unfortunately, for all the good reasons, Snapchat can expose your child to dangerous content and even become addictive. Hence, as a parent, you should monitor your child's Snapchat . This article discusses the morality of monitoring your child's Snapchat without their consent. Also, it delves into how you can monitor it.
Part 1. Should I Monitor My Child's Snapchat Without Them Knowing
Snapchat exposes children to cyberbullying, inappropriate content, scams, and more. Hence, you should monitor their use of Snapchat. The app has a feature for deleting the post, and your child might think they will not get caught.
However, monitoring their Snapchat without them knowing is bridging their trust. Like most children, your children love their privacy. Someone violating that significantly to restrict what they share, say, watch, or post, would cause more harm than it would help. It is best to make your child understand why you must guide them through those dangers.
Part 2. How to Monitor My Child's Snapchat
This section contains four possible solutions for monitoring your child's Snapchat.
1Android Phone Monitoring App for Snapchat
AirDroid Parental Control is an app that many parents use to monitor their children's activities on Android devices, especially Snapchat. It has user-friendly features for protecting safety and helping children build healthy digital habits. To monitor your child's Snapchat activities online, please visit webparent.airdroid.com.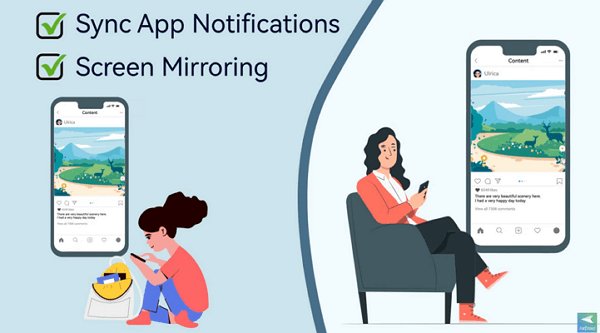 Key Features
Cast your kid's Android device to your phone to remotely monitor their Snapchat activities in real-time.
Monitor Snapchat incoming messages if notification is enabled for Snapchat to intercept cyberbullying and online fraud.
Schedule the time you want your kid to access Snapchat and set how much time on Snapchat they get every day.
Send your kids an instant alert when they try to open Snapchat.
Know whether your kids are addicted to Snapchat by viewing when and how long your child has used Snapchat .
*Other Features
Watch the background activities of your kids' mobile devices with the camera.
Listen to the surrounding sounds through the microphones of your kids' phones.
Track your kids' current location and location history.
Get alerts when your child enters or leaves the geo-fenced zones you set.
Steps to Use AirDroid Parental Control
Step 1. Download and Install AirDroid Parental Control on your device. Open the app on your phone, and you will be directed to the sign-up page. Create an account and log in.
Step 2. Download AirDroid Kids on your kid's Android phone and open the app. Bind the devices with the pairing code show on AirDroid Parental Control. Then set up all the required settings on the phone.
Step 3. You can see what your kid does on Snapchat.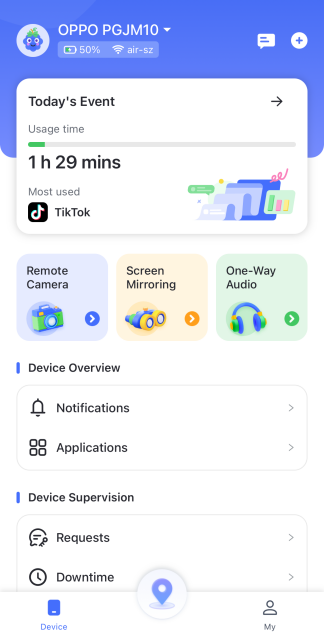 2Check Snapchat Media by Restoring Cache Files [Android]
Snapchat has a feature that automatically deletes pictures from your user's story. Hence, it would be best to have an alternative way of getting Snapchat media on your child's phone. This method shows how to monitor your kid's Snapchat activities by recovering Snapchat data through cache files.
Step 1. Download a File Manager app on your device.
Step 2. Open the app and navigate to the Android folder.
Step 3. In the Android folder, select Data. Among the list of app data, look forcom. snapchat .android folder and open it.
Step 4. You will find a couple of folders inside it; click on the cache folder.
Step 5. If you want to check the Snapchat photos, click on the received_image_snaps to get them back.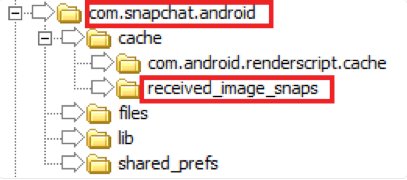 3Snapchat Parental Monitoring App for iPhone
Another popular means of monitoring Snapchat is using the Hoverwatch app. This app is a suitable option for the parent to monitor Snapchat on their kid's iPhones. You can use it to monitor up to five Snapchat accounts simultaneously.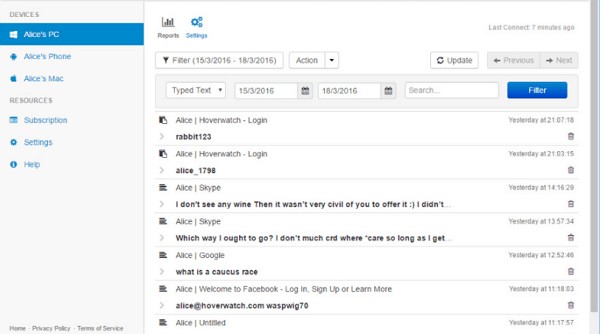 Features
You can track your kid's Snapchat without them knowing.
You can get full access to calls, texts, and a contact list on your kid's phone.
Get notification when your kid changes sim.
You can get the real-time location of your kid through GPS.
You can track the browser history on your child's phone.
You can block or restrict websites and keywords on your kid's browser.
Steps to use Hoverwatch Parental Control
Step 1. Create an account by providing your email and choosing a password. If you already have an account, log in with your details.
Step 2. After signing up, download and install the Hoverwatch app.
Step 3. Do the same on the target Snapchat phone. Now, you can see what your kid does on Snapchat.
4View Snapchat Media by Restoring iCloud Backup [iPhone]
As mentioned earlier, Snapchat deletes old posts. However, you can still access this media on your iPhone. You can do so through your iCloud backup. If your kid's iPhone has been previously backed up, you might be able to get your kid's Snapchat media on iCloud. The steps to restore the iCloud backup for your kid's Snapchat are below.
Step 1. Choose an iPhone to restore your kid's iCloud backup. If you have already set the iPhone, you need to erase all the content (Settings > General > Transfer or Reset [Device]).
Step 2. Follow the guide to the Apps & Data screen, tap Restore from iCloud Backup.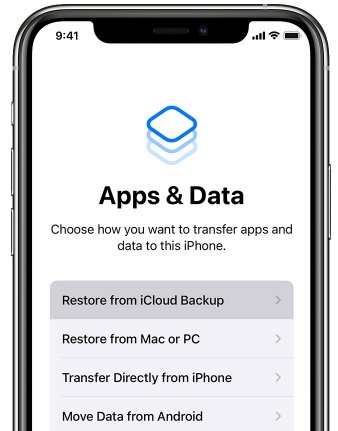 Step 3. Log into your kid's iCloud account on the iPhone, and choose a backup to restore.
Part 3. Basic Settings to Protect Your Kids on Snapchat
This section is targeted at helping parent protect their kids on Snapchat for free. First, you can disable and enable a few settings on the app to limit your child's exposure to danger. Then, follow through to using some of the inbuilt parental control features.
Prevent People from Finding Your Child's Snapchat Profile through Cell Phone Number
You can stop this feature by opening your child's Snapchat profile. Next, tap on the gear icon and select Mobile Number. Finally, uncheck Let others find me using my mobile number option.
Don't Suggest Your Kids as Friends to Others
Snapchat always suggest your kids as friends to others. You can turn off this feature on your child's profile page. Click on the gear icon, select See Me in Quick Add, then uncheck the option.
Prevent Strangers to Contact Your Kids
Set your kids' Snapchat to only get contact from their friends. To set up the account, you need to open their profile page, click on the gear icon, and tap Contact me. Then, select My Friends from the available options.
Stop Sharing Kids' Location though Snapchat
Set your kids' Snapchat not to send their current location to friends. To disable this feature, open their profile page and click the gear icon. Select See My Location. Ensure that the Ghost Mode option is enabled.
Part 4. Why Do Kids and Teens Love Snapchat?
Kids and teenagers love Snapchat for all its benefits and its curiosities. They can interact with friends and strangers with features like snaps, stories, snapbacks, scores, chat, lenses, doodles, stickers, etc. They can share their thoughts and learn new things. Of course, many other social media apps have their benefits, but Snapchat stands out and is loved by kids and teens for the reasons below.
1. Snapchat is easy to use for taking pictures, using filters, adding captions, and sharing with their friends.
2. Social media helps them capture the moment without using much text.
3. Kids and teens love Snapchat because they can control the recipient list.
4. They get instant feedback on the app.
Conclusion
Snapchat satisfies kids' curiosity. It provides them the fun and the thrill of always being with their friends and meeting needed people. But, at the same time, it exposes them to many dangers. They can be sexually exploited, bullied, and scammed on Snapchat.
Hence, you can monitor your children's Snapchat . While we advise that parents should not do it without their consent, you can monitor your kids' Snapchat without them knowing. This article gives you four methods for doing so.
FAQs about Snapchat Monitoring
Can Parents Monitor Snapchat?
Yes, Snapchat can be monitored by the parents. Parents would not even need to collect their kid's phones to check their chats and phones to see their conversations and posts. Instead, they can monitor it from their phone or PC.
Is There Any Way to Monitor Snapchat?
Yes, there are various ways to monitor Snapchat. For example, you can use a third-party app like AirDroid and Hoverwatch Parental Control to monitor Snapchat. Also, you can monitor Snapchat by sourcing the cache file on Android and backup on iPhone when posts on Snapchat have been removed.
How Can I See What My Kid Is Doing on Snapchat?
You can see what your kid is doing on Snapchat using a third-party app to monitor their account. You can watch what your kid is doing and who they interact with. You can also see their post on the social media app.
How Do I Disable Snapchat on My Child's Phone
You can either disable it manually or use our recommended parental control app. AirDroid Parental Control allows you to restrict your child's usage of apps on their phone. You can even send a message once the restriction kicks in.
How to Monitor Snapchat for Free?
You can monitor Snapchat for free by downloading and installing a free monitoring app for free. AirDroid Parental Control offers up to 14 days of free trial to monitor Snapchat.
Was This Page Helpful?