How to Block Someone on Snapchat in 2023
In 2023 how to block someone on Snapchat has been made even simpler than before. And besides blocking someone, you can also opt for alternatives, such as DND (Do Not Disturb), Remove friend, or change privacy settings. All these options make it easier to limit who can contact you or interact with your stories.
The ability to connect with people via Snapchat is great, but sometimes it might reach a point where everything isn't great anymore. For example, you don't want someone to see your post, or you're receiving messages that you don't want. In such situations blocking someone can be the ideal thing to do.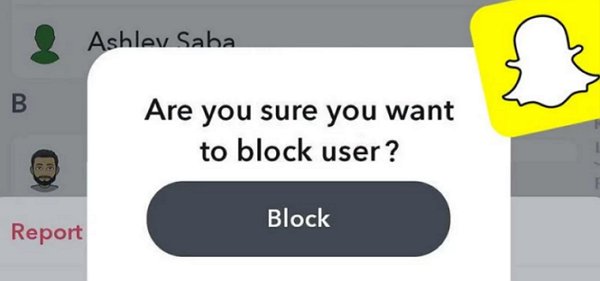 And so, in this article, we will give a step-by-step guide on how to block someone on Snapchat.
Part 1. How to Block Someone on Snapchat
The process of blocking someone on Snapchat takes you only a minute, and here is how to do it:
Step 1.Open Snapchat and login if needed.
Step 2.Navigate conversation. If you once chatted with the person you want to block, tap the speech bubble at the bottom left side beside the capture tap. However, if you haven't talked with that person, you can head to the magnifying glass icon in your screen's top left corner. Enter their name or username in this search bar and search for it.
Step 3.Tap on the user avatar to open a chat with them.
Step 4.On the upper left corner of the chat tab, you will see the menu icon; tap on it to a list with options.
Step 5.From the list of options shown after taping Menu, tap on Block.

Step 6.A confirmation box title 'Block' will pop up after taping Block. Tap on it to confirm that you want to block that person.
That's all you need to block a person. Now the big questions are: If you block someone on Snapchat, will they know? And What Happens When You Block Someone on Snapchat?
Part 2. Will Someone Know That You Have Blocked Them on Snapchat?
When you block someone on Snapchat, they can't know that immediately since Snapchat doesn't send a notification that they have been blocked. However, over time they come to know due to changes in your activity on Snapchat.
These changes include disappearing your account, not being able to see your stories, or can't even text you. For them to confirm this, then they will need to follow the process of how to tell if someone blocked you on Snapchat.
Part 3. What Happens When You Block Someone on Snapchat?
When you block someone on snap, then here is what happens:
The block user can't start a chat with you
They cannot view your stories
If they choose to search your account, then they can't find it
Can't send you snaps or videos
Blocking people on Snapchat prevents them from finding or reaching out to you via their Snapchat account. In general, your account and Snapchat activity don't exist to them.
Part 4. What Are the Alternatives to Blocking Someone on Snapchat?
Blocking someone is ideal when you want to limit contact with the other person fully. But sometimes, this extreme option isn't the ideal option to take. Therefore, when you feel like you don't want to limit your contact with someone fully, you can choose any of these less restrictive options:
Remove Friend from the Friend List
If you don't want to cut off your connection with someone on Snapchat completely, but you don't want them seeing private stories, remove them from your friend list. It allows partial connection with them, meaning they can still see your public stories or send you snaps and chats (depending on your settings).
To do this, follow the same procedure above for blocking someone, but instead of choosing Block on Menu, choose Remove Friend.
Set Only Friends to Contact You
It is an alternative to removing someone from your Snapchat friend list.
Sometimes people who aren't your friends on snap can send you snaps and chat to try and chat with you. Furthermore, they can also see your stories, which sometimes isn't a good thing. To stop this, you can go to your privacy setting and then change your privacy settings. Set only friends to send you chats or snaps, and you can also set your friends as the only people who can view your stories.
Here is how to set this.
Open Snapchat
Tap on your profile icon in the upper-left corner of your screen
Tap on the setting/gear icon to view the settings
After that, scroll down to the Who Can section
Click on 'Contact Me' and then choose 'My friends' to enable only your friend to contact you.

Afterward, go back and click on 'View My Story' and choose 'My Friends.' You can customize who among your friends can or can't view your stories by tapping on 'Custom.'
Try Using the 'Do Not Disturb' Feature
You probably have seen this feature on the Menu we have referred to in options 1 and 2.
This method is less restrictive and ideal when you still want to be friends with someone but don't want notifications of their chats interrupting your day. They can still send you chats and snaps by activating this feature, but you will not get notifications.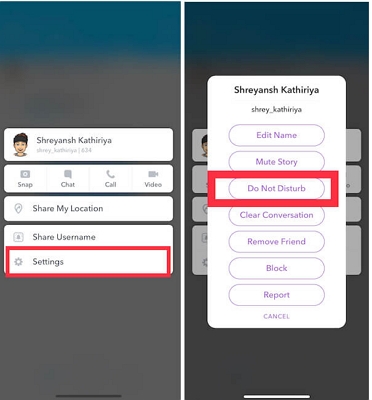 This feature is similar to the turning off app notification feature that will limit notifications from friends or group chats.
Part 5. Can You Unblock Someone You Blocked on Snapchat?
Absolutely, yes, you can.
To do this, you will have to access your account list of blocked users. The steps below will guide you on how to unblock someone on Snapchat.
Step 1.Open Snapchat and login if needed.
Step 2.On the upper-left corner of your screen are your username and Bitmoji; tap on either.
Step 3.Now access Settings by tapping the gear icon on the upper-right corner of your screen.
Step 4.Access your Account Actions by swiping up and then clicking on Blocked.

Step 5.This will show you a list of people you have blocked. To unblock someone, tap on the far-right side of that person's username.
Step 6.A pop will appear for confirmation; tap" Yes," and their username will immediately be removed from the list.
Part 6. Why Is Blocking Important in Snapchat?
Blocking someone on Snapchat is a security measure you can personally take to limit connection with another person. It is an important privacy & security measure for everyone, more so parents looking to limit who their kids interact with. As you know, social media can be a pretty beneficial stage, but it is also a harmful one.
As a parent, you can protect your kids by using Parental Control apps such as AirDroid. This super advance parental app fits all the features needed to track and monitor your kids' devices.
Bonus: Monitor Your Kids' Snapchat Activity with AirDroid Parental Control
To ensure your kids maintain healthy Snapchat habits, you need to monitor them. To do so, you will need a compressive, effective, and easy-to-use parental app that will give you all the necessary data. It is where AirDroid Parental Control is good, thanks to its intuitive design and powerful algorithm that delivers comprehensive and real-time data.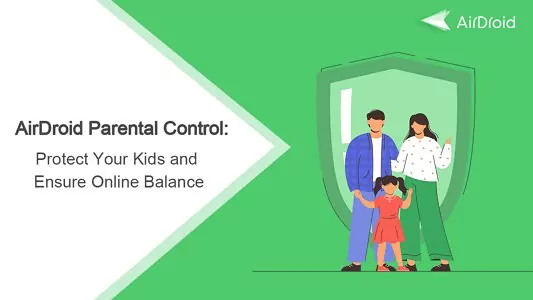 Some of the core features that make this application the appropriate tool to use to monitor your kids' Snapchat usage are:
Remote Monitor

- Know what your kid is doing on Snapchat through the screen mirroring feature in this app. This feature can help you know what snaps or chats your kid is receiving or sending to their friends on Snapchat.

Sync App Notifications

- Check Snapchat notifications from other devices by simply using this sync feature. You will get notified exactly when they receive the notification. You can also use this app to check notifications from other social media platforms, such as Facebook, Reddit, Twitter, WhatsApp, etc.

App & Screen Time Management

- If you feel like your kids are on their devices too much, then you can use this app to regulate it. Furthermore, you can use it to regulate how much time they can access their social media account, such as Snapchat.

Accurate Location Tracking

- Knowing where your kids are at all times is essential as it gives you a sense of comfort as a parent. Therefore, with AirDroid, you can get a real-time location of where your kids are. Additionally, you can use the geo-fenced zones feature that will notify you when kids leave your specified geographical zones.

Daily Usage Report

- Know what your kids do with their devices all day. Which applications are they accessing? What videos are they watching? With What type of content are they interacting? How much data are they using in a day? And many more.
Was This Page Helpful?