Archived Chat on WhatsApp: All You May Want to Know
In today's fast-paced digital world, where conversations come and go quickly, saving our digital chats has become more critical than ever. This article dives into the exciting world of archived chats on WhatsApp. As technology changes, archived chats become a unique way to reflect on our past conversations, showing us glimpses of friendships, family moments, and work collaborations.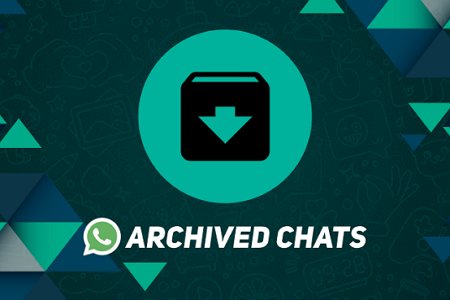 Whether it's a special chat with a friend, a heartwarming talk with a loved one, or essential info saved for later, archived chats on WhatsApp play many roles in our lives. Let us explore the complete details regarding archived chat on WhatsApp!
Why Do People Archive Chats?
People archive chats for various reasons. One common reason is to organize and declutter their messaging apps. Archiving helps users tidy their chat list by moving less meaningful or older conversations out of the main chat window.
Another reason is to preserve important information or memories. People can save messages, photos, or important details by archiving chats without scrolling through a long list of active conversations.
It acts like a digital filing system, making it easier to find specific information when needed. Privacy is also a consideration. Archiving chats can be a way to keep sensitive or personal conversations away from prying eyes. It adds an extra layer of protection, mainly if someone else uses the device or the messaging app is accessible to others.
How to Archive a Chat on WhatsApp?
Check out the methods below to archive a chat on WhatsApp on different devices:
Archive a Chat on WhatsApp Android
Launch WhatsApp and navigate to your chat list.

Long-press the specific chat you wish to archive.

Locate the down arrow icon at the top of your screen and tap it to initiate the archiving of the selected chat.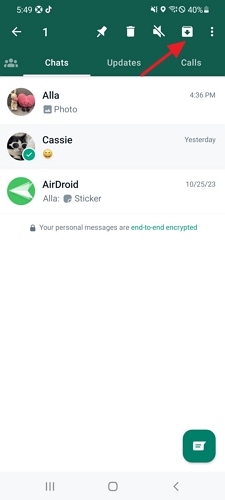 Archive a Chat on WhatsApp iPhone
Swipe left on the chat you intend to archive in the Chats tab.

Tap the Archive icon to complete the archiving process.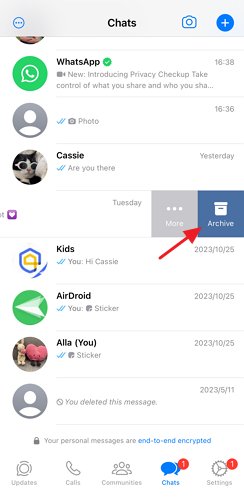 Archive a Chat on WhatsApp Web
Access WhatsApp Web on your computer and log in to your account.

Choose the specific chat you wish to archive.

Right-click on the selected chat, then opt for "Archive chat" from the menu that appears. The chat is now archived and will no longer appear in your main chat list.
What Happens If You Archive a Chat on WhatsApp?
When you archive a chat on WhatsApp, it means you're hiding it from the main chat list. It doesn't delete the chat but moves to the "Archived Chats" section. Archived chats won't notify you about new messages, and they won't appear on your main screen. To find them, scroll to the bottom of your chat list and look for "Archived Chats." This feature helps declutter your main chat screen without losing your conversations.
Where Do Archived WhatsApp Chats Go?
Let's explore where these archived WhatsApp chats go on Android and iPhone devices.
On Android
When you archive a WhatsApp chat on an Android device, the conversation doesn't disappear; instead, it's neatly tucked away. To find your archived chats, open WhatsApp and scroll up to the top of your chat list. Look for the "Archived Chats" option. Tap on it, and you'll see all your archived conversations.
On iPhone
On an iPhone, archiving WhatsApp chats is just as easy. Scroll down to the top of your chat list, and there it is – "Archived Chats." Tap on it, and you'll find all the conversations you've stashed away. It's a handy feature to keep your main chat screen tidy without losing important messages.
How to Unarchive Chats on WhatsApp?
Here are the methods to unarchive chats on WhatsApp on different devices:
Unarchive Chats on WhatsApp Android
Access WhatsApp and click on the "Archived" section. Long-press the desired chat.

Look for the "Unarchive" option at the top of the screen.

Tap "Unarchive," the chat will be restored to your regular chat list.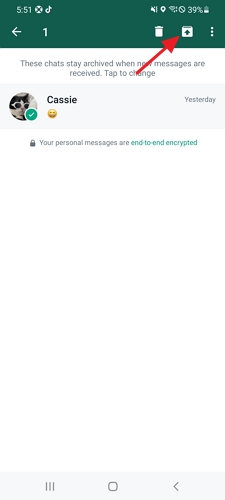 Unarchive Chats on WhatsApp iPhone
Launch WhatsApp and go to the main screen. Access the "Archived" section.

To unarchive, either message the person for the desired conversation or swipe the chat to the left.

If swiping, locate the "Unarchive" option and tap on it to return the chat to your regular chat list.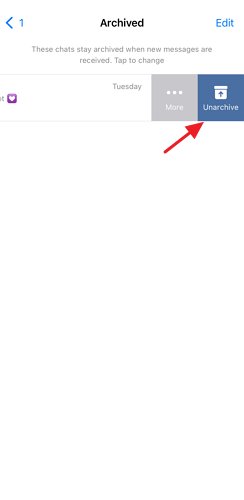 How Do You Know If someone Has Archived You on WhatsApp?
Determining if someone has archived your chat on WhatsApp can be tricky because there are no clear notifications or signs. It gets confusing because you can still send them messages, and your interactions seem normal.
The challenge is that WhatsApp doesn't indicate that your chat has been archived. Unlike other changes, there's no visible alert or status update. To determine if someone in an archived chat has messaged you, you must manually check the "Archived Chats" folder. This particular folder keeps your archived conversations tucked away.
Get All Notifications of Your Kid's WhatsApp Chats
AirDroid Parental Control is a comprehensive solution designed to empower parents with the tools to ensure their children's online safety. With a focus on WhatsApp monitoring, AirDroid Parental Control provides a suite of features beyond traditional parental control applications. One standout feature is real-time location tracking, allowing parents to stay informed about their child's whereabouts at any given moment.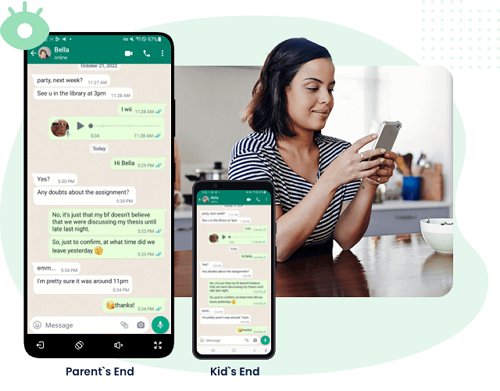 The application excels in monitoring WhatsApp chats, providing parents with a valuable resource to understand their child's digital interactions. With instant alerts, parents can receive notifications in real-time when specific keywords or conversations of concern occur on WhatsApp.
Key Features
Analyze incoming messages and calls, informing parents about their child's digital interactions.
Track notifications from popular platforms like WhatsApp, Snapchat, and Facebook Messenger to stay updated on online activities.
Act promptly to prevent cyberbullying and online fraud by receiving timely alerts and insights into your child's online behavior.
Customize app settings to synchronize notifications, giving parents a comprehensive overview of their child's digital world.
Gain valuable insights into your child's app usage patterns, helping you understand their digital habits and preferences.
Stay connected in real-time by receiving instant notifications, enabling proactive intervention and guidance in your child's online experiences.
Step 1. Download and install the AirDroid Parental Control app, you can also visit the web version at webparent.airdroid.com directly.
Step 2. Install AirDroid Kids on your child's device, then input the 9-digit binding code from the parent's app into AirDroid Kids on your child's device. Complete the setup by granting necessary permissions, configuring keepalive settings, and following on-screen instructions.
Step 3. View all your kids' notifications by clicking "Notification," and easily search for sensitive or suspicious content.
Conclusion
Archiving chats on WhatsApp is like putting messages in a hidden folder. It helps keep your main chat list tidy. When you archive a chat, it doesn't get deleted; it just moves to a separate place. So, it's like organizing your chats - you keep what's essential nearby and neatly store the rest. Archiving chats on WhatsApp is a handy feature for keeping your messaging space clean and clutter-free.
FAQs about Archived Chat on WhatsApp
1. Do I Get Notifications For Archived Chats on WhatsApp?
No, WhatsApp does not send notifications for archived chats. When you archive a chat, it moves to a separate section, and new messages in archived chats won't trigger notifications on your device.
2. Can Someone Still Message You If You Archive The Chat?
Yes, archiving a chat doesn't block messages. Others can still message you, but those messages will only appear in your main chat list once you unarchive the conversation.
3. How Do I Hide a Chat on WhatsApp without Archive?
To hide a chat on WhatsApp without archiving, you can use the "Archive" feature. However, there's only a direct option to hide a chat while archiving it in the app.
4. What Is Archived Chat on WhatsApp?
Archived Chat on WhatsApp is a feature that allows you to organize your chat list. When you archive a chat, it is moved to a hidden section, decluttering your main chat list.
5. Does Deleting WhatsApp Delete Archived Messages?
No, deleting WhatsApp does not delete archived messages. Archiving is a separate action from deletion. Even if you uninstall WhatsApp and later reinstall it, your archived chats will still be available.
6. How Long Do Messages Stay Archived on WhatsApp?
Messages stay archived on WhatsApp indefinitely. There is no automatic unarchiving or time limit for how long messages can remain archived. You can manually unarchive a chat whenever you wish to bring it back to your main chat list.
Was This Page Helpful?