Maximizing Sales with Mobile Retail Execution: Strategies for Success
Is your retail store suffering from a situation where your competitors are achieving higher sales targets? Don't lose hope. We have an attractive way to boost your sales, and you can easily achieve higher sales than your competitors.
Customer engagement and sales are directly related to each other. Both can be enhanced using mobile retail. Mobile retail execution helps retailers provide fast, accurate, and flexible services that attract customers more than an ordinary traditional way to check the availability of products, create bills and receive payments.
Let's take a look at every important factor that you need to know before implementing the execution of mobile retail.
1 The global states of the retail industry
Understanding the global condition of the retail industry is essential for retailers, investors, policymakers, and industry analysts, as it enables them to make informed decisions, develop strategies, and identify development opportunities in various markets.
According to research, the global retail market sales in 2022 were over 27 trillion U.S. dollars and are expected to increase from 30 trillion U.S. dollars till 2024. Physical stores, E-commerce, omnichannel retailing, and mobile commerce are the trending states of the retail industry with the latest technology and software, especially the use of AI to boost retail businesses worldwide.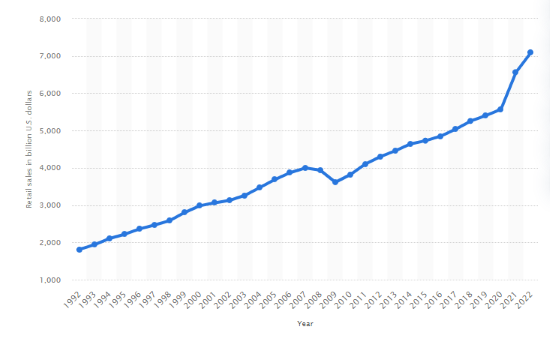 2 Everything you should know about mobile retail execution
What is mobile retail execution?
Mobile retail execution means adding mobile devices like smartphones and tablets to the retail stores to support the staff and enhance customer experience.
Mobile retails have extensive use in stores. It includes systematic and well-managed inventory management, merchandising sales, order taking, and improving customer interactions.
Mobile retail also enables the staff to respond quickly to customer queries by accessing critical data in seconds and assisting accordingly.
Importance
Retail mobile execution plays a vital role in the growth of a retail business. People often visit stores with attractive looks and innovative technologies to ease customer purchasing.
Online Payments: People now use mobile banking apps to pay for services. Successful retail stores have flexible payment methods for their customers like cash, debit, or credit cards, and online banking.
Real-time access: Mobile devices provide retailers and store staff access to real-time inventory, pricing, promotion, and consumer data. Access to such information enables them to make informed decisions and react swiftly to customer requirements, resulting in increased productivity.
Flexible task performance: Various operational tasks like store audits, updating product information, and completing sales transactions get flexible and convenient with mobile retails. Retailers can also access the database remotely on mobile retail devices and update the information even when not in the store.
System integrations: Integrating mobile retail devices with various software and applications provides retailers with a consolidated view of their operations, streamlining processes and simplifying tasks. Their integration with other retail systems, such as point-of-sale, and CRM is seamless.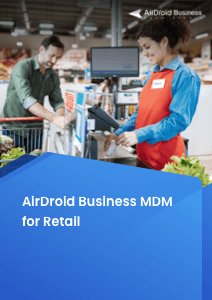 Datasheet
AirDroid Business MDM For Retail
Remote manage, control, and troubleshoot all your retail devices with one MDM solution tailored for your business. Keep your POS machines, digital signage, self-service kiosks always up and running with timely IT support.
Download
Benefits
Improved communication between retailers and employees
The retail mobile device is an efficient way to create a bond between customers and retailers. Instant messages about promotions, discounts, latest products, and their descriptions engage customers. Fast and effective customer support creates a positive impact on consumers.
Increased efficiency and productivity
Mobile retail execution transforms manual work and automates most of the operations. For instance, sales representatives can use mobile devices to access product information, check inventory availability, and process orders on the spot, thereby eradicating the need for manual documentation.
Enhanced customer experience
Retailers can provide consumers with more personalized and expedient service with mobile devices. With these devices, they can access customers' profiles to view their purchase histories and provide them with individualized recommendations to purchase with proper product descriptions.
Real-time data collection & analysis
Mobile retail execution tools facilitate the accumulation of real-time data, allowing retailers to gain valuable insights regarding their operations, and market trends. This data can be analyzed to identify enhancement opportunities, optimize inventory management, monitor sales performance, and make data-driven decisions.
3 Top 5 mobile retail execution solutions
Here are the top 5 mobile retail execution solutions for you:
Progress retail
Progress Retail is a mobile retail execution solution supporting modern retail operations to streamline business transactions and achieve good customer feedback.
Progress Retail operates as a hub for retail stores focusing on three important sections. It includes operations, learning, and performance. It streamlines real-time communications, task execution, and file library management. Reporting helps to analyze the previous data and make decisions. It is used mostly by mid-level retailers.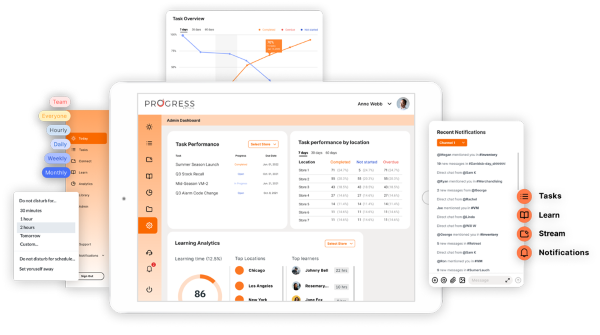 Promomash
Pomomash is a wonderful software used by the marketing and advertising industry. It provides the best services to plan and execute promotions for retail stores and a complete toolset providing field marketing, and trade promotion management plans to engage more customers and grow your business.
Schedule field carious activities
Compare plans with the actual performance
Manage the whole marketing lifecycle easily
Suitable for small industries
TeletrackLIVE
TeletrackLIVE is a cloud-based retail execution platform widely used by small businesses. It provides end-to-end execution for brands and agencies who want to improve their brand awareness. It provides an intuitive interface for the management portal that helps to optimize routes by an inbuilt route optimization view.
Easily manage the KPIs, SLA, and other reports with TeletrackLIVE
Enable administrators to track the GPS location of staff
Povide HR software features to manage staff attendance and other details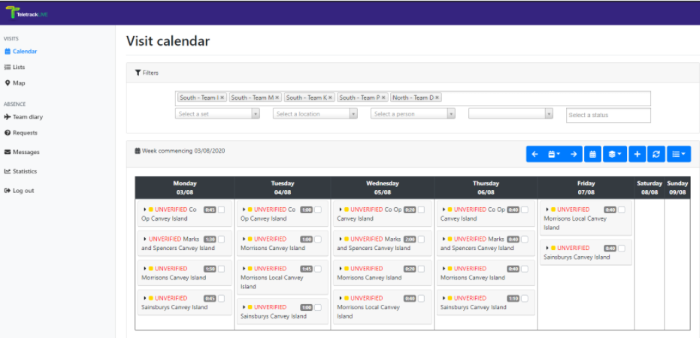 Luminate Store Execution
Mid-sized and large enterprises utilize this mobile retail software, especially inventory management. It resolves all the issues related to storekeeping, thus enabling the staff to spend more time dealing with customers.
Help retailers optimize routine operations needed for inventory management and pricing
Stock is well managed and maintained, hence easily accessible
Improves customer loyalty by saving time and instantly delivering products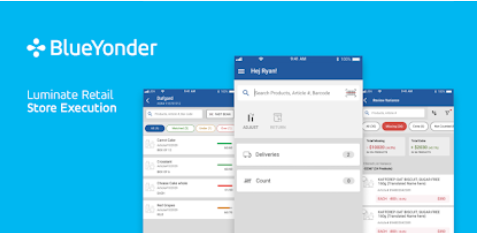 QVALON
QVALON is a web-based mobile retail execution software that helps retailers bring consistency, efficiency, customer satisfaction, and a cost-effective approach for businesses. The importance of this software is almost equal in most mid-level and large enterprises.
The store team utilizes QVALON to track the issues and conduct regular inspections & audits
The management team can monitor the analytics to observe the performance in real-time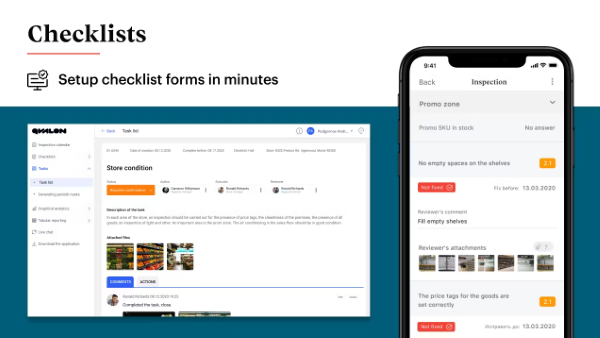 4 Challenges in implementing mobile retail execution
Implementing a mobile retail execution solution can be challenging for retailers. Here are some possible challenges that retailers might face:
Data integration: Integration of mobile retail execution solutions with the existing database and other solutions is necessary to run the store smoothly. Retailers might be using POS, CRM, and inventory management solutions, and their seamless connection with mobile retail is important. Retailers must verify system compatibility and proper planning should be done before finalizing the solution to minimize risks.
Adopt the new technology: After implementing the retail solution, the first thing to do is transform the culture and learn new things according to the latest trends. Retailers need to adopt the latest technology instantly, have more technical skills, and receive adequate training. To encourage employee acceptability and adoption, retailers must invest in change management strategies, provide exhaustive training, and convey the benefits of the mobile solution.
Security: The use of mobile devices in retail can pose many security concerns. Those devices contain sensitive business information, customer data, or backend system access that can badly impact if exposed to unknown users. Retailers are required to implement stringent security measures to prevent data breaches, unauthorized access, and device larceny. It includes enforcing device security policies, instituting secure log-in and authentication protocols, encrypting data transmissions, and frequently updating software.
5 Ensure that retail execution software is installed & up-to-date on all devices
Keeping the retail execution software up-to-date ensures the availability of the latest features for smooth and efficient working. The software updated with the latest security features helps to remove maximum bugs.
AirDroid Business MDM is a comprehensive solution that enables admins to remotely manage the app deployment, installation/uninstallation, and updating of software across various devices, making it ideal for retail execution management.
Key features of AirDroid Business
The option to test-release the applications before deploying them to all devices, minimizing the risks and potential disruptions.
Customize security policies and set strong passwords on devices. Even you can remotely wipe the data and factory reset the devices if lost.
It supports retailers in setting up private app stores on the devices and analyzing the app usage details.
Retailers can set kiosk mode on the devices to ensure that employees can only use the device for official purposes by setting the kiosk mode for single/multi-app mode on the device.
6 Best practices for mobile retail execution
Retailers can maximize the benefits of mobile retail execution and improve customer satisfaction by following these practices:
Choosing the right mobile devices and software
To choose the appropriate mobile device and software, you must consider the compatibility and durability of mobile devices with existing systems. You must ensure the software is perfect for your retail business and prefer a single software providing overall support in all retail management processes.
A perfect retail execution software must enable retailers to make well-informed decisions, conduct exhaustive research, and conduct pilot tests from industry experts.
Employee training and support
Retailers must invest in comprehensive training programs to ensure employees can use mobile devices and software effectively.
Business must provide hands-on training, user guides, and online resource access. They must establish a support system that allows employees to seek assistance and troubleshoot issues. Employees must be encouraged to ask inquiries.
Establishing clear guidelines and expectations
Employees can better comprehend their duties and responsibilities when they know their expectations. Retailers should define explicit expectations and guidelines for using mobile devices in retail execution and communicate employees' policies regarding device usage, data security, and privacy. They must establish performance standards, such as communication and task completion response periods.
Continuous improvement and adaptation
There is a regular change and fluctuation in the mobile retail execution. New features arise daily to overcome the latest challenges. So, it is crucial to cultivate a culture of continuous development and adaptation.
Encourage employee feedback regarding the usability and efficacy of mobile solutions. Retailers must explore opportunities to improve processes and streamline workflows by keeping abreast of mobile technology advancements.
7 Future outlook of mobile retail execution in the retail industry
Soon, mobile retail execution will become more advanced and integrated into the whole retail ecosystem. Application of complex analysis and artificial intelligence will continue to develop.
Chatbots and virtual assistants enabled by AI may also be used to provide individualized assistance and support to customers in the retail industry.
Retailers will use advanced IoT devices such as beacons, sensors, and smart shelving to collect real-time data. This information will maximize store layouts and the overall efficiency of store work.
More advanced technologies in biometric authentication, encryption, and secure data transmission protocols will be implemented to safeguard consumer data and protect against cyber threats.
Was This Page Helpful?