How to Enforce Data Loss Prevention Policy & Tools to Use
Data is like gold in the technology era. After refining, it provides valuable insights that lead to business innovation and growth. Importance as it is, on the other hand, losing or mishandling data could lead to operation disruption and legal liabilities for corporations.
Data protection certainly carries weight, especially in the face of severe cybersecurity. Therefore, having a robust DLP (Data Loss Prevention) Policy is essential for organizations to protect against data loss. It plays an important role in verifying user access as well as monitoring.
We will go deep into DLP policies, including the explanation, types, and protected content, and will discuss best practices for businesses.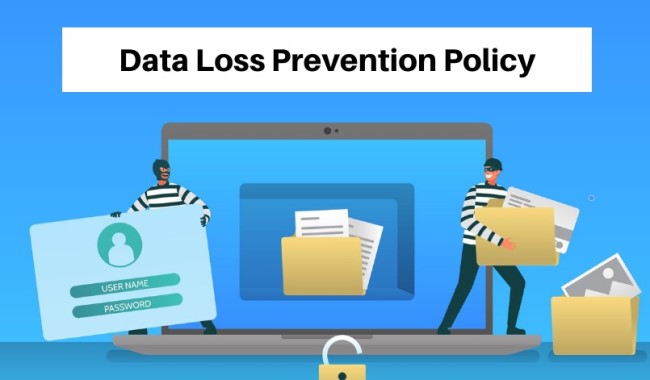 1What Is DLP Policy?
DLP Policy stands for Data Loss Prevention Policy. It's a framework to take precautions against data loss that consists of strategies, procedures, restrictions, and rules which organizations can enforce through administrative or technical means.
Based on the data carrier, DLP policies can be divided into the following five types. Organizations commonly apply more than one approach depending on business needs. Now check the list and see if you need all these security policies.
5 Types of Data Loss Prevention Policy
Endpoint DLP Policy
The Endpoint DLP Policy emphasizes device monitoring and controls user access to devices such as PCs, laptops, smartphones, tablets, and storage devices like USB and memory cards, etc.
Multiple operations can be taken to ensure device DLP compliance and improve data security, for example, disabling USB ports, strong password policy, data encryption, remote wipe, and data flow monitoring.
Cloud DLP Policy
Cloud DLP Policy aims at protecting data saved in cloud service providers, including cloud file storage and sharing, data archiving, data analytics, application testing and development, and network connection.
They all need data leakage protection measures. For example, monitoring dataflow, restricting sensitive data access, employee training, and implementing data encryption at SaaS and IaaS levels, etc.
Network DLP Policy
Network DLP Policy is a series of rules to protect company information from leakage at the networking level. It's helpful to deal with cases like packet loss, network hardware failure, firewall failure, viruses, and more.
Organizations will use DLP tools for configuring network settings and monitoring in order to prevent data loss from the ground up.
Application DLP Policy
Application DLP Policy is a must especially when facing software malfunction or crash as well as defending against cybercrime.
Application management services or mobile application management solutions enable organizations to use applications safely, for example, creating an app whitelist or blacklist, blocking user access, etc.
Regulatory-compliance DLP Policy
Regulatory-compliance DLP Policy minimizes legal risks. Because certain businesses involve personal information, such as patient privacy in healthcare, and governments need to step in. Thus, it is vital to ensure organizations' DLP controls remain compliant with regulatory requirements such as the CCPA, COPPA, HIPAA, etc.
Regulatory-compliance DLP Policy for corporations includes obtaining user consent, private data storage minimization, transparency in user information acquisition, etc.
Knowledge Base
Speaking of data protection, you may meet quite a few words related to the topic, either academic or straightforward. Here, we list some that share the same meaning as Data Loss Prevention.
Data Loss, Leak, and Breach
The terms "data loss" and "data leak" are sometimes used interchangeably, although they do have slightly different meanings. The term "data breach" is sometimes used as a catch-all term to encompass both data loss and data leaks.
Similar DLP Terms in Cybersecurity
Information Leak Detection and Protection (ILDP) and Information Leak Protection (ILP) are similar, as they both refer to detecting and protecting against information leaks, with ILP being more focused on preventing the unauthorized disclosure of information.
Content Monitoring and Filtering (CMF) and Information Protection and Control (IPC) are also similar, as they both involve monitoring and filtering content to ensure compliance with policies and regulations. Extrusion Prevention System (EPS) focuses on preventing sensitive information from leaving the network or organization.
Data Loss Prevention (DLP) is a more comprehensive term that encompasses all of the above and refers to a broader set of technologies and policies used to prevent data loss.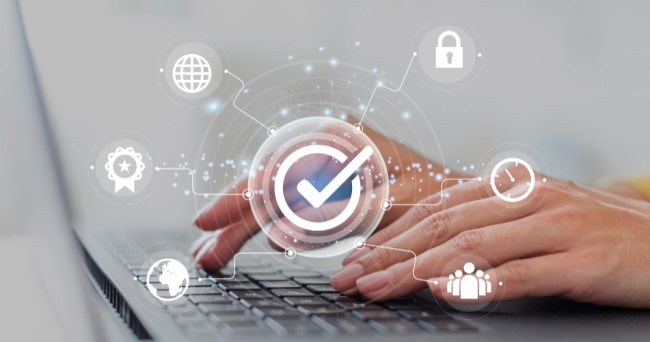 2What Corporate Data Needs DLP Policy
Corporate data is vital in making important decisions, improving performance, and tracking progress. And this makes it valuable for cybercriminals. As you decide to set up a DLP security policy to shield corporate data, you need to figure out the specific items so you can better implement the policy. The table below can give a clear insight.
The data loss protection policy secures the following examples of corporate data:
| Category | Examples |
| --- | --- |
| Financial Information | Credit card numbers, bank account information, financial statements, tax records, investment information, billing information, transaction records, financial contracts, wire transfer details, salary information, expense reports, payroll records, financial analysis and forecasts, social security number (SSN), personal identification number (PIN), and audit reports. |
| Account & Password | Usernames and passwords, security codes, access tokens, encryption keys, passphrases, digital certificates, biometric data, system configurations, network settings, software licenses, OA (Office Automation) system login credentials, and application settings. |
| Employee Information | Employment contracts, performance evaluations, salary information, health information, medical records, contact information, emergency contact information, tax withholding information, visa and immigration information, background check reports, and termination documentation. |
| Customer Information | Names, addresses, phone numbers, email addresses, purchase history, credit card information, social media accounts, feedback and reviews, support tickets, user-generated content, customer preferences, and customer satisfaction surveys. |
| Company Business Information | Trade secrets, patents, copyrights, trademarks, strategic plans, marketing strategies, product designs, research and development information, business proposals, financial reports, sales reports, customer lists, contracts, purchase orders, invoices, supply chain data, vendor agreements, manufacturing processes, quality control procedures, and distribution methods. |
3Understanding How Data Loss Prevention Policy Works
A policy for data leakage prevention contains multiple aspects and should give answers to what to protect, who can access, what tools to use, and countermeasures for data loss. Assigning a dedicated team to draw up the guideline and take charge of the implementation. Here're the main procedures.
1. Classify Data
The first step is identifying the critical data. Metadata tagging and content analysis can be used to streamline data processing. Next, categorize company data into folders according to types, the degree of importance, recovery difficulty, threats that cause loss, or other standards.
The purpose of classification is to better select DLP strategies and corresponding data management tools. Further, to develop an accurate data protection plan.
2. Tailor DLP Policy
IT experts can apply appropriate policies to each data category after data classification. For example, endpoint DLP policy is best for data carried by laptops or mobile phones. It will need tools like MDM or EMM for advanced device settings and access control. As for DLP in networking, organizations can use software to monitor data sharing over emails or other web activities.
3. Protect Critical Data
Back-up and recovery are two main methods to safeguard company data from loss. A data loss policy instructs how many copies should be created, whether to store them on-site or in the cloud, when to update and delete unnecessary information, and if to use batch recovery or others.
A DLP policy also includes safety measures to defeat cyberattacks and viruses. Generally, the company will set up a network firewall or use tools like virus & malware scanners and removal.
As mobile devices play a major role in the workspace these days, protecting device content
rises in DLP security policy. Data loss issues that bring by devices are often caused by human errors. Thus, the policy will enforce access control as well as remote operations on devices.
4. Incident Response
Even though protections have covered all aspects, the DLP policy is unable to give a 100% guarantee. When incidents occur, it should be effective to minimize losses.
The DLP policy may include guidelines that take over bugs, device loss, employee leaving, and other circumstances. For example, to handle device loss, the IT team can use MDM to remote lock the device and wipe its data.
49 Data Loss Prevention Best Practices
Regarding the implementation of a data loss protection policy, here are some tips and industries' best practices to make an effective one. Let's start the preparation stage with 8 considerations.
8 Key Issues to Look At When Designing Organization's DLP Policy
What company information needs a data leakage protection policy?
What are the potential threats to your corporate data?
What data loss prevention strategies are needed?
Is there any legal compliance that must be followed?
What roles and permissions should be assigned to employees?
Any tools are needed for monitoring and enforcing DLP policies?
What is the frequency of reviewing and updating the policy?
How many employees are needed to take over policy and incident management?
If you have figure out the answers of those questions above, a clear plan is ready to bring into pratices. You can now start:
Practice 1 : Itemize and Rank Sensitive Data
Data collection is just the beginning of the beginning. The next step is to systematize classification. Dimensions can go with: types, values, threats, vulnerabilities, and storage locations.
This is an example.
Data Category

Threat

Vulnerability

Examples

Financial Information

External Threats (e.g. hacking, phishing)
Internal Threats (e.g. accidental exposure)
Weak Access Controls (e.g. shared passwords, weak authentication)
Employee bank account,
credit card numbers

Personal Information

External Threats (e.g. email phishing)
Internal Threats (e.g. poor password management)
Physical Threats (e.g. theft, device stolen)
Poor Data Management (e.g. unencrypted storage, unsecured transmission)
Driver's license numbers
medical records

Intellectual Property

External Threats
Internal Threats
Inadequate Security Measures (e.g. lack of monitoring, insufficient backup)
Trade secrets
patents
copyrights

Strategic Business Information

Legal and Regulatory Threats (e.g. non-compliance)
Lack of Awareness (e.g. insufficient training and legal consciousness)
Sales forecasts
market research
business plans
*Note: This is a demonstration of how you can categorize company data based on several standards. You can rank and create folders based on your own.
Practice 2 : Pre-Planning Data Breach Response
The quote goes "The best preparation for tomorrow is doing your best today." It's never enough to make a DLP-security-controls plan to deal with the risks of data breaches.
Reasons causing data loss might come from cyberattacks, sabotage attempts, or human error. Each requires different responses including identifying the breach, locking devices, restricting access, wiping data, taking compromised devices offline, establishing data recovery procedures, and notifying relevant authorities.
Practice 3: Research Local Legal Regulations
It's critical to ensure DLP compliance with the local legal regulations to avoid legal issues. Because sometimes privacy is involved when implementing DLP policies. And the government standardizes numerous regulations to protect the privacy of citizens.
For example, Article 33 of GDPR states, "If a personal data breach occurs, the controller must inform the supervisory authority within 72 hours unless it is unlikely to cause risk to the rights of natural persons".
As a best practice, corporations are better to be familiar with relevant laws to avoid disputes among employees.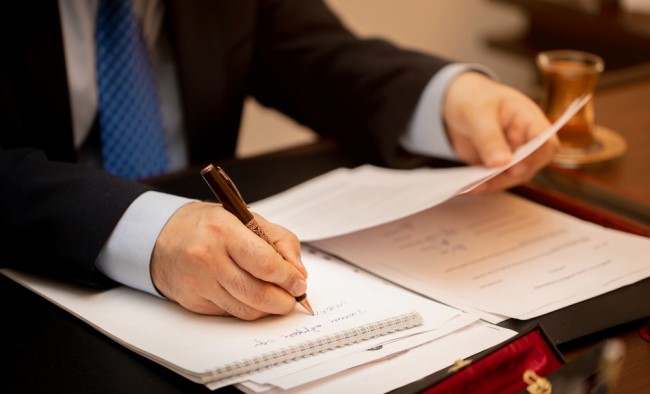 Practice 4: Create a Guideline for Employees
Employees are major participants in data loss prevention best practices. If they actively cooperate, the implementation of the company policy will be better and more efficient. As a policy maker, you need to tell your employees how they can help with the accomplishment.
A guideline is necessary. Here're things to regulate:
Employees' roles and corresponding access.
Employee behavior standards for acceptable and unacceptable behaviors.
Examples of breaking the data loss prevention policy.
Disciplinary actions and legal ramifications.
Reminder to Pay Attention To:
When dealing with employee violations, the level of punishment should consider as appropriate and weigh based on specific circumstances. You can take actions such as verbal or written warning, revocation of access privileges, reduction in pay, legal action, or in the worst case, termination of employment depending on the extent of the violation.
Practice 5: Selecting Data Loss Prevention Solutions
There are many DLP tools that organizations are currently using. Which one to use is usually based on data storage location, capabilities for security controls, automation, backup, encryption technology, and deployment methods. Examples:
Microsoft Purview Information Protection (or Microsoft Information Protection)
Symantec DLP for AWS infrastructure
IBM Security Guardium for DLP monitoring
McAfee Total Protection for defending against viruses, malware, and ransomware
MDM/EMM solution for device security, such as AirDroid Business
1Password password manager for password security
Tips to choose DLP tools:
Storage location: Organizations can select a tool depending on the storage plan on the cloud, like Google Drive, Microsoft One Drive, or Amazon Web Services. They can also opt for on-premises hardware storage, depending on the requirement.
Response measures: In case of a data breach, the DLP tools should have various response measures, such as data blocking, quarantining, and data encryption.
Automation: DLP tool should feature automation to detect essential files, including scanning and report generation. It will enhance productivity and reduce manual workload. Backup of data is critical for data attack mitigation. DLP tools should have automated backup capabilities to ensure data is recoverable in case of a loss.
Encryption technology: Using brute force, hacking a modern AES-256 encryption is currently impossible. The DLP tool should protect data in transit and at rest by powerful encryption.
Deployment methods: Implementing the DLP policy should be convenient and easy to integrate with existing infrastructure.
Detect and alert capabilities: Real-time alerts and notifications help mobilize IT professionals to mitigate and prevent a data breach cyberattack quickly.
Practice 6: Use Powerful DLP Software for Implementation
Companies prefer using a tool suite or a comprehensive one to help data loss prevention policy enforcement. With tools, the burden on the IT department decreases and makes the procedures efficient.
Here take AirDroid Business for instance. See how an Mobile Device Management solution can help with data leakage protection from the endpoint level.
The MDM software provides in-depth control over registered devices containing system settings, apps, and files. You can use the Policy feature to enforce password rules, block USB external device, block file transfer, force encrypt store data, disable screenshot, disable Bluetooth or network, etc. Learn More.
The application is also a major cause of data loss. And you can use MAM(mobile application management) features to configure app usage and settings, such as app whitelist and blacklist, or configure usage over email apps, Google Chrome, etc.
Other security features are provided: alerts, kiosk mode, remote wipe, remote lock, geofencing, and reports.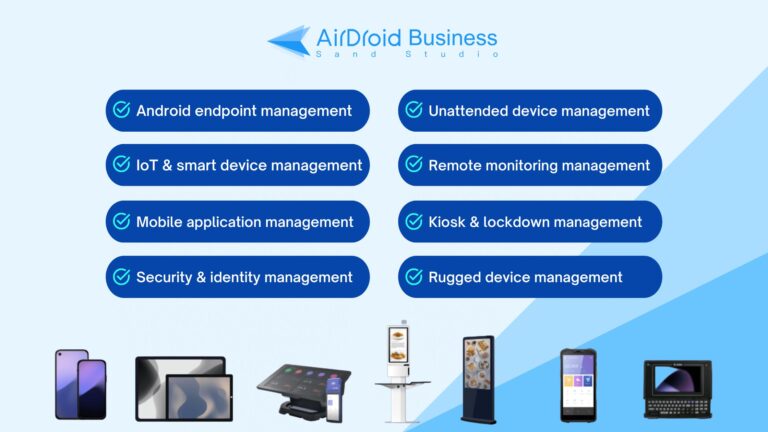 Practice 7: Regularly Update Sensitive Data and User Access Checklist
It is a good practice to ensure that the IT administrators update changes within the organization, like the removal of any unnecessary data or archiving appropriately. As user access monitoring go deeper, the IT team should reassess employee permissions to use corporate data. This will reduce misuse and improve the overall security posture.
Practice 8: Educate Employees to Protect Data Securely
Organizations hold regular seminars to ensure their employees have the latest information on cybersecurity threats. Companies should provide written guidelines and training materials, conduct regular reminders, and involve employees in decision-making.
Consistent communication and clear expectations are crucial for effective education. In addition, the employee's daily activities should reflect cybersecurity concerns, leading to better administrative control of the DLP policy.
Practice 9: Review and Update DLP Policy
As a good practice, organizations review their DLP policy once an annum. Updating the DLP policies concerning the changing government policies and organizational needs will strengthen cybersecurity and prevent data loss.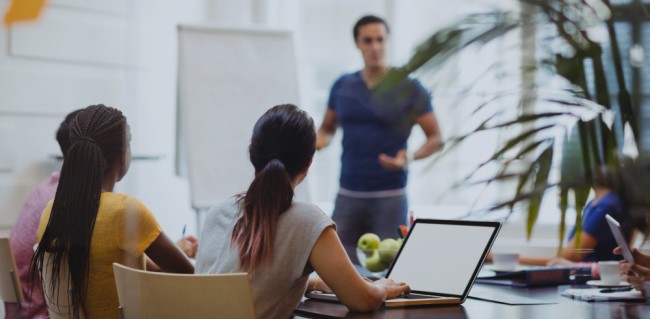 55 Benefits of Having a Data Loss Prevention Policy in Place
There are financial as well as non-financial advantages. Here are the top 5 benefits that DLP policy will have on your organization:
1) Mitigates Insider Threats
According to an IBM security report, malicious insider attacks cost $4.18 million to organizations in 2022. A survey by Egress found that 94% of IT leaders are concerned about insider threats. Monitoring data flow through mail and applications and reviewing data logs protects from an insider threat. Having a DLP policy in place enhances the monitoring of data flow and designates sensitive information access rights to limited personnel.
2) Protects from Cybersecurity Threats
Cybersecurity threat is real. According to a survey by IBM, 83% of organizations studied have had more than one data breach. DLP policy ensures robust protection against these threats by implementing data encryption, secure login methods, access control, identification of sensitive data and device monitoring.
3) Legal Compliance
Ensuring that the DLP policy aligns with the local laws is critical. For example, The US HIPAA sets rules for protecting sensitive patient data. According to the 2021 Report to Congress on Privacy Rule and Security Rule Compliance, OCR received 34,077 new complaints alleging HIPAA rule violations in 2021. The staggering number in one sector represents the importance of having a DLP policy. By implementing comprehensive software, privacy laws are adhered to with little effort.
4) Reduces Reaction Time
The time to identify a data breach is known as the breach lifecycle. A mitigation strategy and automation system reduce reaction time for IT departments to identify and plug cybersecurity loopholes. For example, companies with fully deployed security AI and automation experienced 249 to identify and contain the breach versus 323 days without automation.
5) Enhances Customers' Trust
Customers do business with organizations with which they can trust their data. Mckinsey's insights state that more than half (53%) of the respondents state that they only purchase or use digital services if the company has a reputation for protecting its customers' data. DLP policy ensures that sensitive personal data such as social security numbers, passports numbers, addresses, contact numbers, and credit card numbers have enhanced security measures.
AirDroid Business MDM - Data Loss Prevention Solution
AirDroid Business is an award-winning MDM software for implementing DLP and MDM policies.
It can enforce strong passwords, restrict USB access, perform remote-wipe in case of a data breach, and restrict data transfer via email or cloud storage. In addition, through geofence-based action triggers AirDroid ensures regulatory compliance with local laws.
Related Questions
How often should DLP policies be reviewed and updated?
Typically organizations review their DLP policies at least once a year. However, the emergence of new technologies, regulation changes, the latest compliance requirements, and cyberattack methods requires regular review. Therefore, employers should conduct systematic training and awareness programs to educate employees on the latest policies and best practices for data protection.
What technologies can be used to support a DLP policy?
There are several technological solutions to support a DLP policy. The most common ones include endpoint security software, network security tools, cloud security solutions, and encryption software. These technologies are essential in identifying and protecting sensitive data, monitoring its movement, enforcing security policies, and preventing data loss or theft. By implementing these tools, businesses can ensure that their data is well-protected and that their customers can trust them with their sensitive information.
What are the consequences of a data breach?
The consequences of a data breach can be financial and non-financial. Governments protect their citizens' privacy through laws. Violating such laws due to no DLP policy may result in legal action. Moreover, it can affect the company's trustworthy image and may cause a halt of operations in case of neglect. Loss of trade secrets can lead to corporate espionage.
What are the main reasons that cause data loss?
Data loss can occur due to various reasons, from poor cybersecurity or lack of employee training. Hardware failure, hacking, phishing, unauthorized data transfer, human error, insufficient data backup, weak passwords, and using unauthorized applications can cause data loss. Powerful MDM software such as the AirDroid Business can implement a robust DLP policy to prevent data loss.
Was This Page Helpful?