How to Track a Car with GPS for Free
In today's world, technology continues to advance in new and exciting ways. It allows us to accomplish more than we have ever been able to in the past, and it also introduces some unique problems. Tracking can be a great tool to keep track of something, like a car.
In this article, we'll explain exactly how you can track a car with GPS for free. We'll cover why you might want to track a vehicle with GPS and what kinds of apps are out there to help you do this. Keep reading now to get all these details and more.
Types of GPS Vehicle Tracking
Vehicle tracking systems employ Global Positioning System (GPS) technology to track and locate vehicles in real-time accurately. With a myriad of options available, it's essential to understand the different types of vehicle trackers to choose the one that best suits your specific needs.
Whether it's a dedicated device or a smartphone-based tracker, we will cover the most helpful free GPS vehicle trackers and their functionalities, providing a comprehensive overview of the available options.
1. Online GPS Tracking Services
Online GPS tracking services use web-based platforms or software applications to track and monitor vehicles. These services typically require a subscription and are accessible through a computer or mobile device with an internet connection. The tracking detail is usually displayed on a map interface, allowing users to view live vehicle locations, speed, and other relevant data.
Online GPS tracking services offer a wide range of unique features, such as geofencing, alerts, historical data analysis, and reporting. They are commonly used for fleet management, enabling individuals and businesses to optimize routes, monitor driver behavior, and improve overall efficiency.
2. Dedicated GPS Tracking Devices
Dedicated or mini GPS tracking devices are standalone hardware units designed specifically for tracking the exact location of assets. These devices are typically installed in the vehicle and use GPS technology to determine the vehicle's location accurately.
These small-size tracking devices often have bigger features, such as built-in accelerometers to detect extreme driving events (such as sudden braking or acceleration), internal memory for storing tracking data, and the ability to transmit data via cellular networks. These gadgets offer better battery life and more accuracy when compared to smartphone-based trackers.
3. Smartphone-Based GPS Tracking
In the latest Android and iPhone versions, you will find the location feature compatible with GPS technology. You can easily install a tracker application and utilize the GPS capabilities of smartphones to track and monitor vehicles. The application uses the smartphone's GPS receiver to obtain location information and transmits it to a server or cloud-based platform for visualization.
Smartphone-based GPS tracking often offers features similar to online GPS tracking services, including real-time tracking, geofencing, and alerts. This type of tracking is popular among individuals who want a cost-effective solution without additional hardware. However, it may have limitations in terms of battery life and may rely on cellular network coverage for data transmission.
How to Track a Car with GPS for Free
There are a few different ways you can track a car with GPS without paying any money.
1Built-In GPS Tracking
Many cars nowadays come with pre-installed GPS trackers that allow the driver to get quickly from point A to point B without knowing the route they're taking themselves. This technology can also be used to monitor where the car is at any given time since the built-in GPS is always connected to a satellite.
Many such cars will also have built-in connectivity features, allowing you to keep tabs on your ride from wherever you may be. Use the car's feature on your phone to start tracking, and you'll be able to see exactly where your vehicle has been.
2Using AirDroid Cell Phone Location Tracker
Another way to track your car with GPS is by using the AirDroid Cell Phone Location Tracker. If you install its companion app on an old phone and put it on your car, you can use it to track the car and monitor it surroundings.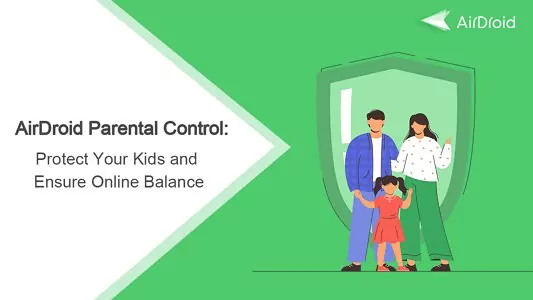 That's right, by using the AirDroid app, you can track the location of any paired device. It means you can track where your kids (or someone else) are taking your car without actually having to track the car itself.
Key Features
Track a car with GPS for free
Watch and hear car surroundings
Set Geofences for a car and get instant alerts
Monitor online activities and ensure online balance
To install and use the AirDroid Parental Control app, follow the steps outlined below:
1. Navigate to the app store. Download and install the Airdroid app on your phone.
2. Launch the app and go to a login page. Fill in your account information and then log in to Airdroid.
3. Download and install the Airdroid Kids app on an old device you wish to use to track the car. After setting up some necessary settings, bind the two devices with a pairing code.
4. Put the old device into the car; you'll be able to track the location of a car or any partner device!
3Google Maps's Save Parking Feature
The situation often arises when you need help finding your car and are stuck looking for a long time to find it in a huge parking area. Google Maps has resolved the issue and offers a native "Save Parking feature to track a car with GPS for free. It is a suitable way to recall the precise location where you parked your auto. Here's how to track a car with GPS.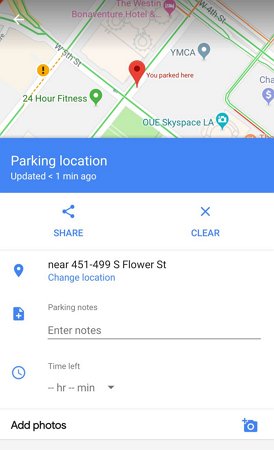 Step 1: Once you have arrived at your desired parking spot, park your car and exit the vehicle.
Step 2: Check the Google Maps app; it should display your location on the map.
Step 3: Look for a blue dot or a blinking blue location marker indicating your current position.
Step 4: Tap on the blue dot or the location marker to bring up a menu with additional options.
Step 5: Select the "Save your parking" option in the menu that appears. This action will save the current location as the parking spot.
4SpotAngels App
The following way to track your car is through the SpotAngels app.
This app is primarily used to help you find parking in busy areas where parking spaces are limited or hard to find. The app's creators decided to make something like this after their car got towed, and they had to pay a large sum of money to get it back. So by using SpotAngels, you can quickly mitigate the risks of getting pulled and finding parking.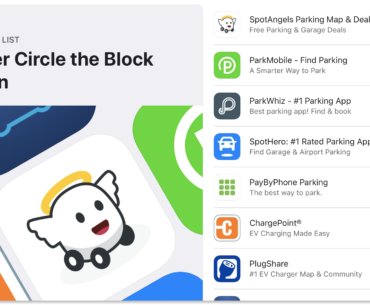 SpotAngels uses GPS tracking to monitor free parking spaces, tracking the location of your car simultaneously to make things more efficient. So while the app's primary purpose is to help you find parking, you can also use the app to track your car and keep tabs on it while it's parked and you're out and about. This app's core features are free to use, so don't be afraid to try it out!
5Track Car with Onstar
Still, wondering how to track a car location? OnStar is a comprehensive vehicle tracking and assistance system with a full-fledged Guardian app to ensure the safety of your loved ones. The software utilizes GPS technology and data connectivity to monitor and locate vehicles in real time.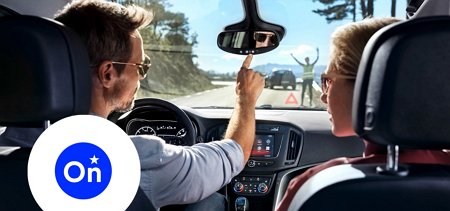 With OnStar, tracking a car becomes effortless and efficient. As soon as you enroll in the OnStar service, you can access a range of features, including stolen vehicle assistance, remote vehicle diagnostics, and emergency services. In case of an emergency, the support team is available 24/7 to assist and respond to any unusual situations.
Another Cheap Way to Track a Car With GPS
If you're okay with spending a little bit of money, you can track a car using a GPS device. Many of these devices come pretty cheaply now that most people don't need them since GPS is built directly into most phones and many cars now.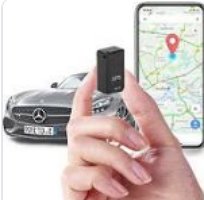 By installing a GPS device, you can see anywhere your car goes. Most GPS devices will have an app that can go with your phone, allowing you to keep tabs on where your car goes without using any other app or device.
Bonus: Recommended GPS Tracker for Car No Monthly Fee
Numerous GPS trackers are available on the market; most are premium and expensive for an individual user. When it comes to cheap versions, they may fail to function or show range issues when needed most. Based on research, we have compiled a few best GPS trackers that do the job well and require no or minimal fees.
TrackmateGPS Mini PRO II LTE 4G GPS Tracker
The TrackmateGPS Mini PRO II LTE 4G GPS Tracker is a compact and versatile device for various applications. It utilizes 4G LTE technology for fast and reliable real-time tracking. The tracker offers features like geofencing, speed alerts, and location history.
A hidden GPS tracker on car can be easily installed and provides accurate location updates, allowing users to monitor their vehicles remotely. The device also includes a backup battery, which ensures continuous tracking even if the main power source is disconnected.
CUBE GPS Tracker for Vehicles
The CUBE GPS Tracker is specifically designed for vehicles and offers a range of features to enhance tracking and security. It provides real-time location updates using GPS and GSM technology. The tracker can be easily attached to a vehicle's OBD-II port for quick installation. It offers features such as geofencing, speed alerts, and trip history. The CUBE GPS Tracker also allows users to monitor vehicle health and diagnostics, providing valuable insights for maintenance and efficiency.
LandAirSea 54 GPS Tracker
The LandAirSea 54 GPS Tracker is a compact, portable tracking device suitable for various tracking needs. It offers real-time tracking and location updates using GPS technology. The device is small enough to be placed discreetly in vehicles, backpacks, or other assets. It comes with features like geofencing, speed alerts, and historical playback. The LandAirSea 54 GPS Tracker is known for its durability and long battery life, making it suitable for long-term tracking operations.
Reasons for Tracking a Vehicle with GPS
Vehicles are hard-earned and valuable assets. Unfortunately, even if you take all the necessary precautions, there is always a risk that your car could be stolen. This can make tracking down and recovering your vehicle extremely challenging. This is where GPS trackers come in. Tracking a vehicle with GPS can be beneficial in many ways, as we have discussed a few use cases and the importance of GPS tracking.
Find Your Parked Car
Often, you cannot find your car and are stuck in an enormous parking lot. GPS tracking can be incredibly useful for finding your parked car in crowded parking lots or unfamiliar areas. Using a GPS tracking app or device, you can easily pinpoint the exact location of your parked vehicle and navigate back to it without any hassle or confusion. Even Google Maps offer a native "Save Parking" feature to locate your car quickly.
Monitoring Teen Drivers
GPS tracking allows parents to monitor their teen drivers' whereabouts and driving behavior. Parents can receive real-time alerts on their teen's location and speed by installing a GPS tracking device in the vehicle and even receive updates for aggressive driving or unauthorized vehicle use. This helps ensure their safety and promotes responsible driving habits.
Easy Tracking Stolen Vehicles
If you come across the unfortunate event of vehicle theft, GPS tracking systems play a crucial role in recovering the stolen vehicle. By activating a remote tracking device, law enforcement agencies can track the location of the stolen vehicle, increasing the chances of its successful recovery. GPS tracking significantly aids in reducing vehicle theft rates and serves as a powerful deterrent for potential thieves.
Can I Track A Stolen Car Location by License Plate or VIN Number
If you are concerned about tracking a stolen car through the license plate or VIN, here's what you need to know. Even though if tracker is mounted on the car, it is still somewhat challenging to track a vehicle with GPS since the thief may have removed the tracker or gone out of range. Here are a few recommendations on how to track a vehicle's location by license plate or VIN.
Report the Stolen Car to the Police
The first step is to report the stolen car to the police. Once Law Enforcement has your information, they can put out an alert for your car and start searching for it.
Check Parking Violation Databases
If your car was stolen, the thief may have parked it somewhere and abandoned it. You can check parking violation databases to see if your car has been ticketed. This will give you a general idea of the car's location. You might need an official police report to get this detail.
CCTV Footage
Start canvassing your neighborhood for any security cameras that may have captured footage of your car being stolen. Once you find a few cameras, contact the owners and ask if they would be willing to share the footage with you. Once again, you must show them the police report that indicates the car was stolen. If they do not agree, you can contact the police to get an official warrant and obtain the footage. Make sure to get footage showing the car's license plate, as this will be the most helpful in identifying and tracking down your stolen car.
Purchase a Vehicle History Report.
A vehicle history report will show you the car's registration and service history. This information can help you narrow the search range for your stolen car.
Why GPS Technology Is More Commonly Used in Vehicle Tracking
GPS is a relatively older technology that's been around for a while now. GPS tracking is used in many vehicles and devices, including cars, airplanes, phones, computers, and even tractors. GPS works by sending a signal to a satellite. This signal will then bounce off the satellite and return, pinging the location where the signal was initially sent. In this manner, GPS technology can map and keep track of a single location even while moving. For example, it is how your phone can tell you where to go when you enter an address on your maps app.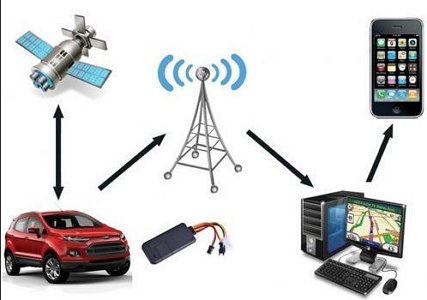 Accuracy: GPS is the most accurate way to track a vehicle's location. GPS receivers can pinpoint a vehicle's location within a few meters, even in areas with poor cell phone reception or where RFID signals cannot penetrate. The technology integrates well with mapping and software solutions, making visualizing and analyzing tracking data easier.
Cost-effectiveness: For businesses with a fleet of vehicles, GPS tracking systems provide valuable tools for fleet management and optimization. Companies can track their vehicles in real-time, monitor driver behavior, optimize routes to minimize fuel consumption and improve overall efficiency. This helps streamline operations, reduce costs, and enhance overall productivity.
Global Coverage: GPS works anywhere in the world, 24 hours a day, 7 days a week. This makes it ideal for tracking vehicles that travel long distances or operate in remote areas.
Reliability: GPS is a surprisingly reliable technology. The signals from satellites and receivers are not affected by weather or other environmental conditions. Moreover, the systems incorporate security features like encryption and authentication to prevent tracking data from unauthorized access, ensuring the privacy and integrity of the tracking information.
Conclusion
GPS tracking can be used for many different things, from finding a stolen car to keeping tabs on your children or spouse. If you need GPS tracking for your vehicle, try the various methods outlined above. For more helpful tech guides and tips, check out our other articles now!
FAQs about Vehicle GPS Tracking
How Do You Secretly GPS Track a Car?
To secretly track a car's GPS location, you can use any of the methods we've outlined above. However, some may be more conspicuous than others. We recommend using apps like AirDroid to track locations in secret.
How Can I Track My Care with My Phone?
As we mentioned above, various apps can help you do this. Check out our GPS tracking tips above.
Can You Locate a Car by Its GPS System?
Yes, by hooking your car up to the car's GPS, you can check its location. You can also interface a tracker with its GPS to do the same thing.
Can My Husband Put a GPS Tracker On My Car?
The short answer is yes; your husband can do this.
How Can I Track My Wife's Car without Her Knowing?
There are various ways to do this, including using a specialized GPS tracker. It may be pricey, so using the methods we've outlined above may also work.
Can I Use Google to Find My Car?
Yes, Google Maps can help you find your car in a parking lot or if your teen is driving without your permission.
How Can I Track My Car without a Tracker?
If you want to know, "Can you track a car without GPS." Yes, you can use your smartphone to track your car's location. There are several apps available that can do this, such as Glympse and Find My Phone. These apps work by using the GPS on your phone to track your car's location. You can then view the location of your car on a map.
How Can I Tell If My Car Is Being Tracked?
It could be a tracking device if you find any strange objects in your car, such as a small box or a device with an antenna.
Was This Page Helpful?