The Complete Guide to HIPAA Compliance
The extensive use of mobile devices is revolutionizing the healthcare industry. More and more healthcare organizations have embraced mobile technology by integrating tablets, smartphones, and other AIoT wearables into the patient care process. Yet, the adoption of mobile devices also gives rise to more threats toward personal data and privacy.
The healthcare sector accounts for the highest number of security breaches compared to other industries. Fortunately, data transmission between different devices or even different hospitals could be safer by imposing HIPAA regulations across all healthcare entities.
With the help of mobile device management (MDM) software, hospitals are empowered to install and enable encryption to make sure personal healthcare information is securely protected.
In this article, we will provide a comprehensive guide on what HIPAA is, how it is impacting the healthcare industry, and how to attain HIPAA compliance for your organization. What you will learn: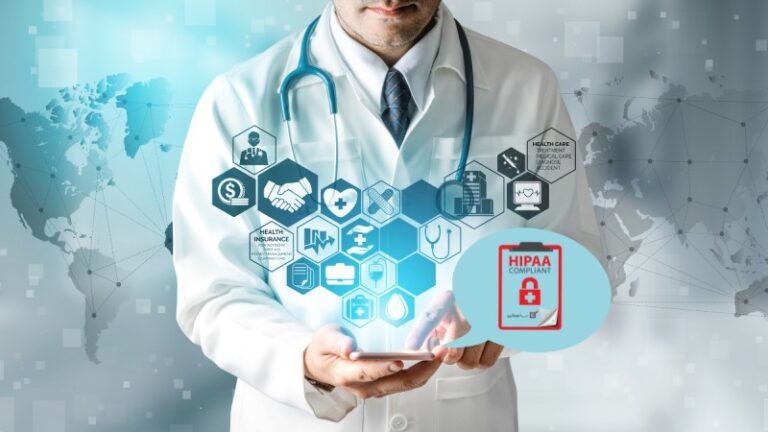 1What is HIPAA, HIPAA compliance and its purpose?
Speaking of HIPAA compliance, we need to first understand what is HIPPA.
HIPAA stands for "Health Insurance Portability and Accountability Act". It is a federal law passed by the US Congress in 1996, intending to safeguard the privacy of protected health information (PHI) and set limits on disclosures or uses without an individual's authorization.
Protected health information (PHI) by definition contains various information. These may be an individual's phone number and email address, social security number, chart number, health insurance number, device identifiers and Internet Protocol (IP) addresses, biometric information (face attributes, fingerprints, or retinal scans), medical data, and laboratory results.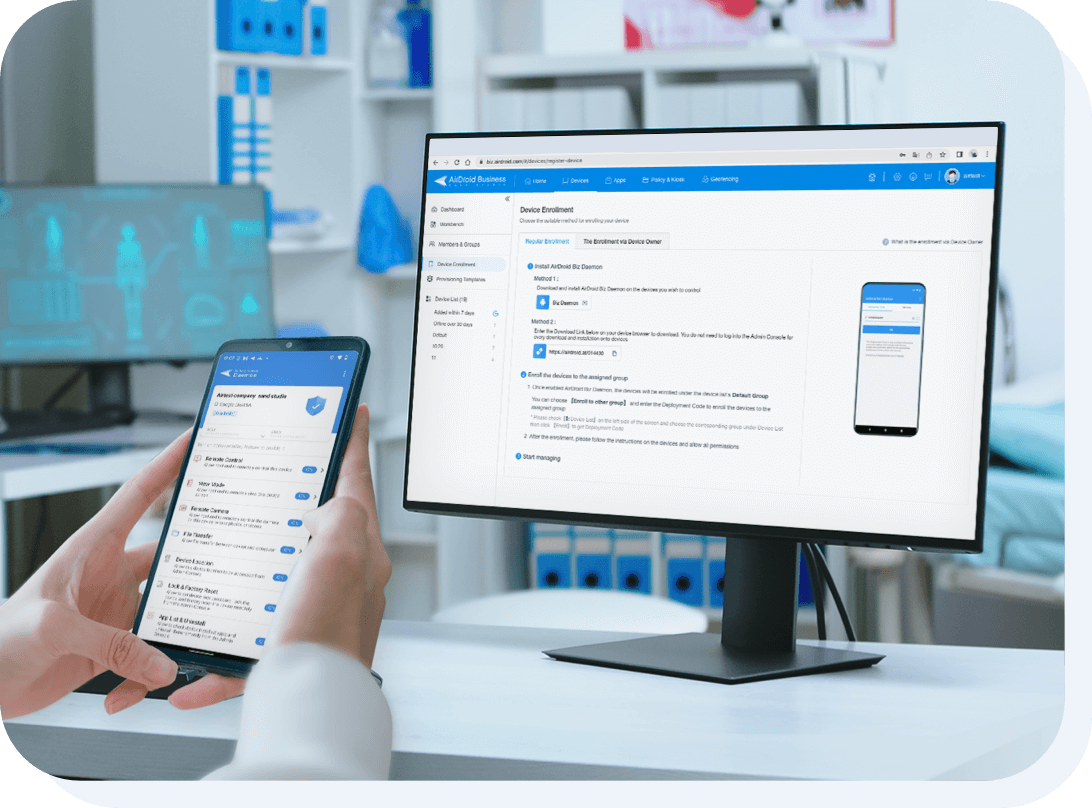 With the prevalence of mobile devices and wearables being part of care treatments, the importance of protecting patient privacy on devices is also calling for more attention these days.
The introduction of HIPAA provides individuals full control over their PHI, including the right to obtain a copy of their medical records and allow other entities to transmit or share their PHI via electronic devices. According to research, 30% of data breaches are hospital-related and 67% of data breaches involved compromised medical information in healthcare organizations.
When it comes to the definition of HIPAA compliance, it refers to the adherence to the HIPPA standards, usually to constrain healthcare providers and organizations involving PHI.
Hence, being HIPAA compliant can help organizations achieve the following three objectives:
HIPAA compliant can help:
Reduce healthcare fraud and abuses to ensure confidentiality in PHI/ePHI
Reinforce the standards for health information
Guarantee security and privacy of health information
2Who needs HIPAA compliance?
HIPAA applies to all "covered entities" and "business associates". Covered entities are anyone who provides treatment, payment, and operations in healthcare. Business associates are anyone who can access patient information, and provide support in medical treatment, payment, and operations.
That being said, from doctors to technicians and administrative staff, everyone must meet HIPAA compliance to maintain the security of patient data.
Moreover, healthcare organizations need to ensure comprehensive procedures are in place should a data breach occur. All the measures implemented should also comply with the Breach Notification Rule.
3Why is HIPAA compliance important for the healthcare industry?
The healthcare industry is undergoing drastic changes in many aspects and being HIPAA compliant can benefit both organizations and patients tremendously.
For starters, hospitals and healthcare institutions like nursing homes handle a huge amount of patient data daily. Secondly, the popularity of mobile health is revolutionizing the way treatments are provided such as remote medical care. Finally, the transition from paper records to electronic copies of health information is being introduced along with the usage of mobile devices (wearables, iPads, etc.).
Abiding by HIPAA regulations means entities are required to use the same code sets and identifiers to help smoothen the transfer of electronic PHI between healthcare providers.
HIPAA regulations also help patients take on a more progressive attitude in their healthcare plans. Patients can actively check their copies of health records and identify abnormal data before continuing their treatments with new healthcare providers. By sharing the most up-to-date patient information, there is no need to repeat the same hospital test but focus on immediate treatment based on the patient's most recent diagnosis.
Here is a quick wrap-up of how HIPAA compliance benefits organizations and patients individually.
HIPAA Compliance

Healthcare Organizations

Patients

Benefits

●Streamlines administrative operations
●Improves work efficiency
●Improves doctor-patient relationship, both on-site and remotely

●Has total control over personal health information
●Proactively sets boundaries on the use and release of one's health records
●Reduces time spent on repetitive tests and improve patient care experience
4What are the HIPAA compliance requirements for mobile devices?
Adhering to HIPAA standards plays an integral role in a healthcare organization's security strategy as well as risk management. It is mandatory for any entity that implements mobile devices in the workplace to enforce a HIPAA mobile device policy to establish secure storage and transmission of patient health data.
Below are some of the HIPAA compliance tips to follow for mobile data security:
Risk assessments: Incorporate all standard defense measures, including firewalls, anti-virus software, malware programs, identity authentication, etc.
Device tracking: Should your device get lost or stolen, you shall be able to locate the device by using geofencing or other device tracking methods.
Information access control: Make sure only authorized staff can access sensitive data and only verified devices can connect to the workplace network.
Data encryption: Consider data encryption for all information stored on mobile devices to avoid potential data breach and HIPAA fines.
Secure text messages: Make sure no PHI is being communicated via text messages by using a secure message app on work devices.
Remote data erasure: Implement a central system that can remotely wipe out data across multiple devices to avoid having personal data falling into the wrong hands.
Secure password policy: Enforce strong password policy on length, composition, and validity period.
Public Wi-Fi network access: Restrict your devices from connecting to a public Wi-Fi via Kiosk Mode to strengthen data security.
Control of app usage: Uncensored apps are also a weak link in data security. Therefore, make sure only permitted apps are allowed to be installed or downloaded onto mobile devices.
Device maintenance: Look for any MDM that offers bulk configuration and group device management to speed up your system updates.
It is also recommended to appoint a HIPAA compliance officer in your organization and provide HIPAA training sessions for all of your staff. Last but not the least, always plan for rainy days. This means your organization needs to have policies and protocols for potential data breaches while making sure you have a plan on reporting to the HHS OCR if necessary.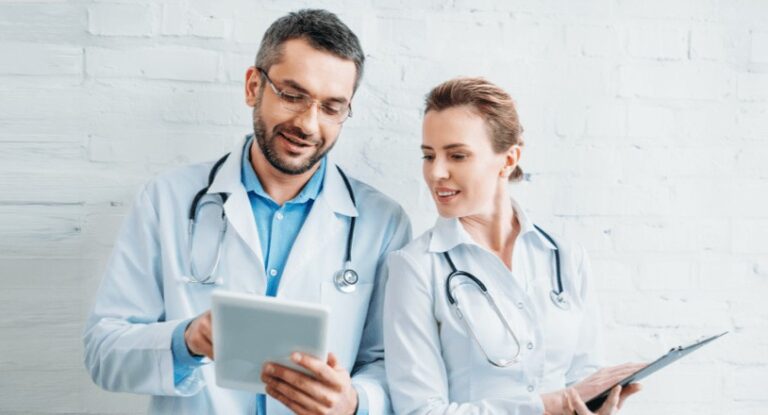 AirDroid Business MDM For Healthcare
Download free guide
Check this guide and see how MDM solutions can help with healthcare industry.
5Penalties of HIPAA non-compliance and HIPAA violation cases
Organizations that failed to comply with HIPAA standards may face significant fines depending on types of violation and the extent of the data breach. Violators could face monetary punishment up to $250,000, jail time of up to 5 years, and even lawsuits (civil and criminal).
In 2022 alone, there were more than 700 reported healthcare breaches. These incidents further impacted more than 40 million individuals.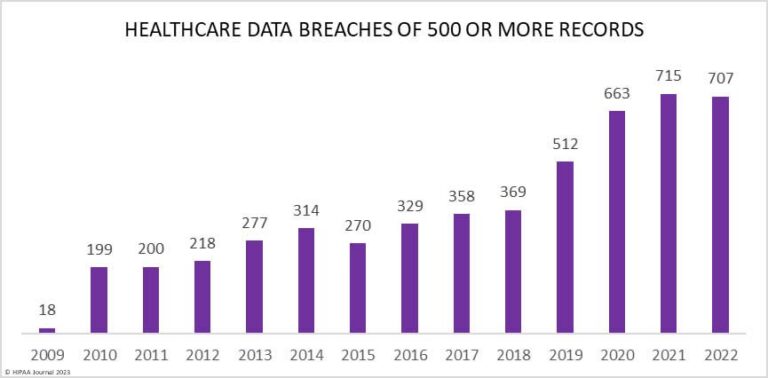 Source: HIPAA Journal
There are three types of HIPAA violations that organizations need to pay heed to:
Administrative: An example of an administrative violation is using the wrong codes on a transaction for claims.

Civil: An example of a civil HIPAA violation is when a healthcare worker denies a patient access to a copy of their PHI. (*Data breach also falls into the category of a civil violation.)

Criminal: A criminal HIPAA violation can happen when a covered entity or business associate (or a member from either one) wrongfully accesses, obtains or transmits PHI without the individual's consent. This type of HIPAA violation will also result in jail time, on top of monetary penalties.
Based on the latest update in the HIPAA Journal, monetary penalties for HIPAA violations can be further divided into four tiers:
| Tier | Violations | Amount of Fine |
| --- | --- | --- |
| Tier 1 | A violation that the covered entity was unaware of and could not have realistically avoided, had a reasonable amount of care been taken. | $100 ~ $50,000 |
| Tier 2 | A violation that the covered entity should have been aware of but could not have avoided even with a reasonable amount of care. | $1,000 ~ $50,000 |
| Tier 3 | A violation suffered as a direct result of "willful neglect" of HIPAA Rules, in cases where an attempt has been made to correct the violation. | $10,000 ~ $50,000 |
| Tier 4 | A violation of HIPAA Rules constituting willful neglect, where no attempt has been made to correct the violation within 30 days. | $50,000 and more |
Below are some of the most significant HIPAA violation cases that occurred in the past few years.
HIPAA Violation Cases
Banner Health
Banner Health is a Phoenix, Arizona-based non-profit health system. In 2023, the organization suffered from a hacking incident that resulted in a PHI leak of 2.81 million individual records, costing the business $1,250,000. This is a typical example of when a healthcare entity lacks secure data protection and access restrictions on devices. Fortunately, this can be easily resolved with the help of MDM software. IT admins can define device policy settings that grant different levels of data access for different users. This way, you may prevent unexpected data leakage or malicious data theft from internal employees.
Life Hope Labs, LLC
Life Hope Labs in Georgia also failed to meet the HIPAA standards in 2023. They did not provide the medical records of a deceased family member within the designated time. This behavior was violating the HIPAA Right of Access, and the organization had to pay a $16,500 financial penalty.
Oklahoma State University Health Center
In 2022, the Oklahoma State University Health Center paid $875,000 in penalties for HIPAA violations. The organization experienced a threat where malware was installed in the hospital's web server and more than 27,000 patients' data were stolen. To avoid future data breaches or similar accidents, organizations can deploy advanced password encryption or create custom roles and permissions tailored to their specific needs.
6Creating a HIPAA compliance checklist
HIPAA compliance risks may vary case by case. Therefore, there are no standardized HIPAA checklists. However, organizations can try to focus on a broad range of compliance areas first before going into details.
Below are four key components to consider when assessing where your organization stands in HIPAA compliance.
4 Key components of HIPAA compliance:
1Privacy Rule
Safeguards individuals' health information and makes sure that patients have the right to access their health records.
2Security Rule
Provides guidelines on how to properly store, protect, and manage electronic protected health information (ePHI.)
3Business Associate Agreement (BAA)
Designed to ensure that any business associate of a covered entity will abide by HIPAA regulations.
4Breach Notification Rule (the Omnibus Rule)
Provides instructions on the procedures to follow in the event of a breach of unsecured PHI.
Getting started with HIPAA compliance by using MDM
The importance of HIPAA compliance in today's healthcare setting cannot be overstated. By learning more about HIPAA compliance and implementing MDM software, organizations will be able to manage bulk devices remotely and ensure all data transmission is secure and legal.
FAQs
Is HIPPA compliance mandatory?
Yes. Due to the serious consequences of healthcare privacy and data leakage, healthcare providers are required to comply with HIPAA regulations. Otherwise, the business will involve in legal, financial, and reputational issues.
What is the key to HIPPA compliance?
First, be familiar with relevant regulations, such as ePHI. Second, use powerful device management tools to prevent data loss. Third, regularly assess database and prepare for risk management. Finally, educate employee awareness of protecting data.
How to ensure HIPPA compliance?
Create and impletement a policy that aims at privacy protection. You will need a team to carry out the policy and monitor. More, you can use a device management solution to help control user access and restrict file sharing.
Was This Page Helpful?