AI Help Desks: Revolutionizing User Experience and Support
Artificial intelligence has made automation a remarkable possibility in nearly every field. This list now also includes help desks managed by AI.
People who have growing businesses can benefit from these AI help desks the most as these help in keeping up with the increased volume of questions from all sorts of customers, thereby improving the customer support experience.
Read on to know more about how these AI help desks are revolutionizing everyday user experience and support for businesses.
1What is a Help Desk?
An AI-powered help desk utilizes artificial intelligence and automation in the conventional IT service management processes in order to enhance the overall effectiveness and responsiveness of IT services and response delivery.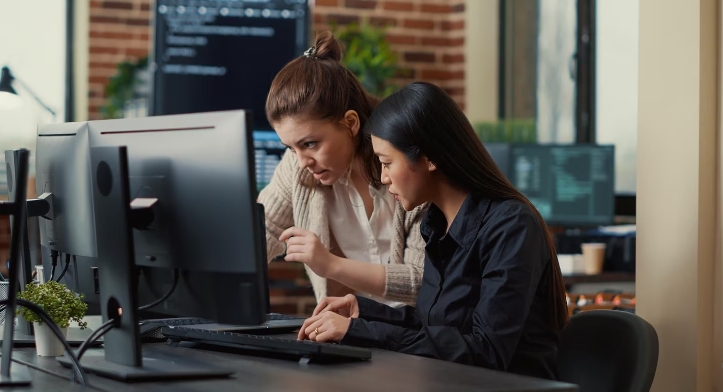 These help desks include chatbots, which assist customers in making the best possible buying decisions. It is made to answer customer queries, gather complete details about what these customers are looking for, and then offer personalized service or product recommendations.
For customers who are looking to save time and get personalized recommendations without having to interact with a human, AI help desks are a great help. Moreover, if you are an introvert by nature and do not wish to interact with any salesperson, AI-powered help desks are your savior!
2How AI Is Helping the Help Desk?
One area in help desk management where AI is advancing is the provision of an automated chatbot experience, which is available round the clock, seven days a week. This means that there will always be 'someone' there to answer customer queries.
Using AI in help desks means the deployment of chatbots by IT support leaders, even if they are very basic ones. In the context of IT service desks, chatbots do not only apply natural language processing (NLP) to carry out a targeted search of their knowledge base.
Virtual Support Agents
Some chatbots can take the customer support experience even further as a way of deflecting repetitive and simple queries before the escalation of complex interactions for a live IT support agent. These chatbots act as Virtual Support Agents, which are a type of virtual assistants that provide tailored capabilities for IT support and assistance in IT management.
The AI help desk chat bots also tend to extend their capabilities by taking certain actions on behalf of the business customers. They can perform different tasks for them, such as password resetting, software deployment, support request escalation, etc.
Incident and Request Prioritization
AI help desks also drive automated prioritization, categorization, and routing of service request tickets. The good thing is that the human IT operator can override AI's suggestions, which means they have not been replaced but are just provided with AI assistance to make their work swifter.
Knowledge Curation
A new capability emerging in AI help desks is knowledge curation, which includes a search function that does not rely on specific keywords but instead tries to understand the context and meaning. It recommends problem solutions based on what the previous users found useful.
3Why Should You Power Help Desk with AI?
Using AI in help desk management can offer numerous benefits for modern businesses.
AI helps desks automate otherwise manual and repetitive tasks without breaking any sweat at all. In fact, no breaks are required as would be needed by your human customer support staff. It brings significant improvement in your overall customer experience by recommending relevant products and personalizing conversations.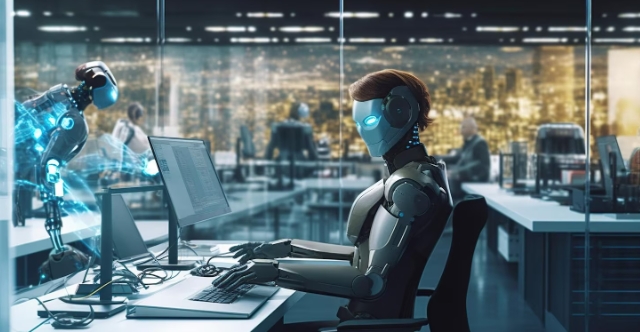 AI helps desks also analyze data at a breakneck speed as compared to human employees, making it possible to reveal consumers' buying behavior.
AI helps process calculations in an error-free way. This capability can be leveraged to make informed decisions regarding one's future investments and much more.
AI allows maximized returns on investments as your human staff will be able to dedicate valuable time towards more complex jobs and building customer relationships.
4Useful Ways AI Can Support Help Desk Management
Every business today is struggling with reducing customer loyalties and looking for different ways to improve this aspect. What is the one way that can revolutionize help desk management for all sorts of businesses? The answer to this question lies in the world of artificial intelligence (AI).
Here are a few of the many useful ways in which AI can support help desk management:
1 Never Ending, Unstoppable, Uninterrupted Customer Support
The most agonizing aspect of IT service management is handling tons of help desk requests and customer calls. Every customer has different needs and wants to be dealt with with the utmost attentiveness. This would mean customer support being available without any breaks.
The story doesn't end here. Customer support agents are also expected to reduce the problem resolution time for each customer request. This is due to the rating system based on the number of requests served and the time taken to serve them.
Introducing AI through chatbots can be a solution to all these problems, allowing you to boost your customer support to a remarkable level. Chatbots can actively handle various requests at a time without breaking any sweat at all, which means that the response time will almost be instant.
Chatbots can provide service to consumers in real time and address tons of questions 24/7 without feeling irritated at all. This takes a massive burden off the shoulders of the agents and puts your business miles ahead in customer satisfaction.
2 Offers Self-Help Service to your Clients
According to a recent report by Microsoft on the state of global customer service, 90% of customers expect businesses to possess an online self-service knowledge base as they wish to find answers themselves before reaching out to any support agent.
The most efficient way of offering self-help to your customers is through a web-based information base. This information base must contain important data such as how-to videos, help articles, and other related DIY guides.
Establishing a self-help service empowers customers to find replies to common questions and resolve small issues without having to contact the customer support staff.
This approach can be taken to another level when an AI-powered chatbot is connected to this knowledge base. This will help the chatbot pull out relevant articles and videos that can instantly serve the customers.
3 Reducing Requests through Human-like Behavior
Using AI in help desk management opens up remarkable avenues for improving the overall customer experience. The AI chatbot can be designed in a way that makes its conversational flow sound human-like. This means that businesses do not need to keep their customer support staff at the forefront all the time since these chatbots are able to conduct natural conversations.
This means that customers can hardly make out whether they are talking to a bot or an actual human being. This will enable businesses to reduce a massive number of customer service requests, ultimately saving up on agents' valuable time that they can invest elsewhere.
4 Cost and Resource Optimization
IT spending has reached an astounding point worldwide. Bringing AI to help desks would simply mean spending less on IT services. It is now estimated that by the year-end, more than 70% of common inquiries will be easily answered by AI without any human support.
Deployment of chatbots on help desks brings down the number of tickets being raised since most of the commonly asked queries will be answered by a chatbot or a customer himself through the self-help portal. This will reduce the service costs significantly, keeping your loyal customers satisfied and happy.
5 Analysis of the Customer Sentiments
Modern AI-based support tools are capable of analyzing customer sentiments in real-time. They can proactively acquire information from customers without requiring any human intervention.
What is even more remarkable is that AI can now conveniently scrutinize the thought patterns of its customers and provide them with an appropriate resolution. This happens instantly, with an understanding of when to ask for more data from the customer.
6 Assisting Consumers in Making Better Buying Decisions
A large number of complaints or service requests are mainly because the customers are making wrong buying decisions.
For instance, a customer might want to return a clothing product because it did not fit them, or they bought an adapter that wasn't compatible with their mobile device.
An AI help desk ensures that the customers make the best purchase decisions by answering customer queries instantly, gathering complete information regarding what the customers require, and offering personalized recommendations to them.
An AI tool can also access a customer's buying history or browsing history to recommend products which the customer has shown preference for.
5The Future of AI in Help Desk Management
The future of AI in help desk management will be shaped and evolved by the upcoming technologies. IT teams will be able to leverage technologies such as AI and gamification to create a personalized experience that will be consistent across all channels.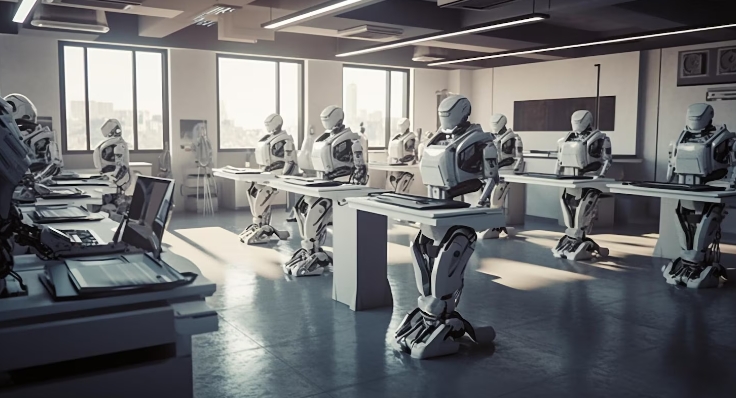 Help desk with AI is expected to go one notch higher with the help of machine learning technology for the implementation of cognitive automation in their help desks. Cognitive automation will greatly speed up the time taken in identification and issue solutions.
Moreover, help desk software will also try to leverage big data technology in the future to capture more data points and analyze them.
6How to Implement AI in Help Desk Management?
AI can be implemented in help desk management by employing service desk chatbots and automatic request routing. Artificial cognition can also be applied to help desk management, making it even more sophisticated with the intelligence of chatbots.
The most significant benefits of implementing AI in help desks is that it can remove any manual overhead that comes along with low-value and high-volume help desk activities.
Now you can discover the transformative impact of ChatInsight on internal AI help desk operations. This cutting-edge AI-powered assistant revolutionizes the way companies handle support by offering immediate access to valuable company knowledge, streamlining problem resolution, and the ability to effortlessly handle growing workloads. Unleash the full potential of your internal help desk teams and experience the advantages of AI by exploring ChatInsight AI now.
Final Thoughts
AI now is a must have for businesses and individuals alike. Integrating AI into the help desks ensures that your customers go through a satisfying shopping experience and would always want to come back. AI help desks will leave your customers thoroughly happy and engaged, thereby bringing even more sales to your business.
Frequently Asked Questions
What's the real difference between a human and an AI help desk?
The real difference between a human and an AI help desk is that a human customer support team can quickly adapt to new situations, learn from past mistakes, and find a way to deal with previously unresolved customer inquiries. The AI help desk will only answer customer questions that have already been uploaded onto its database.
Are there costs saved using AI over traditional help desks?
AI help desks have definitely been a game-changer, making help desk services easier and cost-efficient by reducing the workload on the human staff.
What if the AI help desk doesn't understand my problem?
If the AI help desk doesn't understand your problem, you can always try rephrasing your query. If that doesn't help, you can email the customer support human staff for better solutions.
Was This Page Helpful?