10 Best AI Telegram Chatbots & How to Create It
With over 55 million active users a day, Telegram has been one of the most powerful platforms for personal users and some business users. It is no wonder that lots of people are looking for Telegram AI chatbots, which is another new trend in marketing strategy in 2023.
In this post, we will share the best AI Telegram chatbots and other useful tips you may want to know.
What Is a Telegram AI Chatbot & How Does It Work?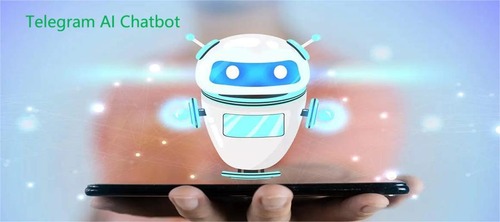 A Telegram AI Chatbot allows you to ask questions, and it also answers your questions according to user intents. It is available 24/7 and customizes each reply based on user intent. The bot uses Natural Language Processing to understand and respond to the customer's messages.
When a user sends a message, it is decoded by NLP to interpret the intent behind the message. This allows the chatbot to generate customized automated replies within 1 second. By using the Telegram AI Chatbot, businesses can offer the followings:
Better customer support
Improved lead generation
Updates on order status, customization, and tracking
Personalized recommendations
Quick response time
Better scalability
Seamless marketing
10 Best AI Telegram Chatbots
There are plenty of AI chatbots for Telegram, and we have picked up the top 10 chatbots for you to choose from:
Free ChatGPT Bot
Free chatGPT bot can be handy for conducting market research, competitor analysis, and effective marketing plans. Equipped with advanced NLP techniques and access to a wide range of data, it can provide more human-like customer engagement.
Moreover, with a deep contextual understanding, it can solve complex business problems. It has a range of customized APIs that can easily be tailored to your business needs.
Key Features
Multilingual Support
Uses modern Natural Language Processing
Multi-turn conversations
Crypto Bot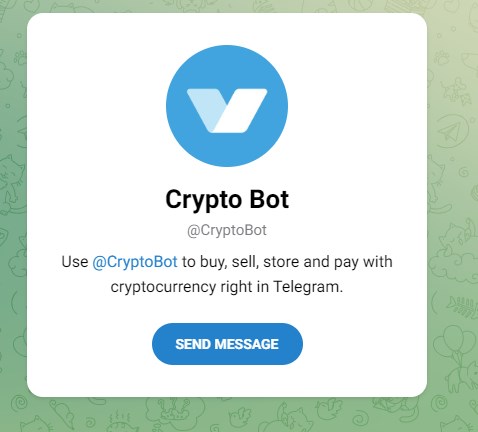 Crypto Bot is quite popular for people who are interested in and specializing in the crypto industry. You can benefit from real-time data on different cryptocurrencies, including rates, market capitalization, history, and the latest news.
Meanwhile, the Crypto bot allows you to reserve credits so the bot can use them to bid for profitable leads. It is customizable and can work with different settings. Thanks to its user-friendly interface, it's easy for anyone to use this chatbot with ease.
Key Features
Optimize sales
Customizable buy amounts
Trend analysis
Secure credit in a declining market
Game AI Chatbot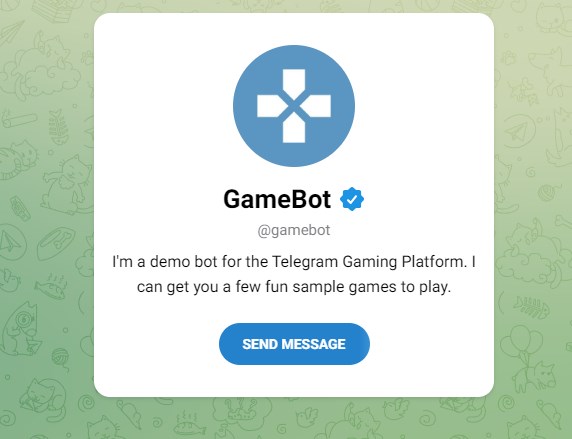 Game AI Chatbot lets you play games on Telegram directly. You can enjoy competing with your friends with features like leaderboards and achievements sections. It offers a sleek interface that hooks the users from the start.
Moreover, it engages the audience with game-related conversations, which is a cherry on top.
So far, the game bot has three games, corsairs, math battle, and Lumberjack, but it is improving continuously and is expected to roll out more.
Key Features
Engaging conversations
Fair gameplays
Intelligent decision making
Continuous improvement and updates
To do AI Chatbot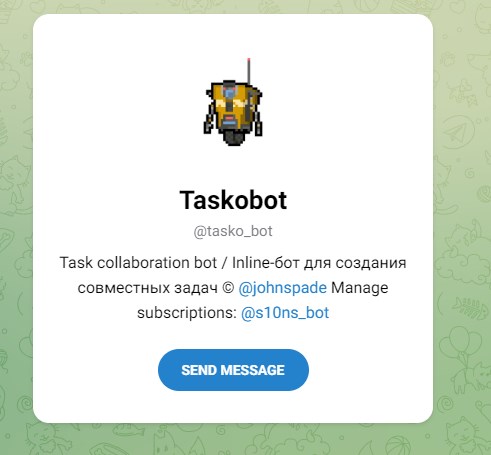 Looking to organize your marketing campaigns? Try "To do AI Chatbot". It helps streamline your daily tasks and sets reminders to make you stay on track. You can use it for time scheduling, multi-tasking, tracking orders, etc.
To do AI chatbot is extremely helpful for people who are carrying out multiple tasks, and using this bot can help in improving work efficiency.
Key Features
Smart marketing suggestions
Reminders and notifications
Improves productivity during campaigns
Collaborative features
Translate AI bot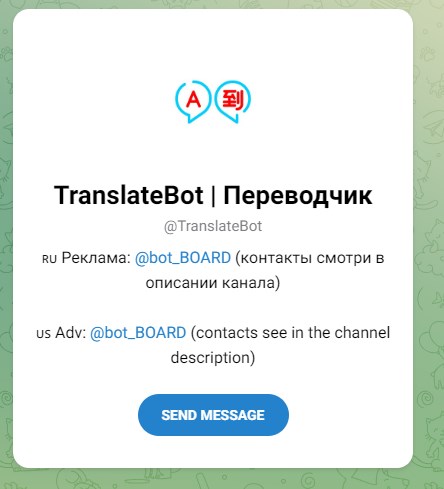 With Translate AI Bot, there's no more struggling with customers who can't speak English. Using this bot, you can instantly translate any message into different languages.
There are many potential use cases for this chatbot; for example, one may use it while talking to a potential lead, importing raw materials from different countries, or talking to customers.
The attractive, user-friendly interface of the bot makes it easy to use for anyone, even if they do not have any technical background. You can just link it with your account and enjoy seamless cross-language communications.
Key Features
Translate what you input in real time
Supports multiple languages
Versatile input methods
Contextual translation
Travel AI Bot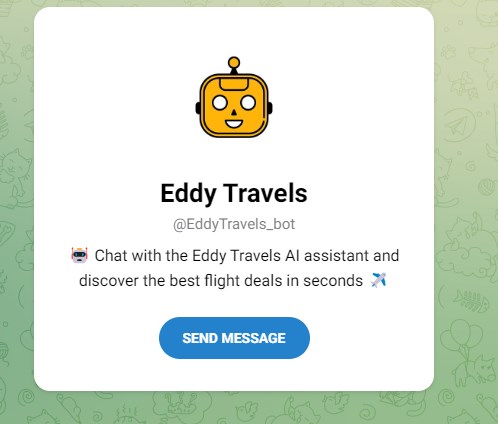 Travel AI Bot works excellently for people who love traveling, those who are planning on traveling, and small traveling businesses.
Travel AI bot has been designed to provide traveling guides, such as transportation (bus, airplane, and railways), accommodation tips, and local guides. You can search for anything related to traveling, and it will offer the answers you need.
You can handle your travel plan as much as possible and enjoy the trip with the help of Travel AI bot.
Key Features
Real-time travel updates
Local trips and insights
Travel recommendations
Language and translation support
Poll AI Bot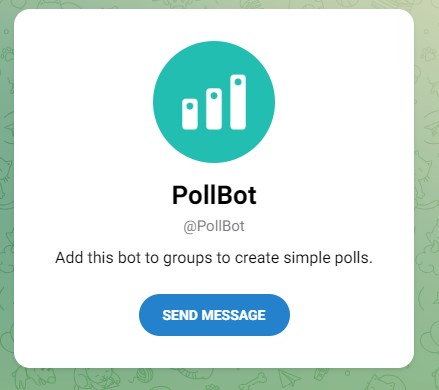 When you have a huge following on a telegram group, it's hard to consistently connect with the members and record their responses for future content marketing strategies. This is where the Poll AI bot comes in.
This bot does all the heavy lifting of creating customizable polls. It can create multiple-choice questions keeping the customer's intent in mind.
Moreover, it also sets the poll duration and the number of required participants. With the poll AI bot, you can always get personalized feedback and recommendations from your audience.
Key Features
Advanced analytics
Poll Creation
Anonymous Voting
Multiple voting options
Movie Bot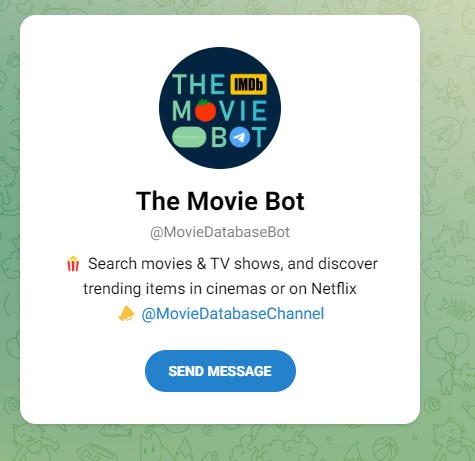 Movie Bot makes sure every user gets real-time ratings of their favorite movies. It provides all the data, including release date, actors, theme, rating, and reviews, to help you decide if the movie is worth it.
Moreover, it keeps users updated on nearby cinema showtimes, ensuring you never miss a scene of your favorite movie. And that's not it. The movie bot monitors your viewing history and creates personalized recommendations on what to watch next!
Key Features
Movie trips and advice
Cost estimation
Services recommendations
Nearby movie theater information
Finance Bot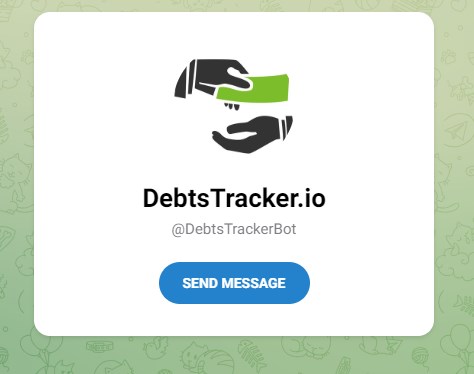 Finance Bot lets you effectively manage your income and expenses. It can connect to your bank accounts, provide transaction history, create budgets, and offer expert financial advice to streamline your income.
It keeps track of every dollar flowing in and out of your accounts and sets your financial goals and budgets according to your transaction history. Doing so keeps you informed of your billing patterns, allowing you to take charge of your and your business' finance.
Key Features
Expense tracking and budgeting
Bill payment and reminders
Personalized financial insights
Investment guidance
Feed Reader Bot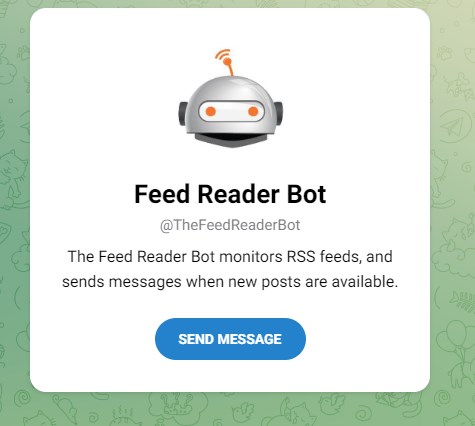 Feed Reader Bot keeps you updated with the current news about your industry. It monitors social platforms, including blogs, youtube, Facebook, and Instagram. Once there is a relevant post, it sends you a notification to your Telegram.
Updating regularly with the industry lets you stay up-to-date with innovative business strategies. It helps you create new offerings for your products and channels your marketing efforts in the right direction.
Key Features
Personalized feeds
Aggregated content
Offline reading
Article summarization
How to Create a Telegram AI Chatbot?
Creating a telegram AI Chatbot may seem daunting, but by following this guide, it should just take a few minutes for you to create your first one.
First, let us explain the basic methodology of creating a Telegram AI chatbot, after which we will create an example.
To start, you need to type "bot father" in your telegram search bar. Then input the command "/newbot". After that, create your name and unique username, and that's it. Your new Telegram AI Chatbot will be created.
Now you have to copy the API link from "botfather" to integrate your bot with Telegram. This can be done using any online integration tool.
Let's explain the steps with an example. We will use the "Free ChatGPT Bot" for it.
Step 1.In your search bar on Telegram, type "bot father".

Step 2.Choose the one with a blue tick.

Step 3.Now type a command "/newbot" to bot father or click the /newbot command from the list.

Step 4.Then create your bot name.

Step 5.Next, write a unique username for your bot and hit enter.

Step 6.Your AI bot has now been created. Now Copy the API under the "use this token" section. Note: don't share the API with anyone.

Step 7.Next, create a new channel by clicking the three horizontal lines in the top left corner and selecting "New channel".

Step 8.Name your channel, and click create.

Step 9.Now open your channel and select "manage channel" by clicking the three-dot icon on the top right.

Step 10.Select "Administrator", and click "Add Administrator".

Step 11.Now search for your chatbot, select it and save changes.
See, that's how simple it was to create a Telegram AI chatbot.
What Is the Difference Between Chatbot and AI Chatbot on Telegram?
While they may sound the same, a Chatbot and AI Chatbot are two very different things on Telegram. Like AI Chatbots, a Chatbot also answers customers' queries, but the responses are limited by certain rules. This means that with Chatbots, there are specific responses for specific queries. A Chatbot does not understand the contextual aspect of the queries and, therefore, cannot adapt based on the user's prompt.
On the other hand, AI Chatbots are equipped with modern NLP techniques that make them respond according to user intent. They are not governed by rules and continuously adapt according to user responses. Moreover, these bots have multi-turns, meaning they keep track of every response to build a rapport with the customers.
| Features | Telegram Chatbot | Telegram AI Chatbot |
| --- | --- | --- |
| Intelligence | Relies on predefined rules | Utilizes AI and NLP capabilities |
| Learning | Limited or no learning | Learns from user interactions |
| Flexibility | Limited in handling context | Understands variations and context |
| Complexity | Handles basic tasks | Handles complex tasks and dialogues |
| Integration | Limited integration | Integrates with external services |
| User Experience | Provides basic responses | Delivers accurate and contextually relevant responses |
| NLP | Basic understanding | Better understanding of natural language and context |
How Can You Improve Experience while Using Telegram AI Chatbot?
Follow the strategies below to improve your experience and get the most out of the Telegram AI Chatbot.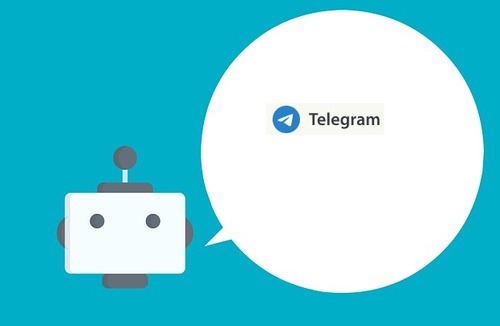 Use Keywords
Using specific keywords in your AI Chatbot helps to get accurate answers while also saving time. For example, if you're searching for information about a specific product in the chatbot telegram bot. Then use keywords like "product name" and "product features" to get detailed and informative responses.
Be Clear and Specific
Remember that Telegram AI Chatbots answer by interpreting your responses. So avoid ambiguous language and be specific. Provide relevant context and details to make things easier for the bot.
For example, if you need information about competitors, just write "Provide me competitor's details about XYZ" in your openAI telegram bot.
Provide Your Feedback
Lastly, if you're getting vague responses and see a lag in your bot, then feel free to contact the bot service. Providing relevant feedback might solve the problem.
Privacy and Security Concerns about Telegram AI Chatbots
Telegram AI Chatbots may store responses, which exposes them to data breaches, cyberattacks, and sensitive data collection. A single mistake of using the wrong bot can easily put your data at risk.
So how to tackle it?
Always study data sharing and collection policies when choosing a bot. Look up if they offer regular updates and data audits. Also, make sure the Telegram AI Chatbot that you're using supports end-to-end encryption in its messages.
Summary
So this was all about the best AI telegram Chatbots and how to create one for your business. AI Chatbots help to improve communications and build improved customer relationships.
Meanwhile, make sure to have a look at the privacy policies before integrating any AI chatbot to keep your data secure.
FAQs about Telegram AI Chatbots
Does Telegram have a Chatbot
Actually, Telegram itself does not own or develop an AI chatbot. You will need to add the third-party chatbots to Telegram if you want to use AI chatbots.
Is there an AI in Telegram?
No, Telegram doesn't have a built-in AI for now. But it may have in the future. It is hard to say.
How can I talk to AI in Telegram? 
If you want to talk to AI in Telegram, you will need to integrate the AI chatbots to your Telegram account first.
Are AI bots illegal?
AI chatbots are legal themselves, but using AI chatbots for illegal activities is against the law. 
Is there a free AI Chatbot for Telegram? 
Sure! There are plenty of free AI Chatbots for Telegram, such as Free ChatGPT Bot.
Was This Page Helpful?