Low key Meaning - Learn Definition, Usages, and Examples
Some words have become really important in the evolving world of language and communication. One of those common expressions that have taken its way and established a presence in everyday speech across the internet and online interactions is "low key."
In this context, we will enlighten you on "low key" meaning, its term's history, and what it means in text and applications, and even look at its opposite, "high key," as we set out to uncover its many layers of significance. Let's get started.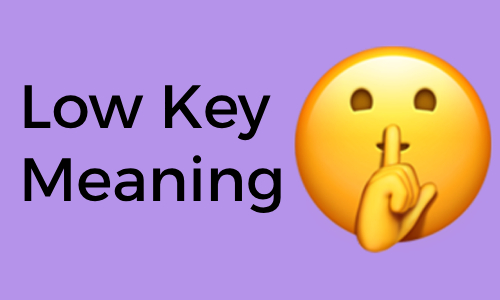 What Does Low Key Mean
"Low key" refers to behaving or acting in a subtly understated way, expressing one's desires or actions implicitly and preferably without drawing attention.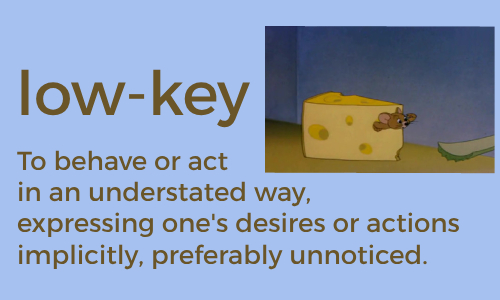 Suppose you want to effectively reduce the impact of remarks or where someone wants to project a casual or laid-back demeanor. In that case, the word usually flourishes in this type of situation.
Low-key brings a degree of restraint or prudence into the conversation as it takes on the function of caution. This dynamic ability of different interpretations turns low key a tool that encourages and communicates active participation from viewers.
Where Did Low Key Come From
The low key definition roots deep into African American Vernacular English (AAVE) soil, where its earliest incarnation emerged as a beacon of calm and unassuming demeanor.
Low key became a favored term for harnessing the power of brevity and relatability to forge connections across diverse audiences and for expression in online discussions, social media interactions, and informal exchanges.
Where linguistic innovation and adaptation thrive, "low key" seamlessly integrated into the evolving tapestry of internet culture in this transformation. To become a shared means of expression in the global digital village, it journeyed from a modest descriptor in AAVE to a widely recognized and embraced slang term epitomizing the dynamic nature of language, highlighting its capacity to transcend geographical and cultural boundaries.
Common Usage Scenarios of Low Key
The common area where "low-key" thrives is talking about one's likes and passions. Without overwhelming the audience, people can express their true emotions making it a vehicle for sincerity.
For instance, stating, "I lowkey love that song," injects a sense of intimacy and vulnerability into the conversation, fostering a meaningful connection by revealing a gentler element of the speaker's personality.
Examples of Low Key in Sentences
The seamless incorporation of "low key" into various contexts shows how adaptable it is as a linguistic tool. It brings the speaker's feelings and thoughts to the listener's open ears sine "low key" acts as a conduit in these typical usage settings. Here are some examples of low key in sentences:
"I'm lowkey excited for a quiet weekend at home, just need some time to relax," you might say.
"She's an artist and she has a little talent; you should see her artwork, it's really beautiful."
"His humor is a sneaky weapon; his jokes are always subtly funny, catching you off guard and leaving you in stitches."
By incorporating nuance, authenticity, and relatability into the exchange, the word "low key" serves as a linguistic amplifier, increasing the texture of the discourse in these instances.
Comparison with Other Related Phrases - Highkey
While low key thrives in subtlety and understatement, high key operates in a realm of amplified intensity and openness.
High key serves as the vehicle for unrestrained enthusiasm, openly showcasing strong emotions or opinions. It functions as a spotlight, directing attention toward the speaker's enthusiasm or conviction.
For instance, when someone exclaims, "I'm highkey obsessed with this show," they express their deep attachment and invite others to share their excitement.
Parenting Tips: Should Parents Worry about Ever-Evolving Slang Terms
The term low key in social media appears every day, and while it doesn't have unintended consequences or indecent implications, not all slang is so innocuous.
As the internet and social style innovations change how children and youngsters communicate and relate with each other, this really increases parents' worries. The constant increase and change of internet slang have gone wildfire which has raised important concerns on how it affects children's language use and their digital experiences as it also reflects the fast speed of linguistics progress of the children.
When it comes to issues like this, especially on parenting on ethical internet use, AirDroid Parental Control offers a reassuring response. Thanks to its message notification and monitoring capabilities, this app helps parents keep in check on whatever their children are doing online while ensuring their digital safety.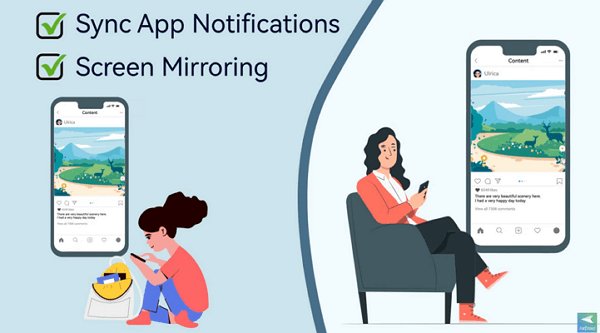 With AirDroid Parental Control, parents can:
Syncing your child's notification sync in the app
Screen mirroring your kid's phone to check their real-time usage
Getting keyword alerts when your kids search for inappropriate words
Setting screen and app usage limits
AirDroid Parental Control achieves a careful balance between encouraging digital exploration and protecting against potential threats by allowing parents to monitor their child's online activity. Also, open discussions about language, slang, and digital responsibility can be fostered by parents as they participate in their child's online experience.
Conclusion
Having gone through this content, we hope you have been enlightened on the meaning of "low key," how it can be used, and how it has gone viral over the years with the aid of social media platforms.
Low key in social media is more than just slang. It reflects the constant evolution and innovation of everyday communication and social networking. AirDroid Parental Control helps parents close the generational division while promoting responsible technology use and open communication.
Was This Page Helpful?