What Is Remote Access? Everything You Need to Know
There has been an exponential rise in the remote workforce across different industries. Analysts have predicted that by 2025, about 48% of the workforce will be working remotely. Apart from remote working, the demand for remote monitoring and support services has been shattering the roof.
Therefore, before you implement remote access solutions for your business, you need to know what is remote access, and the strengths as well as weaknesses of the technology. We will discuss all the aspects of remote access and provide you with the best remote access solutions.
Part 1. What Is Remote Access?
Let us begin from the basics of remote access whereby we will understand what exactly remote access is and what its common types are.
1What Is Remote Access?
Remote access is the ability to access target devices from remote locations. This typically involves using software or tools that allow a user to connect to a system from outside of the physical location of that system.
With remote access, users can perform tasks on a computer or network as if they were physically present at that location, allowing them to work effectively and access necessary resources from anywhere in the world.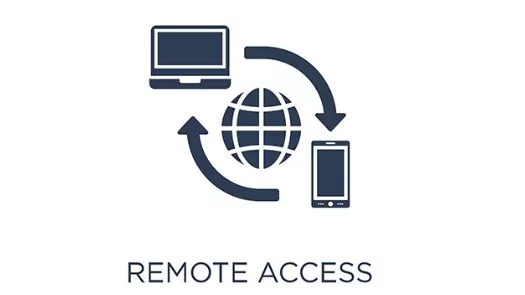 2Common Types of Remote Access:
● VPN (Virtual Private Network)
● RDP (Remote Desktop Protocol)
● Web-based Remote Access
● Telnet
● RAS (Remote Access Server)
Part 2. Use Cases of Remote Access
There are several use cases where remote access solution finds its applications and caters to different sectors. Here are some practical remote access examples you should be aware of.
1. Remote Support
Remote access solution is essential when a company wants to offer or needs remote support services. They can remotely access the remote devices and make changes and fix any issue without on-site presence.
2. Remote Work
Remote access has made remote working possible. The employees can stay connected to the central servers and data centers and fetch the required data and access the required resources. Team members can do collaborative work and access each other's systems.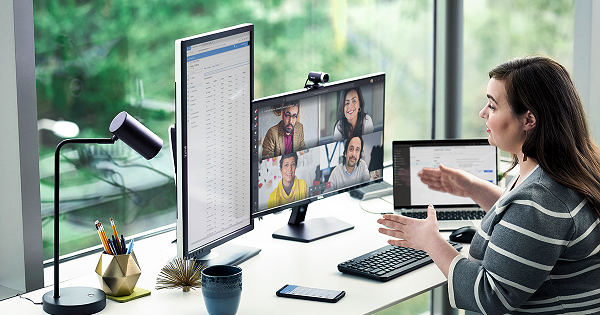 3. Remote Monitoring & Management
You can monitor any device remotely through remote access solution. You can monitor the device's health parameters as well as the activities through real-time screen sharing.
Also, you can remotely control the device for proper management, such as restricting installation and uninstallation, blacklisting websites and apps, changing settings, and other performing administrative tasks.
4. Telemedicine
Telemedicine has become possible due to remote access solutions such as video teleconferencing, remote patient monitoring, and digital communications. The doctors can examine the patients virtually, keep an eye on the readings of the medical devices installed at the patient's place, and likewise.
5. Education
Online education and training are made available through remote access. Real-time video conferencing keeps them connected, while remote accessing is required for illustration and supervision. The instructor can demonstrate a process on the trainee's system by accessing his device remotely.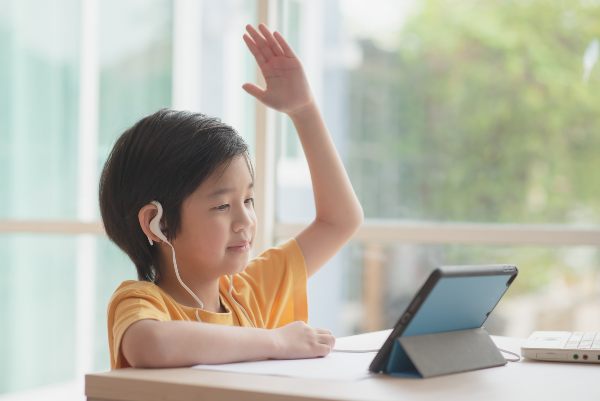 6. Remote Collaboration
Remote collaboration is where team members can remotely access one another's system and work collaboratively towards a common goal. Ideas can be shared, processes can be demonstrated, and communication can be established through remote access solutions.
7. Disaster Recovery
During the disaster recovery phase, you can use remote access solutions for remote working, real-time supervision, and proper management. You can monitor the installed devices to check out the conditions and parameters related to the disaster remotely. You can remotely take backup of data from the systems in the disaster sites.
Part 3. Advantages & Disadvantages of Remote Access?
Every technology has its fair share of advantages and disadvantages. You have to know these benefits and weaknesses so that you can take care of the weaknesses by working on them and making the most of the benefits for your business.
1Advantages
Work from Anywhere
Remote access enables you to work from anywhere and anytime through the internet or local network. Remote access has effectively replaced the physical presence of employees in companies that are based on IT infrastructure.
Employees can work individually and collaboratively from home without any hindrance. This has reduced office expenses for the companies and travel expenses for employees.
Increase Productivity & Flexibility
Remote working has enhanced the productivity of employees as they can work in the comfort of their homes. There is no scope for office gossip, and they do not get tired due to no need to travel to offices.
Besides, employees can have a flexible work schedule at their convenience so that they can manage a perfect balance between life and work.
Save Time & Reduce Cost
Since no travel to offices is involved when you are working remotely, employees can save a lot of time and energy. Similarly, they can save their travel expenses, and the companies can reduce office expenses.
Provide Backup Solution
During a disaster, you can remote access the systems situated in the disaster sites and take backup of important data. Similarly, you can allow your employees to work remotely and access the central servers and data centers in the disaster sites until recovery is successfully done.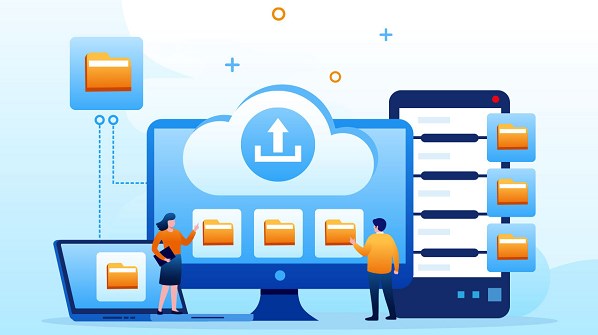 2Disadvantages
Security Risks
The primary concern in remote access is security infringement. Hackers can get into a remote session and hack the target device if the session is not encrypted properly. Similarly, if the authentication is not proper in the remote access solution, unauthorized devices can get into the remote sessions and cause havoc.
Connectivity Issues
For remote access, an internet connection or local network connection is essential. If there is any connectivity issue between the devices trying to establish a remote connection, the connection will not be successful.
Compatibility Issues
To establish a remote connection between two devices, the devices need to be compatible with the common remote access software. Not every remote access software will have compatibility with different types of devices.
Part 4. Reliable Remote Access Solutions for Enterprises
Now that you have a clear idea about remote access, it is time to focus on remote access solutions. There are several remote access solutions available in the market but you have to opt for reliable solutions that can provide secure remote access.
Here are our top picks on remote access solutions for businesses.
1. AirDroid Remote Support - For Android Device
AirDroid Remote Support is the best and most reliable remote access solution for enterprises dealing with Android devices. You can provide remote IT support to employees as well as customers and remotely control Android devices, and manage even unattended devices.
The Android-based device remote access will be fast and secure for on-demand assistance and management services from anywhere and anytime.
Here are the key features of AirDroid Remote Support that make it a clear winner as a remote access solution for enterprises.
Remote Access & Control
You can get full access to the target Android device and provide remote assistance as required. Not just accessing certain apps and files, you can get full control of the target device remotely and make modifications as applicable. In fact, you can get remote control on unattended Android devices securely and instantly.
Black Screen Mode
AirDroid Business has a black screen mode when using the remote control feature. It can hide the screen of the controlled device and displaying a black screen, which can effectively protect enterprise's privacy and make a good impression on customer.
Lightweight Management
AirDroid Remote Support comes with certain management options. You can assign roles to your team members, and each member can have specific permissions according to hierarchy to remotely access the connected devices.
Real-Time Screen Share/Text/Voice Call
You can see your customer's Android device's screen on your device in real-time to provide any remote service conveniently. Also, you can directly interact with your employee or customer through voice calls as well as text messages. You can instruct them verbally, send screenshots, and transfer guides and files as required.
Tutorial Gesture & AR Camera
While sharing the screen in real-time, you can swipe and tap on your screen, and the end-user employee will see your gestures on his screen. This will act as instructions for the end-user to follow and perform while maintaining privacy.
Besides, there are options for writing texts and drawing shapes on screenshots for tutorials and guides. You can remotely connect to the device's camera and cast 3D markers on physical objects for better visualization in augmented reality.
Stability & Security
AirDroid Remote Support ensures stable and instant connection to remote Android devices with low lag. The connection is established securely through dynamic code authentication and end-to-end encryption.
There are options for screen privacy as well as data security, and you can pause screen sharing anytime to safeguard confidential information. Besides, AirDroid Remote Support allows you to implement proper security policies for enterprises.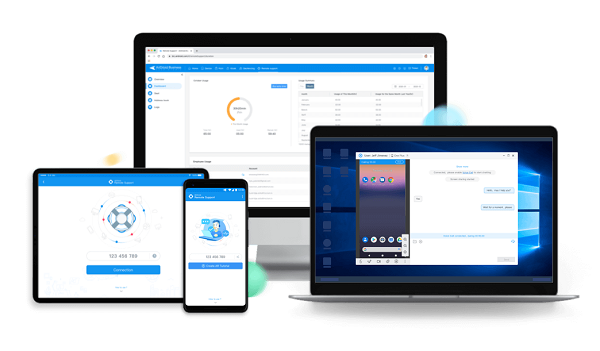 2. Splashtop Business Access - For Desktop
Splashtop Business Access is the best remote access solution for enterprises that are dealing with desktop computers. It is reliable because it provides high-performance remote access service with robust security. You can remotely access desktop computers from any device from anywhere and anytime.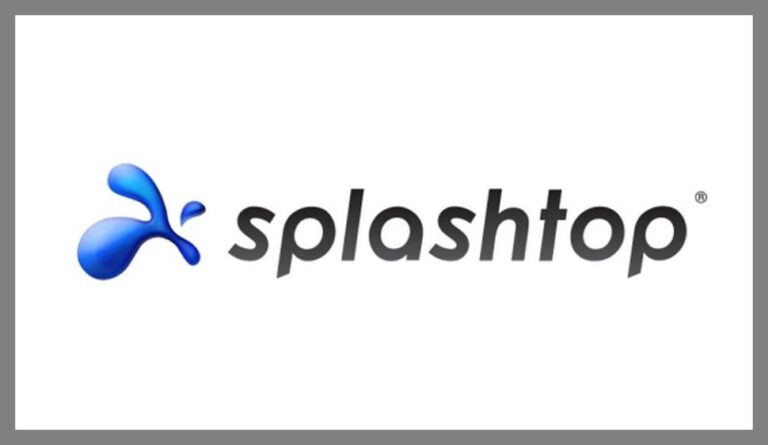 Here are the top features of Splashtop Business Access that make it stand out among other remote support solutions.
High-Performance
Splashtop Business Access ensures stable and instant connection. It displays the real-time shared screen in high resolution for better visuals.
There are HD audio and video communications possible without any delay. You can perform lightweight management operations through a LAN connection.
Robust Security
Splashtop Business Access allows you to set up the parameters that can be remotely controlled. You can assign roles and permissions to team members as per expertise and hierarchy.
It has a secure infrastructure that detects intrusions and prevents them from hijacking remote sessions. There are advanced security features available for authentication and encryption.
Versatile Remote Access
You can access desktop computers from another computer and even mobile devices. There is no limitation to the operating system for the device through which you want to connect to the target desktop computer. Therefore, the flexibility of remote support service enhances for any enterprise.
Miscellaneous
Splashtop Business Access allows you to monitor multiple devices from one screen. There are options for secure file transfer and remote printing. Apart from the app, you can access the web console for instant remote access. There are options for session recording and easy deployment.
Conclusion
Remote access has become an integral part of enterprises based on IT infrastructure. Remote access solutions have penetrated different industries, and companies are adapting to the technology for the betterment of operations.
We have handpicked the best remote access solutions for enterprises where remote support is a necessity. We recommend AirDroid Remote Support for accessing and support Android mobile devices remotely and securely.
FAQs about Remote Access
How does remote access work?
Remote access connects the remote device to the host device through the internet or local network. Both devices need to have a common compatible remote access software to establish the connection. After the connection is established, the remote user can access the host device as permissible.
Is remote access the same as VPN?
VPN is a common type of remote access whereby a protected remote connection is established between two devices through the internet. On the contrary, remote access has a wider scope whereby devices can be connected via the internet as well as local network. Remote access offers greater control and flexibility for remote operations.
What happens when enabling remote access?
When you enable remote access on your device, you are letting remote users connect to your device and access it remotely with proper authentication. The remote user needs to establish a secure remote connection through a common remote access solution from the authorized device. When you enable remote desktop on your Windows PC, your device becomes visible to your local network to allow trusted devices to remotely access your device.
Was This Page Helpful?