7 Best Remote Support for Mobile Device in 2023
How do you help your friend or family member when they ask for help with an issue on their mobile devices? How do you provide remote assistance to your customers for the best after-sales service? Well, the remote mobile support apps would be your solution.
Here are several mobile remote control apps on the market, but you should be careful in picking any one of them due to privacy and security concerns. Besides, the app may not be versatile and feature-rich in spite of being a premium remote support app. To help you out of the situation, we have reviewed the top 7 best remote support apps for mobile devices. Here we go!
What Is Mobile Remote Support Tool?
A mobile remote support tool is a software application that allows technicians or support personnel to remotely access and control mobile devices, such as smartphones or tablets, in order to provide assistance or troubleshooting. It enables technicians to view the mobile device's screen, access its files and settings, and even control it as if they were physically present.
This tool is commonly used by IT support teams or customer service representatives to diagnose and resolve technical issues on mobile devices without the need for physical proximity. Also, today, many people use remote support services for mobile devices to assist family and friends in fixing their mobile phone issues in addition to using them in the corporate world. It makes the issue are resolved faster and almost instantly.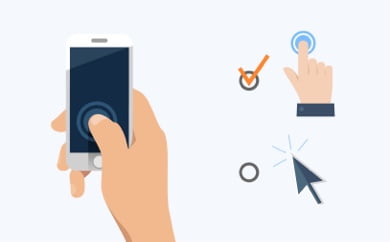 Best Mobile Remote Support Tools in 2023
The most important part of remote mobile support service is the remote control mobile device app. We have handpicked the best available apps for remote support service for mobile devices. We have reviewed them thoroughly so that you can pick the best one for your purpose as per your requirements.
AirDroid Remote Support
AirDroid Remote Support is a complete package to access and provide assistance. It is unique for its unattended remote access feature that allows remote Android devices maintenance without permission. It is a very safe remote support solution because of its stable connection and reinforced encryption. The app features two-way communication to instruct the customer via real-time messages. To further provide support for the customer, this app allows you to view permission reports of a device and store this record.
You can also guide the person with the amazing tutorial gesture feature. Moreover, you can instruct the target person over voice call and text messages through the app.
Compatibility: Android and iOS on both sides
Key Features of AirDroid Remote Support
There are several other features of this tool. A few of these features are discussed below.
Unattended Remote Access: You can connect and remote control a device without customer consent. With the Unattended Mode, you can access the device without the owner permitting the device on the other end. Hence, if the owner is not nearby of the device, you can still carry out maintenance of the device.
Light-weight Device Management: Users can manage target devices without device downtime. It has a simple device management system that works seamlessly on all devices. Hence, you can use it for remote inspections, troubleshooting, and maintenance without glitches.
Privacy & Security: This app features a top-notch, multilevel security service. For instance, you can set blockers to prevent unauthorized external access to a device. Furthermore, you can enable the use of a dynamic 9-digit connection code to enable clients to protect their privacy and avoid unwanted disturbance. Also, it has security policies and Black Screen Mode that further ensures customer data is protected.
Screen Sharing in Real-time: The target person can share his mobile device screen with you so that you can view it on your device. Screen sharing is done in real-time over the internet connection to understand the issue the target person is facing.
AR Camera & 3D Marker: Apart from remote support and remote control of the mobile device, AirDroid Remote Support allows you to view the surrounding of the target phone by turning on the device camera. That is how you can provide support to solve any issue with other gadgets like TV and home appliances.
File Transfer: You can remotely transfer files to your customer using this app. Some of the files you can transfer include APK files, jpg, mp3, xlsx, etc. You can even send your customer their error logs. Additionally, you can enable or disable file transfer services on the target device.
Tutorial Gesture: You can illustrate with your gestures regarding the steps the target person needs to take in order to solve the issue. This is more useful than instructing the target person over a phone call about what to do.
Take Direct Control: If the target person cannot solve the issue with tutorial gesture, you can get remote control of the person's mobile device on your device. Thereafter, you can directly perform the necessary actions.
Voice Call, Voice Messages, Text Messages: You can perform voice calls, send voice messages as well as text messages during the problem resolution process for constant interaction and feedback. There is no need to go out of the app for different communication methods.
How to Use AirDroid Remote Support for Personal?
Here are the steps to use AirDroid Remote Support for Personal for providing remote support service to the supportee.
Step 1: Download AirMirror on your Android or iOS device from where you will be providing the support service.
Step 2: Ask the target person to download AirDroid Remote Support on his Android or iOS device.
Step 3: Ask the target person to open AirDroid Remote Support app and share with you the 9-digit connection code displayed on the screen.
Step 4: On your device, launch AirMirror and enter the 9-digit connection code shared with you. Once the target person accepts the access request, connection will be established instantly.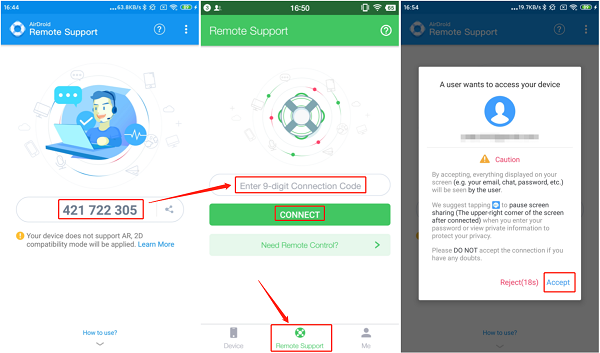 Step 5: After connection is established, Enable Screen Sharing option. Thereafter, select Tutorial Gesture or Remote Control as per your requirements.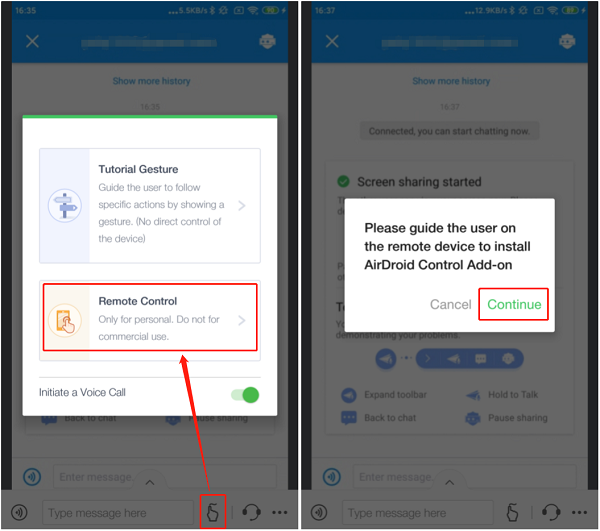 Why AirDroid Remote Support Is Best?
We have already mentioned that AirDroid Remote Support is the best remote support app for mobile device. Thanks to its wide range of features, it is definitely a complete remote support service app.
Here are the reasons that make the app stand tall and apart from all the apps in the same niche.
Easy to connect devices and simple to operate.
Screen sharing as well as remote control option.
Tutorial gesture for illustrating the resolution steps.
Wide range of flexible communication options.
View through device camera for non-phone issues.
No need to root the devices involved.
Protect the target phone's privacy.
AirDroid Personal
If you want to solve the target person's mobile device issue from your computer, AirDroid Personal is the best app for device remote access. You can directly remote control the target phone. Besides, you can also get the target phone's notifications directly sync to your computer. You can even remote control the phone from the web browser of your device.
Compatibility: Android and iOS for target phone and Windows, macOS, Web for supporter.
Key Features of AirDroid Personal
Remote Control Android Phone from PC - You can remote control the target person's Android device directly from your computer using AirDroid Personal. Thereafter, you can perform all the necessary steps to solve any issue raised by the target person.
Remote Camera - You can remotely access the target phone's camera. Hence, you can view the phone's surroundings in real-time. Moreover, there is a one-way audio facility available to listen to the phone's surroundings comfortably.
Transfer Files & Management - You can view and transfer any file from the phone to your computer. The app supports cross-platform file transfer of different formats without any limitation.
Notification & SMS Management - You can sync phone notifications to your computer so that you can check them remotely. You can reply to the text message and social media messages notification directly from your computer. Besides, you can make direct calls from your computer as and when required.
Screen Mirroring - You can mirror the phone screen on your computer, and this is highly useful in solving any issue with the phone. You get a larger view to check all the phone content and settings and fix the issue by examining them minutely.
Pros
Easy to connect Android phone to computer.
Remote controlling and screen mirroring options.
Cross-platform file transfer of different formats.
Remote access to the target phone's camera and mic.
Dedicated web platform for performing all activities.
Secure encryption connection for protection.
Cons
Some features are reserved for premium users.
Steps to Use AirDroid Personal:
Here are the steps on how to use AirDroid Personal app on target phone and supporter's devices for remote control.
Step 1: Install AirDroid Personal app on the target phone as well as on the supporter's computer.
Step 2: Create an AirDroid account and use the same to log into AirDroid Personal app on both devices.
Step 3: On the target phone, open AirDroid app. Go to Me option at the bottom of the screen and select Security and Remote Features option.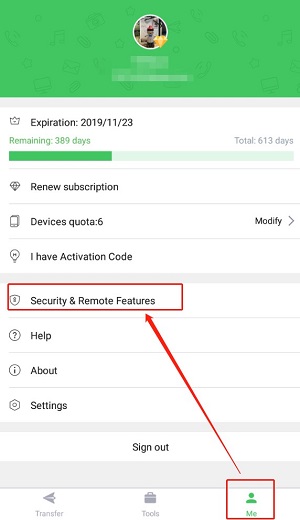 Step 4: Turn on all the options to avail all the remote support features.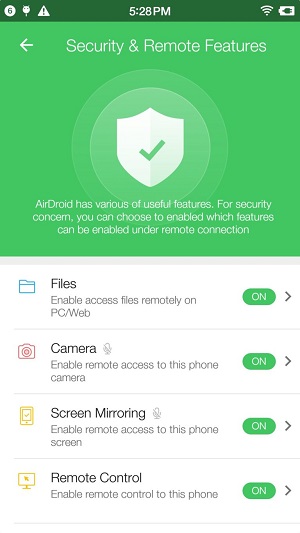 Step 5: On the computer, open AirDroid app and under My Devices, select the target phone. Go to Remote Control from the left panel and click on Remote Control button to get started.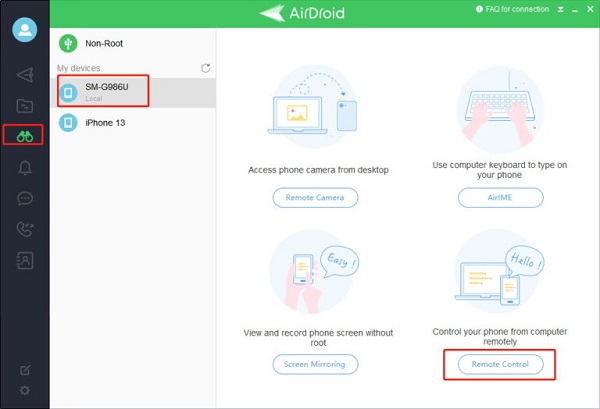 TeamViewer QuickSupport
TeamViewer QuickSupport is one of the most popular remote support apps for mobile devices. Starting from mobile operators to technical support team, the app has enterprise-level acceptance. The app enables remote access, remote control, and remote viewing of mobile devices. As the name suggests, the app delivers quick remote support service with the highest security standards.
Compatibility: Android and iOS on supportee's side and computer OS on supporter's side.
Key Features of TeamViewer QuickSupport
Share your mobile device screen with another mobile device.
Remote access mobile device from another computer only.
File transfer, screen recording, and instant messaging.
Full access to system logs and mobile device settings.
Pros
Highly reliable and secure connection process.
Cross-device support for limited features.
Transfer files back and forth in high speed.
Cons
Cannot remote control mobile device from another mobile device.
Features are limited.
Steps to Use TeamViewer QuickSupport:
Considering you as the supportee, here are the steps to give control of your device to the support team.
Step 1: Install free TeamViewer QuickSupport app on your Android smartphone or iPhone.
Step 2: Open QuickSupport app, and the app will generate your ID number.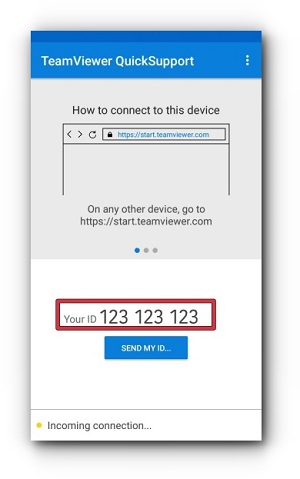 Step 3: Share your ID number with the support team. They will enter your ID number in your TeamViewer desktop application.
Step 4: You will receive a request for remote connection that you must allow to give control to the support team.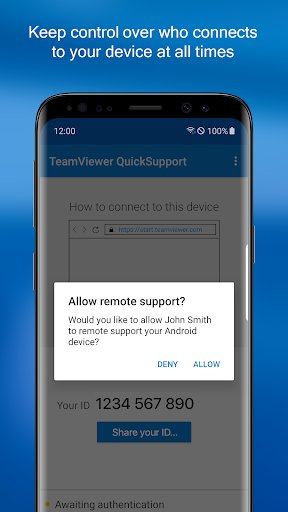 Bomgar(BeyondTrust)
Bomgar is now BeyondTrust, and it is considered to be one of the most secure remote support software applications. BeyondTrust Remote Support enables the support desk team to fix the mobile devices of the supportees from their computers. There are options for screen sharing and remote control for fast remote Android support and iOS support.
Compatibility: Android and iOS for target phone and Windows, Mac, and Linux for supporter
Key Features of Bomgar
Screen sharing and remote control of Android and iOS device.
Resolve issues on the mobile device from remote computer with any OS.
Live streaming by getting remote access to mobile device's camera.
Manage support team with session permissions and roles.
Complete remote support service with audit, branding, and integrations.
Pros
Chat with multiple users at the same time.
Highly scalable for support team work.
Military-standard security measures.
Cons
Does not work when the internet speed is slow.
Steps to Use Bomgar:
Step 1: The supportee should install BeyondTrust Support app from Play Store or App Store as per mobile device OS.
Step 2: The support team should have BeyondTrust Support installed on their computers. Ask the representative to share site name and session key. Enter the details to connect with the support representative remotely.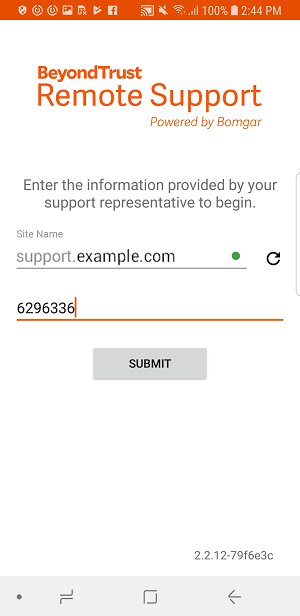 Step 3: Once connected, there are options for Screen sharing, InSight for live streaming and Live chatting.
HelpWire
HelpWire is a customized remote support software solution for mobile devices as well as computers. The supportee can have a mobile device or computer that needs to be serviced by the support team who has a computer on their side.
The software uses its unique proprietary portal virtualization system for remote control and resolving issues. It is one of the most professional ways to resolve issues of supportees' mobile devices and attend to multiple supportees at the same time.
Compatibility: Android, iOS, and computer OS on supportee side and computer OS on supporter's side
Key Features of HelpWire
Remote access mobile devices as if it is physically present on the support team's PC.
Once the connection is established, it stays steady and stable throughout the session.
Remote support to all the devices attached on the supportee's computer.
Live chat with options to send photos, videos, audio, and text messages.
Pros
Advanced port virtualization technology for stable connection.
Secure connection with advanced encryption.
Multi-platform support for enterprise-level remote support service.
Cons
Users complain about difficulty in establishing connection.
Steps to Use HelpWire:
Step 1: The supportee should download HelpWire on his computer. Thereafter, he needs to connect his mobile device to the computer via USB cable.
Step 2: The supportee must launch HelpWire and log into his HelpWire account. Thereafter, wait for the support team to start a session.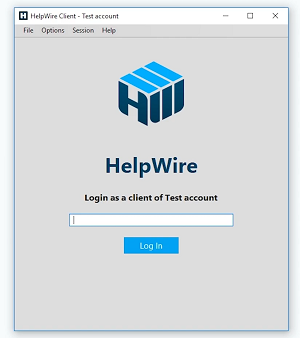 Step 3: Once the support team starts the session, the supportee needs to explain the issue through live chat if required.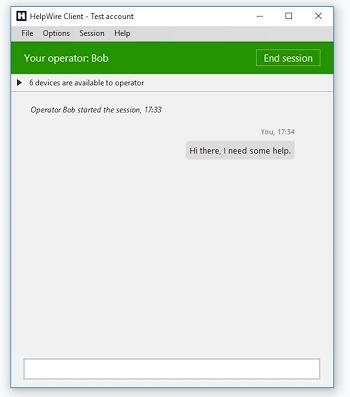 Step 4: The support team remotely access the mobile device and resolves the issue and the session is terminated.
Dameware
Solarwinds Dameware is a popular remote support suite with multi-platform support. You need to choose Solarwinds Dameware in order to provide remote support from mobile devices. You can remotely access the supportee's device from any device starting from desktop to another mobile device.
Compatibility: Windows, Mac OS X, or Linux for supportee and any device for supporter.
Key Features of Dameware
Cross-platform support to provide remote support from any device.
Advanced encryption along with two-factor authentication.
Super fast connection establishment and HD visibility.
Take screenshots and record remote support sessions.
Reporting engine to keep track of support team's performance.
Live video calling and messaging options for communication.
Pros
Support multiple languages for better service.
Get complete device information for better diagnosis.
Ticketing system for enterprise-level solutions.
Cons
The user interface is not user-friendly.
Frequent crashes have been reported.
Steps to Use Dameware:
Step 1: Create Dameware Remote Everywhere account. Download Dameware Remote Everywhere on your device.
Step 2: Open Dameware Remote Everywhere and log into your account.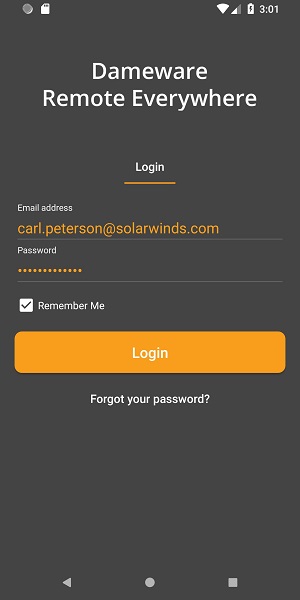 Step 3: From New Sessions> One-Session Applet, you can generate a PIN or a support link that you can share with your supportee to get remote access to his device.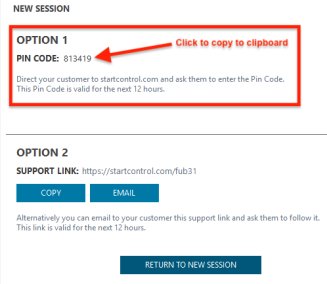 Step 4: The supportee should use the PIN or the support link to request a support session. You should accept the request from Technical Console or Admin Area to start the support session.
AweSun Mobile Devices Support
AweSun Mobile Devices Support allows you to screen mirror and remote access mobile devices from anywhere and at any time. The tool has cross-platform which means you can remotely access an Android phone from another Android or iOS device as well as Windows PC. The app is particularly popular for this cross-platform support and smooth connection setup.
Compatibility: Android for supportee and Android, iOS, Windows for supporter.
Key Features of AweSun Mobile Devices Support
All-in-one remote mobile and desktop application.
Share mobile screen as well as remote access.
Remote file transfer back and forth.
Encrypted connection for complete protection.
Pros
Free to install and cross-platform support.
Easy to connect with own or supportee's device.
Uninstall apps remotely and get device information.
Cons
Several complain about slow and lag connection issue.
Remote phone camera access not available.
Steps to Use AweSun:
Step 1: Install AweSun supportee for Android on the supportee Android phone.
Step 2: Install AweSun on your device based on the operating system.
Step 3: Create an AweSun account. Login into the account from both devices. Add the target device under Device List to remote control it.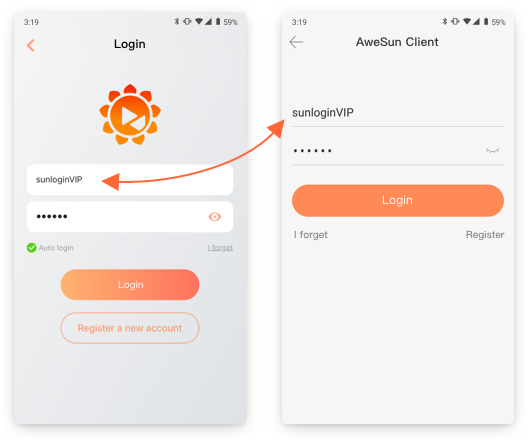 Step 4: Alternatively, you can enter Device ID and passcode to grant access to the supportee's device instantly.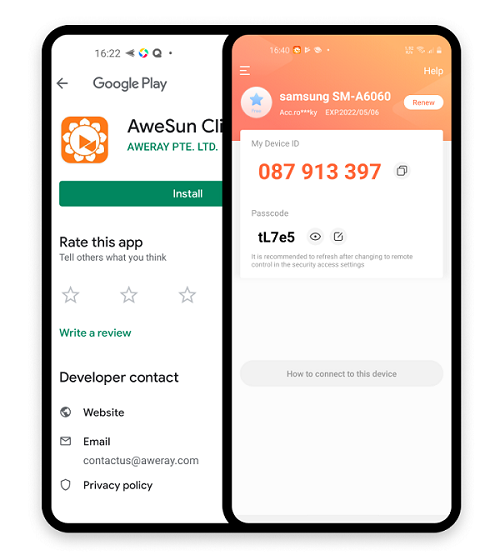 Key Factors to Consider for Best Mobile Remote Support Tools
Before picking a mobile remote support tool, you need to ensure the solution checks some boxes. In this section. We have identified those things you need to watch out for before picking your mobile remote support tool.
Privacy & Security: Data privacy and device security cannot be compromised. Hence, you need to ensure the privacy policy of the tool before using it. Likewise, you need to know if the security level of the app can withstand intrusion from any third party.
Features: The features of the tool are essential to prevent frustration. For instance, if you have an enterprise use for the tool, you need a solution that allows simultaneous control in hundreds. Also, you need to confirm it as specific features like unattended access if you want to use it for that. You can also check for features like log reports.
Easy to Use: Tools with intuitive UI/UX are the best options because they can be operated without the aid of an expert. Hence, it will only take a few uses for anyone to get quite familiar with the platform. That way, more features on the app can be accessed and used.
Compatibility: Depending on the mobile or computer device you want to target or use, you need to be sure the tool is compatible with both. Aside from compatibility, some tools are best for specific OS because they were built with that system in mind even though they can serve multiple purposes.
Reasons to Using a Mobile Remote Support Tool
There are several benefits your enterprise can benefit by using remote support tools. Some of these benefits are considered below.
Convenience: User and customer convenience is an undeniable benefit of using mobile remote support tools. These tools can be used from the convenience of one's house, workstation, or even during a trip. Likewise, customers can have their gadgets updated or debugged without necessarily lifting a finger.
Cost-effective: Cost incurred during long hours of commute of the support team is no longer needed. Also, the cost of long conversations with the support center by the customer has been eradicated.
Increased productivity: Less time and resources are devoted to fixing bugs on customer devices. Some of the tools offer simultaneous updates and maintenance features. Hence, an enterprise can focus on new features and products if fewer resources are needed for attending to customers.
Enhanced customer satisfaction: Customers can enjoy their devices seamlessly since issues can be remotely intercepted before it is even reported. In fact, they can get new updates and notifications of the new additions made directly to their device without their day's activities being interrupted.
Scalability: An enterprise can increase the scope of clients it can attend to by using remote support tools. Hence, the tool can help the enterprise handle a surge in the number of customers that need to be attended to.
Security: Trusting multiple ticket managers to provide support is less secure than having a smaller team of technicians. In addition, some of the tools allow the enterprise to see permission reports for each device. That way, any data theft is traceable.
Training and collaboration: Student and teacher, apprentice and expert, newbie and professional can collaborate on an ongoing project with the right remote support tools. Perhaps the project is not ongoing, the student, apprentice, or newbie can be trained on any task.
Bottom Line
You need to have the most reliable and feature-rich remote support app to control any device through mobile phones or computers. We recommend AirDroid Remote Support for Personal as the complete app to remotely access someone's mobile device from your mobile device. Similarly, AirDroid Personal is the best app to control someone's mobile device from your computer.
FAQ about Remote Support
Can I remotely access Android phone with Gmail?
You can use Google Find My Device service to remotely access Android phone with Gmail credentials. You can only find the location of the device, lock the device, play a sound and wipe all the data on the phone. This may not be effective in providing remote support for which you have to install a third-party remote supporting app.
How can I see my phone screen on another phone?
Yes, you can see your phone screen on another phone using a remote support app that has remote control or screen sharing feature. The condition is that both phones must have the selected remote support app installed. The connection can be established by signing into the same account or by the connection code generated.
How to remove mobile remote support tool?
When you are done with remote support activity, you can easily remove the mobile remote support tool. Generally, all you need to do is press and hold the remote support app on your phone. From the pop-up menu, select uninstall and follow the on-screen instructions. You can also remove the tool from Settings> Apps> Remote Support Tool> Uninstall option.
Was This Page Helpful?