Top 5 Remote Monitoring and Management Software in 2023
The new reality of working from home or monitoring long-distance devices requires remote monitoring and management. Your remote staff will frequently experience technical problems and lose hours of labor and progress without reliable RMM software. Not to mention the constant threat of cyber-attacks and malware.
Therefore, an RMM system is essential for better network maintenance at your company. This article aims to cover some of the most well-known and proven remote monitoring tools. So, stick around till the end!
Part 1. What Is Remote Monitoring and Management Software?
Remote monitoring and management or RMM software manage the interconnection between the devices of a remote work team.
Companies use RMM tools to monitor networks, devices, and endpoints of the workforce's tabs, phones, and laptops. Here, the aim is to ensure data security for workers and customers.
What Does an RMM System Do?
First, you must install the RMM software on the devices you wish to connect to the company's network. This includes everything from laptops and PCs to mobile phones. Afterward, whenever there is a problem within the network, the remote monitoring software automatically identifies and alerts the MSPs or MSP RMM.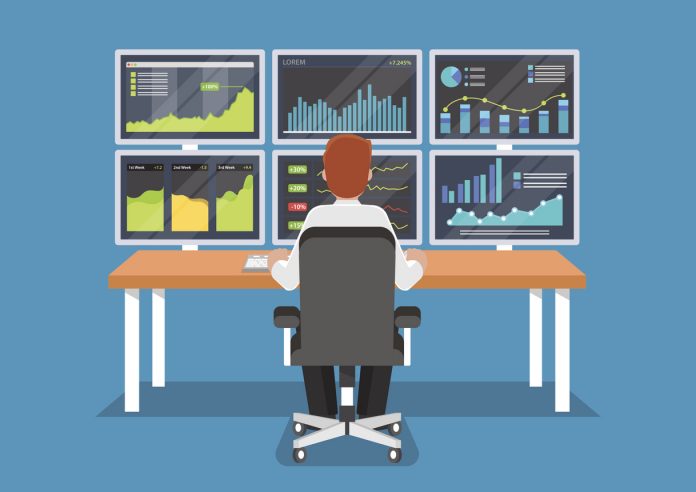 MSPs (MSP RMM) or managed service provider are usually a third-party company who oversees various network and IT infrastructure issues of their client. As soon as the remote monitoring tool pinpoints the problems and reports them, MSPs go in and fix them. So, RMM software helps solve issues at the earliest and the quickest.
A remote monitoring and management software does the following:
Maintains the interconnection between the devices of work teams
Updates the client's operating systems
Takes antivirus measures when necessary
Keeps hard disks free from junk
Collects, organizes, analyzes usage data, and produces a report for MSPs
Automates various system maintenance procedures
Advantages of Remote Monitoring and Management
The primary purpose of employing any software is to save time and money for the company. And RMM can do that perfectly by closely monitoring the connected devices and automating many tedious tasks in the network maintenance process. Here are some of the advantages of remote monitoring management.
Prevent Major Issues: Most technical problems start small. But if they are not dealt with at their origin, they soon become widespread and affect all connected devices. This causes your teams to lose many hours of valuable work and sometimes data. RMM system detects the problem immediately and prevents it from becoming big.
Automates Tedious Tasks: There are some things you will never find the energy to attend to after a long day of work. Such as deleting temporary files, clearing internet history, updating the system, shutting down, etc. Remote network monitoring software can automate these tasks and keep your system crisp while saving you from boredom.
Providing Valuable Insights: Remote monitoring software can collect and analyze IT data from all the tasks they do for you. Consequently, it can generate a report for you that will provide the IT experts with valuable insights into your IT infrastructure. The experts can then use this knowledge to tweak the system to become more efficient.
Part 2. Top 5 Best RMM Software
Remote monitoring and management are an integral part of the modern office. However, if you do not employ the right RMM software, it might do you more harm than good. So, here are the top 5 best remote monitoring tools.
1. AirDroid Remote Support
If you don't want the hassle of operating a complex RMM, then AirDroid Remote Support can be ideal. You can get the same remote monitoring and management benefits as a typical RMM, minus the complexities. This is undoubtedly one of the best remote monitoring tools in the business.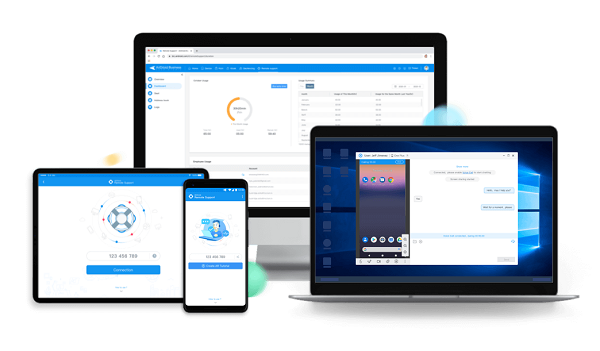 Features
Wide Range of Compatibility: AirDroid is compatible with all kinds of Android devices like phones, tablets, digital signage, POS, etc. Plus, it also supports root and non-root devices. So, no one on your work team will be left out of the network.
Lightweight Management: You can use it to check the status of devices on a list and add notes and group management for devices; setting different roles and permissions for orderly, hierarchical management within the company.
Attended & Unattended Access & Control: It offers real-time remote control and lightweight device management for attended and unattended Android devices, such as phones, tablets, and commercial devices (e.g. POS terminals and digital signages), as if they were on-site.
Establish Security Policy: It offers remote control and file transfer features that can be customized based on the user's preferences. You can enable or disable specific functions, as well as set up blockers. To ensure privacy protection and prevent malicious harassment, the service supports a dynamic 9-digit connection code.
Black Screen Mode: To protect the privacy of the company, IT admins can activate the Black Screen Mode while remotely controlling a device, which conceals the screen of the controlled device and presents a black screen.
Pros
Compatible with non-root devices
Very easy to sign-up, install and use
Manage RMM without third-party maintenance
2. NinjaOne
NinjaOne RMM has excellent automation features. So, it can save your IT team a lot of time and effort and let them focus their talent on more rewarding tasks. Plus, this RMM doesn't require a lot of overhead management. These qualities make NinjaOne RMM a popular choice among many companies.
Features
Training Tools: The first time you introduce RMM to your office, many workers might not welcome the idea. Here, the reason is mainly unfamiliarity with the tool. But NinjaOne RMM can help your employees get past that by providing them with free training, necessary documents, and other materials.
Central Console: Remote monitoring management can become messy if you don't have all the components organized in one place. So, NinjaOne RMM provides a management console that is single and centralized.
Pros
Provide training for the employees
Single and centralized console
Has cloud backup
Cons
False alerts can cause distraction
Needs to generate a more detailed report
3. Atera
Almost every discussion on remote network monitoring mentions Atera RMM at some point. That's because Atera is one of the most sophisticated remote monitoring software. And new updates and the latest advancements in RMM are added to the system as soon as they become available.

Feature
Root Analysis: Atera's root cause analysis feature helps IT experts pinpoint the origin of a technical problem before they start to fix it. As a result, they are on the right path to solving the problem from the beginning. This saves the company time and keeps damage to a minimum.
Script Library: Atera has a reasonably large user base. And these users have written countless scripts over the years to help them operate this RMM system. You can find all these in a script library and use them freely when encountering similar issues.
Pros
Root analysis lets you tackle issues with precision
Excellent and relentless customer support
Rich script library
Cons
Patch management features can do better
It needs an adequate user guides
4. Datto RMM
If your business is fast-growing, then the Datto RMM is the perfect remote monitoring tool for you. Because this is a fully cloud-based RMM and therefore easily accessible for even the most remote IT support staff. And being cloud-based, you can quickly expand the network as your business grows.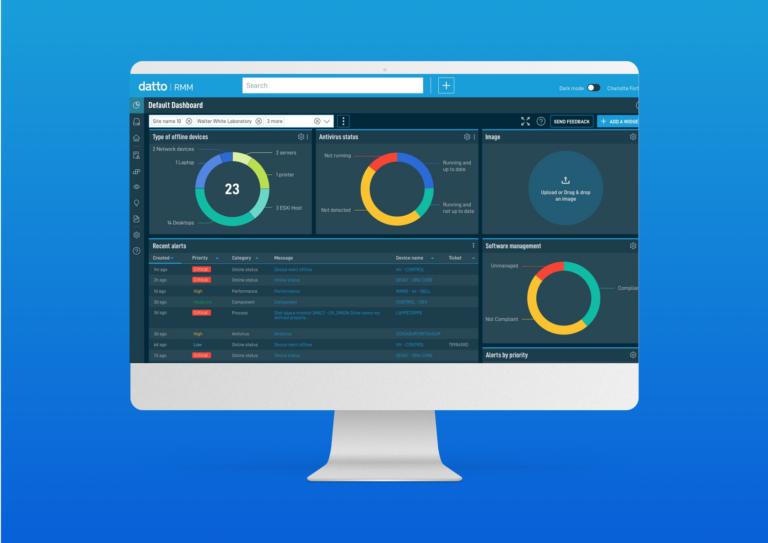 Features
Automated Patch Policies: You must frequently update the various components of the network to maintain its stability. However, most users tend to put off this update until they have no choice but to do it. This renders your network vulnerable. And the automated patch policies can prevent this by making the necessary updates whenever they are needed.
Remote Support: Datto RMM comes with a remote support feature. This lets technicians hold live sessions with the device users and help them fix issues in real-time. This saves your company from losing valuable work and data.
Pros
Patch policies make necessary updates whenever necessary
Cloud-based RMM is ideal for a fast-growing business
The remote support team can solve issues in live sessions
Cons
Writing custom scripts isn't easy for everyone.
Automatic updates sometimes fail and cause problems.
5. SolarWinds RMM
SolarWinds RMM is a well-known remote monitoring and management solution. It lets MSPs quickly detect and fix issues within a company's network. It also improves your business's overall IT structure and ensures security. This RMM software is compatible with almost all the major operating systems.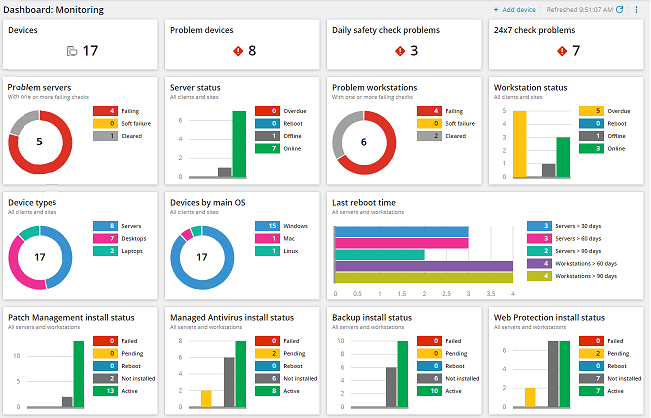 Features
Advanced Malware Defense: With the progress of technology, new threats are arising too. And one of the most dreaded among them is a cyber-attack. All it takes is someone clicking on a link from one of the many devices connected to your network. And before you know it, the company network is under attack. SolarWinds advanced malware defense can effectively prevent such an incident.
Customer Portal: SolarWinds RMM features a portal that provides customers with many helpful materials. For instance, customers can use this portal to access informative articles and troubleshooting guides.
Pros
Compatible with a large variety of OS
Advanced Malware protects from cyber attacks
Provides a customer portal
Cons
The app interface might be complex for some users
You still have to depend on MSPs
Part 3. AirDroid Personal: Best Remote Camera Monitoring App for Android
Remote monitoring and management are not something exclusive to the workplace. Your personal life can benefit from RMM too. And one such example is AirDroid's remote camera monitor app for android. This app lets you actively monitor your home, pets, and children while you are away from them.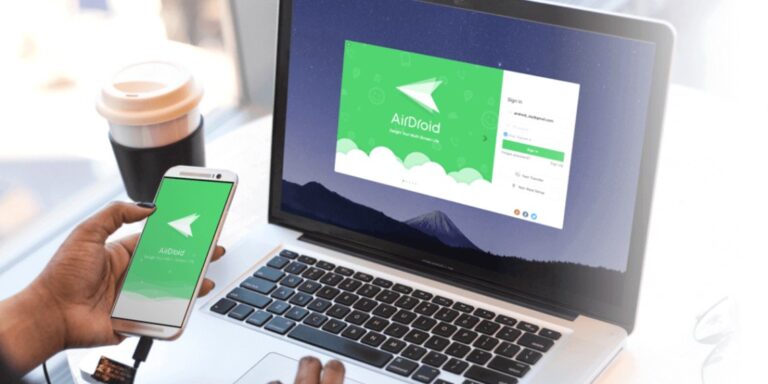 Features of AirDroid Remote Camera App for Android
The remote camera app can be a great remote monitoring tool due to its various helpful features. This app lets you instantly turn a remote Android device into your eyes and ears when necessary.
Remote Camera Monitoring: When you have the remote camera app installed on your devices, you can use the Android device camera to its full potential. This includes turning on the front and back camera or using the flashlight.
Remote Recording: You will never regret missing the wonderful pet or baby moments because you were away for work. Use the remote recording and screenshotting features to capture those precious moments. These photos and videos will be automatically saved on your computer.
Background Audio: Besides seeing what's happening in the remote device's environment, you can also hear it. So, you don't have to always stare at your screen to know if something out of the ordinary is going on at your home. The audio will be enough to alert you.
Benefits of AirDroid Remote Camera App
Use your Android as a home security device
Check on your pets whenever you want
Monitor your kids when you are not with them
Take action at the fastest possible time if a problem arises at home
Capture the precious moment that you would have otherwise missed
Conclusion
Remote monitoring and management are essential parts of modern business. It makes work easier for your IT team and saves your company a lot of money. However, besides the office, RMM can also help you effectively manage your home and family life. And the AirDroid Remote Camera App can be very helpful in that regard.
Was This Page Helpful?