7 Reasons to Adopt Remote Monitoring and Management Software
As businesses continue to grow, managing IT infrastructure becomes more challenging and expensive. What's more, increasing number of cyber-attacks also makes securing endpoints more important than ever.
This is why businesses are turning to Remote Monitoring and Management (RMM) to address these issues. In this article, we will provide a comprehensive overview of RMM and its importance in today's business environment.
Part 1. What is Remote Management and Monitoring (RMM)?
RMM, or Remote Monitoring and Management, is a technology that helps IT administrators and Managed Service Providers (MSPs) monitor and manage customer devices, networks, and computers remotely.
To enable its functionality, an agent must be installed on client devices. This agent provides device information to technicians, enabling them to offer timely maintenance when required.
As a result of these valuable features, RMM is becoming increasingly popular among organizations looking to imptove enterprise mobility, improve workplace productivity, and scale their operations through effective device management.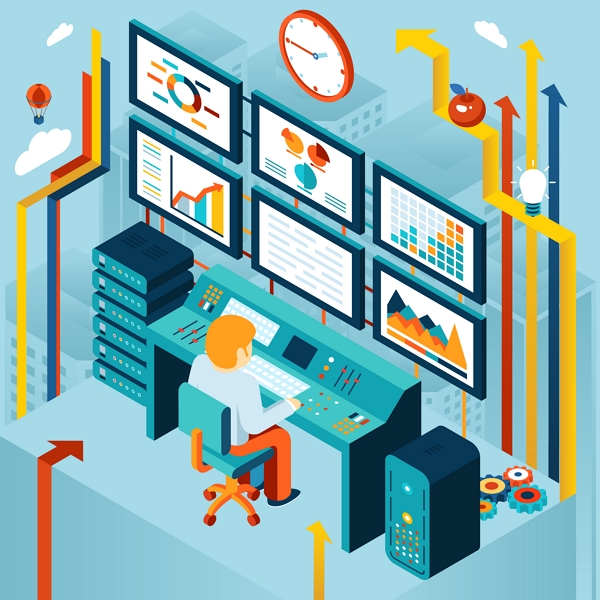 Part 2. 7 reasons you should go for an RMM software
In this section, we will explore the benefits of implementing RMM software and the features that streamline technicians' daily routines.
1. Remote monitoring and management
Due to the Covid pandemic, the number of endpoints in the workforce, particularly Bring Your Own Device (BYOD), has significantly increased. IT administrators need to ensure that all devices meet corporate security standards and provide assistance when necessary.
For this reason, IT administrators have adopted RMM tools to remotely monitor endpoint and network activity. With these tools, they can also identify suspicious events, prevent data breaches, and streamline operations effectively.
2. Simplify device management through a centralized console
Thanks to RMM software, managing multiple devices has become much simpler and more efficient compared to traditional methods.
With just a single console, IT teams can monitor and manage multiple devices at once, ensure security, and generate reports. This feature improves efficiency and reduces the costs associated with endpoint management.
3. Reduce response time with automated alerts and workflow
Monitoring a vast number of devices constantly is both unrealistic and financially taxing, requiring significant costs and resources.
To make the process more manageable, implementing policy-driven alerts is a useful solution. Such alerts can provide notifications to IT teams when issues occur across devices or networks, such as breaches of compliance, offline device status, excessive data usage, unauthorized access, and others.
By receiving timely alerts, IT teams can adopt a proactive approach to incidents, thus saving time and resources. Moreover, the software can even automate the workflow to resolve issues before customers become aware of them.
4. Ensure corporate security by restricting user access
With an increasing number of employees adopting a hybrid work style, securing remote access and preventing data breaches have become tricky tasks for businesses.
RMM software allows administrators to have granular control over access to devices, sensitive corporate data, and files, ensuring that only employees and authorized third-party vendors can access the information and resources required for their work. By doing so, it improves corporate security by blocking unauthorized access from outside the organization.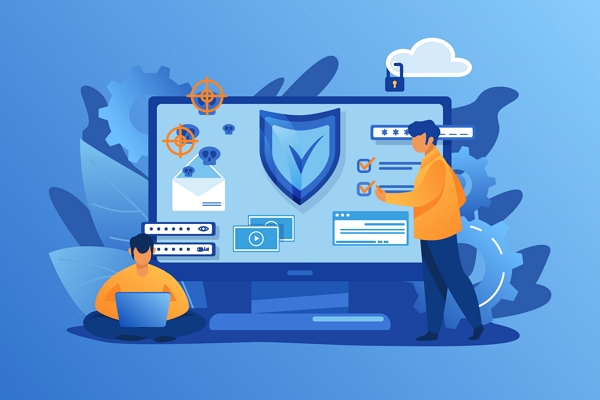 5. Remotely manage and update applications on devices
As various working devices may have distinct applications installed for particular purposes, RMM software provides the feature of application management. This allows IT teams to oversee, control, and fix performance issues related to different applications running on devices, servers, and other systems.
Application management involves monitoring application uptime and availability, managing updates and upgrades, and addressing performance-related issues.
Furthermore, certain RMM software even enable remote installation and configuration of applications on devices, along with the management of application licenses and access.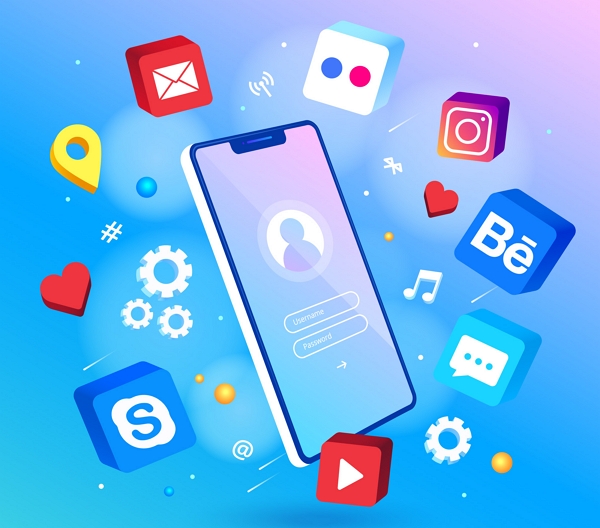 6. Gain valuable insights from reports and analytics
Beyond monitoring and controlling endpoints, RMM software also has the capability to gather data from devices. This data can encompass machine health, device usage, unlock attempts, battery percentage, location reports, and more.
This data can then be transformed into analytical reports, providing IT managers with valuable insights. With this feature, IT managers can examine statistics on a weekly or monthly basis to determine trends, make informed business decisions to optimize operations, detect suspicious activities, and reduce IT maintenance costs.
7. Can be easily scaled to meet business needs
Designed with scalability in mind, most RMM software can accommodate the growing number of endpoints as organizations expand. It offers versatility and adaptability as organizations grow and change over time, making it easier for IT administrators to manage large and dispersed customer networks, as well as larger fleets of devices.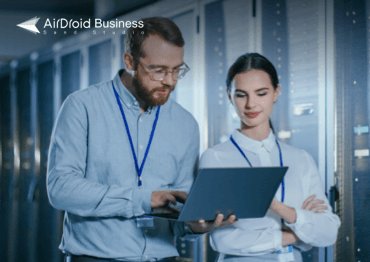 AirDroid Remote Monitoring and Management (RMM) Solution
Download Free Whitepaper
If you want to control and manage enterprise devices from thousands of miles away, this eBook provides details about AirDroid RMM solutions to help you make the best decision for your organization's needs.
Part 3. How do you choose an RMM software?
When evaluating different RMM software options, it can be difficult to determine which one will best suit the needs of your business. To aid in this process, here are a few attributes for you to consider:
A hassle-free integration
Implementing an RMM tool is just the first step in the process. It is crucial to consider the ease of onboarding and integration with the organization's existing technology infrastructure, such as help desk, antivirus, cloud-based storage, and ticket management solutions.
When choosing an RMM software, make sure that it can be smoothly deployed onto devices within the internal network or client's network, collect the necessary information, and determine the organization's resource and management needs. This can help simplify the onboarding process for IT administrators and improve their efficiency.
How user-friendly is the interface?
While user-friendliness may not be the primary factor when evaluating RMM software, it is still a vital aspect. Even if a software has all the necessary RMM features, it may not be helpful if its interface is not user-friendly.
Hence, take adequate time to evaluate the features during a free trial period. Don't settle for tools that are difficult to use. Additionally, a software with a user-friendly interface can encourage adoption and minimize any hurdles that may arise after integration.
Does it support mobile devices?
In today's ever-changing and dispersed business landscape, many organizations have employees using their own devices (BYOD). If your business or clients need to manage mobile devices, an RMM software with mobile devices management capabilities is a must.
Even if you don't currently have the need to manage mobile devices, having this feature gives your business the agility to adapt to a wide range of endpoints in the future.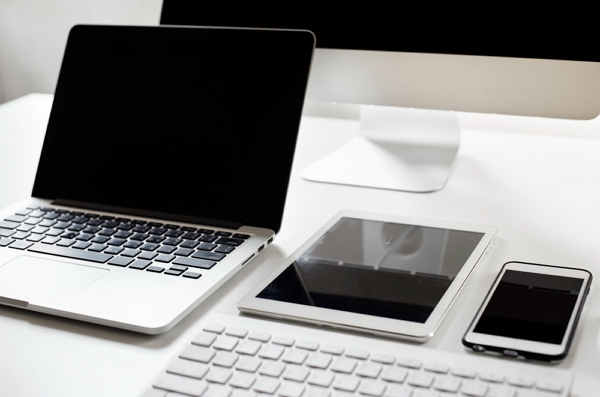 Automatic security updates
With the ongoing rise in cyber threats, security management is a critical aspect to consider when choosing an RMM software. It empowers IT teams to perform remote IT tasks and secure their organizations.
For businesses with a large number of devices, it is important to select a solution that offers automatic security updates. This allows the system to detect potential security risks and fix them without any manual intervention, freeing up IT resources to focus on more pressing tasks while minimizing the overall security risks to the network and devices.
Multi-platform supports
If your business provides RMM services for multiple clients with diverse network structures, selecting an RMM software with multi-platform support can definitely make your job easier. IT teams can manage different network structures and ensure seamless performance and security across their networks. This helps to minimize downtime, improve efficiency, and enhance customer satisfaction.
Good customer support
It is recommended to always consider the quality of customer support, how responsive is the vendor's support team, and what support channels they offer.
These can make a significant difference in the software implementation and can ensure a smooth transition for your IT team.
Transparent and reasonable pricing plans
Always take the time to compare different pricing plans and watch out for hidden fees when choosing an RMM software. There are many RMM solutions available, and their pricing can vary based on different use cases, such as per seat or per device. To get the best value for your money, make sure the software fits within your budget and provides the features you need.
Part 4. Key takeaway
In conclusion, RMM is a valuable technology for IT teams and MSPs to simplify device and network management, improve service quality, and increase user satisfaction.
One of the RMM solutions worth considering is AirDroid Remote Support RMM. This solution offers a range of features such as remote troubleshooting, bulk application deployment and updates, and support for smartphones, tablets, and TVs. By implementing AirDroid Remote Support RMM, IT teams and MSPs can improve the efficiency of their IT maintenance and provide better support to their customers.
FAQs
What's the difference between MDM and RMM?
The primary distinction between these software solutions is that MDM primarily focuses on managing mobile devices, whereas RMM solutions are more comprehensive. RMM tools are multi-purpose and many RMM solutions include their MDM functionalities.
How does RMM work?
RMM software operates in two main ways. Firstly, it uses agents installed on devices to gather information from remote endpoints and networks to assess their health and status. Then the monitoring team can implement various remote IT management tasks to minimize disruption.
Is RMM Software safe?
The short answer is that when used correctly, RMM tools can effectively secure your and your client's networks and devices. However, it is worth noting that no software is completely secure. By implementing additional preventive measures, you can further enhance the security of RMM software.
How to enhance the security of RMM software?
Here are a few ways to maximize the security of RMM software: implement a strong password policy, have granular control over who has access to the organization's network, educate customers and staff on how to prevent cyber threats, and implement multi-factor authentication. These measures add an extra layer of protection to organizational security and minimize cyberthreats.
What are the challenges when implementing RMM?
While implementing an RMM software can be beneficial for IT and MSPs, there are some challenges to keep in mind. One challenge is the effort and budget required to implement the new software. Another one is the potential vulnerability that comes with RMM software. As RMM provides deep access to organizational networks, it can be easily exploited by hackers as an attack point. Therefore, we should always monitor for suspicious activities and address potential risks as quickly as possible.
Was This Page Helpful?