[2023 Updated] How to Monitor Equipment & Devices Remotely?
Do you need to check on the devices in your stores or equipment in your factories? Do your employees work across the city and you need to track them through their devices? If the answer to these questions is positive, a remote equipment monitoring system is something you need for your business.
Remote monitoring has become essential for companies in different sectors. In today's world of technology, you do not need to monitor devices physically. You can monitor them remotely from anywhere.
We will state the benefits and applications of remote monitoring of devices and equipment as well as name the best remote equipment monitoring solution.
Part 1. What is Remote Equipment Monitoring? How Does It Work?
Before moving on to the benefits and applications, let us first understand the concept of equipment remote monitoring in detail.
1What is It?
Remote equipment monitoring is the process of keeping track of the condition and status of equipment and devices in your business remotely. Since you can monitor the health of equipment remotely, you can detect early when the health starts to deteriorate and malfunction.
Therefore, you can diagnose and solve the issue remotely. This will reduce the downtime of the equipment and devices in your business and your business revenue will not get affected significantly.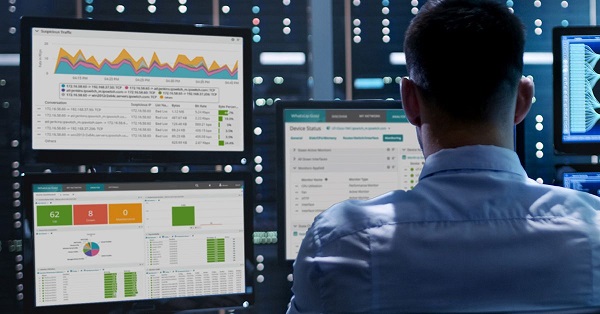 2How Does It Work?
Remote equipment monitoring system involves connecting the sensors in industrial equipment with the devices used for monitoring via the internet of things(IoT). The sensors provide real-time equipment data, which gets transferred to the cloud or server.
From the server, the data can be fetched and monitored on remote devices via an internet connection. These data can be regarding the health of the devices, equipment usage, transactions, and much more.
Part 2. Some Applications of Remote Equipment Monitoring
Equipment remote monitoring has already become an integral part of several industries across the world. Here are some of the industries where remote monitoring of equipment and devices finds applications.
Healthcare
Remote monitoring in the healthcare industry is a necessity where patients can be remotely monitored to take instant action. Different equipment and devices in the patient room can be monitored, and staff can be directed if devices show any alarming readings.
This enhances operational efficiency by managing more patients with limited staff and giving timely treatment. Even patients who are doing their treatment or recovering at home, their vital signs can be monitored remotely. Therefore, keeping the devices in good working condition is crucial for the healthcare sector.
Retail
A retail company has many stores spread across a city or country. The support team of the company monitors the point of sale and the mobile devices remotely so that any issue with them can be solved instantly. This ensures low downtime and a better customer experience.
Similarly, if you have employees working across a city, you can remotely monitor their devices and their locations to ensure they are not wasting time.
The productivity and efficiency of the available staff can get enhanced by streamlining activities on their dedicated devices. Besides, the data in the equipment can be backed up automatically and, thereafter, analyzed and utilized for the improvement of the business.
Moreover, the reduction in operational cost and scalability can be super easy for any retail business through proper equipment remote monitoring.
Industrial & Manufacturing
Through the remote equipment monitoring system, you can track any machine's data in real-time and monitor the performance metrics. With smart sensors, you can detect leaks, vibrations, pressure, and several such useful parameters remotely.
Based on the readings, you can instruct the local staff to take appropriate action. You can also get alerts if any abnormal condition arises such as excessive emissions. Besides, you can do timely maintenance for the equipment involved so that they can function at their very best.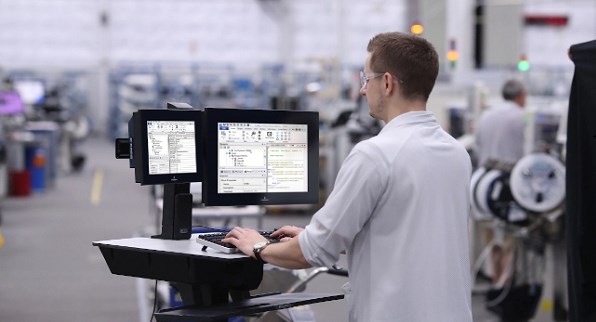 Transportation & Logistics
Remote equipment monitoring is a core component of the transportation and logistics business. Starting from fleet management to supply chain management, remote monitoring is essential. You can track the vehicles starting from vehicle condition to fuel usage and even driver behavior, everything can be monitored remotely.
You can also check on the inventory and warehouse remotely through smart sensors. Remote equipment monitoring system is necessary to keep track of the entire shipment remotely, not just by the employees but also by the customers. It is going to be more useful when autonomous vehicles take over the industry in the near future.
Agriculture
Remote equipment monitoring is increasing efficiency as well as productivity in the agriculture sector. You can monitor all the different variables that are essential for a successful yield and take appropriate steps timely.
Starting from weather parameters and soil conditions to water availability and irrigation equipment, you can monitor them remotely. Instead of manual judgment, you can make decisions based on data collected through sensors for a successful outcome.
Part 3. Reasons to Implement Remote Equipment Monitoring
If you are still wondering how remote monitoring equipment can help your business specifically, here are the benefits that you should be aware of.
1Improve Efficiency
When you are monitoring equipment remotely, you can detect any issue in the equipment at an early stage and take steps accordingly. You can even take control of the devices remotely and perform any desired action as per the demand of the situation.
For example, if the equipment is malfunctioning, you can solve the technical issue remotely and instantly. Therefore, work efficiency of the equipment improves and the equipment will have minimal downtime.
2Monitor Device in Real-Time
You can monitor the devices involved in your business remotely and that too in real time. Based on the real-time data, you can instruct the on-site staff to take steps.
You do not have to be present in front of the devices and manual check the monitoring parameters. This increases productivity of the staff as well as help you monitor any desired set of devices any time you want from anywhere.
3Get Advanced Alert
You cannot possibly monitor all the connected devices and equipment all the time. That is where you can set parameters to trigger alerts so that you can get warned and take proper action immediately.
You can fix issues before they become critical and the machine breaks down. Even with passive monitoring, advanced alerts can help you sort issues at their early stages.
4Device Health Tracking
Remote monitoring equipment is a blessing for the support team. A support team is responsible for monitoring and fixing any issue in the connected device and equipment immediately. There is no need for the team to be physically present in front of the device to monitor device health and fix any technical issues.
The team members can monitor the connected devices from a centralized dashboard. They can access unattended devices and remotely control them to solve any problem.
5Predictive Maintenance
The software in the devices and equipment needs to be updated from time to time to fix bugs and push new features. The support team can push updates and scheduled maintenance during off hours.
The process of device maintenance can be automated and controlled remotely without hampering the business workflow. Besides, timely maintenance helps in preventing any big failure in equipment.
6Improve Asset Protection
A remote equipment monitoring system can help to protect costly machines. This is because the support team is always monitoring the connected devices in real-time, and any malfunction can be detected early. The devices can be turned off remotely before it goes out of control.
This will prevent any damage to the production and important data in the system. The issue can be solved remotely as well as manually by physically attending to the equipment.
Part 4. AirDroid Business - Remote Android Device/Equipment Monitoring Solution
If most of the devices and equipment in your business are based on Android OS, we recommend AirDroid Business as the best remote monitoring solution.
The team will find it super easy to monitor and manage Android devices remotely from a central dashboard. You can check locations, set alerts, update apps, restrict usage, and protect the devices remotely.
How AirDroid Business Help You Monitor Device/Equipment Remotely
Here are the features of AirDroid Business that are designed to monitor devices and equipment remotely in the best possible way.
Remote Access & Control
You can get remote access to attended or unattended Android devices without even rooting the devices. Therefore, there is no need for a person to be present in front of the device to allow remote access. You can get full control over the devices and perform the required action for troubleshooting.
Also, when you use AirDroid Business to remotely control the device, your remote screen will be darkened. This will guarantee that only you and your business have access to your important data.
What's more, if any on-site staff is available, you can have a voice chat through AirDroid Business and instruct him to perform any required step for effective troubleshooting.
Real-Time Monitoring & Alerts
AirDroid Business allows you to monitor the connected devices in real-time from a central dashboard. There is no need to switch between windows as you can view the vital parameters of the devices from one dashboard.
Besides, you can get alerts when the monitored parameters reach critical status for the devices such as a low battery. In fact, you can group similar devices for better monitoring.
Device Tracking & Geofencing
You can monitor the connected Android device and equipment remotely from your dashboard. This is useful when you want to track the location of the employees in the field carrying the allotted devices with them. This is also useful when a device is lost or stolen.
Besides, you can set a virtual Geofence and get real-time alerts when the devices cross the defined virtual area on the map.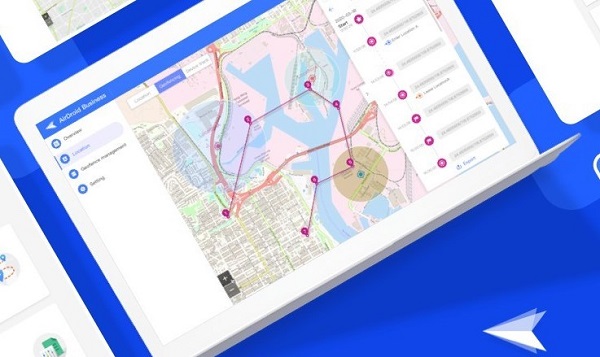 Kiosk Mode
The exclusive Kiosk Mode of AirDroid Business allows IT admin team to lock the connected Android devices into a single app or multi-app mode. This means users cannot use other apps and hence, the security of the devices gets enhanced.
Besides, IT admin team can whitelist websites and block unauthorized access for further security.
Kiosk Mode allows you to customize the device interface for proper branding. You can create different Kiosk profiles and use them for different groups of connected Android devices.
App & File Management
You can deploy any app on the connected Android devices remotely without needing any physical touch. You can also roll up updates in stages so that the risk of device malfunctioning minimizes. Moreover, you can create your app library having only the useful apps related to your business.
Besides, AirDroid Business allows bulk transferring of files and documents to different devices. There is strong protection for transferring files both ways securely.
Protect Device Security
AirDroid Business allows different user permissions for different members of the admin team. You can configure authentication for accessing devices remotely for complete protection.
You can even apply policy settings to all devices for their security. There are options to prevent strafe of data or files from corporate devices to personal devices.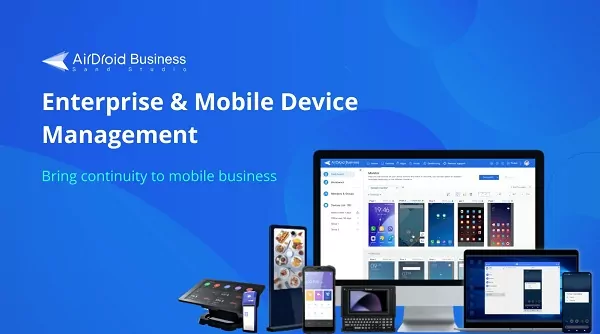 Conclusion
Remote equipment monitoring is steadily becoming an integral part of businesses that are going through the digital revolution. Remote monitoring enhances operational efficiency as well as productivity.
We have clearly stated everything you need to know about remote equipment monitoring system, starting from applications to benefits. We have recommended AirDroid Business as the best remote Android device monitoring solution for better management of devices.
FAQs
What is remote condition monitoring?
Remote condition monitoring refers to the act of using sensors and remote monitoring solution to keep track of the condition of the machines and devices involved in a business. Depending on the parameters, the process helps the support team to know when a device starts malfunctioning and needs immediate attention.
What is remote process monitoring?
The process of keeping track of the different aspects of an industrial or business process from any location is referred to as remote process monitoring. This involves digitization solutions through internet connectivity using remote monitoring software. You can monitor different parameters of the connected devices in real-time and take necessary actions as required.
Was This Page Helpful?