AnyDesk vs TeamViewer, Which is Better?
Remote accessibility has become a necessity rather than an additional, especially for workplaces dependent on IT systems and solutions. With so many options on the market, solutions like AnyDesk and TeamViewer stand out. But to choose between these two titans is not an easy option.
Where TeamViewer's different communication modes help with seamless communication, AnyDesk's multi-language support makes it a favorable option for organizations set up in different time and linguistic zones. We are here to make things a bit more clear for you and help clear things with the AnyDesk vs TeamViewer comparison guide.
Part 1: Introducing AnyDesk and TeamViewer
AnyDesk
AnyDesk was launched in 2015, and since then, it has given stiff competition to TeamViewer, which has been operating since 2005. AnyDesk's innovative suite of features includes fast and secure remote access and its ability to adapt to the size, industry, purpose, and scale of the organization.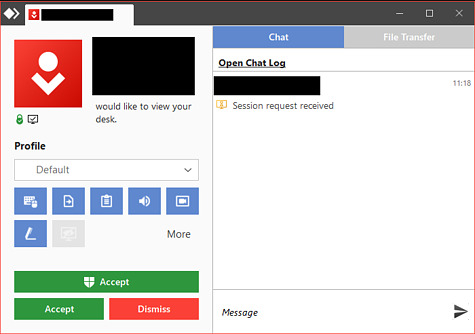 Some of the outstanding features of AnyDesk include its unparalleled speed, high-security standards, and customization options. Most of all, it improves the meeting sessions and communication via in-app messaging, built-in whiteboard, and session invitations. This helps with organizing the team meetings and sessions while ensuring seamless connectivity.
The most unique set of features you will find in AnyDesk includes remote server monitoring and management. You can monitor all the workstations on the local network and even transfer files (it works amazingly well in the latest versions). Plus, troubleshooting and installing new software on the remote desktop is easy. The whitelisting feature allows the selected systems to repeatedly connect remotely without asking for permission.
Pros and Cons of AnyDesk
Pros
The user plans with AnyDesk are cost-efficient.
AnyDesk has support for Wake-On LAN.
Its low-latency system enables faster performance and remote screen access.
There is no session limit with AnyDesk.
Cons
In the older versions, you cannot copy and paste content from the owner's screen to the remote user's screen.
There are some issues with the resolution as it does not work well with some systems.
TeamViewer
TeamViewer came out in 2005 and has maintained its position as the best remote access software on the market until today. This reputation does not come without offering some salient features and functions. With AnyDesk's approaches, one might be forced to ask whether AnyDesk is better than TeamViewer, but the question remains unanswered.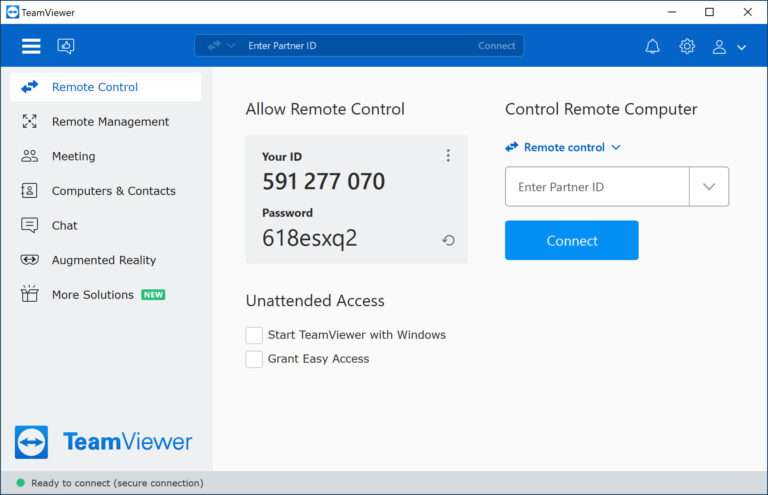 TeamViewer's remote accessibility allows the person to control and provide seamless support services on different systems. Furthermore, it has a comprehensive remote support system backed by tools and systems. The TeamViewer integrations further make using the software easier and more efficient.
One of the best things about TeamViewer is its multi-platform support structure, allowing systems based on macOS, Linux, Android, and Windows to connect with systems on their respective versions smoothly. Plus, you can also give commands to the hardware connected to the remotely accessed system.
Pros and Cons of TeamViewer
Pros
TeamViewer have impressive cloud-based services, which gives it accessibility via the browser.
You can give designated access to the users eliminating the need to ask for permission repeatedly.
TeamViewer allows you to run multiple sessions on different tabs at one time.
It has simple control features giving the users a better way to operate and run the remote access portals.
Cons
There have been issues with performance, mainly lagging, while transferring large-size files.
More issues will pop up when you are using it with lower internet speed and bandwidth.
Part 2: Detailed Comparison between AnyDesk and TeamViewer
Deciding between the two solutions isn't an easy task, but we will compare them on different parameters. The key points of AnyDesk vs TeamViewer differences are listed below. Based on the differences associated with these key points, you will be able to decide which software is suitable for your organization and how well it can satisfy your requirements.
1.Interface
First off, let's compare TeamViewer and AnyDesk in terms of their interface. The interface of the software is important because it is directly related to the user experience and how the individual interacts with the solution. A well-built interface makes it easier for the individual to access the features and operate the software.
The AnyDesk and TeamViewer interface is a well-executed system. In both the solutions, you will find it easier to locate the features and functions. Moreover, the interface in both software is smooth, the images are of good quality, and they are easy to use.
Both have an intuitive interface, which means that they are easy to navigate, and the design is also good. So, any user won't have to struggle with finding the controls as everything on the screen is self-explanatory.
2.Features
When it comes to features, AnyDesk and TeamViewer have a varied suite of functions compatible with different types of operations and organizations. For instance, TeamViewer has a real-time chat feature, AnyDesk real-time chat feature is not as impressive as TeamViewer's. On the other hand, AnyDesk's remote accessibility system is better than TeamViewer.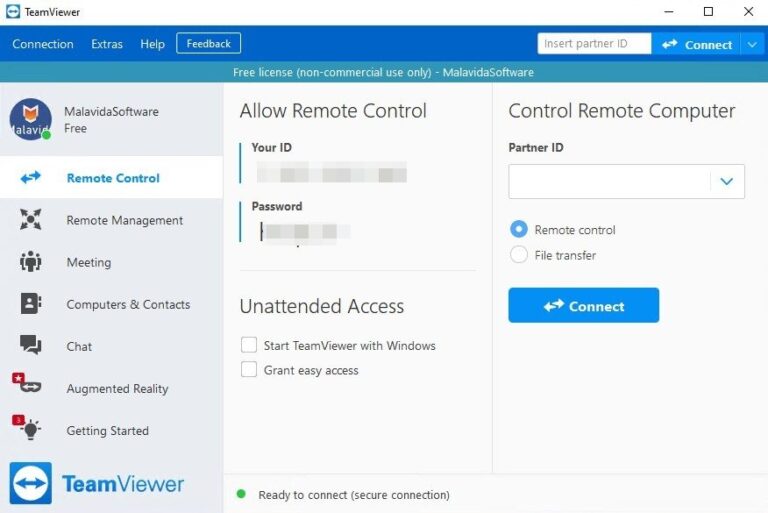 Some of the most prized features of TeamViewer include secure remote access and a multi-platform support system. Moreover, TeamViewer's ability to access the connected device's hardware remotely is another feature that helps it stand out from the competition.
On AnyDesk, you won't find such a high level of security. Still, its remote server monitoring system has unmatched quality and can carry out a large number of functions on the local network.Some of the common features shared by both software include mobile accessibility, session transfer, file transfer, remote printing, audio support, etc. Due to the extent of features, AnyDesk is suitable for medium-scale startup organizations and enterprises. However, TeamViewer is good for all these types of organizations and adds to it PSUs and agencies.
3.Performance
AnyDesk vs TeamViewer performance comparison comprises the ability to function smoothly in the wake of increased demand on the processor. Performance matters because when you are connected to multiple systems lagging is not an option, especially when you are presenting to a client for a potential project.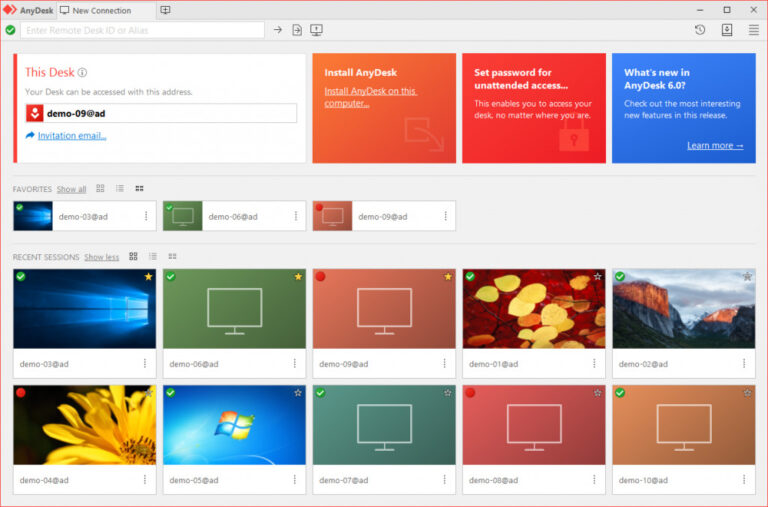 For performance improvement, TeamViewer has been adding the required systems to their solution. This includes hardware acceleration, which reduces the load on the CPU leading to an improvement in the system's performance. This helps stay connected to the network and assure faster performance.
Due to this and a few other functions, TeamViewer has shown less interference and greater responsiveness in terms of connectivity to remote devices. Besides this, TeamViewer is a lightweight software that is ideal for small file sharing and real-time messaging.On the other hand, AnyDesk offers a similar level of performance. It runs fast enough to cause no lagging issues while you are in session. While addressing the user's concerns about the lagging performance, the AnyDesk help desk has recommended enabling 'Direct Connections.'
This helps in establishing a direct connection between two systems giving better performance. In addition to this, AnyDesk is also known for its user-friendly interface and the ability to respond to commands quickly.
4.Support OS
This is where TeamViewer is better because it is compatible with different operating systems. These are Windows; macOS; Android; Linux; Chrome OS; iOS.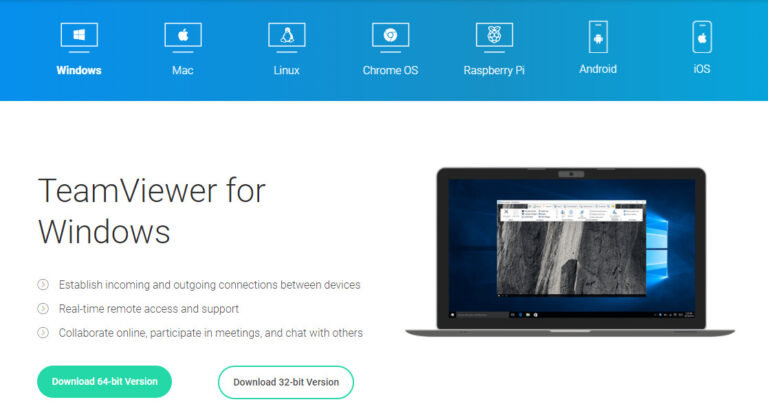 On all these operating systems you can either download the software or use its web-based system via cloud connectivity.
AnyDesk is compatible with Windows; macOS; Android; Linux; FreeBSD.
The browser version of AnyDesk is still in its beta stage. It has been developed but is out there for a limited time. Down the line, the users will get to work with browser-based AnyDesk.
5.Pricing
Next up, we will compare AnyDesk and TeamViewer in terms of the price. Both the solutions have different plans curated according to the usage. With AnyDesk;
AnyDesk
Essentials Plan costs $9.90 per month best for a single user. However, a single user can connect with unlimited devices and also get mobile device support.
The Performance plan costs $19.90 per month and allows 3 licensed users to connect an unlimited number of devices. Moreover, this plan comes with wake-on LAN, session recording, and high-level security options.
The third Enterprise Plan starts at $29.90 per month, and it is meant for mass deployment. This AnyDesk plan is fully customizable and can be molded according to your needs.
With TeamViewer, there was a single plan, but today we have three different plans for the same.
TeamViewer
The Single User plan costs $19.77, and you can connect up to 200 devices with a single user ID.
There is the Multi-User plan which costs $40.87 per month and grants a business license where you can create 15 unique IDs and a limit of connecting up to 300 devices.
The Team's plan is meant for the Corporate granting 30 licenses and the ability to manage up to 500 devices. The cost for this plan is $87 per month.
In pricing, AnyDesk is more cost-efficient than TeamViewer. Where AnyDesk is giving you the option to manage an unlimited number of devices, TeamViewer puts a limit on the same. However, TeamViewer grants licenses for up to 30 users, and with AnyDesk 3 is the highest number of licensed users you will get.
While both the solutions provide a different set of features, we think that AnyDesk is better if you want a cost-efficient option and are ready to compromise on the security component. But if you want tighter security and more unique IDs, TeamViewer is a better option.
Part 3: Editor's Choice for Remote Control and Accessibility
Have you ever given a thought to a TeamViewer or AnyDesk alternative? Well, where both these solutions are great, you might want to check out some other options available in the market.
We have brought two such options for you today. Make sure to read through the next section and compare these with AnyDesk and TeamViewer. This will give two more options to choose from but also a much better clarity on which solution is appropriate for you.
1. Best Android Remote Control Software - AirDroid Remote Support
AirDroid Remote Support is your best remote control solution, providing quick connectivity to Android phones in different locations. With it, you can conveniently access, control, and assist another Android phone from your phone without root.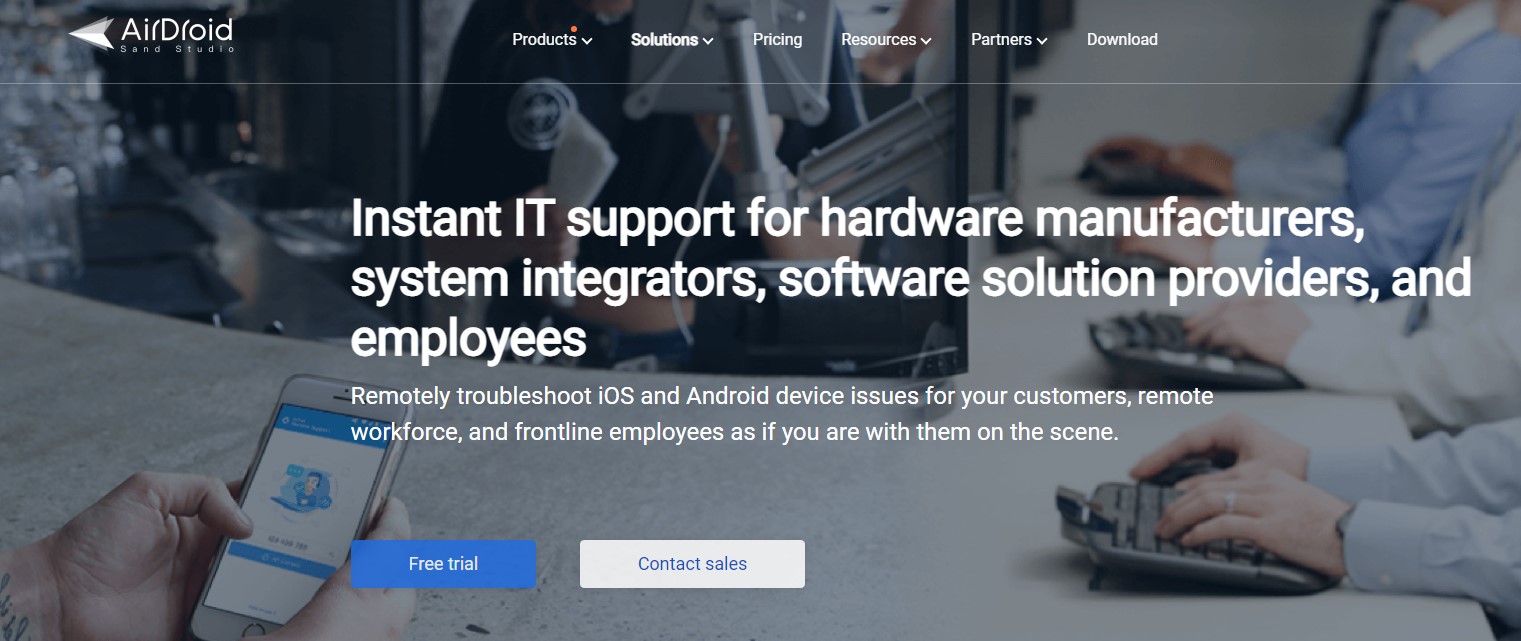 Businesses can use this software to give customers fast customer service, while individuals can also remotely assist family members' or friends' mobile phones through its personal version.
As a superb remote assistant, AirDroid Remote Support allows quick connection to the Android phone you want to control with no account needed. Simply enter the 9-digit connection code from AirDroid Remote Support to establish a connection.
Besides, AirDroid Remote Support does not require any complicated settings, just one click to mirror the screen of the controlled phone. At this time, you can start a live voice call and text chat with the user on the other end to guide them through managing their phone or resolving issues. What's more, you are able to use the Tutorial Gesture feature to demonstrate steps, making it easy for the user to follow along.
2. Best Remote Desktop Software - LogMeIn
LogMeIn is another TeamViewer and AnyDesk alternative that you need to check out. This solution provides extensive IT support for different platforms along with a trusted communication system protected with an advanced password and authentication systems.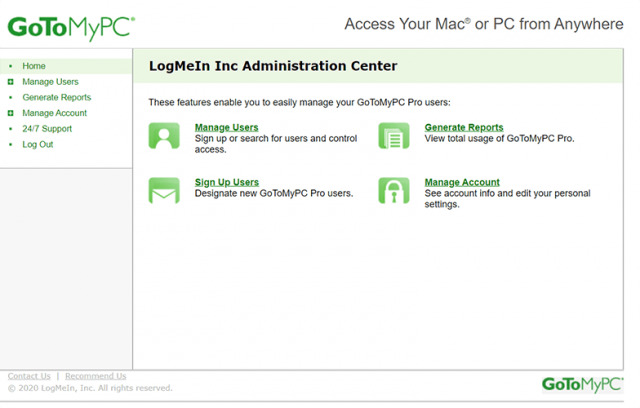 LogMeIn's GoTo line of solutions allows businesses and individuals to connect, hold meetings, and create dedicated conference rooms. For remote accessing the desktops, it offers GoToMyPC giving seamless support for creating remote access sessions.
The software is built to increase the user's productivity while enabling security-oriented remote accessibility reinforced with multi-factor authentication. Besides connecting to a PC, GoToMyPC can also connect to iPad, iPhone, and Kindle devices from the same interface.
To Sum it Up
Remote accessibility and controlling another device from a distant location, be it your home or office, has become an essential part of the industry today. With the work from home culture spreading its wings even further, penetrating every component of the business, solutions like TeamViewer, AnyDesk, AirDroid, and LogMeIn are helping businesses stay connected. And with it, they help businesses stay afloat.
By enabling an environment of seamless communication and connectivity, employees can interact and even use each other's systems with the same experience as they would have when working from under one roof.
Out of the two major solutions, AnyDesk and TeamViewer, your choice for a remote control software must rely on the usage, features required, and the extent of the security system you need.
Our AnyDesk vs TeamViewer comparison guide has listed five differentiation parameters along with listing the pros and cons of each software. Ensure to go through the guide comprehensively and select the best option for your work.
Was This Page Helpful?